A little more on news play in China
Following on
this item
earlier:
Front page of today's China Daily, the government's English-language presentation to the world. This is on Saturday, March 15, when news outlets elsewhere are leading with the Tibet news: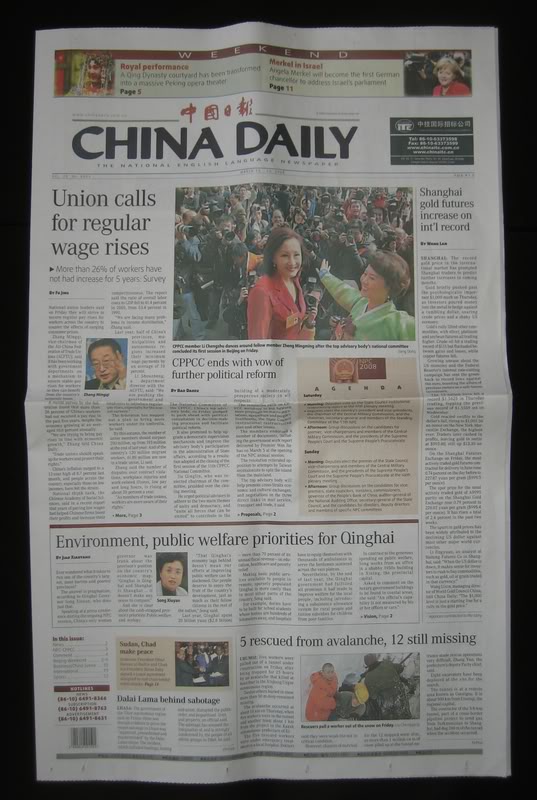 You can click on the photo for a larger version, but you're still likely to miss the Tibet news, which is in the very bottom left corner of the paper under the headline "Dalai Lama Behind Sabotage." In its entirety it reads as follows:
LHASA: The government of the Tibet autonomous region said on Friday there was enough evidence to prove the recent sabotage in Lhasa was "organized, premeditated, and masterminded" by the Dalai Lama clique. The incident, which included beatings, looting and arson, disrupted the public order, and jeopardized lives and property, an official said. The sabotage has aroused the indignation of, and is strongly condemned by, the people of all ethnic groups in Tibet, he said.

Cultural notes:

1) In judging popular reaction in China to this episode, bear in that mind few ordinary Chinese people have even been exposed to the idea that Tibet's place within their country is controversial in any way. In the ordinary course of going to school and reading newspapers or watching TV, they would hear that Tibet, much like the largely Islamic Xinjiang region and other frontier parts of China, is an ancient, inseparable, happily integrated part of the motherland, whose tranquility is threatened from time to time by hooligans or even terrorists. History books, TV series, museum displays, and of course newspaper articles like this one convey the message.

2) For a pop-culture presentation of the opposite perspective, consider Eliot Pattison's "Inspector Shan Tao Yun" series of detective novels, which began in 2001 with The Skull Mantra. They're set in Tibet and their leitmotif is political, cultural, economic, and personal relations between native Tibetans and Han Chinese. They are similar in some ways to Tony Hillerman's novels set on Navajo reservations -- for instance, the disjunction in spiritual awareness between the minority population and the ruling majority -- but obviously with a different degree of political tension.

3) Even if you can't read anything on it, the look of that main People's Daily page, mentioned earlier, gives a good sample of the prevailing aesthetic of Chinese web design. The busier and brighter, the better. More on this later -- it's a known phenomenon, and interesting, though having nothing specific to do with the Tibet news.