MacBook Air: first of a series
I didn't expect to return from my latest trip to the U.S. with a brand-new MacBook Air in my hand, but for various surprising reasons that's what I brought back.*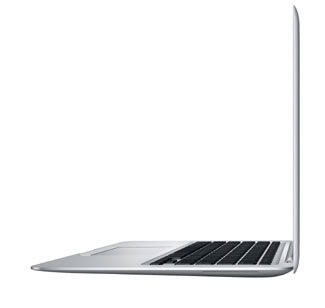 I have not given it a full workout yet, and the reason is related to one of the quirks of this machine: it has no CD/DVD reader and is designed to install software wirelessly, either from the Internet or via a connection to another Mac or PC. I have not yet gone through the process of installing the programs I'd like to use on it, so all I've done with it is work online. Collect email, check out the news, and, yes, compose and post this message.
More reactions to come later, about the aspects of this machine that have raised most questions. How good is the battery, really -- considering that unlike most laptops, but like iPods etc, you can't change it yourself or bring a second to swap in during a plane flight? Is its 80GB hard disk big enough for modern computing life? How well does its wifi-only approach actually work, given the absence of a CD drive and an Ethernet port? Will the remote installation process let me put Parallels or VMWare on the system, so I can run the Windows programs I really care about? All this, as I say, for another day.
For today, an aesthetic and emotional reaction: This is an astonishingly successful work of industrial design. Even industrial art. Its case is very small and thin, and seems even smaller and thinner. It is very light, and seems lighter than it is. (Maybe adrenaline rush to the arm muscles?) By the specs, the processor is not tremendously fast, but the computer feels agile and responsive -- all the more so in contrast to my Vista ThinkPad. The screen is bright and big (maybe related to battery life?), and the keyboard is full-sized and convenient. It is as beautiful a piece of machinery as I have seen in a long time.
Later: how it works when I'm trying to do something more than reach web sites. Maybe the shock of aesthetic appreciation will have worn off -- somewhat -- by then.
__
* To spell it out: these reasons do not include any baksheesh, "demo copies," or other favortistic efforts by Apple or other companies.