(Previously in the Brueghel comes to China series, here.)

Sunday morning, February 10, 2008, Houhai area:




A few hundred years earlier, in Europe:



A friend is doing a story about the odd variety of vehicles Beijingers have adapted to the ice, so nothing more about that now. I will say that on the latest supply run from the U.S. I had brought along an old, crummy pair of ice skates, with frayed and re-knotted laces and blades as sharp as a rolling pin. Imagine my relief in spotting a sign that said 北京冰刀王 -- Beijing Ice Skate King -- and being helped by the king himself, as he put a razor edge on the skates and added a new set of laces, all for 35 RMB (a little under $5).




The king and his crest: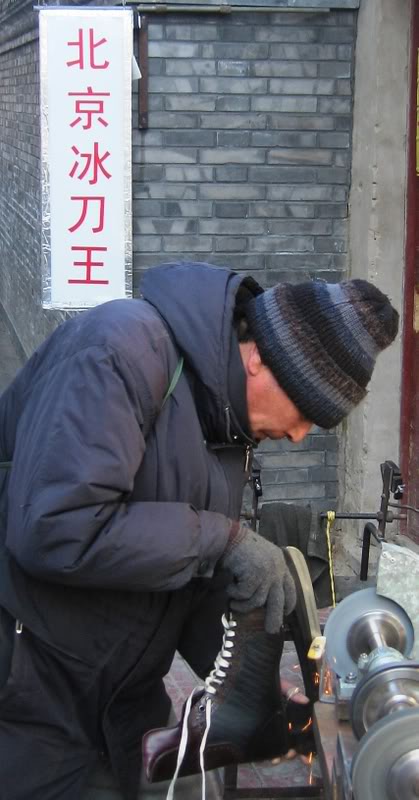 We want to hear what you think about this article. Submit a letter to the editor or write to letters@theatlantic.com.
James Fallows
is a staff writer for
The Atlantic
and has written for the magazine since the late 1970s. He has reported extensively from outside the United States and once worked as President Carter's chief speechwriter. He and his wife, Deborah Fallows, are the authors of the 2018 book
Our Towns: A 100,000-Mile Journey Into the Heart of America,
which was a national best seller and is the basis of a forthcoming HBO documentary.