Be careful what you wish for, Mr. Du (Beijing air watch dept)
(Updated, below.)
Another very good Beijing-byline story by Mei Fong in the Wall Street Journal (link here, if it has not gone behind the firewall), about the ramped-up efforts to clean up the local skies before the Olympic games.
Two interesting details:
- Making vivid what it might mean to "do whatever it takes" to close down factories, traffic, etc long enough before the August 8 opening ceremonies to make the air acceptable:
One plant affected by the Olympic cleanup is a Beijing Eastern factory in southeast Beijing, which will be closed by the end of June, according to the Xinhua news agency. Workers at the plant confirmed that the factory -- which employs about 1,000 people -- will be suspending operations in May and reopening in a new facility in southwest Beijing at year's end. Many workers don't know what they will do in the interim, or if they will continue to receive their wages. "No one knows what will happen tomorrow," one worker said.

- The print version of the story, in the Asian Wall Street Journal, intriguingly has a final paragraph that is missing from the online version. It ends with this quote from Mr. Du Shaozhong, deputy head of the Beijing Environment Protection Bureau, who pleads with foreign journalists to give their readers a more positive image of Beijing as an Olympic venue:

"We need help from the media," said Mr. Du. "Tell them what you see with your own eyes."
Hoooh boy. What I saw with my own eyes today was extremely nice! After ferocious winds yesterday, this afternoon's skies were beautiful in Beijing, and the air was even kind of non-frigid! Jianwai, near Yonganli metro station, looking east, 3pm today: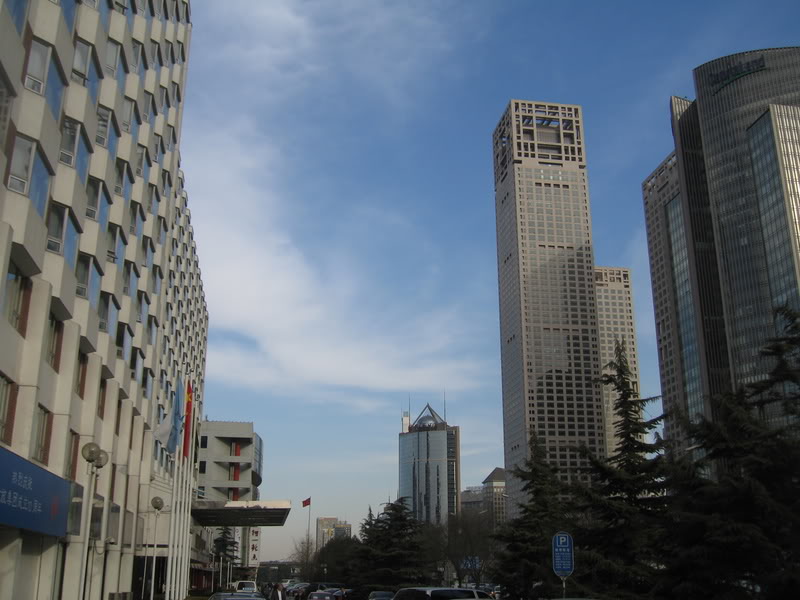 But if outsiders are going to convey
what they see
with their own eyes -- well, let's hope it's all like today.
Update
: What I am seeing with my own eyes, the next day: