After the jump, several more pictures from the recent Tokyo-Okinawa-Taipei flight in a Cirrus SR22. If you're not interested in small airplanes, never mind! (All photos clickable for larger version.)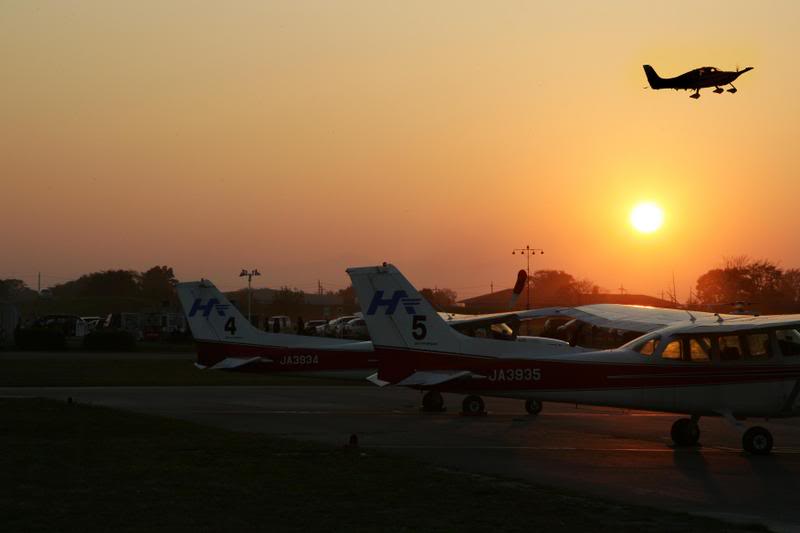 Team Cirrus Japan, Honda Airport, Saitama prefecture outside Tokyo. This is at the end of a long day of demo flights and related airshow activities. Peter Claeys, Cirrus Design's China representative and pilot-in-command for upcoming trip, is the foreigner at right-center, in the light jacket. His co-pilot is the other foreigner, on the far right: me. Rest of the people are various engineers, pilots, sales officials, and ground support staff. Peter, by the way, is the non-Chinese man shown in a previously-posted photo of refueling the airplane through the time-honored mouth-siphon technique, in Changsha, China. (Explanation here.) The airplane is a new Cirrus SR22, bigger and fancier brother to the Cirrus SR20 I used to own and fly in America.



--
Airshow blimp that evening. People had signed through the day for sightseeing rides around Tokyo:



--
Our departure the next morning from Honda Airport, a few minutes after a photo posted earlier..


--
Skyscraper tops in Tokyo, through morning mist:



--
Posted before, but what the hell: Mt. Fuji from 8000 feet:



--
Southern coast of Shikoku island:



--
Okinawa: what a typhoon looks like, if you're a customs inspector walking through it to check what's in the plane (including, calculating exactly how many gallons of fuel we will be taking out of the country, on the next leg to Taiwan):



--
What the same typhoon looks like if you're standing in it -- and if you haven't found time for a haircut recently in China. (For aviation buffs: the wind was strong but not gusty, and Peter Claeys handled it easily all the way down. Its headwind component was great enough that it gave the feeling of landing in slow motion -- or as if we were in a Cessna 152. )

We want to hear what you think about this article. Submit a letter to the editor or write to letters@theatlantic.com.
James Fallows
is a staff writer at
The Atlantic
and has written for the magazine since the late 1970s. He has reported extensively from outside the United States and once worked as President Jimmy Carter's chief speechwriter. He and his wife,
Deborah Fallows
, are the authors of the 2018 book
Our Towns: A 100,000-Mile Journey Into the Heart of America
, which was a national best seller and is the basis of a forthcoming HBO documentary.