Last year I mentioned how disorienting it can be to come across people wildly famous in their own culture whom you'd never heard of and to whom you'd ordinarily never give a second glance. In that context: we can hardly turn on CCTV at night without seeing one or both of the gentlemen below hosting a variety, talk, or game show:
The pictures, from our apartment TV both on the same evening, don't do justice to the androgynous charm of their varying outfits.
And of course there is the most famous and widely-recognized Westerner of all in China, a fluent Mandarin-speaking Canadian who is a TV star and all-round celebrity known to hundreds of millions as 大山, or Dashan ("big mountain"). He's on the right in the first photo, a costume drama; the second shows him on his daily nationwide Chinese-for-English-speakers show.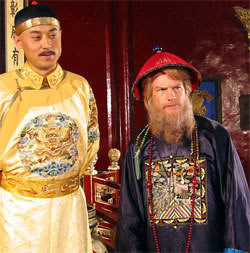 Of course, none of this is any odder than turning on American TV and seeing this each night:
We want to hear what you think about this article. Submit a letter to the editor or write to letters@theatlantic.com.
James Fallows
is a staff writer for
The Atlantic
and has written for the magazine since the late 1970s. He has reported extensively from outside the United States and once worked as President Carter's chief speechwriter. He and his wife, Deborah Fallows, are the authors of the 2018 book
Our Towns: A 100,000-Mile Journey Into the Heart of America,
which was a national best seller and is the basis of a forthcoming HBO documentary.