The book I had most fun writing was Free Flight, which came out six years ago. At the time, the hub-and-spoke nature of the airline system was driving passengers crazy with inconvenience and delay. Also at the time, a variety of entrepreneurs and innovators -- some in little garage-scale businesses, some within the federal government itself -- were dreaming up a system of decentralized, flexible, point-to-point air travel based on radically more efficient and less expensive small aircraft.
For a while after the 9/11 attacks, some people thought that nothing other than air-marshal-laden airliners would ever again be allowed in the sky. But the innovation continued, and the crowding, hassle, and inconvenience of the hub-and-spoke system have become worse than ever. Many of the projects that were gleams in the eye when I wrote the book are now going enterprises: for instance, Cirrus Design, which was then a little family operation, is now by far the most popular maker of small piston-engine planes in the world. (Disclosure: I bought one of Cirrus's earliest planes, at list price, after writing the book -- and sold it, for not that much less than I paid, on the used market when I moved to China last year. As reported earlier, my one experience in flying a plane in China was so chastening that I will not try that again.)
A whole string of other updates awaits. To begin with: the news last week that this same Cirrus company has entered the "personal jet" market with a new model of its own. More details from Cirrus here and from AVWeb here. Official portrait below:
AVWeb snapshot of plane with Alan Klapmeier -- Cirrus's CEO, and co-founder of the company along with his brother Dale -- at the plane's unveiling in Duluth, here: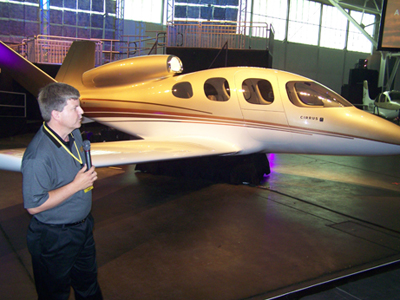 This is a plane that, realistically, I could never afford. But I am glad to know that it exists -- and that, theoretically, I would even be capable of flying it, since the company has been at pains to make the cockpit and control panel identical to its existing planes (with the obvious exception of engine controls).