Courtesy of CRI English.com, a look at the mascot for the upcoming 17th Qingdao International Beer Festival: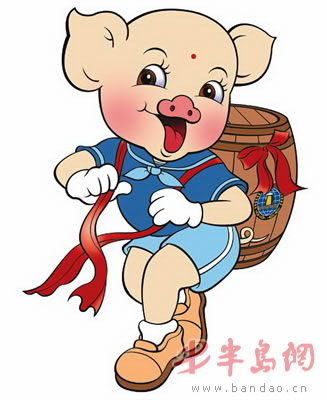 A sign of my own progress toward sadder-but-wiser status: last year, I was gung-ho to get up to see Qingdao and sample Chinese beer at its finest. Qingdao itself is very interesting. But as for the festival, now I realize that.... it's the same old Chinese beer, just in larger volume and in somewhat cheesier surroundings than normal:
But who knows -- everything is changing and "improving" so rapidly here in the New China, I may just have to give it another chance.
(Yes, I know that the signs are for Budweiser -- not technically Chinese but, in context, perfectly at home amid watery Chinese beers.)