What I crammed into my carry on bag on my recent slog from China to America and back: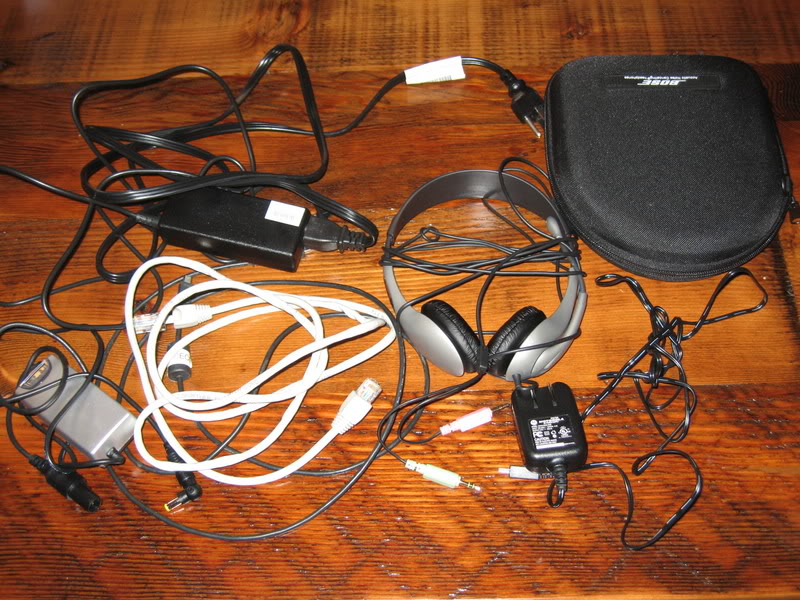 Everyone recognizes the gear:
laptop power supply, cell phone recharger, headset for using Skype, noise-reduction headset for 12-hour plane flight (which can't do double-duty for Skype, since it lacks a microphone), in-plane power supply for same 12-hour flight, Ethernet cable. And of course this didn't include the laptop or cellphone itself, or the extra batteries for laptop and headset, or the other cell phone and charger (the Chinese phone, which in fairness I put in the checked bag). Fortunately this junk takes up so much room that it keeps me from sneaking any security-threat liquids into the carry-on -- or many books. The paperless office produces and consumes more paper; and the "virtual" and "connected" age turns us into pack animals.

Good news: Sergey Brin, of Google, says that he is taking on the real-world inconvenience of electronic devices as one of his next campaigns.
We want to hear what you think about this article. Submit a letter to the editor or write to letters@theatlantic.com.
James Fallows
is a staff writer at
The Atlantic
and has written for the magazine since the late 1970s. He has reported extensively from outside the United States and once worked as President Jimmy Carter's chief speechwriter. He and his wife,
Deborah Fallows
, are the authors of the 2018 book
Our Towns: A 100,000-Mile Journey Into the Heart of America
, which was a national best seller and is the basis of a forthcoming HBO documentary.