The Workforce That Keeps Going, and Going, and Going
Ask any world-class marathoner about the key to success, and chances are they will talk as much about getting enough rest in the days before a race as they do about their training. So why do those on the corporate treadmill believe that a relentless, round-the-clock schedule will make them more effective workers?
It's a puzzle that confounds Tony Schwartz, the best-selling author of The Way We're Working Isn't Working and a noted productivity expert. "Athletes have always understood that recovery and renewal are part of achieving optimal performance," Schwartz says. Only recently, he adds, have businesses begun to understand that workers need to replenish their energy as well. Indeed, with 74% of all employees reporting a personal energy crisis and 68.5% saying they feel disengaged at work, the problem is clearly grave.
Perhaps in response, some of the world's more adaptable companies are discovering that they actually can get more out of their employees by asking less of them: protecting them from continuous multi-tasking, breaking up periods of intense focus with time dedicated to rest and recovery, and staying attentive to their physical, emotional, mental, and even spiritual needs.
If that sounds more abstract than practical, management gurus like Schwartz and Otto Scharmer, a senior lecturer at the Massachusetts Institute of Technology's Sloan School of Management, have the facts to back it up. As founder and CEO of The Energy Project, Schwartz advises companies on how they can boost worker productivity by focusing on their well-being. One of his recent studies, for example, found that workers who take a brief break every ninety minutes have a focus nearly one-third sharper than those who work straight through the day. They report much higher levels of creativity, health, and engagement as well.
Schwartz has seen companies put in fitness centers and even encourage afternoon walks. Others, ranging from American industrial giants to state-owned enterprises in China, have embraced training in mindfulness techniques as a leadership development tool.
"That kind of deeper leadership-capacity training is vastly undersupplied in the world," says Schwarmer. "It helps you focus more on what matters most and makes people more relaxed when they deal with highly stressful situations."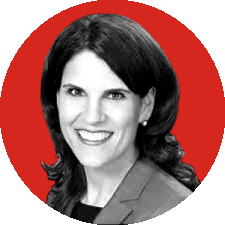 GIVE ME A BREAK
A conversation with Tami Simon, Managing Director, Buck Consultants, a Xerox Company
What can companies do to encourage and increase productivity?
TAMI SIMON: Studies abound showing that the most productive employees tend to be some of the most engaged in the workplace. There are various factors that contribute to employee engagement and productivity, including a common sense of purpose, a strong loyalty to the corporate brand and community, the feeling that the person is making a difference and that their work matters, personal and family health and financial wellbeing, inspiring leadership and management, and empowerment. Empowerment can be achieved in a variety of ways, but common approaches include leadership transparency and communication, offering new and enriching job opportunities or responsibilities, letting employees make meaningful decisions and contributions to the organization, offering flexible working conditions that show the organization trusts the workforce, public recognition, and staying abreast of the latest social media outlets to engage employees and capture intellectual capital on their terms.    
Would a daily break to refresh employees be a good productivity booster?
TAMI SIMON: Creating environments that often don't make it practical for employees to eat lunch somewhere other than their desks, some organizations still extol excessively long work days. And portable devices make employees accessible 24/7. However, taking daily breaks makes many individuals more -- rather than less -- productive.  These physical and mental breaks help to reestablish focus as well as to de-stress and re-energize workers.  A variety of techniques have been shown to work, such as encouraging employees to work for 50 minutes and then take a 10-minute break. The cliché of "working smarter, not harder" rings true. Focusing on the output (the work accomplished) helps employers refocus on what really matters—getting the job done.  
What about giving employees the opportunity to use Facebook, Twitter, and other digital diversions?
TAMI SIMON: Social media can also serve as an effective "e-break" for employees who find comfort and escape in connecting with individuals outside of the office. Some employers have even put Xbox gaming stations or other recreational e-activities in their facilities to encourage employee breaks and bonding. Coupled with appropriate usage and security policies, the use of social media can enhance rather than detract from productivity.
What about offering other sorts of amenities in the workplace?
TAMI SIMON: Amenities offered by employers must resonate with their unique employee population positively to affect productivity.  For example, gyms, clinics, pharmacies and other health-care services are effective ways to help employees keep up with fitness, make wellness programs more accessible, encourage regular medical check-ups, and show employees that their health and well-being are an important part of the corporate culture. These perks can also reduce time away from the office for doctor's visits and related appointments. Other employers find that newer emerging "modern benefits" – such as on-site pet day care and grooming services, incentives for purchasing energy-efficient products, paid sabbaticals, and home dinner delivery – resonate more with their employees.  
Should employees be urged to use all of their vacation time?
TAMI SIMON: Yes.  According to a 2014 survey, only about 25% of employees used all of their vacation time in the last 12 months. Why? Is there a stigma associated with taking earned vacation time? Employers and employees need to have open discussions about the best way for employees meet their work goals while getting the rest they need. And as the labor market contracts and the fight for talent increases, some employers are making vacation perks part of their attraction and retention policies. The math is easy: A rested employee equals a more productive employee, and a more productive employee equals a more profitable business. It just adds up.
Schwartz's research also shows that employees are more productive when given the opportunity to focus on a task in an immersed, distraction-free way—a special challenge in the 21st-century workplace, where instant messaging and multi-tasking are the norm. Schwartz urges companies to build in 30- to 90-minute blocks during the workday when workers shut down all their digital devices and focus on their most critical tasks without interruptions.
Likewise, he says, companies can profit by encouraging employees to take extended breaks or sabbaticals to learn new skills, the kind of rest that can repay itself in greater workforce capacity and engagement. If it makes financial sense, organizations could take their entire leadership team on what Scharmer calls a "learning journey"—basically a field trip that could provide fresh perspective on how to approach a challenging problem. One major automaker trying to design an intelligent car capable of diagnosing and predicting common mechanical problems, for example, consulted practitioners of traditional Chinese medicine to learn about the self-healing properties of the body. Outside of their comfort zone, Scharmer says, "the mind of an executive is open, and you can engage them to think in new ways."
In a time of disruption, as asset-heavy businesses (think livery and hotels) lose market share to nimble, lean companies (Uber, Airbnb), and as companies in heavily siloed sectors (health care) are forced to become collaborative across disciplines, creative thinking becomes a matter of survival. Companies trapped in process, red tape, and "the way we've always done things" are apt to ignore the people with fresh, potentially transformative ideas, losing business opportunities and possibly their best employees.
One way to avoid that is to make sure workers find meaning in what they do, a crucial challenge for leadership. Schwartz's research found that when employees see their work as meaningful, they are three times more likely to stay with the organization, twice as satisfied with their jobs, and far more engaged—and engagement, says Schwartz, is the biggest booster to employee performance. Schwarmer agrees, adding that this applies not just to millennial workers who are longing for a deeper connection but also to mid-career and even seasoned executives. "I see that more strongly by the week," he says. "The higher that someone gets in his company on the corporate ladder, the less inspired he is by what his company is asking him to do."
This is perhaps the toughest issue for most companies to address, but as organizations try to modify business models or just become more agile and innovative, Schwartz and Schwarmer agree there is nothing more important. Creating meaning in an organization starts at the top, with strong leadership that can credibly connect the organization's work to a larger mission. Getting buy-in from employees requires that the connection is and can be seen to be genuine. As important, says Schwartz, is for management to spend the time and effort to find out what their employees love most about their work and try designing roles that give them more of it. "While it is harder to accommodate people's needs," says Schwartz, "if you can, they will perform better."
Scharmer calls this process the transition from "ego-system" awareness to "eco-system" awareness, and he identifies it as the most critical challenge to 21st-century leadership. Companies have fewer assets stronger than an energized, aligned workforce, and in a time of change-management, he says, connecting employees to one another and to the broader vision of the company "is a huge, dormant need."