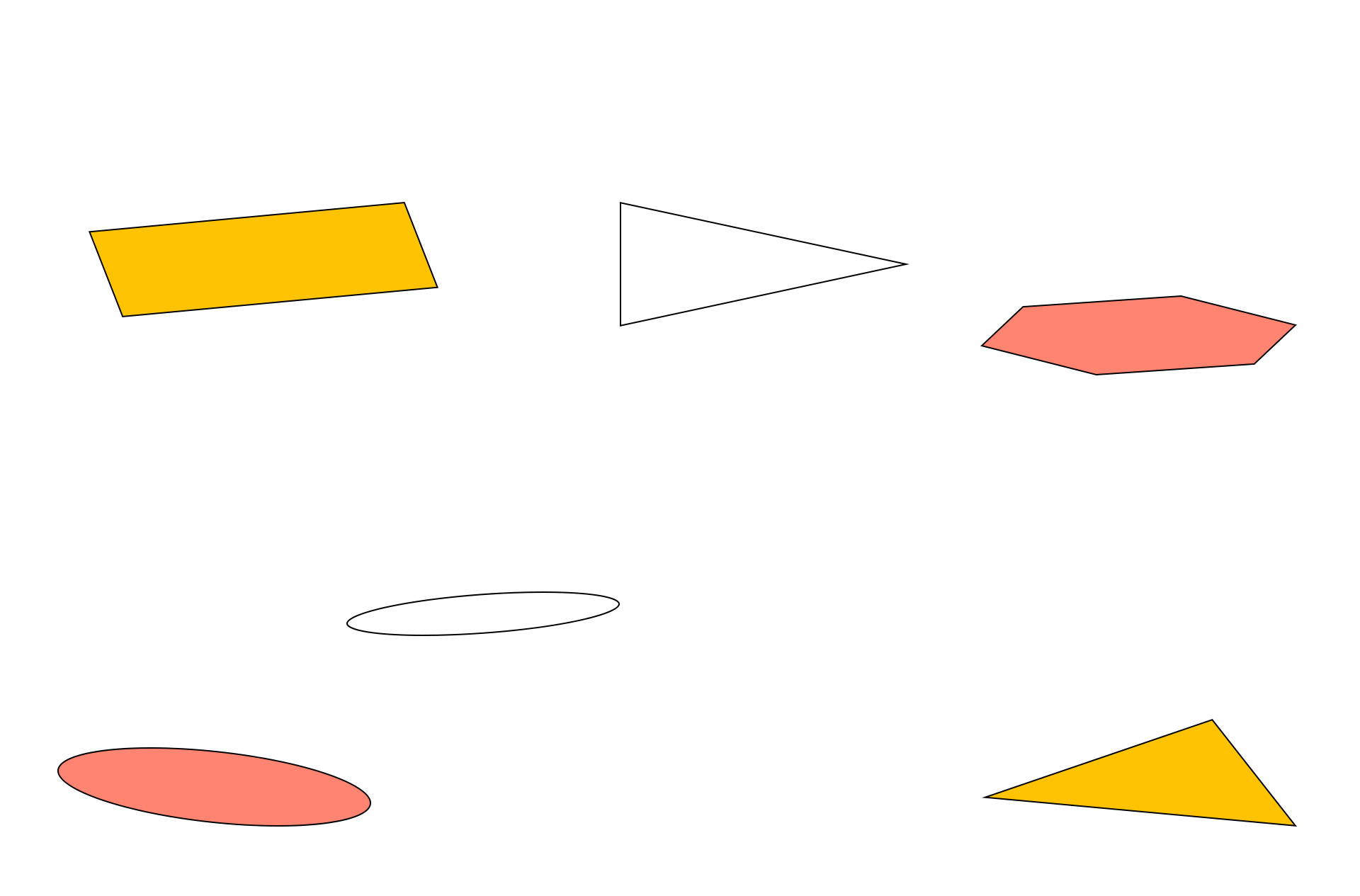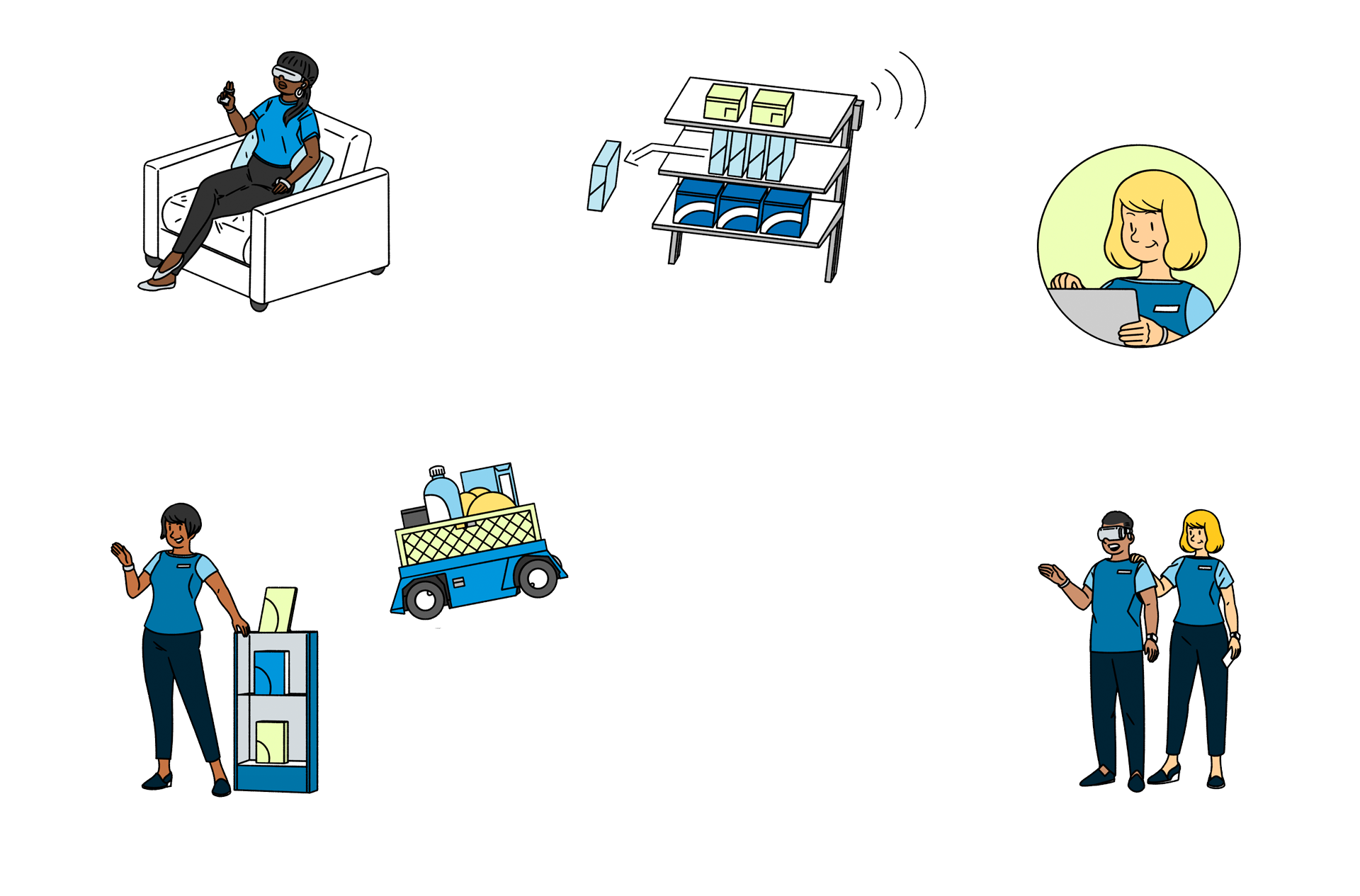 Imagining What Shopping
Will Be Like in 2022
Equipped with virtual reality, automation tech, and more, the store of the not-so-distant future will transform the way shoppers make buying choices, streamline the daily routines of associates, and give customers more of that most precious commodity: time.
Illustrations by Janne Iivonen
In 1962, a brave new world of retail was born: The first Walmart store opened in Rogers, Arkansas. What will that shopping experience look like years from today? Here's a glimpse: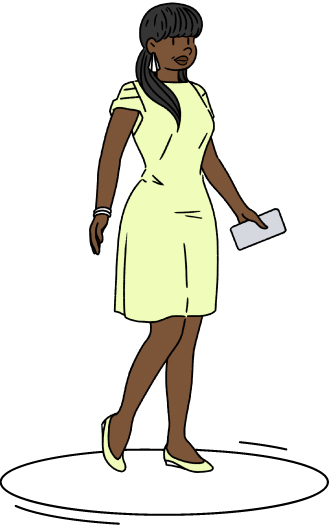 Melissa is a human resources manager at an insurance company, a mother, and a serial bargain hunter. The holiday season is her favorite shopping time of the year.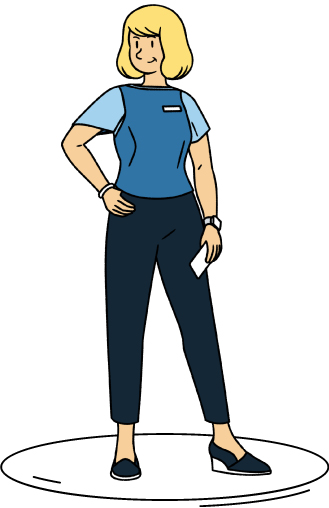 Kate, a Walmart store manager, strives to please her customers with well-stocked shelves, plenty of bargains, and innovative technology that has made shopping easier.
And here's how their day might look in 2022.
8:47 PM
The New Window Shopping
December 13, 2022
Melissa:
Now this is the way to shop!
It's 12 days before Christmas. The house is bedecked with ornaments, wreaths, and candles, and the presents sit underneath the tree. For Melissa and Kurt Bolton and their son, Shaun, the holidays have been the same for years—except for how they decide what to buy during the biggest shopping period of year. A decade ago, they would have been on their devices, separately searching for deals on the Walmart app using their smartphones. Tonight, virtual reality allows them to window shop together as a family from the comfort of their home.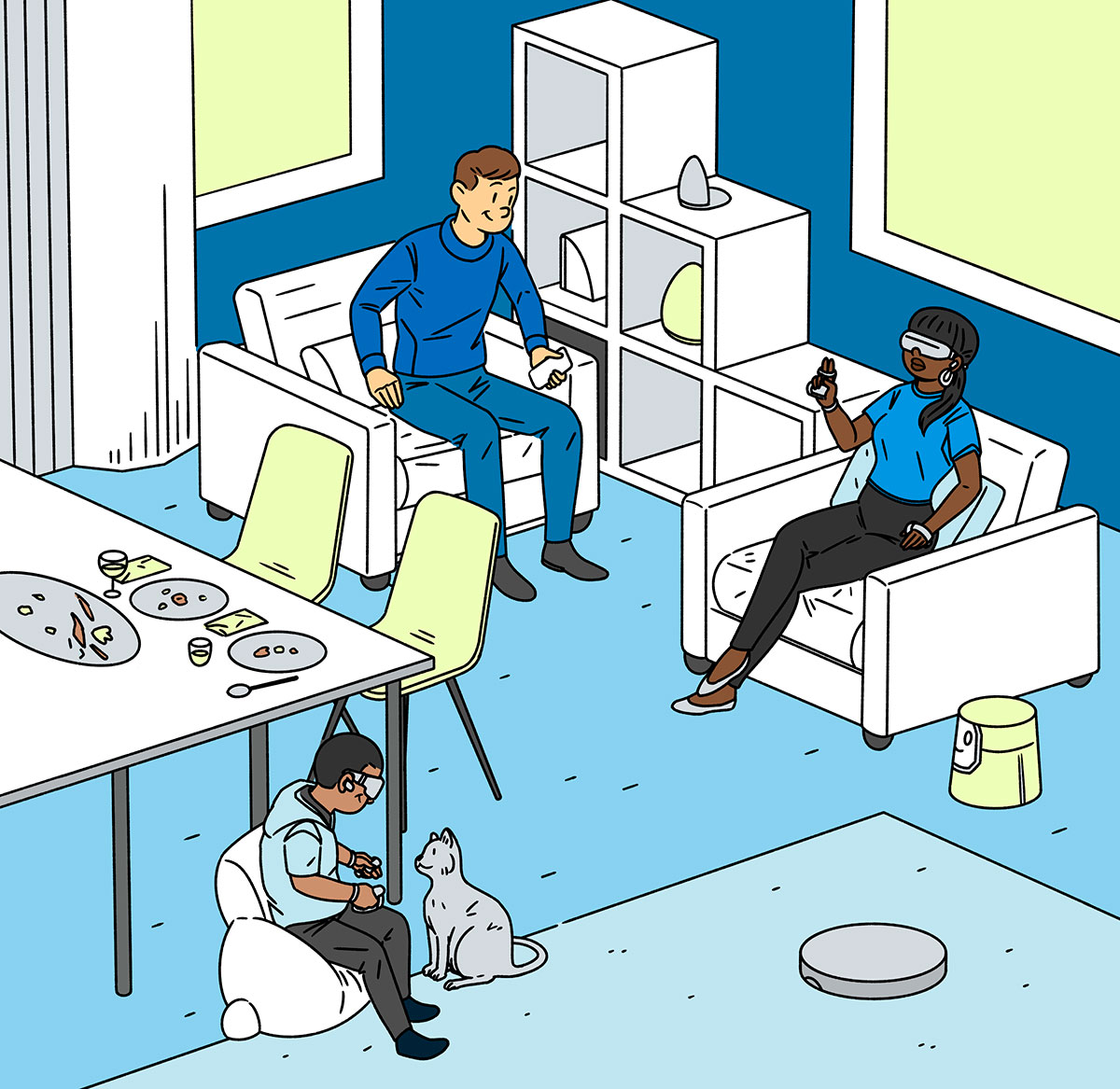 Melissa:
I love that I can see how these TVs will look without having to leave the house.
Kurt:
I hear you. I just bought a solar lawn mower right here on the couch!
Melissa, using a VR headset, sees a television with an 8K high-resolution screen she's been interested in buying. At the push of a button, she adds it to her shopping cart. Ready for the holidays, they settle down on the couch and watch a movie—instead of spending the rest of the evening hunting for deals.
5:36 AM
Managing a Tech-Assisted Store
December 14, 2022
Automated Car:
You have arrived at your destination.
Kate, the store's manager, has a different kind of job in the future when it comes to preparing the store for the busiest shopping period of the year. A number of automated systems have been working overnight, alongside the store's associates, to assist in completing routine tasks like cleaning and restocking. As Kate arrives, her tablet display shows how close they are to completing these jobs. One of them is an autonomous floor scrubber that travels from aisle to aisle. The cleaner, which communicates in real time with technology throughout the store, allows associates to concentrate more of their shifts on the season's hottest merchandise. In turn, this gives Kate more time to train associates, focus on team satisfaction, and interact with customers.
Restocking Robot:
Inventory of 40-watt light bulbs is low. Three cases required for full stocking.
Kate:
Let's see if we have the 40-watts in stock...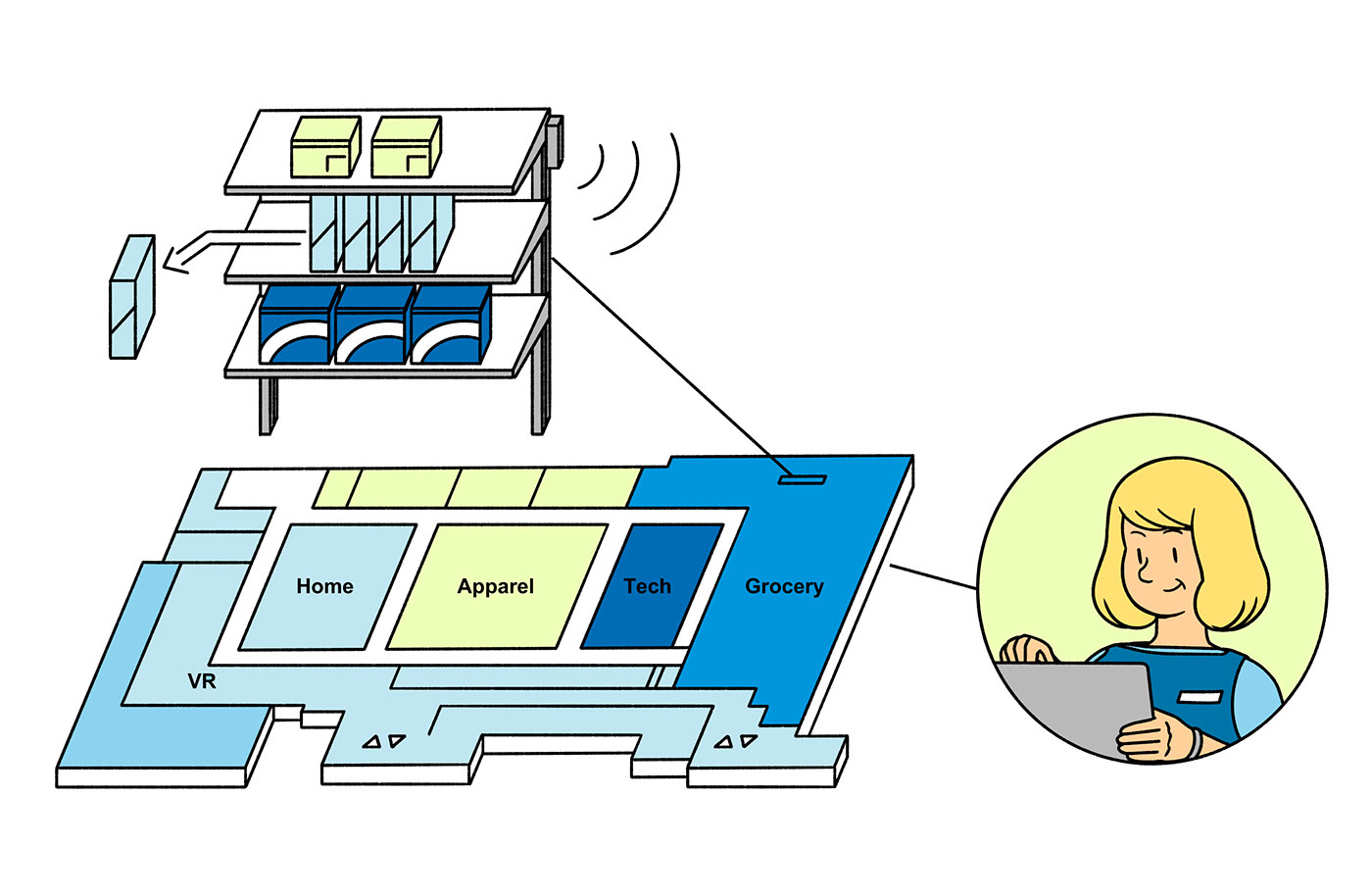 5:43 AM
Virtual Shopping Assistants
December 14, 2022
Years ago, customers had to be physically in the store to learn about newly-stocked items available for the holidays. In 2022, Melissa has an artificial intelligence-driven avatar that's embedded in the store's app. It serves as a personal assistant and virtual shopper that saves her time by compiling a list of items that have been newly added and that match her preferences. On her phone, a flashing Shopping List icon appears on the app. She sees perfume, a copper skillet, and a new T-shirt which have been preselected for her and presented in 3D. She can use augmented reality to "try on" the new T-shirt—whenever and wherever it's most convenient for her.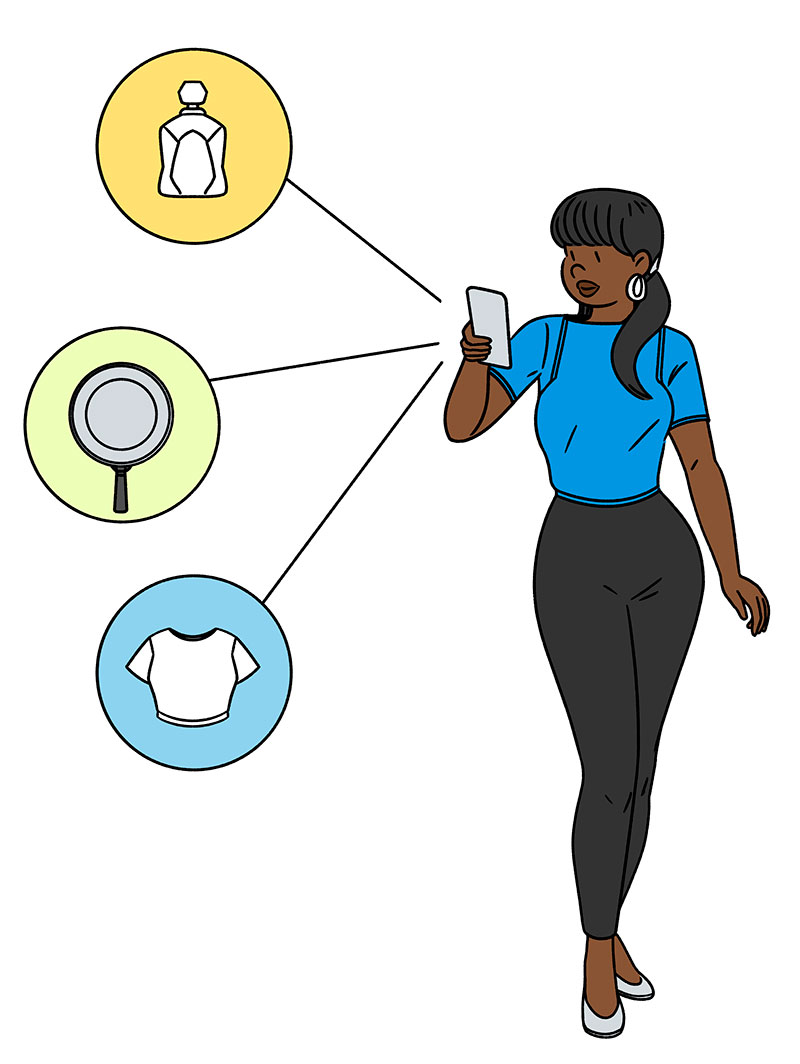 AI Avatar:
Those items I chose for you were going fast this morning. Didn't want you to miss out.
Melissa:
Thanks so much! You saved me money again.
...
Melissa:
C'mon, Shaun, it's time to get ready to go if we want to be there on time!
6:02 AM
Training Workers in 3D
December 14, 2022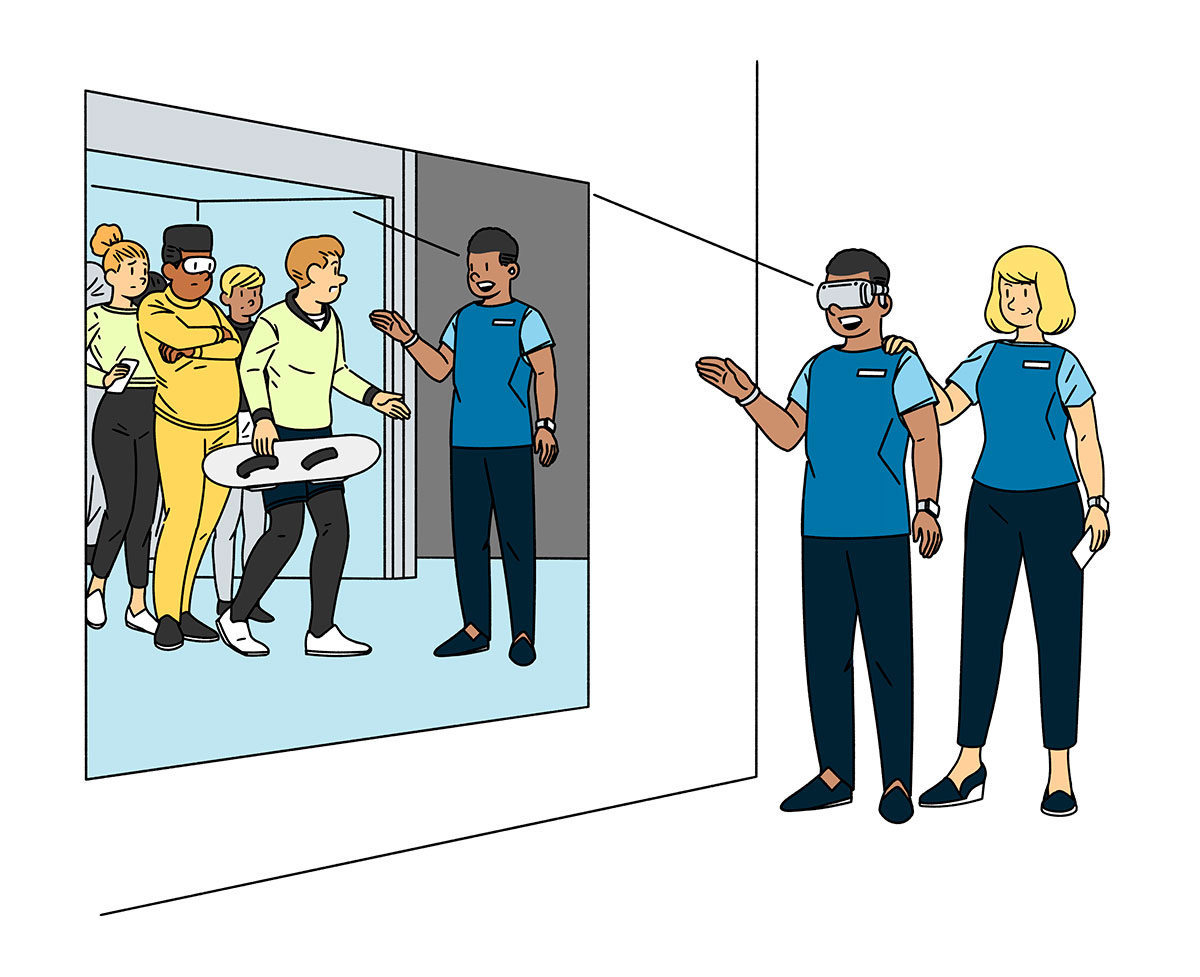 Trainee:
Wow, we've got quite the crowd today!
Kate:
Let's make this event amazing. The first step is saying, 'Welcome.' And always smile.
Training that was once analog and uninteresting has become an interactive game. Walmart already uses immersive VR to create training that teaches associates how to deal with broken merchandise or how to best handle customer service situations. Department managers also will be trained to teach customers how to use VR simulations, such as taking a bicycle for a test-spin on a road in their own neighborhoods, otherwise giving a true hands-on feel for a variety of products without having to leave the store.
8:36 AM
Fulfilling Orders Swiftly
December 14, 2022
Kate doesn't have to worry about taking inventory or managing every detail of advance orders that customers have placed online. In the stockroom, an automated grid of mobile carts picks up merchandise and brings pre-ordered items to multiple stations throughout the store. At one station, Walmart personal shoppers sort and assemble Melissa's order, which includes the 8K television, perfume, and skillet. Thousands of orders can be prepared during the week, which means associates can spend less time walking the aisles in search of products and more time helping customers outside of the stockroom. As Melissa arrives with Shaun, she gets an alert that she'll be able to pick her items up when she leaves the store.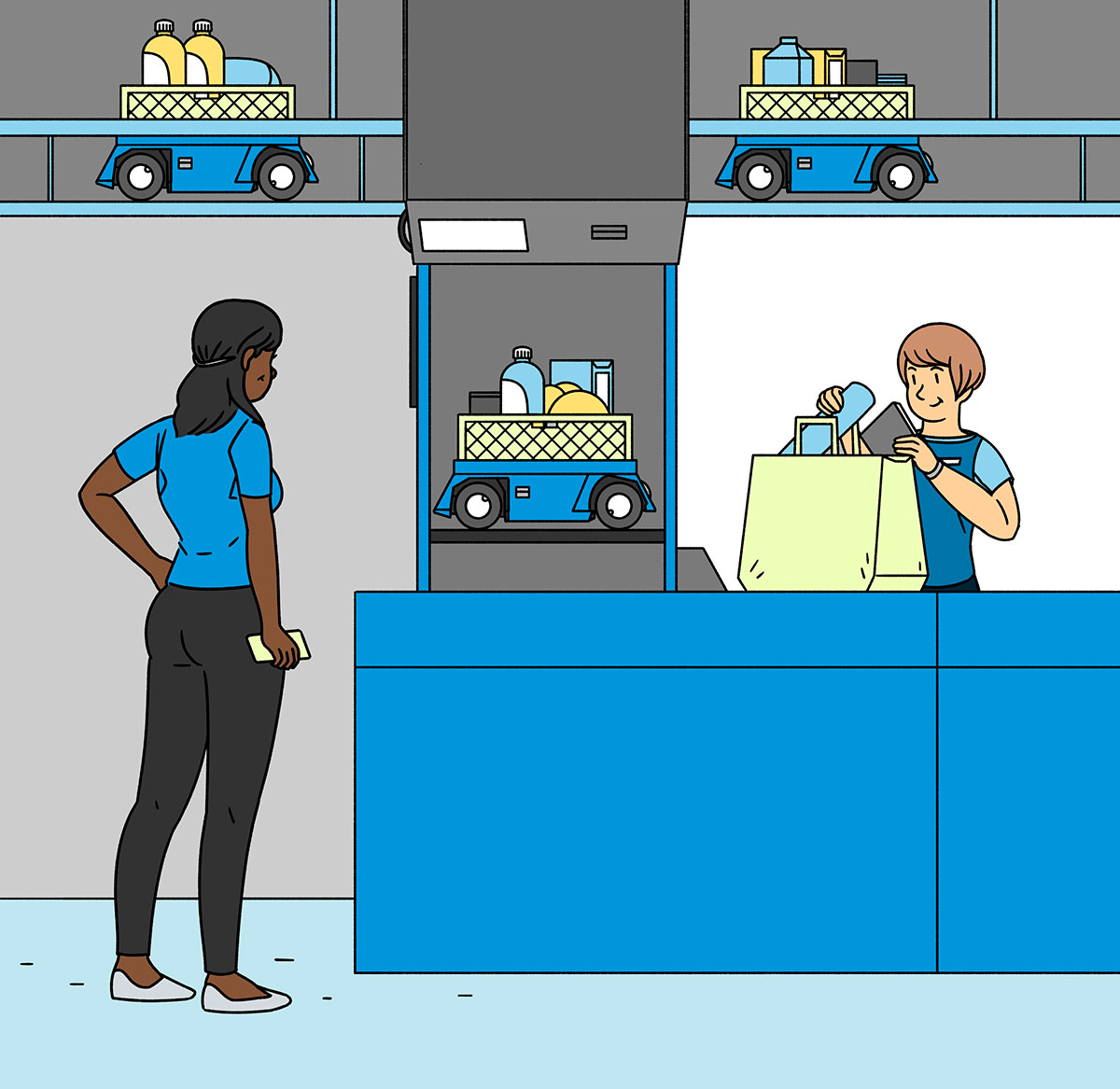 10:01 AM
Unloading Inventory, Simplified
December 14, 2022
On her computer screen, Kate can see boxes of just-delivered merchandise roll into the store on an AI-powered track, featuring dozens of spinning wheels on its surface. The boxes swiftly roll, conveyor-belt-style, from the truck to the stockroom. A barcode scanner mounted above the steady stream of boxes directs them to different locations in the stockroom, while also tracking completed orders and passing data to autonomous systems at a nearby fulfillment center. Walmart associates then take the boxes into the store and quickly restock shelves with the newly shipped goods. The unloader acts as an assistant that makes the process easier, freeing up associates to spend their shifts elsewhere in the store.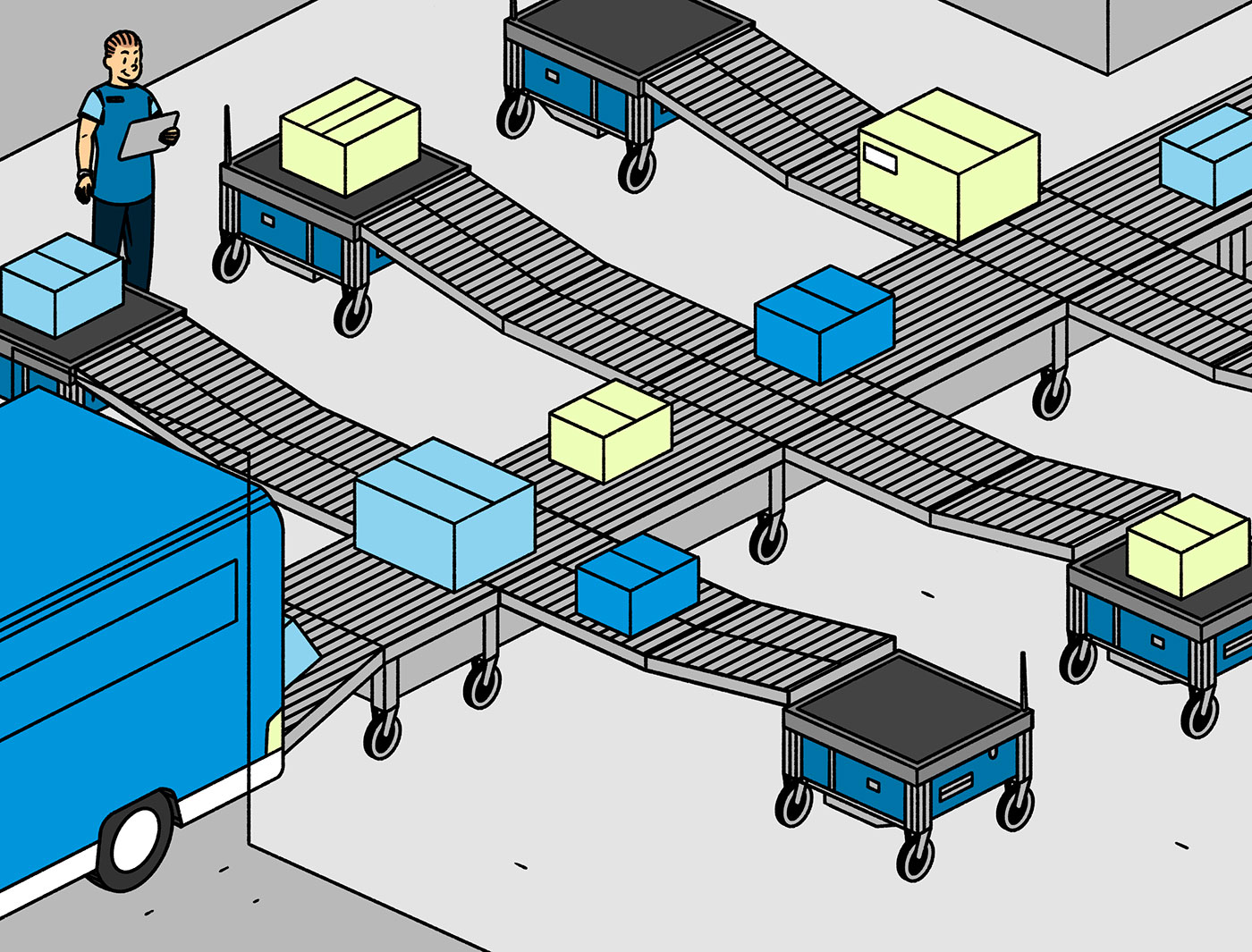 10:19 AM
Mirrors That Dress You
December 14, 2022
Rather than trying on armloads of clothing in a dressing room, Melissa can check out several dresses at once—and at the push of a button. In the past, customers had to hunt for their specific sizes and settle for whatever styles and colors were available. In 2022, virtual mirrors can retrieve any customer's body measurements after that information has been scanned into and stored in a database. The mirror shows the customer what items are available (or even currently unavailable, but able to be ordered), and how they fit. Melissa finds one dress that she's excited about, but it's not in stock. She hits the Buy button on the mirror anyway. The dress will be delivered to her home once the next shipment comes to the store.
Melissa:
This dress will be perfect for date night!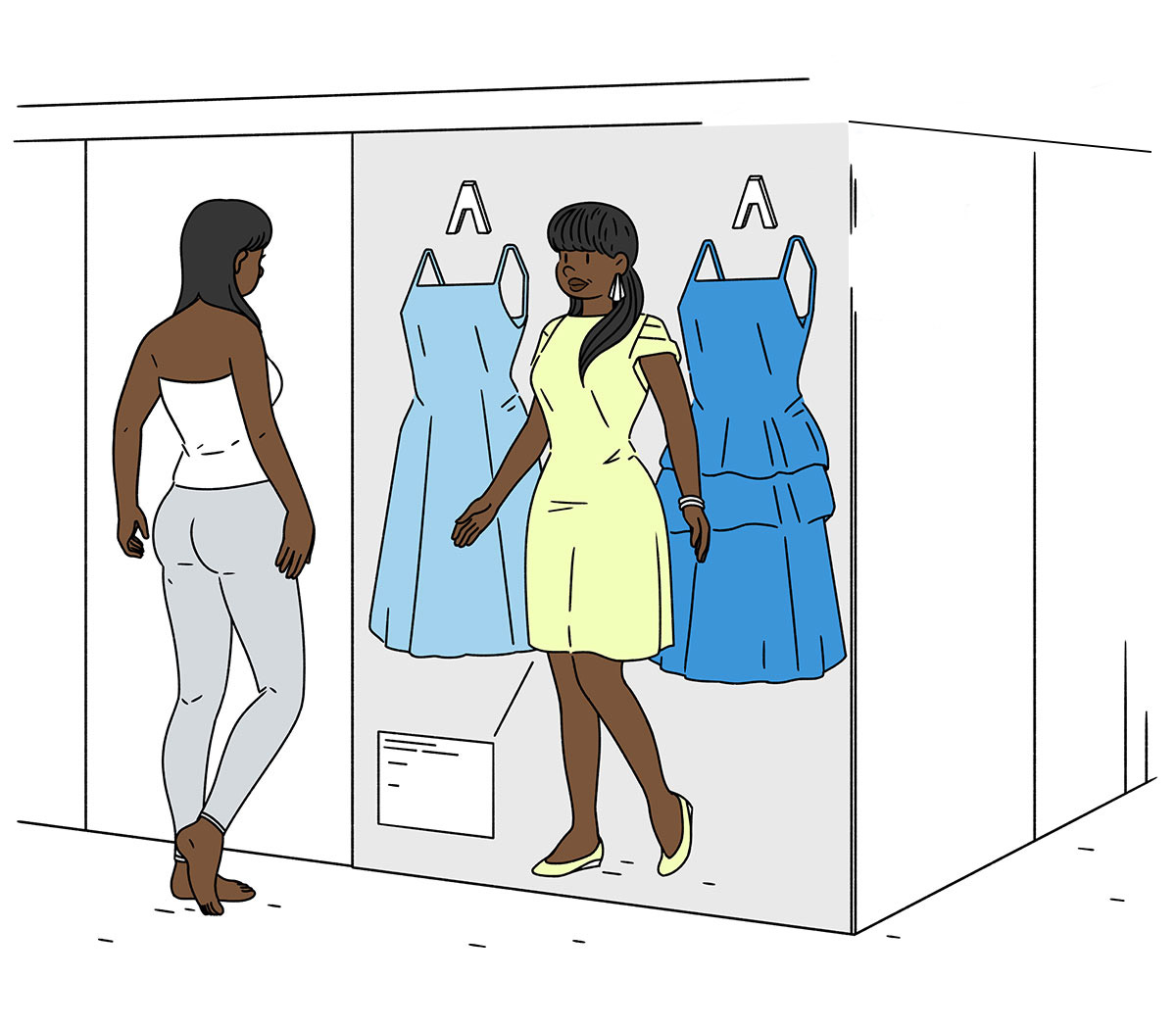 10:37 AM
Checking Out With Ease
December 14, 2022
As Melissa and Shaun walk toward the exit, their shopping cart, now full of goods, is ready to follow them to the car. On a future shopping trip, Melissa can pick up items pre-ordered online from the store's automated vending machine-style locker. Using a code, customers can open the locker and just grab their merchandise during their next shopping trip. It makes the online shopping process even more convenient for buyers.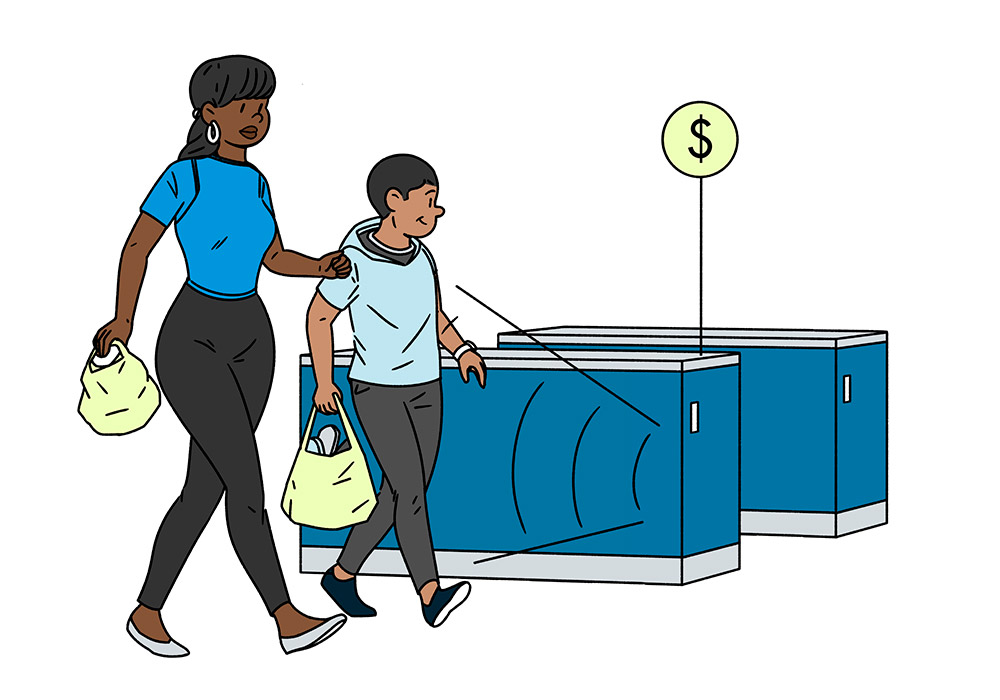 Melissa:
Well, that was fast. It's not even noon. Want to go see a movie?
10:39 AM
The Human Touch
December 14, 2022
The Walmart of the future will be an efficient, innovative workplace in which technology assists with routine tasks, allowing associates to interact more with customers and add a personal touch to the shopping experience. Kate has teams stationed around the store, ready to answer questions about the season's hottest merchandise.
Associate:
Thanks for shopping with us. Would you like to try a sample?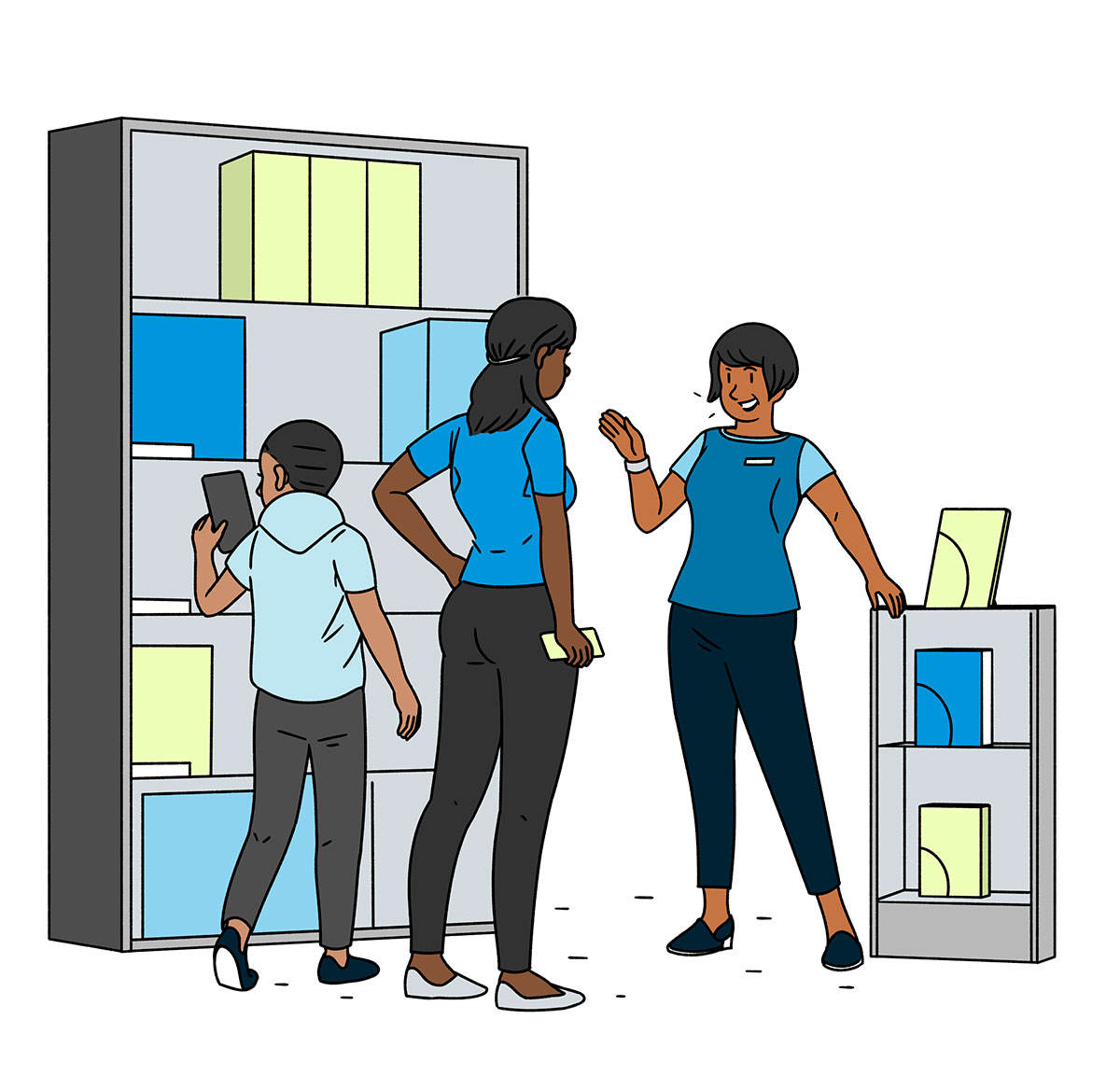 Four years from now, the purpose of shopping will be fundamentally the same as it is today: buying and selling goods. And yet, technology has the potential to unleash the biggest disruption to how people shop in centuries, making the experience fun, intuitive, and time-saving for shoppers and associates alike.