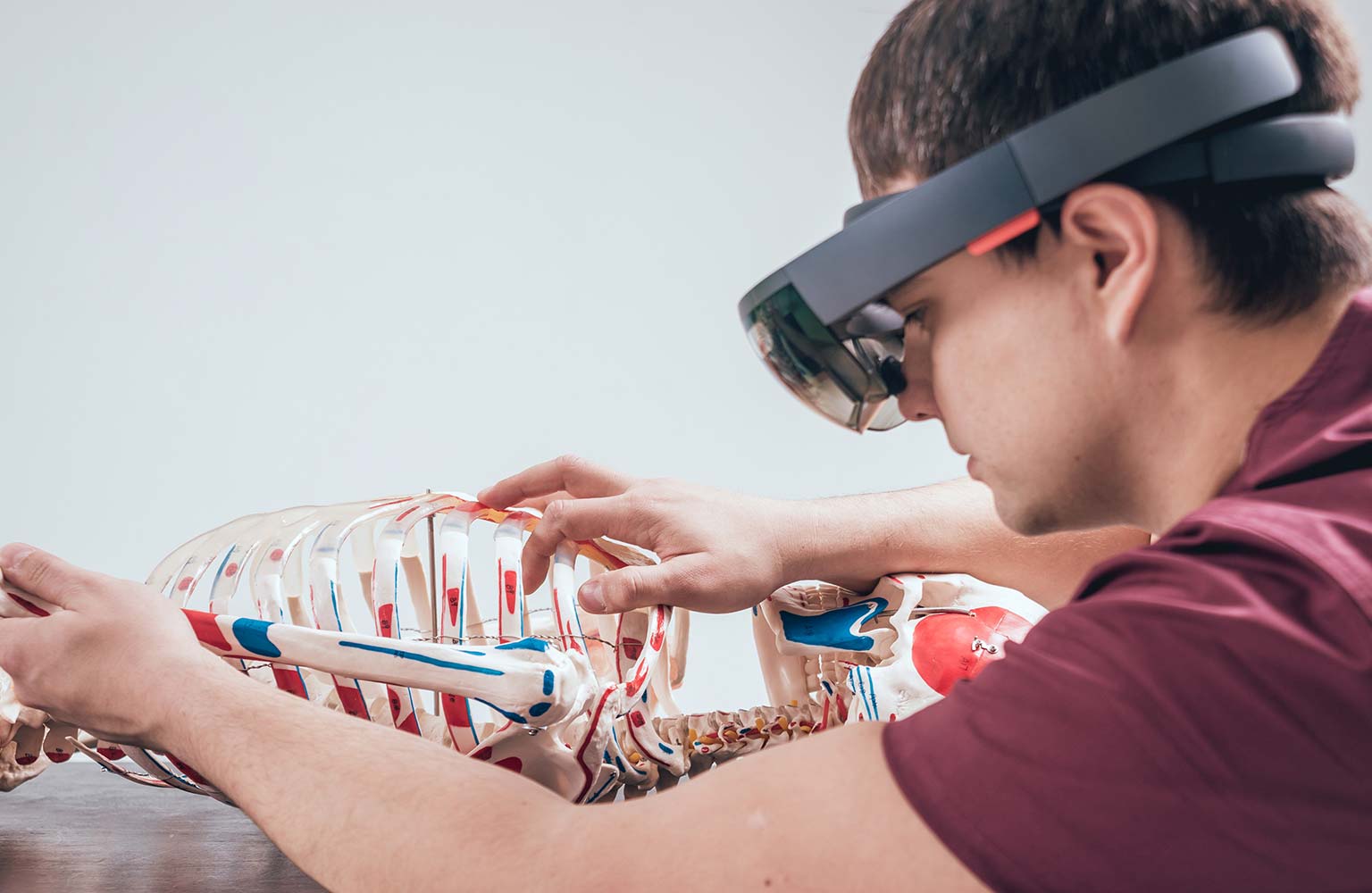 Grow: Expanding our ability to provide, through technology
Virtual Education Grows Up
Immersive environments are the next groundbreaking technology in education. And for many students, they're already here.
The girl lay on the emergency room table, her breathing ragged, her vital signs dropping. The seven-year-old's mother hovered nervously nearby as the medical team awaited instructions. The doctor in charge had just minutes to choose the right treatment before the girl died from anaphylactic shock.
It's a scene common to pediatric emergency rooms around the world. But in this peanut-allergy scenario, the patient was a 3D avatar, and the doctor was wearing an Oculus Rift virtual reality (VR) headset.
For the last year, Children's Hospital Los Angeles (CHLA) has been using VR to train medical students and residents in pediatric emergency medicine, says Dr. Todd Chang, director of research and scholarship at CHLA.
Exploring what happens when possibility becomes reality.
"Pediatric emergencies are high-stakes, low-frequency events," says Chang, who worked with BioflightVR and AiSolve to develop the simulation. "They're hard to train for because they don't happen very often, and you don't get comfortable until you've done a lot of them. So we use simulations."
Traditionally, medical students are trained using costly computerized mannequins, which require a team of other medical professionals to play different parts in the scenario. Or students learn via on-screen simulations, which lack the urgency and impact of a real-world exercise.
But VR feels more real, and that makes the training more effective, says Dr. Joshua Sherman, CHLA's associate director of quality improvement, who collaborated with Chang on the sim.
"As much as we try to recreate a scenario, people know it's a mannequin; they know they're in a classroom staring at a computer screen," he says. "They're missing that psychologic fidelity that makes it feel like the real thing. That's where we thought VR could help."
This you-are-there sensation created by VR and its less-immersive cousin, augmented (or mixed) reality, is helping universities and professional schools find new ways to teach and encouraging students to discover new ways to learn and thrive.
Body of Knowledge
Medical educators are among the earliest adopters of virtual technology.
At Cleveland's Case Western Reserve University (CWRU), for example, instructors are using Microsoft HoloLens mixed reality glasses to teach anatomy.
As opposed to VR gear like the Oculus, the HoloLens is not immersive; it overlays virtual images on top of real ones. So when students and professors don the $3000 headgear, they see a transparent, life-sized hologram of a human body floating in the air. They can walk around the body and zoom in on individual organs or systems while interacting with the professor and other students, notes Mark Griswold, professor of radiology and faculty leader of CWRU's Interactive Commons.
"With HoloLens, the students and the professor can look at the same holographic image of the body together—and, at the same time, still see each other," he says. "Mixed reality allows students to see where the professor is directing their attention and allows the professor to see how the students are approaching the body and get a sense of who might need a bit more guidance."
Professors can present different conditions such as tumors or blocked arteries, go inside organs without cutting into them, or change the model from adult to child—all things you can't do very easily with a human cadaver.
Education at Scale
Medicine is only one area where VR is changing how topics are being taught. Immersive environments are also making a big difference in the teaching of history, archeology, and architecture.
At Georgia State University (GSU), Glenn Gunhouse has been creating 3D computer models to teach art history. These immersive spaces can be projected onto a screen or viewed on smartphone-based VR like Samsung Gear VR and Google Cardboard.
"Sometimes the kind of knowledge I want students to have can only be gained by experiencing a 3D space or building," says Gunhouse, a senior lecturer at GSU's School of Art and Design. "The things we're talking about are real-world places, so I try to make 3D models that allow students to experience them in a bodily way. When they write papers for me on the basis of virtual models, someone else reading them wouldn't be able to tell if they visited the actual church or the virtual one."
VR offers a sense of scale you can't get from looking at images on a computer screen, says Eric Wernert, director of visualization and analytics and research technologies for the Pervasive Technology Institute at Indiana University.
"You can imagine what scale drawings and 3D renderings might look like, but you need to walk through the space in VR to get a sense of 'oh, this entryway is too small' or 'this thing is really a lot taller than I thought it would be,'" he says.
Immersive environments also allow educators to capture vast amounts of data on students' performance: what they gazed at and for how long; what they did inside the environment and how quickly they did it. Teachers can then use predictive analytics to project how well a student might do in the future.
"The data was the most important and unique part of this project," says Chang of his work with VR simulations. "How many seconds does it take for students to give the correct medications? How quickly do they react to something else? All of that data is put into a spreadsheet we can show students at the end of the simulation."
Content Is Key
So why aren't more universities embracing virtual and mixed reality? One reason is cost. Outfitting a classroom full of students with headgear and the computers to power them is still too expensive for a lot of cash-strapped schools, notes Emory Craig, cofounder of immersive learning consulting group Digital Bodies.
"I've seen labs that have 4 or 5 Oculus or HTC VIVE headsets, but it's very rare when someone's gone out and bought 20 or 30," says Craig, who's also director of eLearning at the College of New Rochelle.
That may change in 2018, when Facebook plans to release its $199 stand-alone Oculus Go, which doesn't need to be tethered to a powerful PC. (HTC also has introduced its own stand-alone unit, the VIVE Focus.)
"These will be something of a game changer," Craig says. "That's when you could conceivably say, 'We are going to get enough of these so that everybody can walk into a lab and use one simultaneously.'"
Another barrier is the relative lack of immersive content. Right now, most professors either create their own software or add their own 3D content to an existing VR software package, says Indiana University's Wernert. Some professors have also had luck combing through games libraries, such as the Steam VR store, to find apps suitable for use in teaching, he adds.
This is about to change in a big way. Pearson, the world's largest vendor of textbooks and digital educational content, plans to introduce five mixed reality apps for HoloLens next year. The new software includes a chemistry app that lets students build molecules out of holograms and a history app that lets them curate their own exhibitions using materials from the British Museum.
Pearson has been piloting mixed reality projects at universities such as Bryn Mawr, San Diego State, and Texas Tech over the last year, says Mark Christian, the company's global director of immersive learning.
"Some of the apps we built look to be fairly transformational in teaching," he says. "We've taken the ones that had real promise and are bringing those to market in 2018."
All Together Now
At present, immersive environments are largely a solo experience: The VR or AR app lives on the device of a single user, who navigates through the digital world alone. But as the technology develops, it will rely more and more on virtualized machines in private and public clouds to serve up a library of content to multiple users.
Pearson already has created a network-based content management system that allows multiple students to share the same experience, says Christian.
"The collaboration piece is pretty interesting," he says. "A teacher can launch a HoloLens session and students can hop on and see it. You can record everything a student sees, hears, and says; their location in the room; and what they're looking at it. It allows you to see how a group of students are collaborating with each other in a meaningful way."
Soon, those students will no longer need to be in the same room or even the same country. With a cloud connection and sufficient bandwidth, they will eventually be able to collaborate and communicate across great distances.
"With VR simulations in the future, a student in New York could practice with another student in Los Angeles and one in France, practicing teamwork and communications with each other inside these scenarios," says Sherman.
Still, these are early days; the potential of virtual and mixed reality in higher education has barely been tapped.
"The opportunities for additional education applications are, quite literally, limitless," says CWRU's Griswold.
"Imagine seeing the battle of Gettysburg from the vantage point of a soldier, or standing with thousands in the crowd as the Reverend Martin Luther King Jr. gave his 'I Have a Dream' speech, or in the Apollo 11 cockpit as Neil Armstrong took his first steps on the moon—all while maintaining normal interactions with your teacher and other students. It's something that's never really been possible before."
The Possibility Report is an ongoing series about how technology is changing our understanding of the world around us. This article is part of GROW, our discussion on how technology is impacting the ways we cultivate, prepare, and deliver food at home and beyond.