Winds Across America: Reviving the Heartland
The advance of U.S. wind power is doing more than cutting greenhouse gas emissions: It's also bringing good jobs and rising prosperity to the American Midwest.
Video and photography by Bas Berkhout
It is said—to use the language of legend—that worldwide wind was born as a business the day Henrik Stiesdal went to a farm in Tvind, Denmark, to visit a group of Maoists.
This was in 1976, after the global economic shock of the Arab oil embargo. Like other affected nations, Denmark was looking for a way to reduce its dependence on the Middle East.
Nuclear power plants had been proposed and opposed, and now this Danish/Maoist collective had decided to demonstrate an alternative: With mostly primitive means, they were building the biggest-ever wind turbine from scratch. Impressed, Stiesdal studied their progress and, from this "group of obvious amateurs," as he later put it, he drew the inspiration to bring wind power to the world. In the decades since then, Stiesdal, who retired as chief technology officer at Siemens Wind Power in 2014, has been known in some quarters as "the grandfather of wind," even as "the inventor of wind"—hyperbole to be sure but born of truth, an origin story that has suffused Siemens and helped propel it to the forefront of the wind-power business around the world.
An industrial conglomerate that began life in 1847 as a workshop in Berlin, Siemens today comprises nine divisions, from financial services to health care. It entered the wind business in 2004 with the acquisition of Bonus Energy, Stiesdal's firm in Denmark. By then the nation had become, as it is now, the world's showplace for wind-power technology: Groves of offshore turbines were proving incontestably its great potential in the field of renewable energy.
What it takes to capture the wind: A video series on the people, processes, and essential attributes of wind power. Part 1 of 3 (0:44)
Movement: the flow, the momentum, the future
Since then, on its way to becoming the world's number-one producer of offshore turbines, Siemens has established production facilities all over the world. Among them was its first American blade-manufacturing plant, which opened in Fort Madison, Iowa, in 2007. This facility has made an economic impact in a region sorely in need of one. With more than 600 employees, Siemens is the largest employer in the county, with ripple effects throughout the tri-state area. Unemployment, which was pushing 10 percent, has fallen to about four.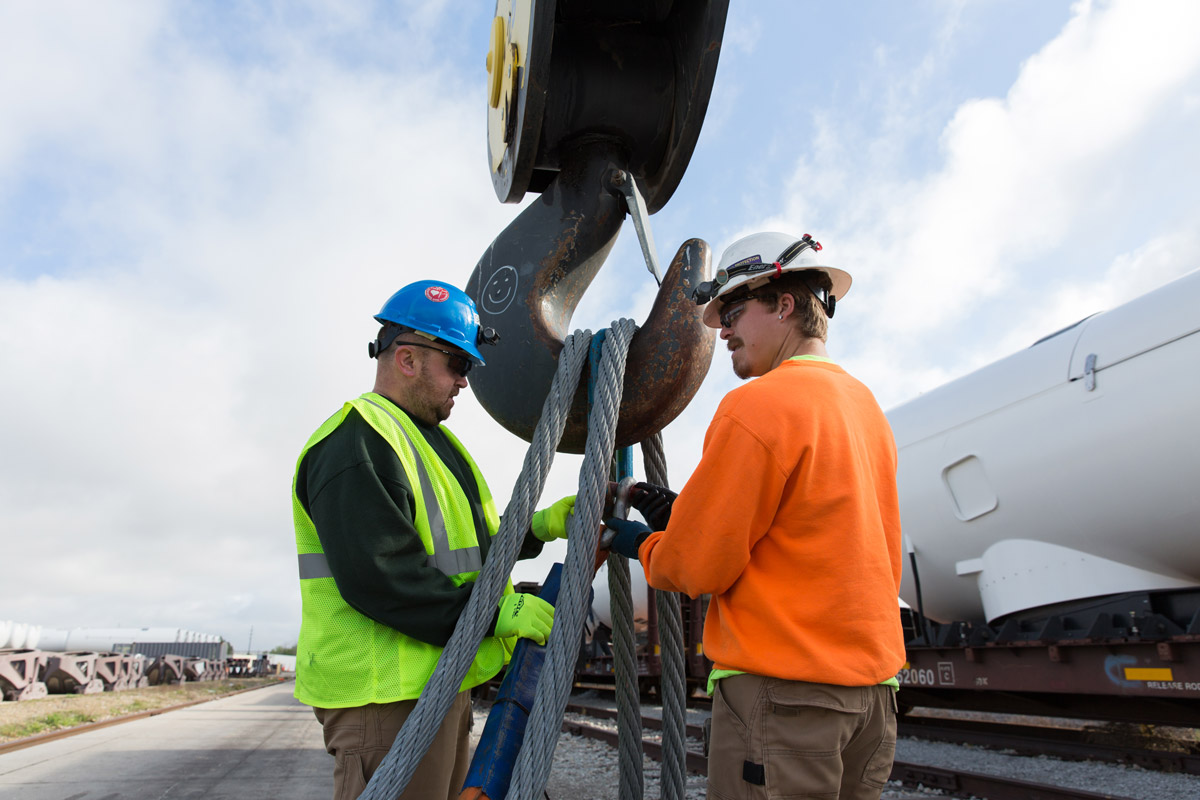 On a typical day in the factory yard you can see the source of Fort Madison's good fortune in the giant blades, yet to be painted, placed around the perimeter, each resting on stands. From a distance these blades look like giant duckbills, as if someone were on the way to constructing some really massive mallards. Closer inspection suggests something quite different. On each blade the mats of balsa, divided into small squares and fused with fiberglass, create a beautiful kind of golden parquet. There are people who would love to have floors like this. Well, not quite like this: These are after all 53-meter, ten-ton units, designed to stand up to very high winds.
It's plain from talking with employees that the process yields a fierce pride in the work—pride in craftsmanship and the satisfaction of working for an industry that's doing something good for the planet. That sense of purpose was certified by President Obama's visit to the plant in 2010.
That was also the year Siemens opened a companion factory 500 miles southwest in Hutchinson, Kansas, where the nacelles are assembled and the turbines are built. The turbines consist of two units: the hub, where the blades attach, and the nacelle, which houses the electricity-generating components and when completed looks like a Tylenol tablet the size of a school bus. Here heavy machinery and ear plugs abound as massive yellow beams overhead shift parts from station to station and forklifts of all sizes making sharp turns go beetling about the floor.
Photo Gallery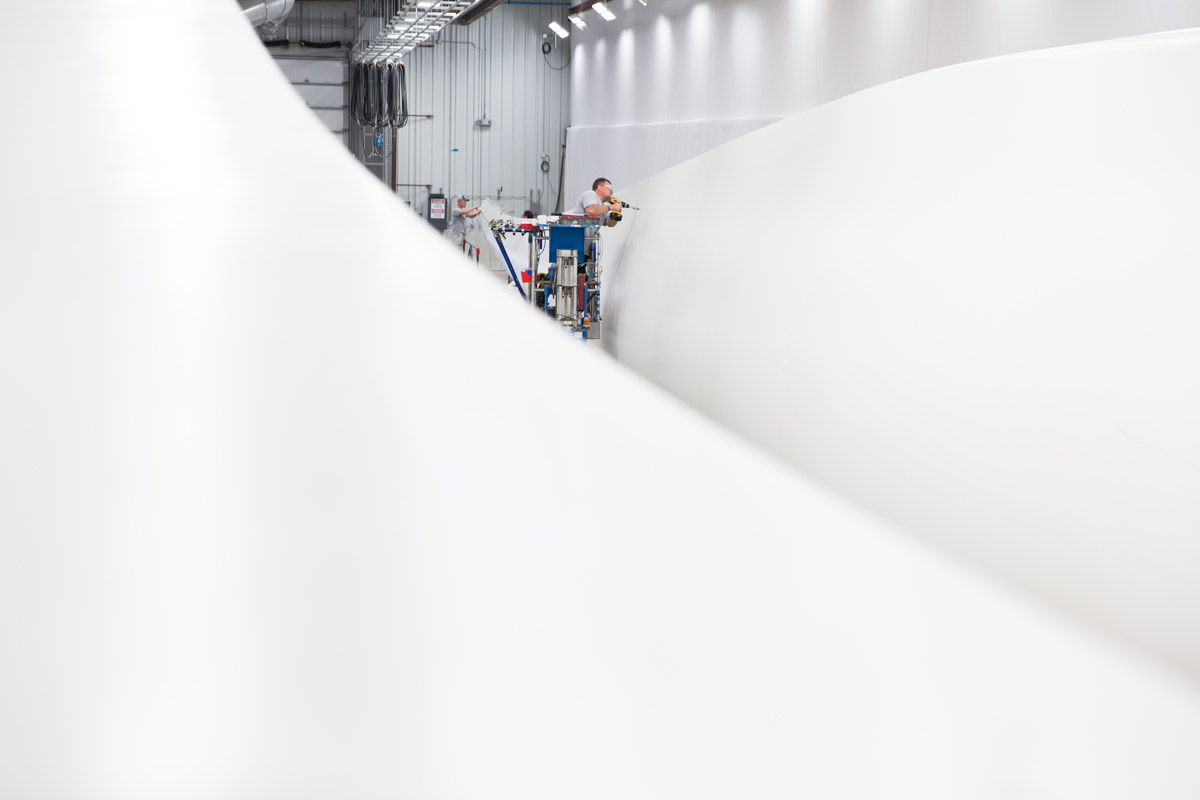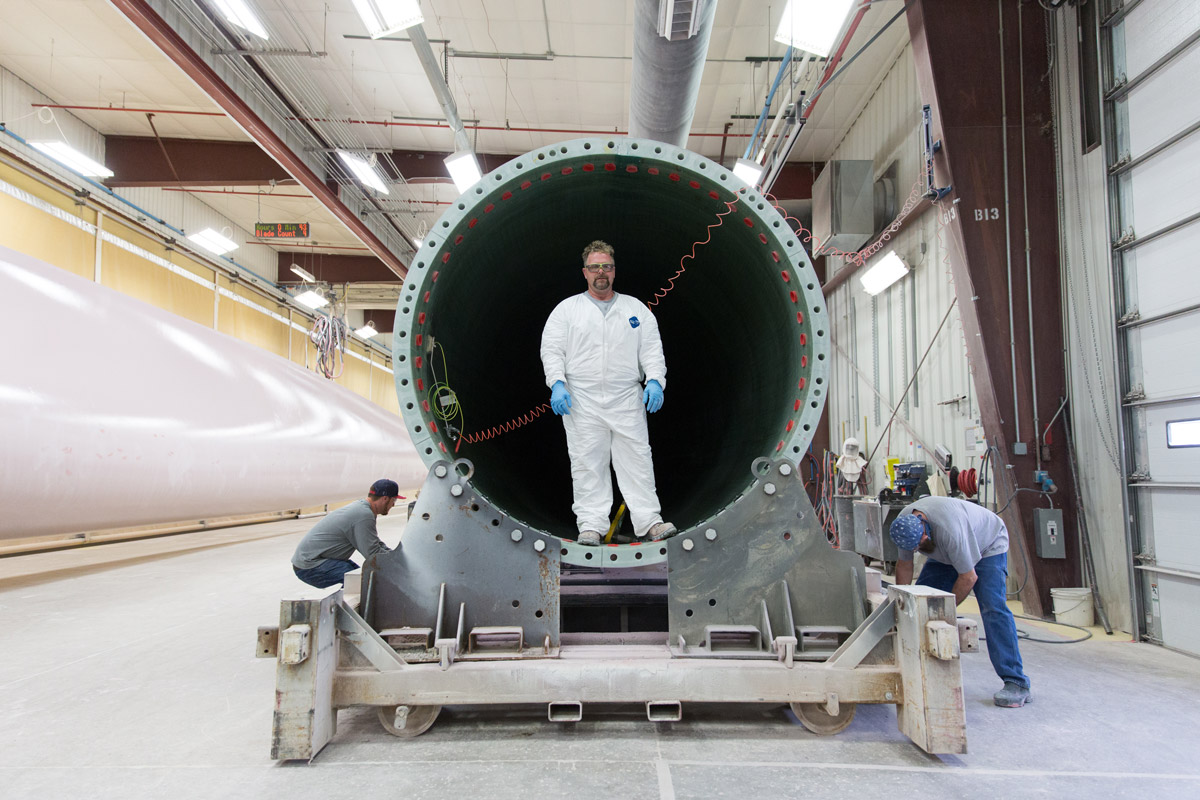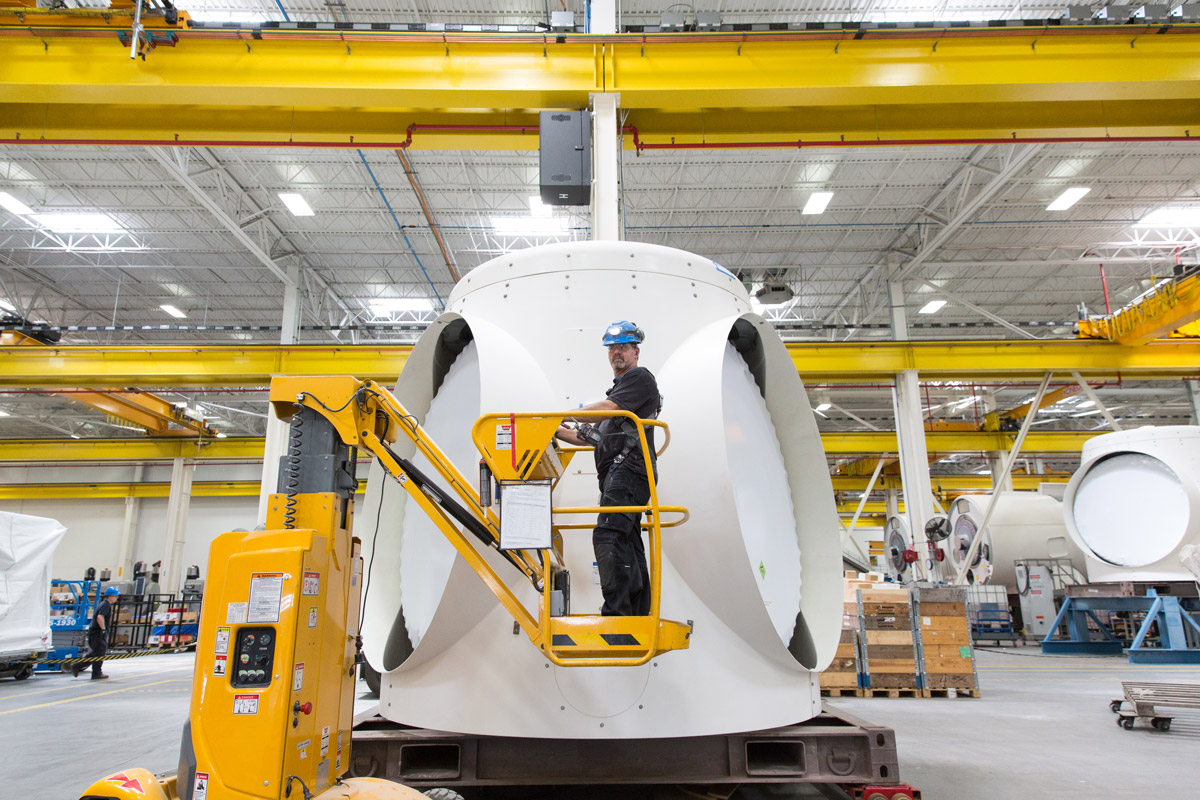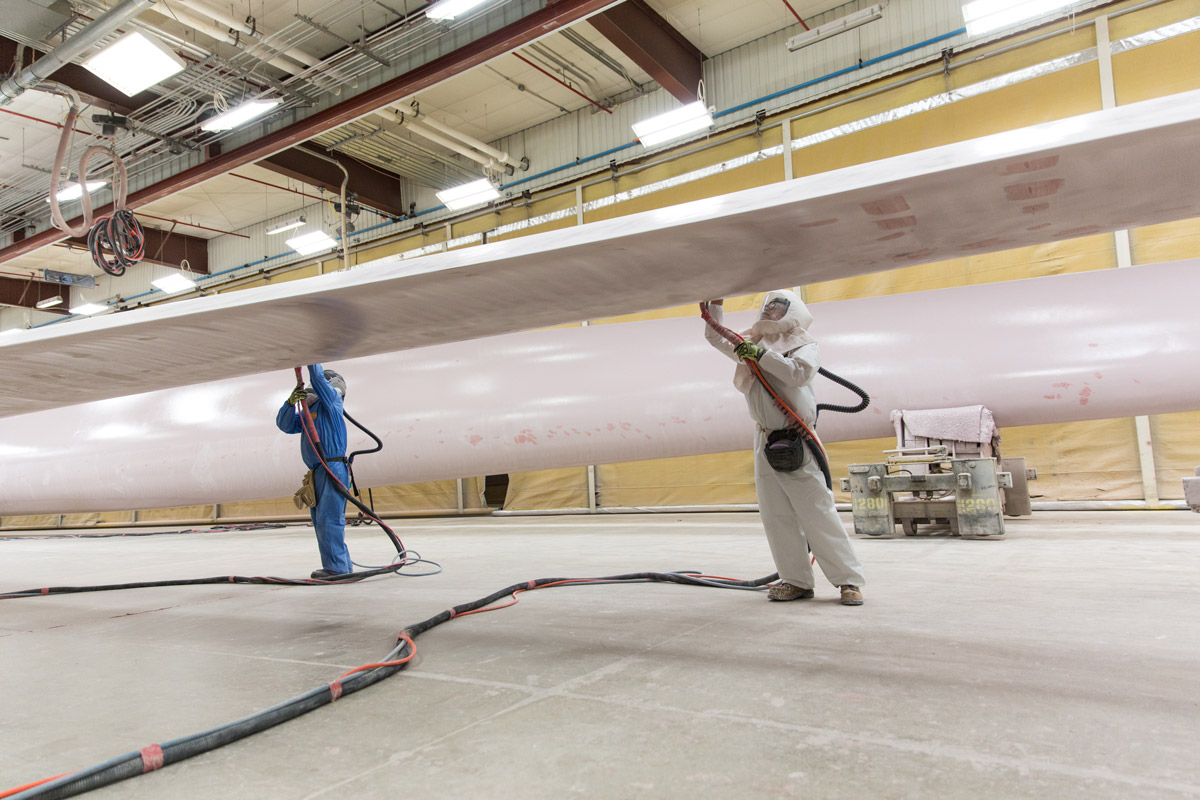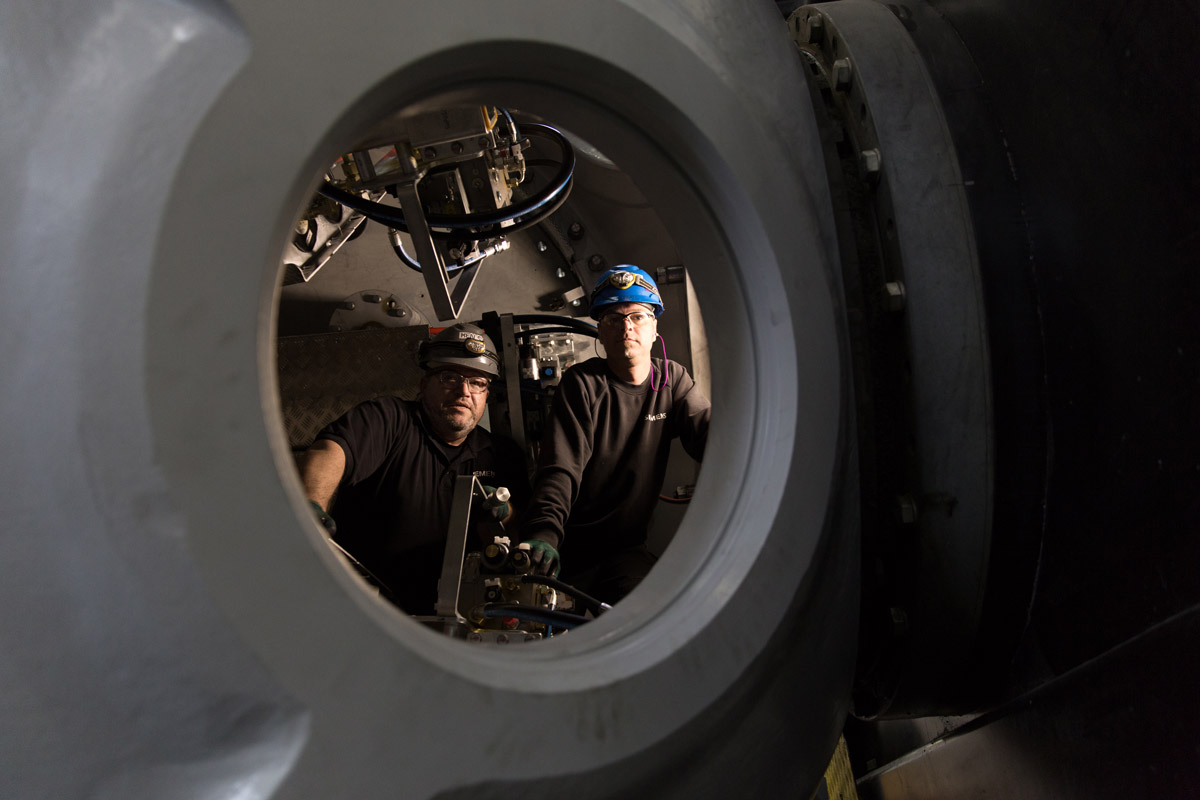 Siemens' addition of the Hutchinson plant strengthened both the macro- and micro-economies of the region. In 2013, for example, the company provided 448 wind turbines to five projects in Iowa, enough to send benefits through neighboring states and beyond. Mark Carney, proprietor of Hoggs and Doggs, a lunch wagon that faces the turbine plant, speaks for many of the small-business owners who have profited from the region's wind-driven prosperity: "What people are driving has changed," he says. "I look across this parking lot, and you know what I see? I see success!"
Beyond creating jobs in the Midwest, Siemens has gone to great lengths to bring its American and European employees together, in spirit and in person. U.S. employees at virtually every level have been flown to Europe to meet their counterparts and learn best practices—an especially enlightening experience for those who had never been to Europe before. "Europe was never on my radar," says one mid-level Siemens employee. "I went to Denmark a couple of times. That inspired me to take my wife to Italy. It was terrific. Next year we're going to England and France."
The exposure to new worlds goes both ways: In 2010, when the plant first opened, a contingent from Siemens in Europe was brought in to instruct the American newbies. It was hard going at first. "They came with this tribal knowledge," says Josh Beck, a "continuous improvement specialist" here. "So many things were obvious to them. And it was like, 'Why don't you understand?" Before long the gulf was bridged, though, and work began to accelerate. "The first nacelle took two months to produce," Beck recalls. "Today we're doing it in five hours."
The Americans, on the other hand, found the Europeans quick to appreciate certain aspects of American culture. "They were very surprised by the size of our agriculture equipment," Beck says, "and our cars. That was one thing they loved immediately. They got big Camaros with V-8 motors, Mustangs, SUVs." They were slower to grasp the local passion for college football, specifically the Kansas State Wildcats, "but soon they were buying season tickets. They became avid tailgaters with the beer and the barbecue. It was fun to see them embrace it."
What it takes to capture the wind. Part 2 of 3 (0:47)
Weight: the process, the potential, the product
The last stop for a Siemens wind turbine—blades and nacelle, plus tower—is, of course, a wind farm. Apex Clean Energy recently bought and erected 66 of them on a site it developed in Grant County, Oklahoma. In addition to manufacturing the turbines, Siemens provided Grant Wind a construction loan. Apex is a wind-energy company that originates, finances, builds, and operates turn-key wind facilities for its customers, in this case a leading utility.  "We're always looking for ways that we can help Siemens customers finance their projects," says Jim Kipers of Siemens' financial services division.
Just 100 miles from the Hutchinson plant that produces the nacelles, Grant Wind represents the second deal struck between the two companies in the past year. A similar facility developed by Apex in neighboring Kay County has been up and running since December. Kay Wind is a 299-megawatt project that sends renewable energy to some 100,000 homes. Grant Wind, at 152 megawatts, will add 54,000 more. Together they are transforming the energy picture throughout the region.
"Wind and solar both have a place in our country's shift to renewables," says Mark Goodwin, president and COO of Apex Clean Energy. "Oklahoma has a fantastic wind-energy resource, great access to transmission, and many landowners who are interested in hosting wind facilities on their property.
"It is cheaper to build a new wind energy project in Oklahoma right now than it is to build a gas plant, solar plant, or any other type of generation facility," Goodwin adds. "Because wind energy can provide such low-cost power, it has made the most sense for Apex to focus on wind energy at this time."  
At Siemens projects throughout the Midwest, maintenance of the turbines is generally managed out in one of two ways. If there's a lightning strike, say, climbers appear with mountain gear the next day in order to scramble up inside the nacelle or even rappel down inside a blade.
Most repairs, though, don't require anything so dramatic. Operators in Denmark are monitoring each turbine 24/7. If something goes wrong they can often correct it silently, remotely—all the while, just maybe, keeping an eye on the Kansas State game.
What it takes to capture the wind. Part 3 of 3 (0:48)
Heart: the passion, the attention, the pride