Photo: Copyright 2017 Bud Glick. Courtesy of the Robert Wood Johnson Foundation.
---
Every community in America has its own DNA. Whether large or small, urban or rural, these places have unique histories, with varying strengths and diverse challenges. Robert Wood Johnson Foundation Culture of Health Prize winners, though different, are kindred spirits and have key attributes in common. Chief among them is a belief that success requires listening to many voices and understanding that everyone deserves economic opportunities, health services, housing and transportation, education, access to healthy food, and more. Here are some of the compelling ways the 2017 Prize-winning communities are ensuring that inclusion and opportunity-building are cornerstones of their efforts to improve health for everyone.
Diversity Is Becoming This Community's Glue
SAN PABLO, CALIFORNIA
At a Friday night party in the San Pablo Senior Center, dancers swinging to "Johnny B. Goode" can be overheard speaking Tagalog, Mandarin and Cantonese, and, of course, Spanish and English.
San Pablo is a kaleidoscope of people. Residents of Hispanic or Latino descent now make up the majority, representing 57 percent of the population. Two out of three residents speak a language other than English at home and 45 percent were born outside of the United States.
Diversity is part of the legacy of San Pablo, a stagecoach stop during the Gold Rush, and the city has taken intentional steps to make the community as inclusive as possible across many areas. By improving interactions, the city hopes to become a more cohesive place to live.
Some efforts have been small but meaningful, gestures to build connections. To bridge the generational gap, the senior center makes a point of bringing young visitors to mix with older members, programming activities like a Top Chef-style cooking competition with intergenerational teams or a tutorial on how to take cellphone selfies.
"There's a disconnect between generations that we are trying to bring together," says Vicky Voicehowsky, the senior center recreation supervisor.
The city, meanwhile, tries to remove barriers so as many residents as possible can participate in planning meetings or forums on issues that affect them. It holds events at multiple times and different venues, often offering childcare and food, as well as translators. "By including every sector of the community, we actively engage our residents and encourage them to be a part of the decision-making process," says Greg Dwyer, the city's director of community services.
Other initiatives in San Pablo have been more deliberate attempts to foster a deeper sense of connection for the well-being of everyone. On that front, the San Pablo Police Department has led the way.
The department was the first in the region to offer free certified emergency response training in Spanish, a clear example of how the city's commitment to being inclusive is a benefit for not just a few, but for everyone. San Pablo sits on an earthquake-prone fault line and has two refineries within eyeshot, so having the Spanish-speaking majority trained in safety procedures would help the community at large in the event of an emergency, says Brian Bubar, a commander in the San Pablo Police Department.
By equipping people with the skills they need to take care of themselves and their neighborhoods, "it builds a sense of ownership, and that partnership is strengthened," he says.
The emergency training is just one piece of a broader community policing approach, which includes locating officers within the middle school, offering youth programs, and sponsoring a Community Police Academy, which gives anyone an up-close look at how the police department works. Once a week over the course of 10 weeks, the department opens its doors for talks and demonstrations, such as showing a K-9 unit or taking participants on ride-alongs. Not only does that give people a better understanding of policing, it also gives the department insight into what the community is thinking.
"We want to hear how the community wants us to police them," says Bubar. "If we have a community that feels safe and can work, play, live, then that community is going to thrive."
Sometimes Reducing Poverty Means Being Bold
RICHMOND, VIRGINIA
In her nine years as the employee of a Richmond, Virginia, grocery store, Kiocia Wilkerson worked just about every job: cashiering, staffing the pharmacy, filing paperwork. But toward the end, she wasn't getting the steady hours she needed to support her two young children on her own. Without childcare, she was unavailable for evening and weekend shifts. Some weeks, she had just four hours of work, or none at all.
It was a financial crisis for Wilkerson's family, but also a crisis of opportunity. "The way I was getting paid, I was never going to move in life," she says.
Poverty is entrenched in Richmond. About a quarter of residents and four in 10 children live in poverty. The rate is much higher in some neighborhoods, such as the census tract that includes Fairfield Court, the East End housing development where Wilkerson and her children lived until earlier this year. There, more than two-thirds of families live in poverty.
In response to widespread intergenerational poverty, the city in 2014 made a bold commitment to reduce child poverty by 50 percent and overall poverty by 40 percent by 2030. Richmond's Office of Community Wealth Building, the first office of its kind in the nation, was created that year to lead the charge.
"The thought was to put pieces of [poverty reduction] under one department so there can be a strategy to move thousands of people to self-sufficiency," says Richmond native Reggie Gordon, the office's director.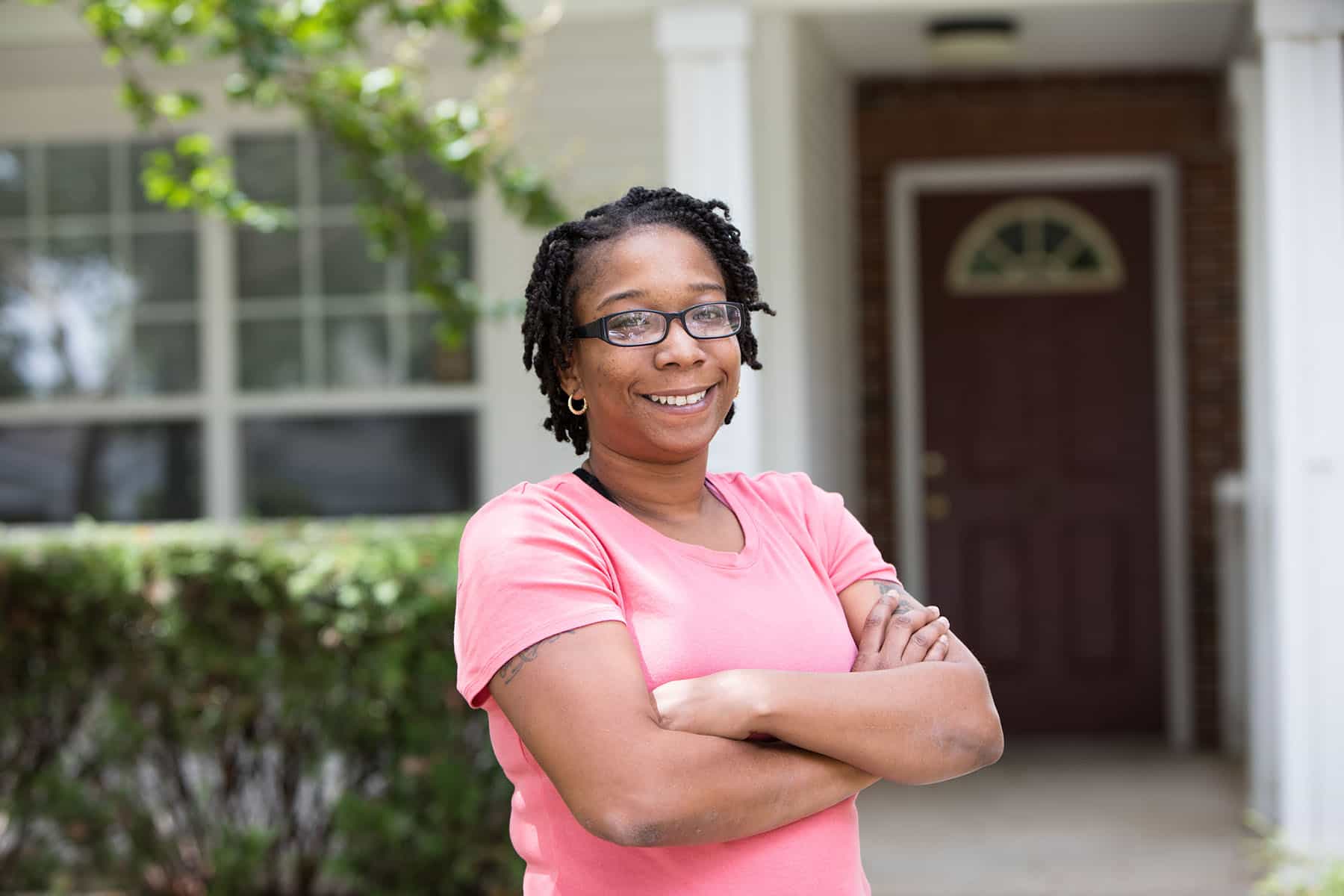 Photo: Copyright 2017 Joshua Kohanek. Courtesy of the Robert Wood Johnson Foundation.
---
To lift families out of poverty, the city is working to expand employment possibilities, supporting individuals along the way. At the Office of Community Wealth Building's Center for Workforce Innovation, participants are matched with intensive case managers who connect them to education, vocational training, and job opportunities, provided through partnerships with local higher education institutions and businesses. The city also has opened "Future Centers" in every Richmond public high school to prepare students for college and careers through mentoring, college application support, and soft-skills training.
In the East End, the Peter Paul Development Center is taking a neighborhood-based approach to building assets in families that have had few educational and employment opportunities. The center works with more than 200 children and their families, providing out-of-school time and summer programming, and creating plans for all members of the family to achieve milestones and goals along the path to self-sufficiency.
Building wealth in families that faced discrimination for generations will take time, people here say. Wilkerson can attest to that.
But she feels herself moving forward, with help from the Center for Workforce Innovation and Building Lives to Independence and Self-Sufficiency, or BLISS. This intensive program, launched in 2015, provides similar support to families that live in public housing.
Wilkerson got a job two years ago as a school cafeteria worker, and she and her children recently moved into a mixed-income neighborhood, becoming the sixth BLISS family to leave a public housing development. Eventually, Wilkerson wants a career helping people, so she's studying human services at Reynolds Community College.
"Our whole reason for working with our families is to empower them to remove barriers they never thought they could," says BLISS Program Coordinator Sandee Smith, who has worked with Wilkerson the past few years. "We put them in front of resources that make things happen."
Distances Were the Problem, Wheels the Solution
GARRETT COUNTY, MARYLAND
Steve Knepp is a rare sort of early childhood educator: one with a commercial driver's license. He needs it to drive a specially outfitted, Wi-Fi enabled school bus—carrying books, toys, craft and science supplies for the kids, and computers for the grown-ups—across Garrett County, Maryland.
At each stop, Knepp is joined by teachers who offer hands-on activities, a read-aloud session, tips for parents, and referrals to developmental screenings and academic services. Family service providers link families to financial and employment assistance, mental health and substance abuse programs, and other services. Children and their families leave the bus with a free book and bag of groceries.
"The bus is one of the main ways we're able to connect with families we were never able to reach before," Knepp says.
The Learning Beyond the Classroom bus belongs to a constellation of traveling services Garrett County has put in place to shorten distances for residents in an area where roads are sparse and population centers dispersed. Many towns lack grocery stores and gas stations, and the county has no public transportation system, though nonprofit social service provider Garrett County Community Action runs an on-call van.
But if you want fresh produce, farm cooperative Garrett Growers will deliver through its Veggie Box program, with about half of subscriptions sponsored by nonprofit and government agencies for low-income families and individuals with chronic diseases. The county's Meals on Wheels program, run by Garrett County Community Action, brings seniors and the disabled both daily food and regular health care in the form of a nurse's visit every six months. And the nonprofit is working with Garrett Regional Medical Center on a pilot project that would deliver patients a month of meals after discharge.
Video – 1:17 MORE OPPORTUNITIES MEANS BETTER HEALTH
Reaching out is a formula the medical center has found success with already. It matches patients at high risk of readmission with nurse navigators, social workers, and community health workers, who coach them through recovery over the phone and at their homes. Today, the center has the lowest readmission rates in Maryland.
Many community health workers have walked in the same shoes as their patients as they manage chronic conditions themselves. Community health worker Ed Kight has lost 30 pounds and quit smoking since being diagnosed with type 2 diabetes two years ago.
"I'm able to tell my patients that if they put their minds to it, they can make healthy changes," he says.
Through the health department's nurse home visiting program for new moms, Sonya Kisner was able to see that her baby—now just over a year old—was developing and growing well. Her nurse also helped her set and achieve goals for herself, such as finishing her high school degree online and getting a driver's license. This year, she's starting higher education courses to be certified as a veterinarian assistant.
Going to people can, in some instances, make up for limited resources, says County Health Officer Bob Stephens.
"What we have, we make it work," he says.
To Tackle 'Multigenerational Trauma,' Start Early
SENECA NATION OF INDIANS
Traumatic experiences go back four generations in Suzanne John Blacksnake's family.
Her parents, three of her four grandparents, and several of her great grandparents—all members of Seneca Nation of Indians in western New York—were forced to attend Indian boarding schools. The 19th- and 20th-century institutions, aimed at assimilating native children, stripped them of their language and culture and separated them from their families. And when Blacksnake was a child, she and her parents were among those removed from their homes to make way for flooding caused by construction of the Kinzua Dam in the mid-1960s.
Now, Blacksnake and others in the Nation are on a mission to address what they call "multigenerational trauma." They say centuries of cultural erasure, loss of land, and imposed family breakdown have had widespread effects on the Seneca people, including disproportionately high rates of dropout, incarceration, drug and alcohol addiction, depression, and family violence. To get at the roots of these problems, the Nation is targeting efforts at the very young and those struggling with addiction.
"I need to train my staff so we can overcome the effects of trauma, not perpetuate it," says Blacksnake, who is acting director of the Seneca Arts & Learning Center, which comprises the Nation's early childhood education, language, and education departments.
Photo: Copyright 2017 Tracie Van Auken. Courtesy of the Robert Wood Johnson Foundation.  
---
A former school counselor, Blacksnake is working on an ambitious and expansive multi-year plan to boost well-being among Seneca families. Intergenerational trauma will be taken into account in all programs at the Seneca Arts & Learning Center, she says, starting with infants in the early childhood learning center.
In her vision, there would also be daily language training for existing preschool teachers and staff to create a strong connection to Seneca language and culture. Professional development programs would create a pipeline of new early childhood teachers. Clubs and other learning opportunities would interest children in careers from an early age. And health fairs, fitness events, and educational workshops would promote health, wellness, and parenting skills among families.
Along similar lines, the Nation's Seneca Strong program, launched in 2014 to address drug and alcohol abuse, emphasizes healing and forgiveness rather than punitive measures, says director Dawn Colburn.
"Our culture is our biggest strength, and we're trying to bring that back, including ways of healing ourselves," Colburn says.
Video – 1:17 IMPROVING HEALTH BY ENGAGING YOUTH
Seneca Strong capitalizes on those who know the community—and the struggles of addiction—best by using a peer outreach and recovery support model that sends guides who are themselves in recovery to the homes of people struggling with addiction.
Since the program started a year ago, Colburn says, guides have reached out to about 300 people. One third have gone to in-patient treatment, and half have used some kind of treatment or services, including counseling, AA meetings, employment support, and cultural programming such as sweat lodges and talking circles. Seneca Strong also incorporates prevention and sobriety programming into traditional rites of passage, outdoor skills camps, and powwows.
Relationships with local police departments aim to channel more Seneca members who struggle with drugs and alcohol into recovery services, rather than county jail, where they are overrepresented. And the Seneca Nation's judicial branch has plans to start a program that will link drug offenders to a comprehensive set of services coordinated by social workers.
Showing compassion is at the heart of the approach, Colburn says. "It's not tough love. It's all just straight up love."
---
---