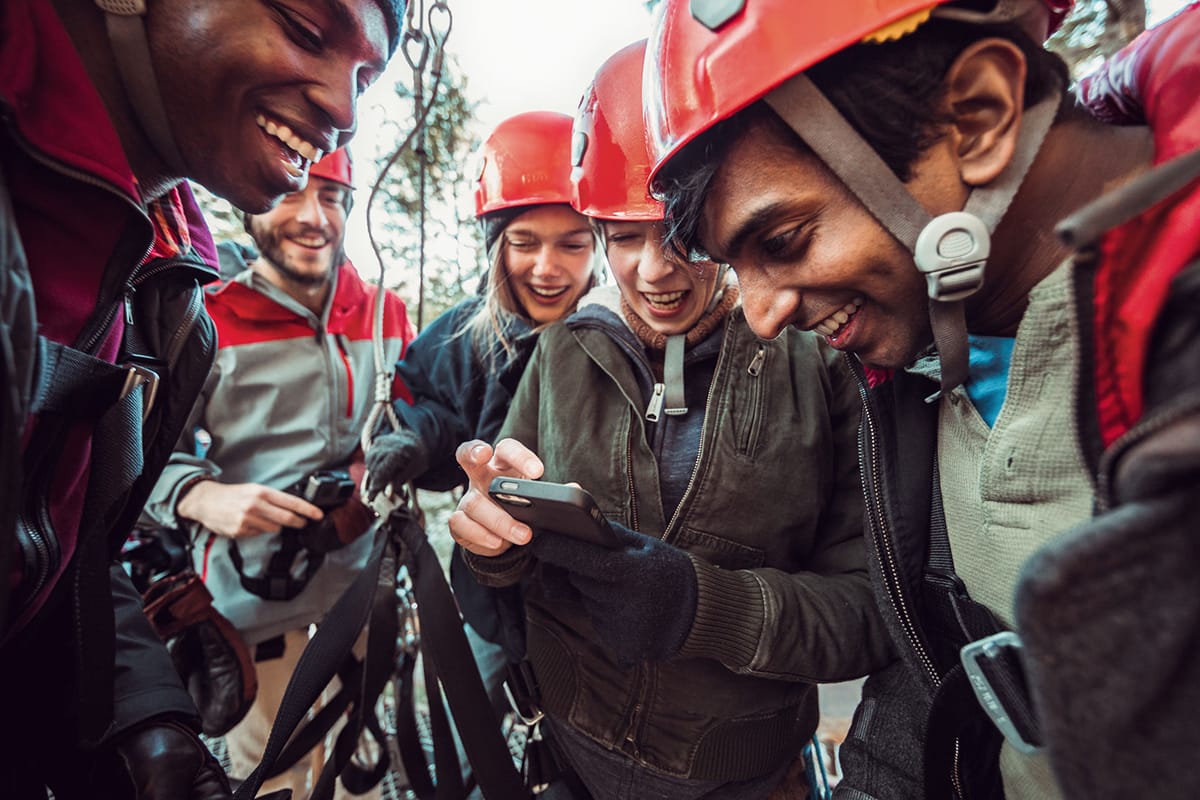 Five Ways to Make the Outdoors More Inclusive
An Action Plan for Change
After serving in the U.S. Army during the Korean War, Henry X. Finney came home to Virginia to sort out his future. He didn't know what he would do, or how he would support his young family—until one day he saw a uniformed park ranger. Instantly, the next chapter of his life unfurled before him. He would be a ranger, and spend his career in the outdoors.
"He said, 'Great, a government job, let me go apply,'" recalled Carolyn Finney, his daughter and the author of Black Faces, White Spaces: Reimagining the Relationship of African Americans to the Great Outdoors. "This was in the 1950s in Virginia, and they told him, 'Sorry, we don't hire Negroes.'"
Finney recently shared this anecdote in a room full of prominent outdoors experts and advocates, who had gathered for a brainstorm session in New York City to discuss the lack of diversity in the outdoors. "I can't imagine how he felt hearing that after fighting for his country," she added. But her father's tale only partly explains the issue, which is a thorny and multifaceted one. According to the most recent National Parks Service survey, about 78 percent of those who visit federal parks are white. Meanwhile, African Americans, Latinos, women, and members of the LGBTQ community often report feeling unwelcome or unsafe in outdoor spaces. Moreover, the outdoors industry workforce—which includes everyone from park rangers to retail sales associates—has minimal representation from these groups.
The consequences of this separation from nature are many: A generation of adults and young people don't enjoy the tens of thousands of parks, hiking trails, and camping sites around the country that cost billions of taxpayer dollars to maintain and administer. This separation also contributes to what Richard Louv, author of The Last Child in the Woods, has termed "nature-deficit disorder," as society becomes increasingly absorbed by technology. Why does this matter? Louv and other experts believe that contact with nature leads to improved mental health, lower stress levels, and enhanced cognitive skills, for one. Plus, if more of an effort isn't made to engage current and future generations (and this may be an especially relevant concern, as the country continues to diversify, with the U.S. Census Bureau forecasting that the U.S. will become a minority white nation by 2045), potential support for the parks "might go away" altogether, according to Michael Woo, dean of the College of Environmental Design at California State Polytechnic University, Pomona.
In November, at the New York brainstorm session, Finney, Woo, and five other panelists worked through these problem areas and discussed possible solutions. Here are the main ideas and action steps that emerged from the meeting, and from subsequent conversations with outdoors experts from around the U.S.
Brooklyn Bell
Graphic design student at Western Washington University
Artist
Outdoors enthusiast
Athlete
Perry Cohen
Executive director of The Venture Out Project, which advocates safety for the LGBTQ community in the outdoors
Laura Cole
Owner of 229 Parks Restaurant at Alaska's Denali National Park
Former Top Chef contestant
Angelou Ezeilo
CEO and founder of Greening Youth Foundation, which connects underrepresented youths to the outdoors
Carolyn Finney
Author of Black Faces, White Spaces: Reimagining the Relationship of African Americans to the Great Outdoors
Former member of the National Parks System Advisory Board
Jose Gonzalez
Founder and director of Latino Outdoors, which inspires its members to embrace the outdoors
Caryl Hart
Former director at Sonoma County Regional Parks
Len Necefer
Assistant professor for the American Indian Studies Program and the Udall Center for Public Policy at the University of Arizona
Ken Salazar
Former U.S. Secretary of the Interior
Law partner at WilmerHale
Michael Woo
Dean, College of Environmental Design, California State Polytechnic University, Pomona
Former member of the Los Angeles City Council
Former urban planner
Teach the Full History of the American Outdoors
When the national parks system was launched a century ago, founders of the conservation movement wanted to preserve the natural beauty of the parks for future generations. That sounds simplistic, but the parks' history is far more complicated, rife with legacies of exclusion and even ethnic cleansing.
Hire historians to write the backstories of outdoor spaces
Some large companies and big brands have hired historians and storytellers to mine their archives as complements to their marketing strategies. Historians could handle similar tasks for parks, camping sites, and other open spaces. The story of indigenous people, for instance—and their role in preserving the lands on which many parks sit—is a vast one that stretches over millennia. Telling these stories and others is a time-consuming responsibility that requires the expertise of a specialist. "The park system has to tell stories that relate to communities of people of color, and to their history," said former Secretary of the Interior Ken Salazar. "If not, our great national parks and state parks will become much less relevant [to those communities]."
Lobby local, state, and federal governments to create storytelling-driven memorials
Seek property grants and secure donations from nonprofits for storytelling-driven memorials
The Cesar Chavez National Monument in Keene, California, was put on the fast-track when the late union leader's nonprofit and his family donated his home, as well as the land on which he was buried, to the federal government. The National Park Foundation's American Latino Heritage Fund also contributed $150,000 to cover the monument's operating budget. Superintendent Ruben Andrade said the Chavez Monument received north of 15,000 visitors last year, significantly more than the 8,100 who came in 2013, the year it opened.
Make All Visitors Feel Welcome and Secure
Even after parks like Shenandoah were desegregated in the 1960s, people of color have often not felt welcome at national parks. Those feelings of unease persist today. A 2012 study titled "Why Do So Few Minority People Visit National Parks?" found that Asian Americans, African Americans, and Hispanics often feel uncomfortable when going to parks. Meanwhile, some white visitors reported discomfort when around non-white visitors.
Update park rangers' uniforms with a modern, welcoming look
It's time for park rangers to shed the law-enforcement look and replace it with one that's less intimidating for portions of visitor population. The United Kingdom's national park system decided to dress down its 2,000 staffers and park rangers, hiring Columbia Sportswear to design sleek outerwear-style garments with hoods and bright colors. The new look resembles that of a hiker or jogger—someone who looks approachable and who could actually blend in with visitors on the trail.
Be flexible with rules to make visitors feel comfortable
Parks can build goodwill with diverse groups by considering rule tweaks and changes that will better serve the interests of those visitors. Hard limits on campsite visitors, for example, are off-putting to LGBTQ campers and hikers, who feel more secure in larger groups. "If you want to do backcountry camping, and we're told that our group size may not exceed four or six, then what if we have six?" asked Cohen, the executive director of The Venture Out Project, which organizes hiking and backpacking trips for queer and transgender people. "Do we have four people in one place, and then the other two on their own? They're not going to sleep all night."
In California, meanwhile, dogs aren't permitted on many trails and at most beaches. This may not seem like a big deal, on its face, but some women are afraid to go deep into the woods on their own. "If women could bring dogs with them, it would allow them to feel safer," Hart suggested. By canvassing their constituencies, parks can uncover similar small tweaks that can make a big difference.
Create Underlying Policies on Diversity and Fairness
When it comes to hiring, diversity has long been a problem in the outdoors industry. Six years ago, the National Park Service launched its Office of Relevancy, Diversity, and Inclusion to broaden its employment roster. Still, the NPS workforce is 83 percent white. Outdoors advocates say this imbalance affects how minorities perceive the outdoors just as much as the lack of diversity in imagery, as discussed below.
Diversity advocates must unite and form a coalition
The push for diversity will be stronger if groups and individuals unite and consolidate their interests. According to Perry Cohen, executive director of The Venture Out Project, this sort of intersectional unity is key. "To truly make the kind of impact we seek, and to actually make change, we need to band together, and work for and with each other toward a broader sense of diversity," he said.
Still, such a coalition will be only be effective when it has a true hand in shaping policy, per Finney. As she put it, "The term 'outreach' should be obsolete because it's a one-sided term. It says, 'I get to show my power, and feel good about it, because I reached out to you, and I brought you to my table. I didn't have to change anything, I just had to put a chair at the table.' People don't want to give up their power. The question is what power are they willing to give up? If you say none, then that's where we're different. Then nothing changes."
Support Camber Outdoors' Workplace Equity Working Group
Camber Outdoors, which has spent the past two decades fighting for women's equality in the outdoors industry, expanded its mission this year to encompass all racial and ethnic groups, the LGBTQ community, and people with disabilities. Its Workplace Equity Working Group, launched in July, is collaborating with more than 80 companies to foster equitable and fair work environments, focusing initially on the retention of diverse talent and the production of more inclusive marketing campaigns. Next year, the group will add recruitment, promotion, and mentoring guidelines to its agenda, said Camber Executive Director Deanne Buck. The organization also has commitments from dozens of companies to join its CEO Pledge, in which industry leaders promise to push for more diversity among its ranks. If more companies back the working group's efforts and the pledge, this could be the movement the outdoors retail and equipment industries need to spark real change.
Increase the number of paid internships and create fellowships that lead to full-time jobs
Another barrier for diversifying the job-candidate pools are the unpaid internships that serve as gateways to careers in the outdoors industry. While unpaid positions "are only good for those who come from privilege," paid internships, such as those offered by the Atlanta-based Greening Youth Foundation, will help lure lower-income students, per Jose Gonzalez, the founder and director emeritus of Latino Outdoors. Additionally, the creation of more fellowships could lead one-time interns into positions where they learn essential skills for successful long-term careers.
Increase Economic Accessibility to Create More Access Points for All
As touched on briefly in the last section, there are very real financial barriers to bringing more diversity to the outdoors. For instance, the cost of one week at Yellowstone National Park for a family of four, excluding airfare, is $1,200. For low-income families, such a trip to a distant park—or even a 30-minute excursion to a closer-by outdoors space—can be cost prohibitive.
Subsidize or provide free transportation options for low-income families
During the U.S. midterm elections, leading ride-share companies provided free rides to the polls throughout the country, while the local transit authority in L.A. offered free service on Election Day. Those efforts contributed to the largest midterm voter turnout in a century, according to the United States Election Project.
Park administrators should take the initiative and approach ride-share companies, city transit authorities, and charter bus companies to explore low-cost transport options to help low-income families get to green spaces. How might this manifest? Transit agencies could offer discounted fares; car-rental companies could offer special weekend or summer discounts; and parks could seek corporate underwriters to help subsidize free or discounted ride-shares or charter buses, among other possibilities.
Create more affordable housing options
Park leaders should take a page from Michael Woo's playbook and hold architectural competitions to solicit innovative ideas from emerging designers—and even students—to find simple and attractive housing solutions. In Woo's case, he asked his students at Cal Poly Pomona to brainstorm ideas and develop proposals for more affordable housing options. The winning idea was The Wedge, a chalet-style 160-square-foot space made of recycled materials with floor-to-ceiling windows. The cabins, initially priced at about $75 a night, were adopted by state and regional parks in California. The Wedge has attracted interest by park administrators in Montana, per Woo. "It's a very attractive option for people who don't want to spend a lot of money," he said.
Offer free admission for first-timers or tax write-offs for camping and park entrance fees
In 2017, California offered purchasers of the $195 California State Parks Annual Pass a tax deduction if they made an additional donation to the parks' protection fund. Providing free admission for first-time visitors or families could be an even better strategy to lure new visitors. The National Park Service is already doing this on a small scale, waiving the entrance fees on five days in 2019, including Martin Luther King, Jr.'s birthday and Veteran's Day. Not only does this introduce folks to the parks, but it helps communicate the value of such outings to individuals of all income levels, according to Gonzalez. As he put it, "Why is it that, for a family, it makes economic sense to go to Disneyland—even though it might be costlier—than going to XYZ national park? You might need to make that first initial entry fee free to communicate the value of going to the park."
Make Open Spaces More Representative, Culturally Relevant, and Cool
A graphic arts student at Western Washington University, Brooklyn Bell is a lover of nature and an avid outdoor athlete, but she says the outdoors don't always feel culturally relevant, which is a barrier that cuts across socioeconomic lines. One of the problems may be an issue of marketing, as the parks (and the outdoors industry, generally) rarely target people of color, even those who can afford technical gear and outdoors vacations. "If I don't see anybody there that looks like me, or is welcoming me in to the point where I would feel comfortable being in the space, I would just rather not be there," Bell explained at the November brainstorm session.
Diversify images in marketing campaigns
Promotional signage and ads for open spaces and gear retailers should include diverse images to send a message that these spaces and activities are inclusive. This is also a smart business strategy, based on young consumer demand: A 2016 study by the market researchers Barkley and FutureCast showed that 60 percent of Millennials and 61 percent of Generation Z-ers favor ads that are diverse.
Reimagine parks—both large and small—as venues for cultural events and festivals
Cultural events set in nature can draw those who don't normally venture into the outdoors. This cross-pollination between the outdoors and mainstream culture is already happening: In June, Kanye West held a listening party on a ranch near Grand Teton National Park—which included scores of journalists, industry players, and influencers—and made a viral splash on social media, with Wyoming as a beautiful backdrop; HBO's back-to-nature series Camping debuted this fall; and Gucci is injecting an outdoor vibe into high-end fashion with its new hiking-inspired boots. Meanwhile, the Arizona National Parks Festival, which is held in October—and which is free—features meet-and-greet sessions with park rangers, games and activities for young people, concerts, and culinary offerings from food trucks.
So why not launch a music festival near the red cliffs of Zion National Park in Utah? Or why couldn't Boulevard Park or Whatcom Falls Park—both near the Western Washington University campus, where Bell is a student—host an art walk? "That would be awesome," Bell said, adding: "And I'm wondering if we could change the advertising to make it so that the outdoors are cool. That young people are like, 'Hey, are you going outside? What are you doing this weekend?'"
Expand the definition of the outdoors to include smaller urban parks
The outdoors is defined as being anywhere outside a building, but the diversity-in-the-outdoors conversation has been largely confined to big-ticket national and state parks. Advocates should brainstorm ways to stage innovative events that could be held in smaller urban parks (even as small as one or two acres), in order to draw diverse groups and introduce young people to the concept of open green spaces. "If we understand that nature is everywhere, including within urban spaces, we can show some of that love to those spaces where people are," Finney said. "[People] don't have to go to the Grand Canyon to be outdoors."
Celebrate diverse organizations—and amplify their efforts
A number of organizations are already moving the needle on diversity. Rue Mapp, for example, is the founder and chief executive officer of Outdoor Afro, which inspires African Americans to go hiking. (Her organization's slogan: "Where Black People & Nature Meet.") Other groups such as GirlTrek, Brown People Camping, Unlikely Hikers, and GayOutdoors.org have similar missions. Celebrating these groups' efforts and integrating their voices—through social media or even official marketing initiatives—can help send a message that women, people of color, and members of the LGBTQ community are already making connections to the outdoors, while encouraging others to join in and dispelling stereotypes within those communities.
Ultimately, the parks belong to the public, and anyone can become an advocate of diversity. That doesn't mean you have to launch your own nonprofit. It means becoming part of the conversation. Here is what you can do as a citizen to advance a more inclusive outdoors:
Join a local hiking group, and bring your friends
Diversity advocates who also venture into the outdoors help change the look of hiking—or canoeing or any other outdoor activity—one person at a time, and you can do the same. Asking a friend from a different background or culture to join you gives you a hand in bringing a sense of harmony and civility to the outdoors.
Voice your concerns to local or state park officials, or to the U.S. Senate or House subcommittees on energy and natural resources
Legislators will not know what's on your mind until you write a letter or an e-mail—and many of them.
Use social media to talk about the progress retailers are—or aren't—making
Twitter and other social platforms are great places to express your opinion, and to talk about diversity (or the lack thereof) in real time. Your views may get retweeted, and it will let an outdoors retailer know exactly how you feel.
Find nonprofit organizations or causes to support
All nonprofits need help, especially those that are strapped for cash. Do your homework, learn about the mission of each organization, and use Guidestar.org to see a nonprofit's financial statements and to review how it spends its money. After that, consider a donation to the groups that align with your interests, and write a check.