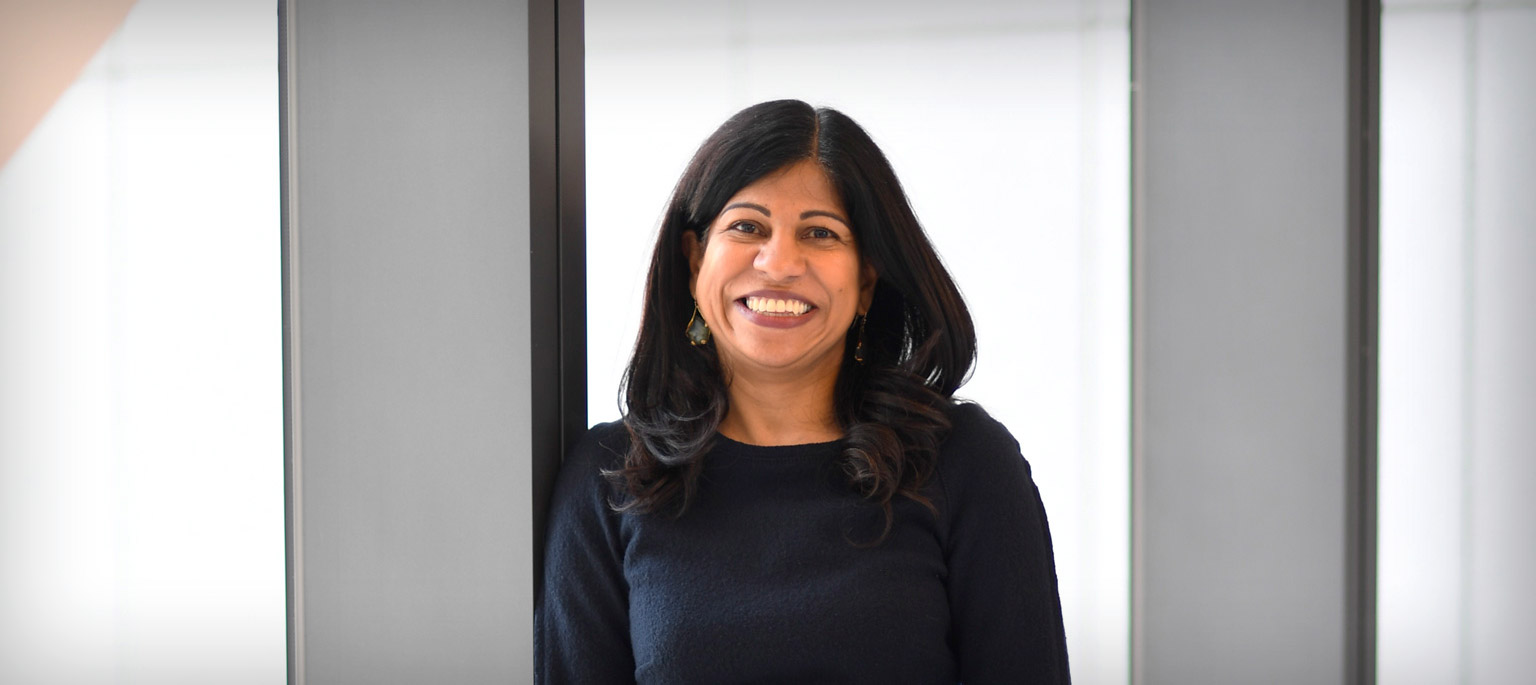 DRIVING NEWARK'S REVIVAL
Q&A with Lata Reddy, Head of Prudential Financial's Office of Corporate Social Responsibility
Lata Reddy, a civil rights lawyer by training, is the head of Prudential Financial's Office of Corporate Social Responsibility, which sets the vision and strategy for the company's impact investment, philanthropic, corporate contribution, and employee engagement activities. In this role, Reddy leads efforts across the company to leverage these resources in conjunction with Prudential's full capabilities to create pathways for all to achieve financial and social prosperity. She's also the chair and president of The Prudential Foundation, the philanthropic arm of the company.
Prudential was founded in Newark more than 140 years ago and has remained fiercely committed to its headquarter city. A key initiative that Reddy leads is Prudential's role in the city's revitalization efforts and the integrated hire local, buy local, and live local approach.
RE:THINK: Tell me how the hire local, buy local, and live local strategies work together.
LATA REDDY: Anchor institutions are unique in the strength that they bring to the city where they're housed, whether it's our purchasing power, the power of our employees, or the resources that we have at our disposal. This three-pronged approach is a very comprehensive way of using what's best about our institutions to create good by helping to drive inclusive economic growth for Newark's residents. Hire local—how do we think about training and employing Newark residents? Live local—how do we think about encouraging and incentivizing our employees and associates to live in the city where they're working? And buy local—how do we direct our dollars to support local businesses, which in turn are hiring local residents?
RE:THINK: A lot of these efforts are in their early stages.
LATA REDDY: There are some stepping stones for all of them. With respect to buy local, we commissioned a study a few years back to look at: What are the businesses that exist here, where are they in terms of their growth and capacity, and what are the types of goods and services that local anchor institutions are currently procuring? And what can we do right now to redirect our purchasing to make an impact? For live local, the Hahne Building just re-opened, an abandoned department store that now has 160 apartments in it—some market rate, some affordable housing. Building more quality housing like that, we're creating the options for the live local strategy. Then, on hire local, we've worked for decades with organizations here in the city that are providing skills-building opportunities for residents to help them access jobs.
RE:THINK: What is the relationship between the anchor institutions and civic groups and governmental groups?
LATA REDDY: Newark is the largest city in New Jersey, but it's a very close-knit city. We worked really hard with our colleagues to come up with a shared approach to all of this. It's got to be co-owned by all stakeholders across the city. A lot of the work that's gone into this effort to date is thinking about the opportunities and then thinking about what's most important to all of us. What do we all bring to the table and how do we co-create that approach? It's also absolutely critical that everybody has the opportunity to benefit from the investments that we make: Residents, visitors, and business workers alike. A huge piece of all of this is the inclusive nature of this work.
RE:THINK: It's unusual for corporate citizens to be thought of as anchor institutions and take on the roles of the traditional anchor institutions, hospitals, and universities.
LATA REDDY: Prudential is somewhat unique in that we are one of the last major global corporations to be residing in a city like Newark. We take great pride in that. It was an intentional commitment to the city and the people of Newark, and that gives us a unique vantage point and opportunity. We're working to redefine what an anchor institution is. We think corporations have a real role to play, and we at Prudential are about leveraging our entire business platform to help drive social impact. We know that we can do that right here in our city, in our headquarters city, so why wouldn't we?
RE:THINK: That seems to be a virtuous circle. You can philanthropically help your community, but that ultimately helps your business. It probably increases customers, and it definitely gives your staff places to shop and live.
LATA REDDY: It does, but it's beyond philanthropy. That's the beauty of this: It's sustainable. When it's baked into your business model, it's something that will outlive my team and me. It's not done off to the side, it's something that's integral to the company. If you think about procurement, that's not philanthropy. That is the company using its purchasing power to procure goods and services from local entities. When we built our new tower, we spent over $40 million with diverse suppliers right here in the city.
RE:THINK: Do you find that you and the other corporations in Newark are able to bring different expertise to bear than the non-profits?
LATA REDDY: That's one of the strengths of this initiative, that we all bring different skills. We are a financial services company, so we know a lot about financial security and stability. How do you help move people along the continuum of financial and social mobility? We're a capital asset owner, so we've got capital that we can deploy to diverse institutions to help build businesses. Other parts of this collaborative are higher education institutions, and they know what it takes to educate a population and how you move people through a pipeline so that they are qualified for the jobs of today and the jobs of the future. Then the hospitals have a whole range of jobs and opportunities and skill sets that they're looking for. Collectively, we've got exponentially more opportunity and power to create good.
RE:THINK: You mentioned that Prudential made an intentional commitment to remaining in Newark for nearly 150 years. Why?
LATA REDDY: There have been many opportunities along the way for leadership of the company to walk away and say, 'We're done. We're going to pack our bags and leave.' I'd say the defining moment was after the civil unrest in the late '60s. We say to customers, 'Bring your challenges. We've got innovative solutions to your particular challenges.' We can't say that to our customers and not also mean it when we're talking about the place where we're operating. We want to be a part of the solution. That's how we operate. As our chairman says, we're doers, not spectators. At that critical moment, the leadership said, 'You know what, we're not only going to stay, but we're going to take an affirmative leadership role in the city.' From that point on we've never looked back.
RE:THINK: What are the next steps? The Hahne building has been developed into apartments and retail, including the first Whole Foods here. What else?
LATA REDDY: There are many other projects that are in various stages in the pipeline. The Verizon building is something we're currently working on right now—housing and a mixed-use building. The Bear Stadium project is beginning to move forward, converting the area into a mix of residential and retail and some community space. There are any number of things that are happening to individual buildings and larger tracks of land as well. We know what we need in downtown Newark is more residential density. We're trying to help create a vibrant, thriving, livable, walkable, 24/7 city. You need people for that.
RE:THINK: So what's success?
LATA REDDY: Success is a vibrant city. We were looking out over Four Corners, which was once one of the busiest intersections in the country. How do we help bring back that sense of vitality, that sense of safety, and that sense of interest and dynamism? Our success is to help get people back out on the streets and create opportunities for advancement for Newark residents.