'They're
Years Ahead
of Everyone
Else'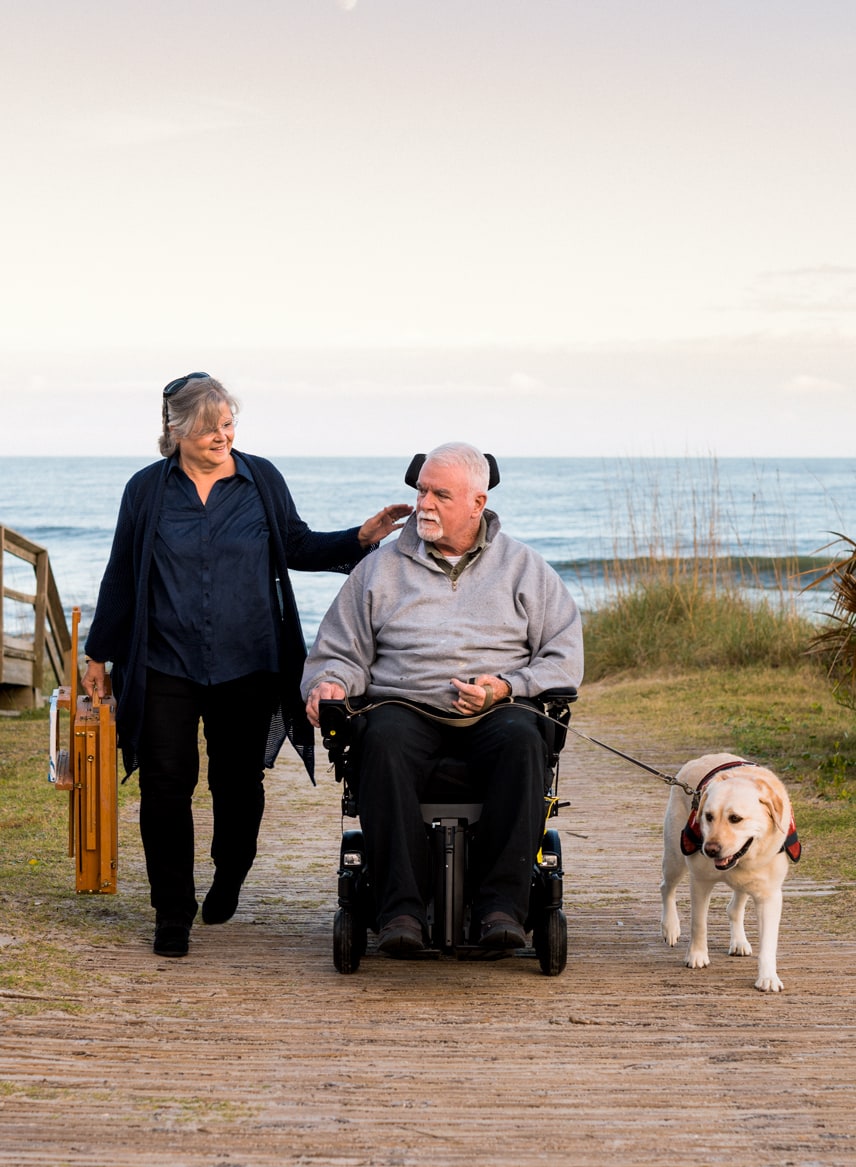 thanks to the pioneering efforts of VA hospitals, doctors are increasingly using telehealth technology to treat veterans—and that innovative approach may transform the future of health care.
PHOTOGRAPHY BY CHRISTOPHER LEAMAN
in 2010, Tom Ward, a U.S. Marine Corps veteran, was diagnosed with amyotrophic lateral sclerosis—more commonly known as ALS—and given a few years to live. "I should be a widow by now," says Mary, his wife and full-time caregiver. "When people are diagnosed, they usually live only three to five years, but Tom is still doing pretty good."
Tom, 64, and Mary, 58, have been through a lot together. Born into a military family and raised on Long Island, Tom graduated from high school at 17 and enlisted in the Marines, serving in stations like Panama and Guantanamo Bay from 1972 to 1975, before leaving the military and returning to school. He soon met Mary at Suffolk Community College, not far from New York City. For years, Tom worked as an insurance broker in Manhattan, raising a family with Mary, until she was offered a job at Duke Eye Center and they decided to relocate to Durham, North Carolina. That's where Tom started experiencing muscle contractions that were eventually diagnosed as ALS.
A progressive neurodegenerative disease that affects nerve cells in the brain and spinal cord, causing muscles to waste away until patients die, ALS currently has no cure. According to some studies, military veterans are up to two times more likely to develop ALS than the rest of the population, which is why it has been recognized as a service-connected disease. Now, Tom is being treated with technology pioneered by the Veterans Health Administration, a form of health care that may soon have a profound impact on the rest of the country: telehealth. "Telehealth has given us incredible freedom," Mary says. "Because we don't have to live near a hospital, we now have a home by the beach in Wilmington, where Tom can check in with the doctor online and then go paint by the ocean—it's phenomenal."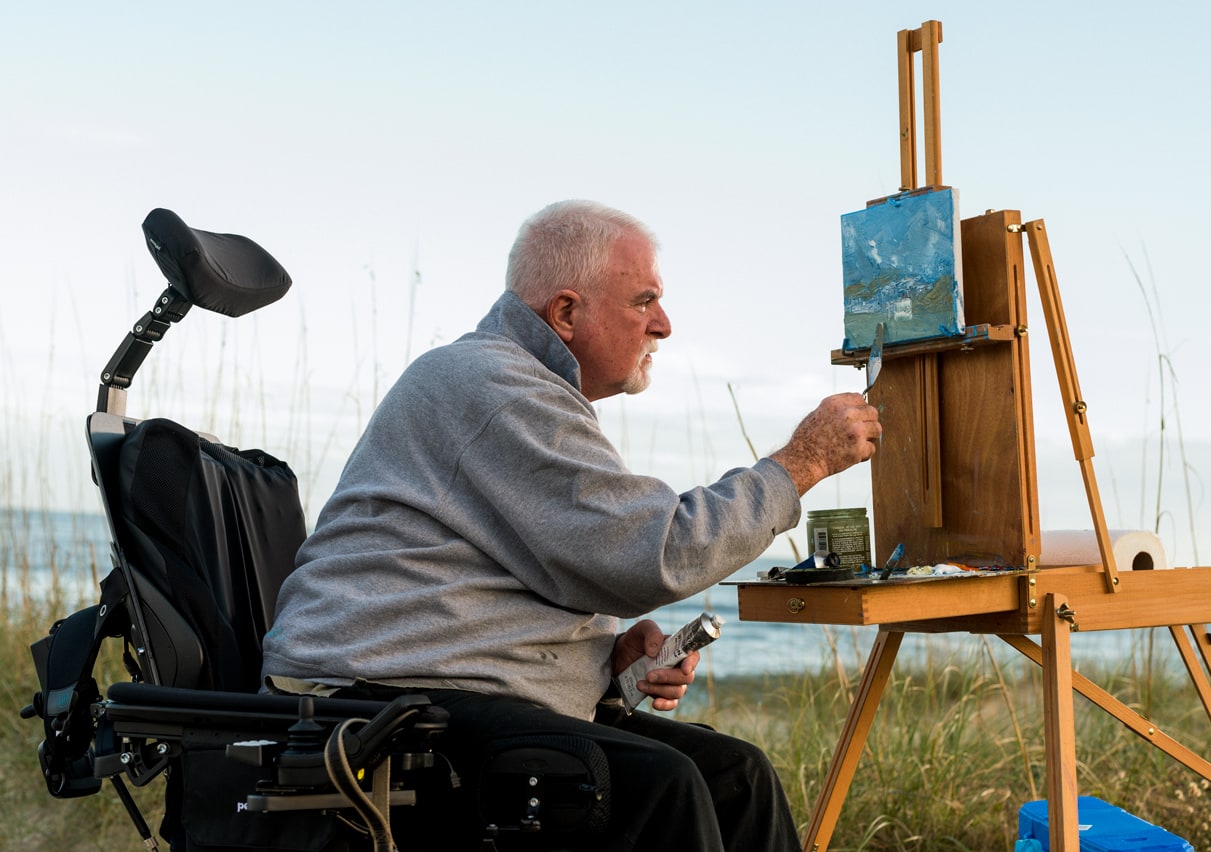 Telehealth, the practice of doctors using technology to treat patients from afar, is nothing new. In the 19th century, physicians used devices like telephones and radios to care for patients and expand their reach beyond the office. But now, with digital technologies like AI algorithms and wireless video, telehealth is achieving a new significance, empowering doctors to treat patients like never before. Surprisingly, this is due in large part to the VA health-care system.
Funded by the U.S. government and able to treat veterans across state lines using a national database, VA hospitals are pioneering telehealth in the U.S. at a time when many states and other federal programs like Medicare are not. In doing so, the VA is reaching larger numbers of veterans to save lives while developing a better understanding of this cutting-edge treatment, which may be used one day for patients everywhere, perhaps transforming the face of health care. "The VA medical system is the world leader in telemedicine," says Dr. Richard Bedlack, the Director of the Duke ALS Clinic and founder of the tele-ALS program at the VA Medical Center in Durham. "Outside of the VA, the first question asked about telehealth is, 'How is this getting paid for?' But the VA recognizes this is important and they're going to make it work—they're years ahead of everyone else."
in telehealth, the VA uses a three-tier approach, one that has become the standard for long-distance treatment everywhere: clinical video telehealth (CVT); home telehealth (HT); and store-and-forward telehealth (SFT). The first approach, CVT, enlists specialists in one location to treat patients who are in distant clinics or hospitals. A neurosurgeon in, say, Baltimore can use a telehealth system like the eICU program by Philips to communicate and coordinate care with a veteran and his bedside care team at a clinic in rural South Dakota. In systems where a centralized eICU telehealth program is implemented, a co-located team of doctors and nurses can continuously monitor patients across a broad geography, not only connecting via digital video with patients, families, and caregivers, but also maintaining constant oversight of a patient's well-being, ensuring he doesn't need to be moved to another hospital. Overall, this system can potentially save lives during the crucial first hours of treatment.
Telehealth is an innovative solution in the face of doctor shortages and rising costs:
By 2020, there will be 77 million people over the age of 60 in the U.S.1
The U.S. will face a shortage of more than 100,000 doctors by 2030 due to population growth, an increase in aging Americans, and the retirement of practicing doctors.2
Sources: 1. Administration on Aging
2. Association of American Medical Colleges
In addition to providing instant communication, the eICU telehealth system continuously monitors patients by aggregating immense amounts of data from many different electronic systems. Through proprietary hierarchical algorithms, the system can detect subtle changes in a patient's condition, allowing clinicians to identify and act on early-warning signs before an adverse event occurs. Using the eICU system, the remote provider is guided by a patient-acuity "heads up" display to prioritize rounding, positioning the right providers with the right patient around-the-clock.
With a national database of more than six million adult ICU patient records, Philips can use its AI algorithms to instantly analyze records and provide proactive clinical care across the U.S., impacting the lives of patients in a profound way. "Increasingly, providers are challenged with having to do more with less," says Karsten Russell-Wood, the head of Global Marketing Patient Care Analytics at Philips. "While electronic medical systems have enabled collection of vast amounts of data, the eICU Program supports the organization of this data so that providers can develop a plan of care and empower the bedside and virtual teams to act in a coordinated fashion. Acting as an organizational continuous-demand clinical surveillance tool, telehealth can be leveraged to mitigate the challenges of supporting 24/7 intensivist-led care at hospitals where there is no intensivist available. Overall, it empowers centralized specialists to deliver a near hands-on experience—supporting bedside care teams anywhere."
The second approach to telehealth is home telehealth—doctors using various systems to treat patients in their homes. From checking daily vitals that patients enter into telehealth portals to holding real-time exams via video software similar to Skype, doctors analyze patients and even sometimes make discoveries that would be impossible in hospitals. Dr. Bedlack, who uses telehealth to oversee 30 veterans suffering from ALS, including Ward, often has patients use their tablets and laptops to show him around their homes, offering practical advice on how to create better spaces for mobility. For patients like Ward who are suffering from debilitating diseases that make movement difficult, the benefits of not having to travel for frequent checkups are profound. He still goes to see his doctor twice a year for breathing tests and other assessments, but otherwise he can augment that care from home with telehealth. "The burden is lifted," Ward says. "I don't drive anymore, so not having to go to the hospital is a really big deal. Thanks to telehealth, I can basically get house calls."
Benefits for patients who receive ICU care from a hospital with an eICU program:
26%
More likely to survive the ICU.
20%
Faster discharge rate from
the ICU.
16%
More likely to survive hospitalization and be discharged.
15%
Faster discharge rate from
the hospital.
The final approach in telehealth treatment is store-and-forward telehealth, which involves doctors or nurses taking photos, video, or audio of patients and then forwarding that information to a distant specialist for clinical evaluation. Overall, this and other forms of telehealth are powerful tools not only for doctors but also for the unsung heroes of veteran care: caregivers themselves. For many patients suffering from chronic diseases such as cancer or ALS, caregivers are typically spouses or children juggling full-time jobs. The added work of ongoing care can be solitary and exhausting. Yet telehealth is fundamentally changing how this work can be done at home, turning the experience into a community-backed endeavor. Using telehealth, these caregivers can now access better monitoring systems and communicate instantly with doctors. Telehealth also relieves them of the constant need to travel to hospitals, allowing for a better quality of life—and, in turn, better care for their patients. "When we go to the hospital, I have to pack everything," Mary says. "It's a lot of work. So, for me, as a caregiver, it's a big relief to have telehealth. We're able to live by the beach in a place that is good for us."
In addition to helping caregivers at home, telehealth is transforming the lives of hospital nurses. Using technology like the Philips TeleICU program, VA nurses can now spend more time on patient care—improving the quality of life for everyone. "Telehealth is a tremendous opportunity for the VA to lead the nation in a critically important initiative," says former U.S. Senator Elizabeth Dole, whose Elizabeth Dole Foundation provides resources to the 5.5 million military and veteran caregivers in the U.S. "It makes me hopeful that today's generation of warriors is receiving cutting-edge care from the VA and partners like Philips."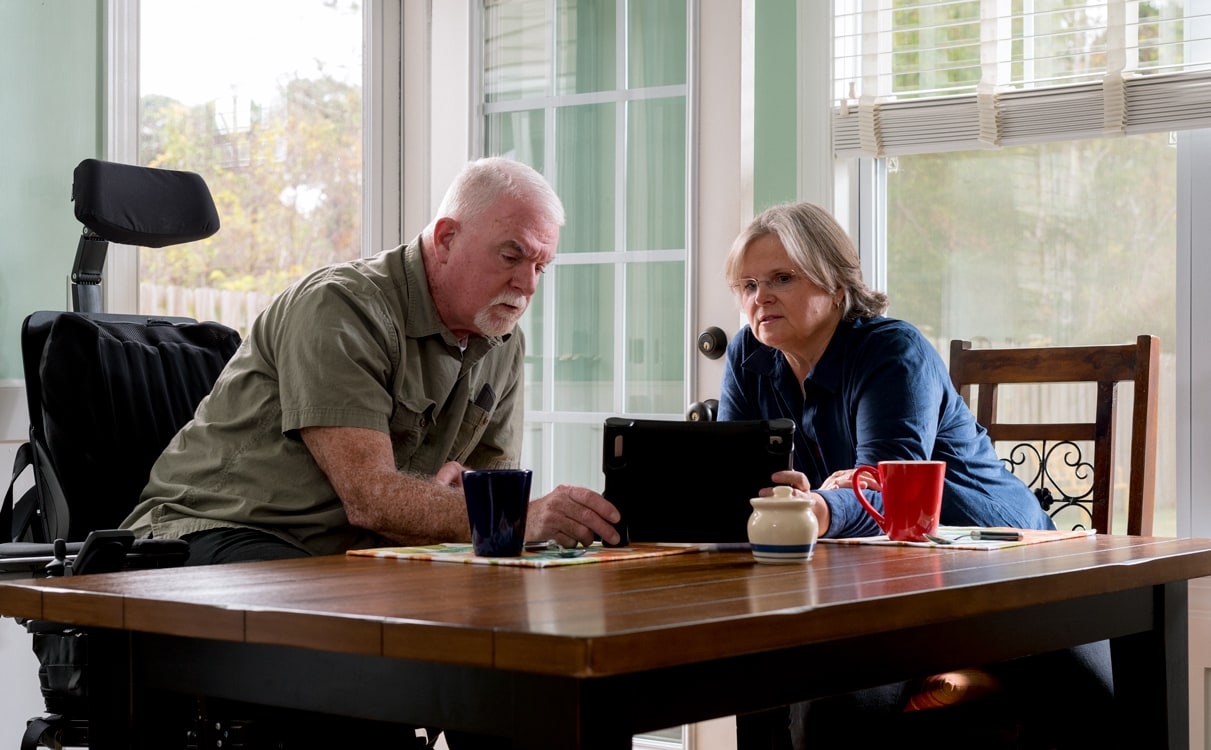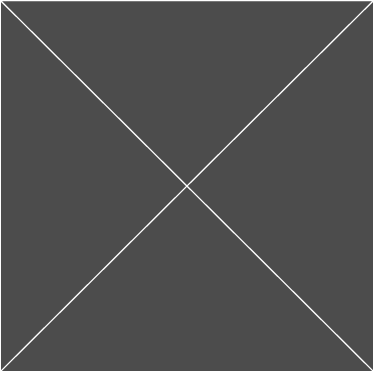 in may, the VA announced a new federal rule that expands its "Anywhere to Anywhere" initiative, allowing doctors to use telehealth to treat veterans, no matter where they are located. Currently, state restrictions make telehealth treatment across state lines difficult and even illegal in some instances, with doctors from one state not allowed to visually treat patients in another state using video technology. With the new ruling, however, the VA can pioneer telehealth on a scale never before attempted, perhaps opening the door for the technology's wider use in the future.
In the fiscal year 2018, only 13 percent of U.S. veterans (roughly 872,000 people) used telehealth, with less than 1 percent of that group using the technology from home. Aiming to increase that number, the new law will now allow more veterans across the U.S. to access the VA's estimated 900 hospitals via telehealth, seeking treatment for issues ranging from PTSD to heart disease to diabetes. In the future, this growing body of data may help influence state and federal lawmakers to expand telehealth and cover it under plans like Medicare, perhaps one day offering it to patients everywhere. "In telehealth, the problems are not really medical," says Amar Gupta, a principal investigator and instructor at MIT. "Many of these are business-related problems. Why are there limits involved in health care? People have to do things to change the world."[ ]