An Emergency

in Slow Motion
How cities are fighting diabetes, a worldwide
epidemic in the making, to save our future
Illustrations by Valentin Tkach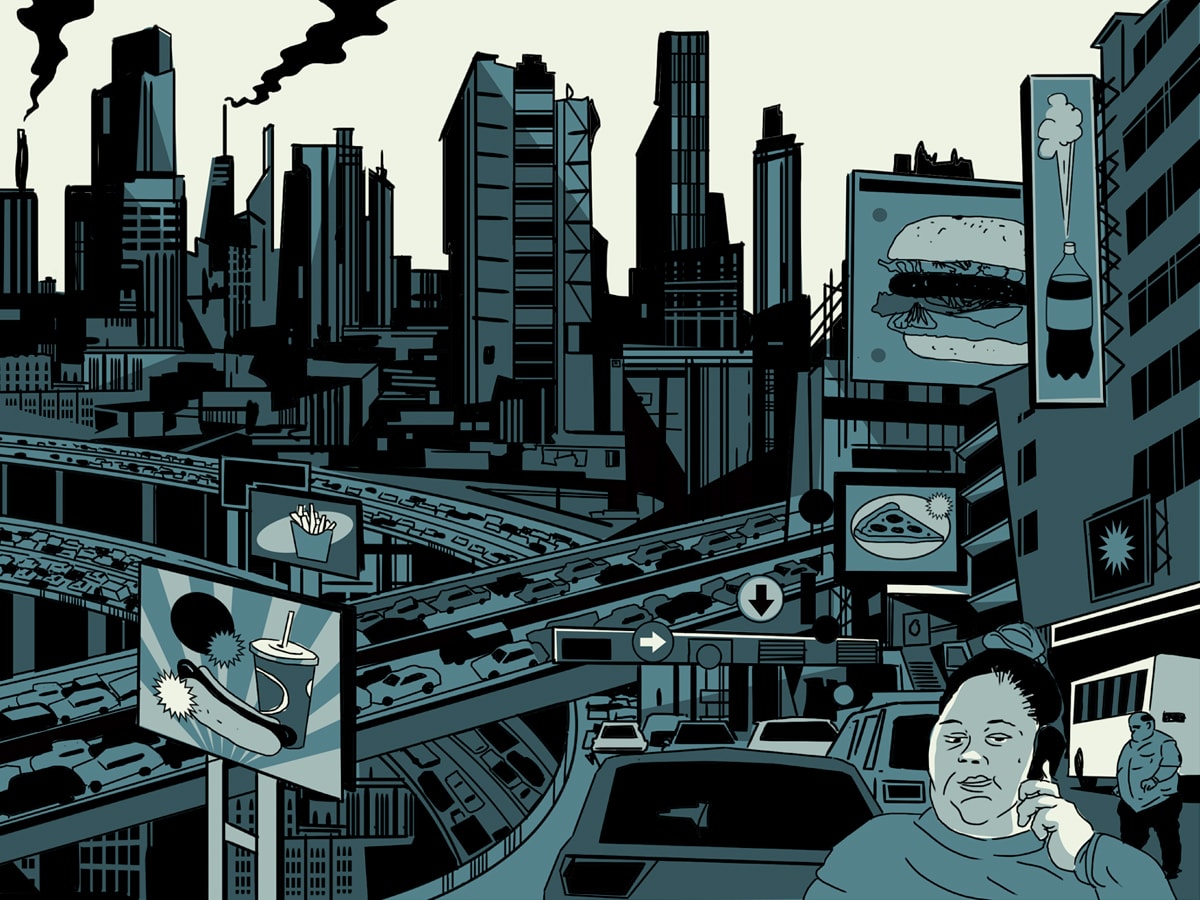 The year is 2045. Global population has risen from 7.5 billion in 2017 to nearly 9.5 billion, with many people living in dense, sprawling megacities—and urban diabetes, one of the most pressing health hazards of our time, is disrupting the way we live.
This is the situation that awaits us if current trends continue. From 2003 to 2017, the number of people battling this chronic disease increased from 194 million to 437 million—and that number is expected to reach 736 million by 2045. Today, two-thirds of those suffering from the disease live in cities, which means that urban areas may, within 30 years, be populated by residents both young and old who are confronting issues such as blindness, stroke, kidney failure, heart attack, and amputation, all of which are long-term complications of diabetes.
Diabetes is, in short, an emergency in slow motion. Fortunately, type 2 diabetes is not inevitable, and cities around the world are beginning to work together to curb diabetes' growth and change the future. As part of the international partnership program "Cities Changing Diabetes," scientists and city officials are studying everything from health care to urban planning to dietary habits in order to better understand and curb the disease, which now accounts for 12 percent of global health-care spending, or $673 billion annually.
Atlantic Re:think and Novo Nordisk partnered to look at the future of diabetes, examining the consequences of inaction, as well as the concrete steps now being taken to ensure a healthier tomorrow.
For each of the following topics, we compare two futures: "The Status Quo," which envisions what will happen if no steps are taken to counteract diabetes by 2045, and "A Better Future," which imagines what will happen if the right steps are taken.
Topic 1 of 5
Food Ways
.
City dwellers who consume lots of junk food may believe they are saving money, but they are also most likely undernourished, overweight, and at risk for diabetes. Unfortunately, economically disadvantaged residents of urban areas have few options when it comes to eating well because of numerous social and cultural constraints. Geographical areas with little access to nutritional food, known as food deserts, can make it difficult for urban residents to make healthy choices. Moreover, prevailing preferences for ultra-processed and high-calorie meals can result in obesity, which can lead to diabetes.
.
Research shows that understanding the socio-cultural drivers that cause diabetes can change behavior and lead to healthy eating by 2045, as can a deeper look at urban food system dynamics. Groups like the EAT Foundation—a non-governmental organization that runs the Food Systems Network with C40, a coalition of cities dedicated to addressing climate change—have the potential to make a difference, particularly in at-risk cities like Houston, where fatty food is a staple, and Mexico City, where 70 percent of the city's adults are either overweight or obese.
Topic 2 of 5
Getting Around
.
The Status Quo
Long commutes in fast-growing metropolitan areas can result in "time poverty," leaving virtually no room for healthy home cooking. Car traffic also causes harm to the environment while increasing drivers' stress levels and forcing them to live generally inactive lives. In Vancouver, cars and other vehicles contribute to more than 30 percent of the city's greenhouse gas emissions, while sedentary lifestyles caused by commuting cost Canada's provincial health-care system hundreds of millions of dollars per year. Across the Atlantic, in Rome, 40 percent of the city's 4.3 million inhabitants consider themselves physically inactive, and upward of 10 percent of the city's population is obese, with 6 percent—more than 260,000 people—suffering from diabetes.
.
A Better Future
Improving public transportation and biking infrastructures can save city dwellers time and stress. Vancouver has sought to address the issues associated with long commutes through sustainable development practices in an initiative called "Transportation 2040." The city built out its bike lanes, making them safer and more accessible for all residents, and the city hopes that in the next few decades two-thirds of all trips will be made by walking, cycling, or public transportation. Technology can also convince citizens to opt for a walk. Rome has launched an app called Roma Passport, which helps citizens locate 160 miles of walking and jogging routes. By the end of 2017, the app will feature about 200 miles of trails.
Topic 3 of 5
Access to Health Care
.
The Status Quo
Health-care infrastructures around the world aren't often equipped to spot city residents who are at risk for diabetes. In many cases, doctors can only act to curb the effects of the disease, and by then it may be too late. Factors that contribute to the disease and hinder access to health services include unemployment, inadequate education, and the cultural stigma attached to sickness, particularly among rural workers, such as those who commute to Shanghai, where 40 percent of the city's "floating" citizens are not given access to diabetes treatment.
.
A Better Future
Easing access to health care will have a dramatic impact by 2045. Around the world, a number of cities are empowering residents to take advantage of local health services. In Mexico City, for instance, "El Médico en Tu Casa," a program established in 2014, brings health care professionals directly to the homes of the city's most vulnerable and now includes diabetes screening and care. Johannesburg employs retired nurses to conduct research on diabetes, the sixth leading cause of death in South Africa. And in Shanghai, a health screening program was established to reach hundreds of thousands of people who are either at risk for diabetes or already living with the disease.
Topic 4 of 5
Community Works
.
The Status Quo
Sometimes all it takes to start living healthily is an encouraging friend, partner, family member, or teacher, but many city dwellers can't rely on that. No matter their age, they end up falling through the cracks in urban areas where the social safety net is weak and access to health care education and other services seems unreachable. This sense of helplessness is particularly pronounced in marginalized outer boroughs like Valby in Copenhagen, a city not usually associated with health issues but where 10 to 20 percent of its 580,000 residents are at risk for diabetes.
.
A Better Future
Strong support networks in disadvantaged communities that are more vulnerable to diabetes can go a long way in preventing the disease. There are a few cities that have undertaken community engagement initiatives, and their success could prove instructive. Houston, where more than 15 percent of the population suffers from diabetes, launched the "Faith and Diabetes" initiative, enlisting churches and other faith-based organizations to educate city residents on diabetes. And Copenhagen is building social networks through peer mentorship programs aimed at those who are most at risk.
Topic 5 of 5
Urban Planning
.
The Status Quo
In a rush to build up and out, rapidly expanding cities often fail to consider health and exercise in planning public spaces. Tianjin, the fastest growing city in China, is a densely populated area that, for years, gave little thought to urban green space. Nearly 10 percent of adults in the city have type 2 diabetes, and this number is set to increase in the next few decades. Without public areas for proper exercise, costs related to diabetes could soar into the billions by 2045.
.
A Better Future
After decades of unchecked growth, cities are changing how they develop to ensure a healthier population. Tianjin, which is a major petrochemical and manufacturing hub, is shifting from a strategy of "growth and quantity" to one of "development and quality"—and a key element of its plan is to improve the city's quality of life. An "eco city" is currently under construction on the grounds of a former toxic waste site—a low-carbon, green environment half the size of Manhattan, where 350,000 people are slated to live by 2020. The project should complement another initiative in the city: training specialists at health institutions to spot diabetes early.
Is your city part of the solution?
A number of cities around the world are making significant progress in the fight against urban diabetes, but there is still work to be done to ensure that more cities join in. To take action now or to learn more about "Cities Changing Diabetes," click here.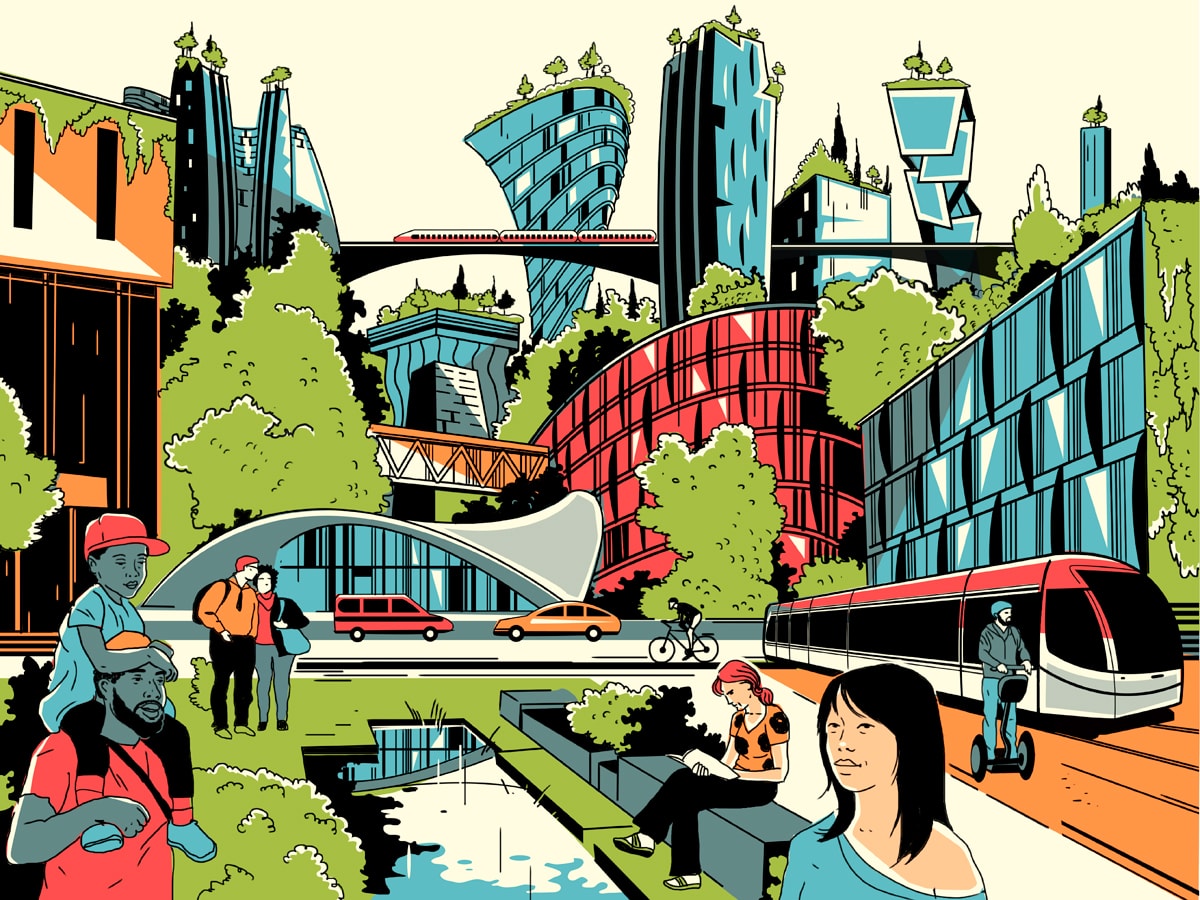 Sources: Cities Changing Diabetes and the International Diabetes Federation