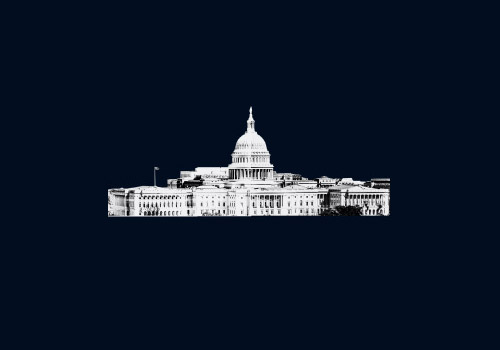 Breaking Glass
and

Taking Charge

on

K Street

More women every day are challenging the golf-course culture and the "pale, male, Yale" elite of Washington lobbying, and, slowly but surely, the old guard is giving way.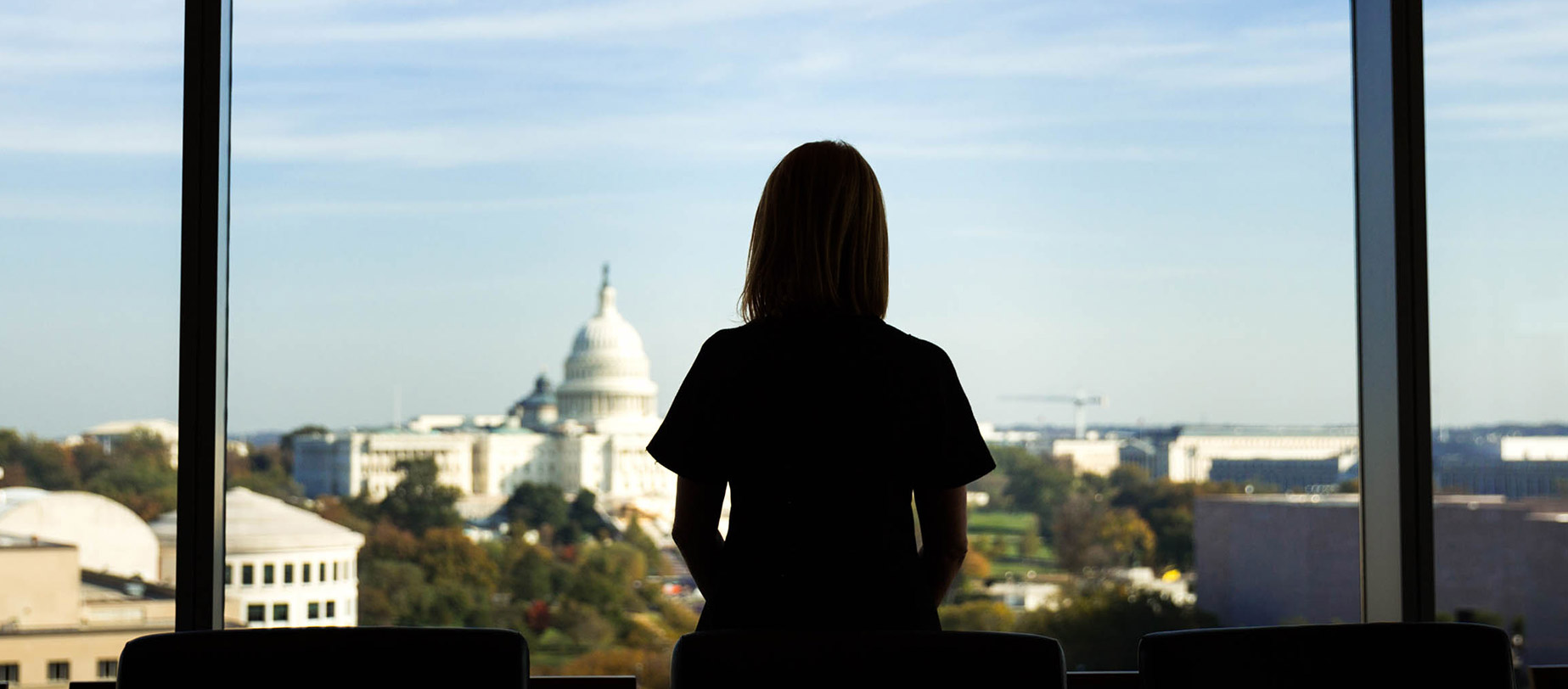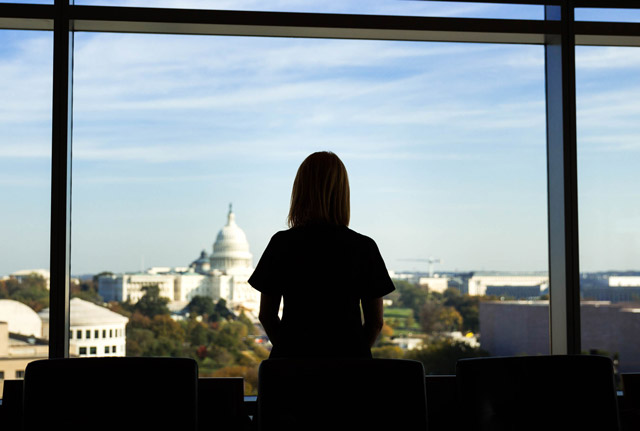 S
Susan Hirschmann knew early on that she wasn't going to be one of those guys closing deals on the golf course. First, she wasn't a guy. And second, she wasn't a good golfer. "There weren't enough lessons to make my career a success," Hirschmann says with a laugh. "I had to find another way."
She did, and in time she found her way to the top. In 2015, Hirschmann was named CEO of Williams & Jensen, one of the largest and oldest Washington lobbying firms—yet another victory for the women of "K Street."
The shorthand name and best-known address of one of Washington's murkiest professions, K Street once had about the thickest glass ceiling possible. For generations, the top venues for lobbying—the fabled Washington "back rooms," the smoke-filled poker games, the exclusive golf courses—were the exclusive bastions of what K-Street women came to call (quietly) the "pale Yale males."
That world now shares space and influence with women like Hirschmann. More than a dozen women now lead government-relations practices at the nation's largest corporations, and several others run major lobbying shops of their own. These pioneers have paved the way for a new generation of women in the profession. According to Tony Costello, keeper of deep data on lobbying at Bloomberg Government, women now account for about a third of all the registered lobbyists in Washington's top ten firms. Some of the others hire women exclusively, and one hires only mothers. Women in Government Relations had about a dozen members when it started in 1975. Now they number more than a thousand.
Shanti Stanton, Lobbyist, Subject Matter
(1:27)
▾
They're advocating for and against virtually every industry sector and cause that has business in Washington, from the major pharmaceutical companies (K Street's biggest spenders by far) to schools and nursing homes. Some clients still tend to hire more men than women to lobby for them. Of the 28 lobbyists for the National Rifle Association listed at OpenSecrets.org, for example, only three are women. The Brady Campaign to Prevent Gun Violence has only a fraction of the NRA's lobbying force, but a third of them are women.
Most lobbying issues, though, are gender-neutral these days, and in some of them women tend to predominate. In tense negotiations to produce historic new fuel-efficiency standards for the automobile industry, for example, most of the White House and state negotiators were women, and so were the lobbyists for the car companies. Women lead the way on most environmental and energy matters, and even in fields where they've struggled to break in professionally—national security, finance, and technology, for example—there is evidence of progress. Often that happens first in the executive suite, with ripple effects that spread to K Street. In recent years, after the top three defense contractors got female CEOs, they brought women into their teams, which led to more women lobbyists. Likewise, Washington's response to the global financial crisis was to appoint a series of female regulators, leading to a proliferation of female lobbyists in that sector.
article continues below
H
Hirschmann's search for a golf-course alternative came as an increasing number of female members and staffers made their way into Congress. That convergence led Hirschmann to Tammy Nails, a manicure-pedicure shop on Capitol Hill. In time her gatherings there became so frequent (and lucrative) that the shop built a large room just for such occasions. "It takes a lot less time to go a manicure-pedicure happy hour or a manicure-pedicure lunch than to play a round of golf," Hirschmann says. "We could be just as efficient, and a mani-pedi, frankly, costs less."
No doubt warily at first, men started joining them there, including such major power brokers as Eric Cantor, then the House majority leader, who kept up with the jawboning and deal-making by serving champagne to the legislators and lobbyists as they talked between the mani-pedi chairs. "The smart guys know that there are a lot of high-level women heads of government affairs," Hirschmann says, "good people for them to get to know."
It took a while for Congress's leading men to brave a nail salon. Older women lobbyists tell stories of the bad old days—when their bosses and members of Congress actually asked them to get coffee; when one of them was turned down for a raise because her husband, also a lobbyist, was making too much money; when another was turned down for a job because she wouldn't be allowed to work out at the male-only congressional gym, a major scene for on-campus lobbying. In those days, a few of them also kept a running list of which members and staffers you didn't want to be left alone with, men who tended to get aggressively handsy.
article continues below
Susan B. Hirschmann, CEO, Williams & Jensen
(1:20)
▾
For a while K-Street women had the reputation of being more than tolerant of such aggression. That was no doubt partly the result of wishful thinking, but it was also helped along by scandals, especially the one involving Paula Parkinson, a lobbyist who was caught sharing a house and having sex with three congressmen on a Florida golfing trip in 1980. There were no prosecutions, but she did admit to the Justice Department that she had had affairs with "fewer than a dozen" members of the House. Then she capitalized on her infamy by posing nude for Playboy.
Scandals like Parkinson's and the more recent crimes of Jack Abramoff have given lobbyists a reputation that is largely undeserved. Despite their image as high-paid slaves to narrow corporate interests, the men and women of K Street serve a critical function of government. In addition to profit-making corporations, they represent every segment of American society, including labor unions, charities, and environmental groups, as well as state and local governments. They research and analyze proposals for new regulations, and some complex legislation would be difficult to construct without their expertise. As often as not, their job is to educate rather than persuade, and their powers of persuasion are sometimes tested most by their own corporate clients, when self-interest tempts them to over-reach.
In all these jobs, being a woman has certain advantages. One woman lobbyist interviewed for this article said her good looks sometimes make speaking truth to power easier, or at least easier for powerful men to hear. "Men don't take anything too hard when it's coming from a beautiful woman," she said. But she's also careful never to cross the line: She avoids long boozy dinners with clients and aims more for the stylish Nancy Pelosi look rather than Sarah Palin's, which "comes across as too much sex kitten."
article continues below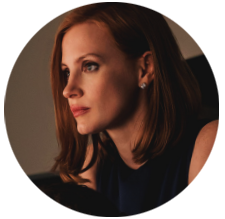 Insider Insight
Behind the Scenes of Miss Sloane
To prepare for the title role in Miss Sloane, Hollywood's new inside look at the life and work of a high-powered Washington lobbyist, Jessica Chastain went straight to the source: She shadowed a dozen women who have carved out careers lobbying on Capitol Hill, a job that requires cutthroat negotiating skills and total commitment. She recalls asking them about everything—"their personal lives, their work lives, what it's like working in a political system that's dominated by men." She also trailed them to the Hill, "to watch how they work the room at a fundraiser….So much of my character was based on my conversations with those women."1
Click to expand and read more
Miss Sloane
In select theaters November 25,
Everywhere December 9
They also take advantage of a tendency to be underestimated. Hirschmann, a native of Alabama, loves being misjudged for her accent and her looks. Another female lobbyist said she sometimes plays up her "dumb blonde" persona with older members and clients, often wrangling more information from them than her male cohorts can because they try to impress her. Blair Watters, a rare woman lobbyist in tech IT, has an iPhone case decorated with pink and purple unicorns and glitter. "A consultant I work with calls this phone case the 'underestimate me at your effing peril' case," she says with a laugh.
Gloria Dittus started her first firm in 1993, when golfing, hunting, fishing, and other good-ole-boy outings had been the mainstay of lobbying for decades. So she learned how to shoot and then got serious about it, later co-founding the Congressional Women's Shooting Caucus, which now boasts more than 300 members. "It was really created, much like the women who took up golf, because we saw that a lot of business was being conducted in duck blinds," Dittus says. "And if we were going to be part of the game, we had to be part of the crowd."
Since Dittus opened her firm, the number of congresswomen has doubled to more than 100, including 20 senators, which has led to a lot more women staffers on the Hill. When lobbying groups send all-male teams these days, it's noticed, and going along as window-dressing will not fly. One woman interviewed for this article said she used to be brought along for that reason by a male colleague anytime he had to lobby female members on the Hill, even though her expertise had nothing to do with the subject to be discussed. One female member caught on and began to demand a woman in the room who was actually engaged in the issue.
article continues below
Mary Beth Stanton, Lobbyist, Heather Podesta + Partners
(1:21)
▾
Beyond inventing the mani-pedi caucus, women have brought new skills to lobbying. "I think there is an advantage to being a woman in lobbying," says Mary Beth Stanton, whose boss is a major Washington figure and founder of one of its best-known firms, Heather Podesta + Partners. Neither Stanton nor Podesta has the slightest doubt that women have proved themselves as good as the men on K Street and in some cases better. Mary Beth says their greatest advantage is in consensus-building, listening, and collaborating—"providing a different way of looking at problems," as she puts it, "and understanding that the nature of the conversation we're trying to engage in is one in which we're getting someone to 'Yes.'"
Marissa Mitrovich agrees, emphasizing the K-Street women's willingness to give each other support. A former telecom lobbyist who now runs "Politiquette," a blog on the art and science of dressing for power, Mitrovich says that was an important part of the industry's appeal for her. "I attribute a lot of my success to other women who've had my back in his town," she says. Stanton also has a close knit group of women friends at various firms. They meet regularly at All Souls, a Chinatown bar, and help one another with all sorts of issues, including sensitive salary negotiations and asking for a promotion. "It's not easy to say, 'Hey, I'm only making X,'" Stanton says. "People have been taught that we're not supposed to be talking about that."
They help each other juggle family and career as well, covering for each other when someone has to go deal with kids and keeping each another in the loop. (Thanks to the lucrative nature of the work, most of the mothers can also afford to have nannies.) Without putting it in so many words to their bosses, they have created their own flexible schedules. Their hours are no shorter than their male colleagues', and they always get the work done—like everybody else in Washington, they're on their Blackberries 24/7—but it just might get done on the sidelines of a soccer field.
These days, the manic pace set by digital technology have made a round of golf or a hunting trip problematic even for the guys, liberating this generation of women lobbyists from learning how to golf or shoot. Stanton, whose father and brother are lobbyists and avid golfers, is a good golfer herself, but playing has become rarer even for her, she says. "It's hard to manage six hours on the course given my schedule demands. My golf hasn't gotten any better since becoming a lobbyist." Like her K Street sisters, though, she always finds time for a manicure.