The National Mall in Washington, D.C. The 1909 Plan of Chicago. The San Antonio Riverwalk. These urban icons all grew from a national focus on how we live and how we could live better. Back then, leading thinkers of the day called their idea the City Beautiful Movement, which sought to make urban areas more beautiful, more grandiose, and more democratic.
Today, a new conversation is underway: how to forge future cities in a digital age. As the percentage of the world living in urban areas swells—from 54 percent today to an expected 66 percent by 2050, according to the United Nations—citizens, mayors, and government officials are racing to understand how the private and public sector can work together to improve people's lives through technology. They seek to make cities more hospitable, stronger in the face of adversity, and better suited to a rapidly changing global environment.
This new movement encompasses the full spectrum of work being done to improve life in urban areas. Whether its successes are referred to as smart cities, connected cities, future-proof cities, or digital cities, the movement ultimately seeks to give citizens access to all of the networks that power the modern economy—including transportation, energy, education, finance, and communication.
While cities have always aspired to connect people—take the groundbreaking Boston subway system or the ancient Roman aqueducts —these new smart cities are different because the technologies powering them connect citizens beyond physical space.
Leaders in the public and private sectors see these technologies not as ends unto themselves, but as means to a better quality of life, better jobs, and better services for citizens everywhere. At the same time, cities are playing an ever greater role on the international stage—they're conducting what author Parag Khanna calls "diplomacity," which describes cities trading, exchanging, and learning from each other.
Much is at stake. Cities mix ideas and people in a unique way and are powerful platforms for innovation and economic vitality. Indeed, cities will be central to reviving and sustaining global growth. So there is an urgent need to get urbanization right.
To meet its potential, urban infrastructure around the world needs to be updated on a large scale. In the U.S., the Department of Transportation just awarded $65 million in grants to support advanced technology transportation projects in cities across the country. Meanwhile, cautious observers have asked how the benefits of smart cities will be equitably distributed to rich and poor, and how leaders will safeguard against the potential for overstepping personal privacy boundaries.
Major U.S. cities including Chicago, Boston, and New York have become increasingly involved in projects to develop smart city capabilities following the recession in 2008. Chicago Mayor Rahm Emanuel has pledged to run his city with "the most data-driven government in the world," aids say. Chattanooga, Tennessee, has rolled out 10-gigabit-per-second fiber internet service to all residents and businesses, the first such effort in the Western Hemisphere. And officials in Kansas City, Missouri, where 20 percent of residents live below the poverty line, are working to expand a just-opened rail line to connect struggling neighborhoods to thriving economic centers.
"The need is clear in the cities," said Eric Woods, research director at Navigant Research. "What is less clear is how cities roll out these solutions at scale, and how they will find the financial means to do so."
Cities in Europe and Asia have been early adopters of the digital city trend, many as part of multi-year master plans that become visible to the public gradually. In Barcelona, for example, officials have increased energy efficiency by transitioning more than 1,100 lampposts to LED consumption. Singapore has installed cameras that help monitor traffic patterns and weather conditions as part of its immense Smart Nation plan to make Singapore the smartest urban area in the world. And in London, citizens can now use a contactless payment system that enables seamless transition between the bus, light rail, and subway (the Tube), which transports more than 1.34 billion passengers every year.
The move toward smart cities also comes with measured and thoughtful consideration. Privacy advocates note the increased use of monitoring tools as a potential catalyst for increased surveillance. There is also the question of who pays for and who owns what as public and private partnerships evolve to make these new technologies a reality.
Ultimately, the promise that these technologies hold for tomorrow's cities is what excites citizens, analysts, observers, and government officials alike.
Cities stand to save as much as $17 billion a year in energy costs by 2019 by using smart city tools, such as sensors to optimize tasks including parking and garbage services, according to Juniper Research.
"The smart-city concept is barely off the ground," said Juniper Senior Analyst Steffen Sorrell. "The endgame figure will be much larger."
As leaders in the public and private sectors begin to imagine what's possible for their cities, the building blocks that form the foundation of these ideas are already being laid out. Here is a look at four building blocks taking shape in cities around the world.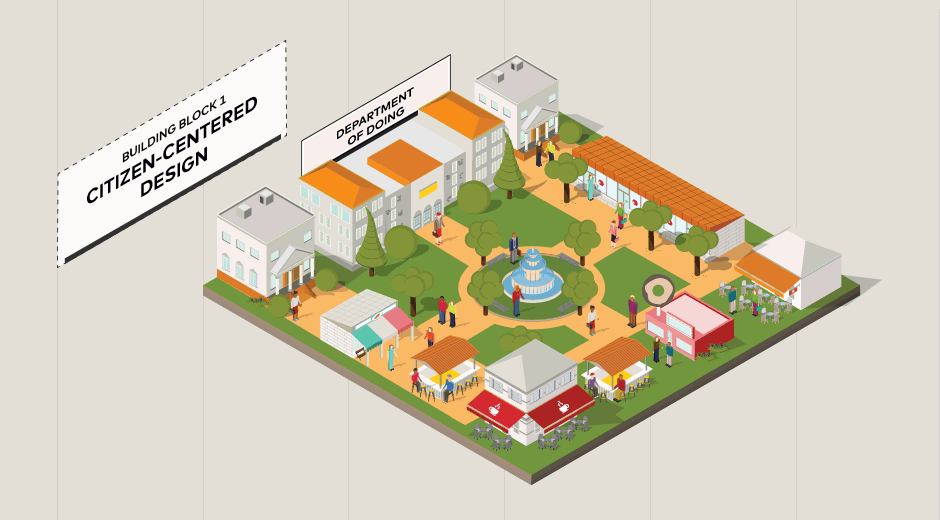 Building Block 1:
Citizen-Centered Design
Definition: A way of thinking that seeks to understand the problems citizens are trying to solve and then create solutions to those problems.
Where: Gainesville, Florida
Problem: Home to the University of Florida and more than 40,000 students, the city of 128,000 recently acknowledged it was experiencing "brain drain" and a general lack of competitiveness.
Approach: Seeking to attract entrepreneurs and new businesses, the city has adopted a user-centric culture to ensure people can understand and use information from government agencies. One of the plans involves a "Department of Doing" that empowers individuals to start new business. The city posted a job listing for its new Director of Citizen-Centered Gainesville in November. The Department of Doing will focus on the user experience of starting a business above all else. Rather than going to multiple, separate city departments to get permissions and licenses to start businesses, a budding entrepreneur would only have to visit one department: The Department of Doing.
Detail: "A big part [of our work] is designing for the first timer, the newcomer . . . we want to say, 'What would it look like to make it a level playing field?'" - Anthony Lyons, City Manager, to fastcodesign.com
Continuing Challenge: Deep-rooted government change takes time, and it will take continued focus on and support for the Department of Doing to make a long term impact. As Lyons described to fastcodesign.com, "We're in that process and it's a never ending one. We're going fairly fast but we're still in midst of it, and it's a pretty amazing time for Gainesville—and a fun time to be in government."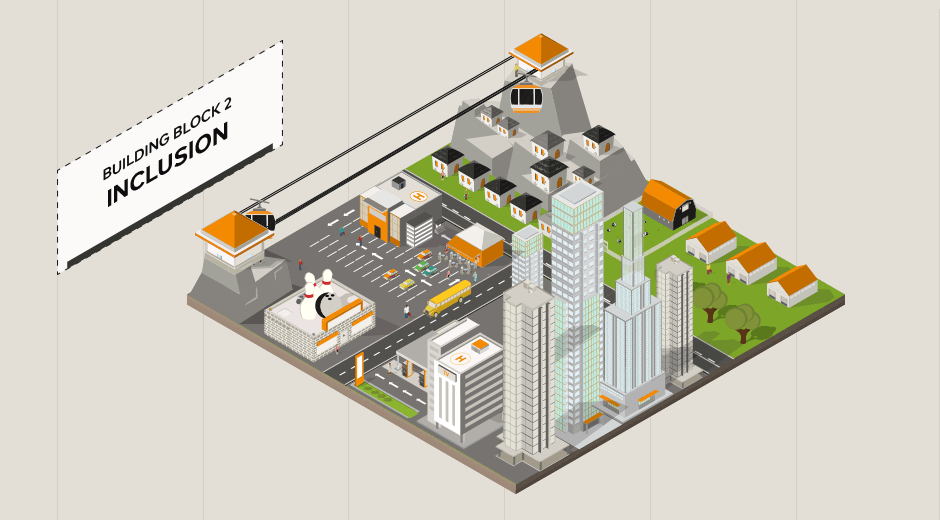 Building Block 2:
Inclusion
Definition: Creating infrastructure that supports and includes all citizens whether in regard to financing, housing, education, public space or otherwise.
Where: Medellín, Colombia
Problem: Known as one of the most dangerous cities in the world for decades, Medellín had recorded thousands of homicides per year, many in the disconnected favelas, or slums, where the drug cartels have made their presence most felt.
Approach: Over the last 25 years, Medellín has blossomed into a model of inclusion by putting in place an extensive public transportation system that includes a gondola network that connects the city center to outlying, and less fortunate, areas in the hillsides. These gondolas, along with an escalator system, have dramatically reduced the traveling burden for the city's poorer and more mountainous areas.
Detail: "We know what we're doing here and we've come a long way," said Alejandro Echeverri, director of the Center of Urban and Environmental Studies at the EAFIT University in Medellín. "But everything is fragile, precarious. Medellín has done some successful things, but you can never say: 'It is finished.'"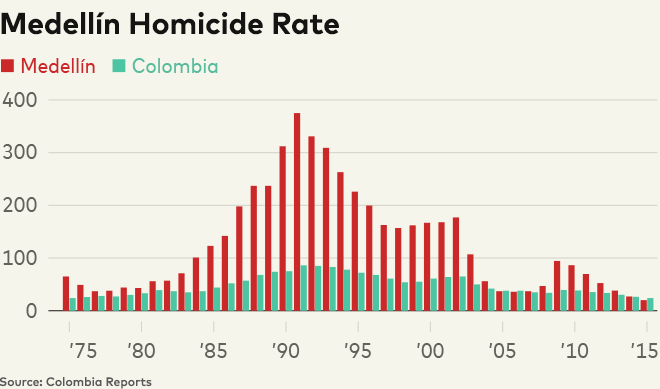 Continuing challenge: In many ways, the city has flourished following the development of transportation infrastructure. The number of people living below the poverty line in Medellín fell to 14.3 percent in 2015, from 22 percent in 2010, according to Colombia's National Statistics Department. However, violence persists: There were 495 homicides in 2015, down from 1,649 in 2011, which was also down from the peak of 6,349 in 1991.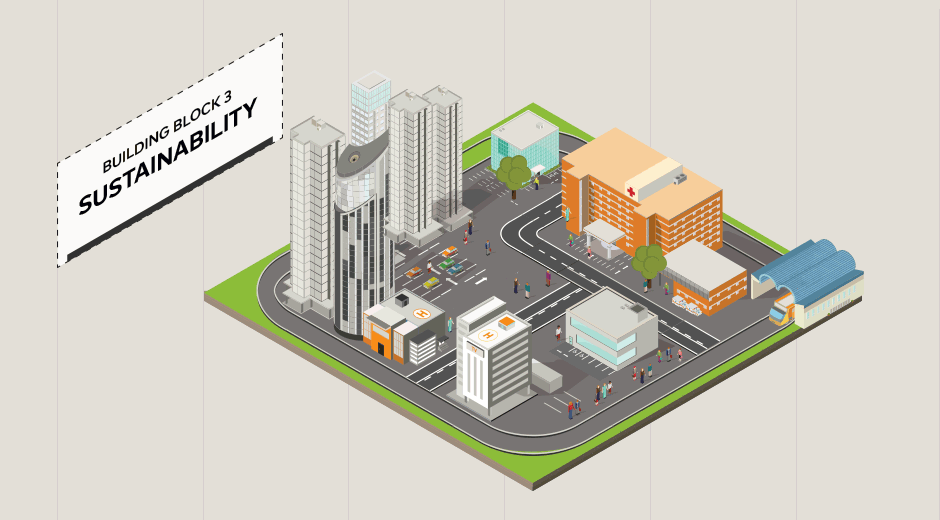 Building Block 3:
Sustainability
Definition: A focus on reducing reliance on resources and practices that can contribute to climate change and unpredictable temperatures
Where: Sydney, Australia
Problem: The threat of rising temperatures and climate change is one of the biggest threats facing cities such as Sydney, according to Lord Mayor Clover Moore. The city is a member of C40 and one of 100 participating in an initiative of The Rockefeller Foundation to help cities prepare for and address physical, social, and economic issues.
Approach: A light rail system that will connect the northern and southern parts of Sydney is one of the many ways the city has introduced public transportation solutions to challenges associated with sustainability.
Detail: The light-rail vehicles could accommodate 450 passengers, which is equivalent to up to nine standard buses and gives the rail network the capacity to move 13,500 passengers per hour. The light rail system uses 10 times less energy than a car per passenger kilometer, according to Transport for New South Wales. The system is expected to reduce carbon dioxide and other greenhouse gas emissions by 663,000 tons over the next 30 years by getting cars and busses off of the road.
Continuing Challenge: With any project of this size and caliber comes challenges, namely minimizing the impact on community and businesses during the construction period. To ensure public goodwill toward such a project and the officials in charge, it's important to enable a participatory process coupled with ongoing and transparent communication.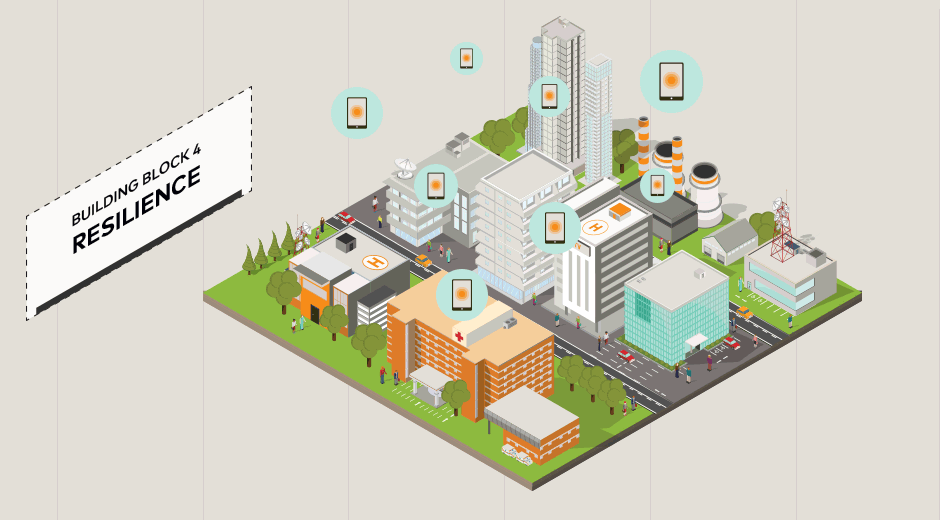 Building Block 4:
Resilience
Definition: For cities hit hard by the recession or other outside, a plan to rebound from their setbacks and protect against potential setbacks in the future by using data.
Where: Detroit, Michigan
Problem: Detroit declared bankruptcy in 2013 on the heels of the Great Recession, dealing a blow to industry, commerce, housing, education and infrastructure. The city needed to find smart ways to revitalize its industries, reenergize its citizens, and improve its communities. It has targeted open, crowd-sourced data as a tool to use to accomplish those goals.
Approach: Detroit is using technology to revitalize its city services. It has launched its first open data portal, which grants the public access to data in the realms of city government, public safety, and transportation, among others, and is supplemented by a mobile 311 app which allows citizens to report urgent problems in real time. The portal is home to interactive maps and datasets that range from displays of all of the city's recreation centers, to information about upcoming building demolitions—demolitions that are clearing the city of homes and buildings that are prone to fire, blight, and criminal activity. Not only does the Open Data Portal allow the citizens of Detroit to get the information they need to stay safe and healthy, it increases civic engagement and gets people more involved in their respective communities.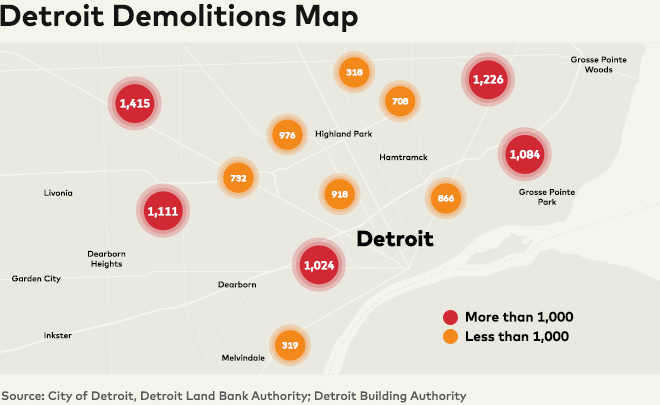 Detail: "There is a lot of skepticism [after the bankruptcy], and it does us a lot of good to make sure our citizens can see what happens in city hall," Lingholm said. "That transparency is a big, big deal for us." - David Lingholm, Detroit's director of digital media and community engagement.
Continuing Challenge: The economic, industrial and social challenges facing Detroit are on a scale much greater than many of those faced by other cities, even as it continues to make gains. The dwindling population and mounting debts will have reverberations for years to come, officials say. Moreover, similar to Sydney, some programs have come under federal scrutiny, including the aforementioned demolition program, which was temporarily suspended this year due to concerns over misallocation of funds and soaring costs.
__________________________________________________________________________________________
Part of the work that leaders must do to turn this movement into a reality is build an ecosystem to support it.
Doing so "requires a holistic approach to partnering that involves state and city governments and private corporations, but also civil society and academia," said Hunter Woolley, who oversees Mastercard's work with cities in North America.
"It requires bridge-builders on both sides," said Woolley. "You need to understand the relevant assets and capabilities that we bring to the table as a business, and spend the time understanding the city's unique needs, and then connect the two. Connecting the right needs to the right capabilities while also sharing best practices and enabling the broader ecosystem of actors are all critical."
Learn more about how Mastercard is paving the way for the future of cities.