Outposts
Pilsen:


an Explosion
of Color in
a Gray City
Pilsen:


an Explosion
of Color in
a Gray City

Pilsen, a neighborhood in Chicago's Lower West Side, has evolved from workers' haven to Czech political ground to a landscape of public murals and art, and it combines all those influences to bring warmth and color to the Windy City.
Outposts is a two-part series by Atlantic Re:think and The Lincoln Motor Company that explores the historic, evolving neighborhoods that show how a city's identity is built from influences on its frontiers. Both on the journey and for the length of your visit to such a place, the experience and the memories it leaves behind are all in the details.
films by Chris Vanderwall • photos by Alina Tsvor
The History of Pilsen
A Working History
Pilsen might be the only place in the country where decades-old taquerias—Mexican restaurants specializing in tacos—line streets with Czech names, and vibrant public murals turn alleyways into exhibitions. South and west of Chicago proper, the neighborhood of Pilsen is geographically small but densely packed with vintage stores, Mexican restaurants, art galleries, record stores, young visitors, and families who have been in the area for generations.
In the mid-19th century, Pilsen was serviced by multiple major trade routes into Chicago, attracting German and Irish immigrants who initially developed the neighborhood now known as Pilsen. The abundance of jobs in manual labor also attracted a significant population of Czech immigrants to the area beginning in the 1870s.
The first time "Pilsen" was applied to the neighborhood was likely with the opening of a neighborhood restaurant called "At the City of Plzen": Plzen was then the second largest city in the Czech Republic, and the Czech population in the Chicago neighborhood was, by the late-19th century, overshadowing the German and Irish presence. As industry increased and considerations for workers lagged, widespread strikes proliferated and eventually culminated in the citywide Haymarket Riot of 1886. Murals and posters advocating for workers' unions and fair labor conditions still paper Pilsen's streets.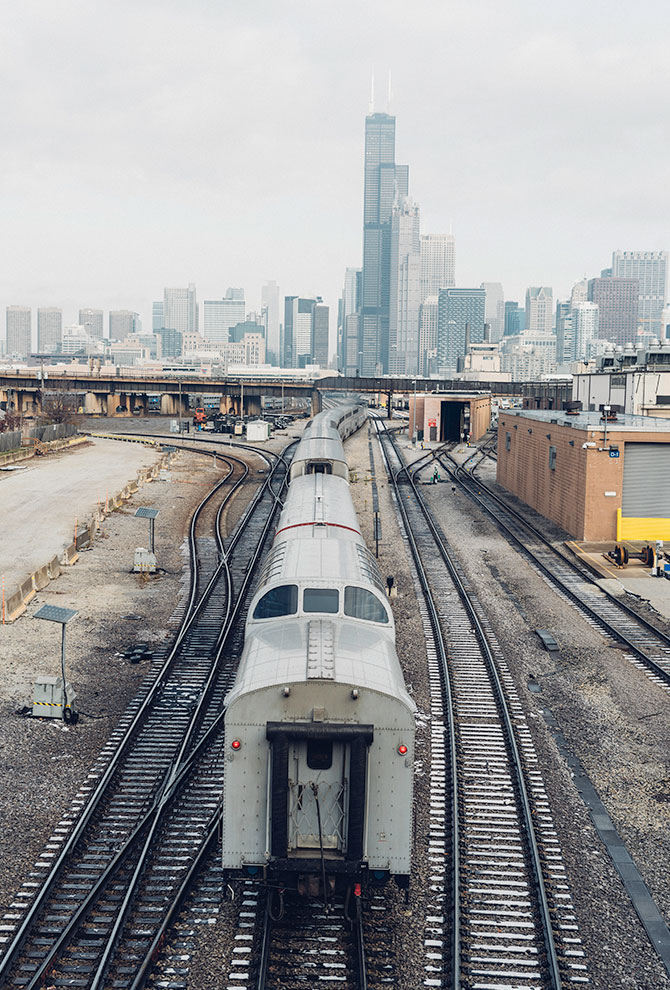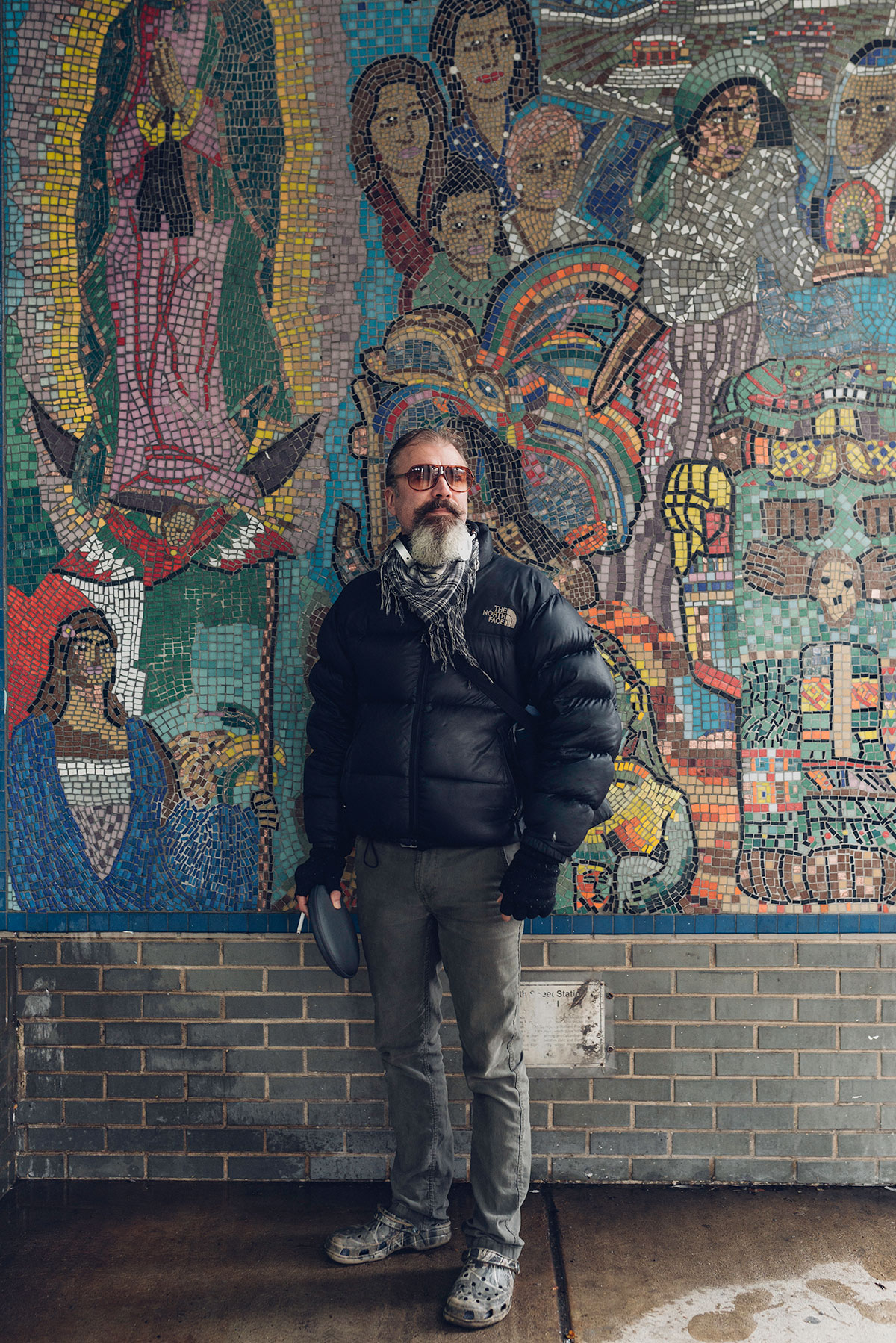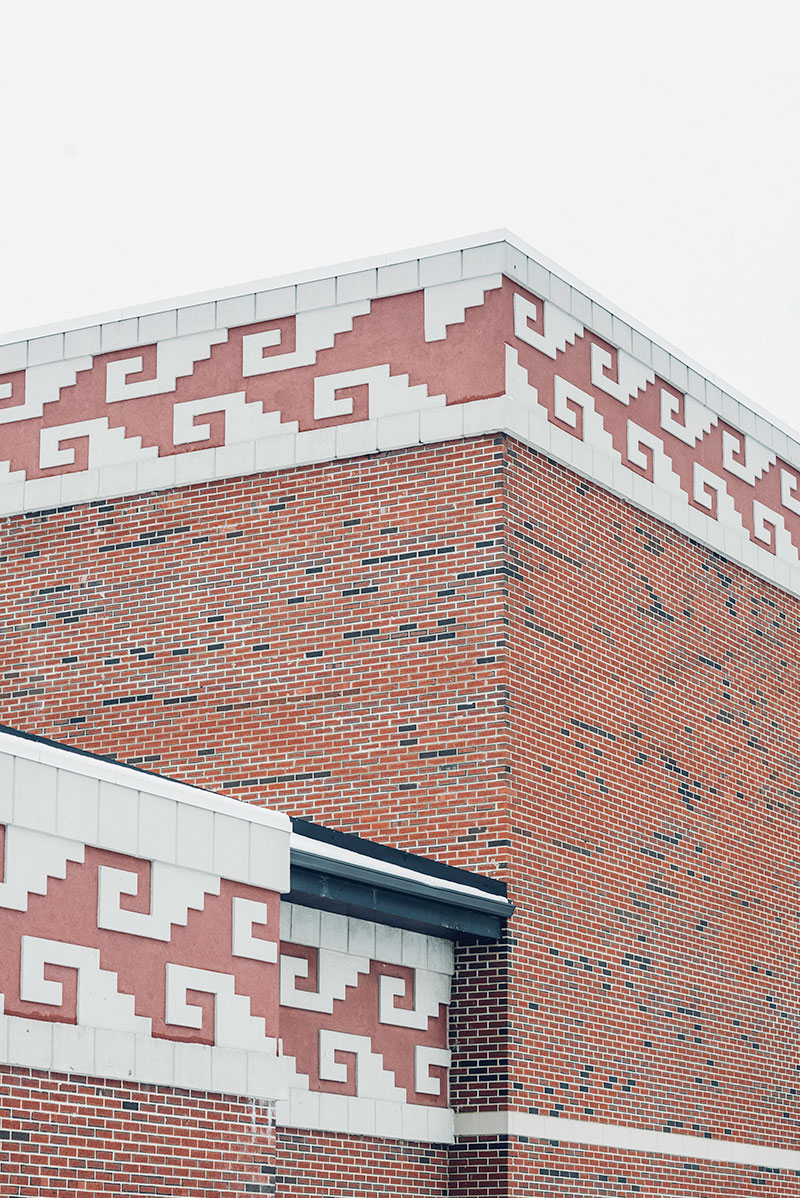 The neighborhood is now bound, roughly, by South Damen Avenue and South Halsted Avenue to the west and east, and by 16th Street and West Cermak Road to the north and south. Pilsen has become a haven for young artists in need of affordable studio space: Its galleries and studios are included in Chicago's monthly Gallery Night. For both locals and visitors, Pilsen itself also hosts an art walk every first Friday of the month that explores the public art, galleries, and open studios of the neighborhood. Its residents have fought hard to maintain its character, and though it continues to evolve, it's incorporating new influences rather than being overshadowed by them.
Globally Inspired
How do you create an immersive experience? Start from the ground up, spending time with every detail as it relates to the larger whole. To get the most out of any journey, pay attention to craft, and go with a guide.
See More
Your Immersive Guide
On the Way: Enjoy the ride
The Lincoln Continental's* rear-seat package, with lumbar support, heating capabilities, and space to go around, makes the backseat a frontrunner.
* Features are available and do not come standard
When you're there: Dig In
→
A neighborhood's best bites aren't always the obvious ones. Eateries and specialty stores that are off the radar can offer more flavor than their more publicised counterparts.
On the Way: Take in sound
←
The Revel® Ultima* audio system consists of no less than 19 speakers placed throughout the Lincoln Continental, immersing you in high-quality, seamless sound.
* Features are available and do not come standard in the Continental and other Lincoln products
When you're there: Absorb history
→
History is everywhere you look in Pilsen, from Thalia Hall's roots as a Czech political meeting ground to the National Museum of Mexican Art's 3,000-year-old pieces.
On the Way: Look Up
←
The twin-panel moonroof* opens up the sky to both the back and front seats, keeping every passenger engaged with their surroundings no matter how long the trip.
* Features are available and do not come standard
When You're There: Look Around
All you need to do to experience Pilsen's art is walk through the neighborhood: Sprawling murals, painted doors, and open galleries are on every corner.
Mary Gibbons
Reading It Back
When Mary Gibbons and her business partner opened Pilsen Community Books in February 2016, they knew that their strengths were twofold: They knew how to choose books, and they knew how to sell books. Their beautifully curated and maintained storefront on 18th Street and South Carpenter Street make that clear. What might be less clear to a passerby is the store's implicit presence in Pilsen's classrooms. Through a book-giveaway program, the store donates entire curricula to local schools, using their own sales profits and outside donations.
Mary, who has lived in the neighborhood for six years, calls Pilsen "more of a community than other neighborhoods I've been in," which is why a fundamental part of her store's mission is to reinvest in its neighborhood.
Art in Pilsen
The Broad Strokes
Pilsen's public art is more than decoration. Many of the murals scattered throughout the neighborhood —often political and uplifting—were part of a 2012 ward initiative with the Chicago Urban Art Society to reimagine abandoned or underutilized space.
Neighborhood residents can often recognize an individual artist's work based on that mural's styling and motifs. Ruben Aguirre, a Pilsen-based artist whose work is visible throughout the neighborhood, points to Pilsen's rich history of Chicano art as a larger movement. "When I was experimenting with and exploring different public areas to make my art, I can see how I fit in a notch in the timeline of public artists coming from this area."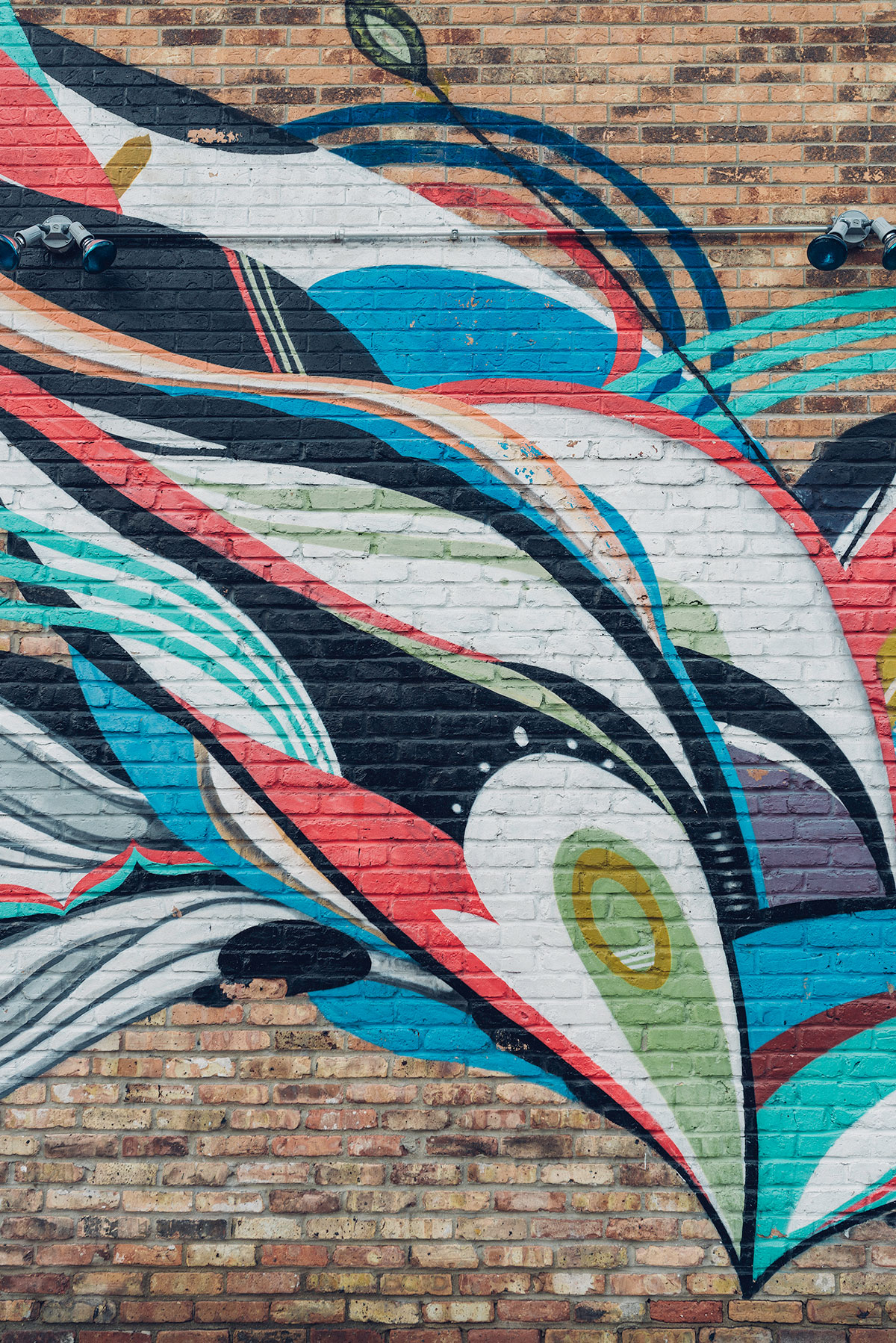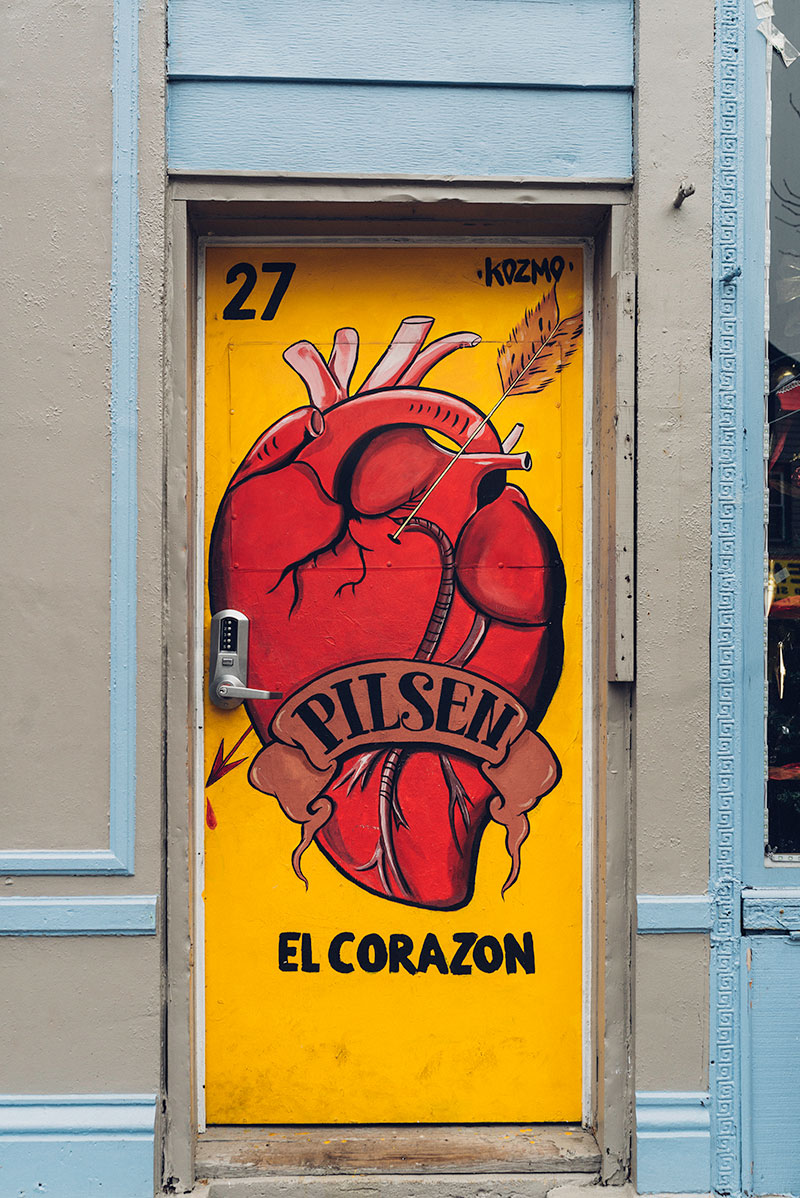 Some of Pilsen's most notable works are spread out across 16th Street, where an elevated freeway provided over a mile of blank wall space. The people who live in and come to Pilsen embrace the art as part of the neighborhood's character, though Ruben warns that the growing attention to the neighborhood also threatens its legacy. In that sense, the murals, particularly those painted by local artists, are a manifestation of empowerment and ownership for the people who identify with them. "It's been embraced in the Mexican neighborhoods here," Ruben says. "People want us to paint their walls."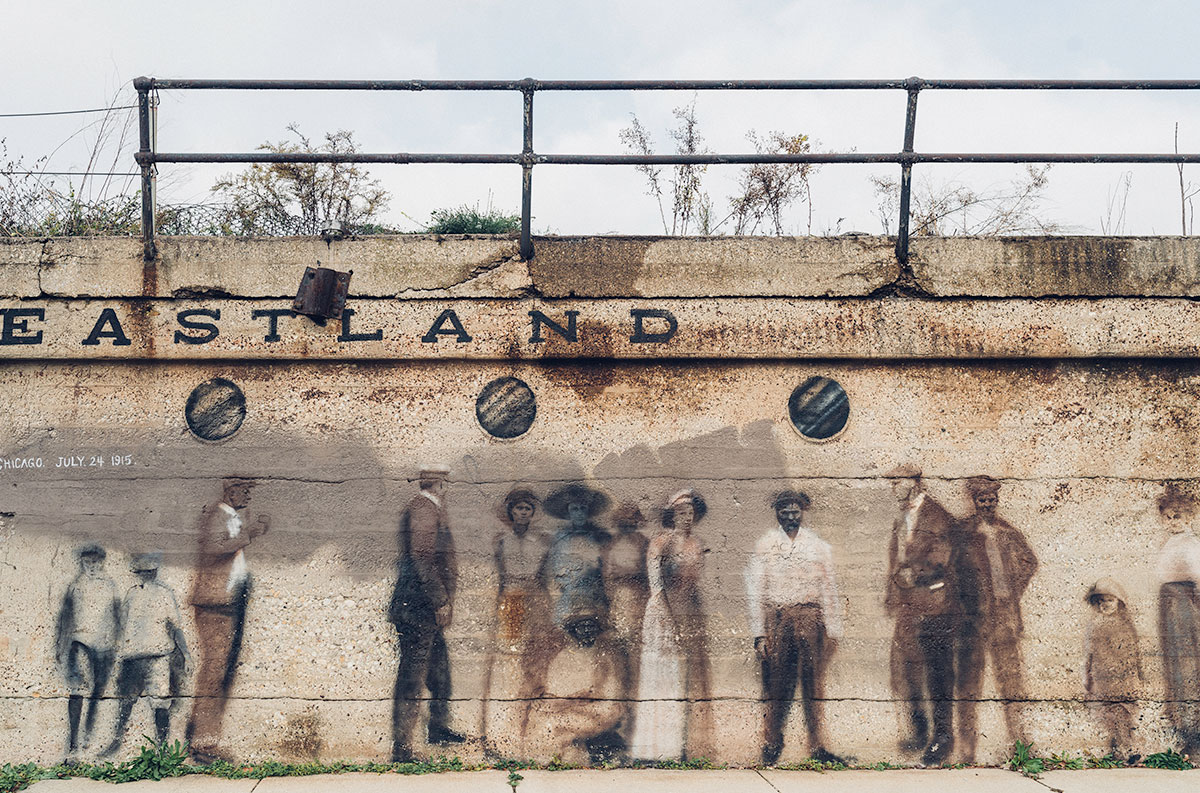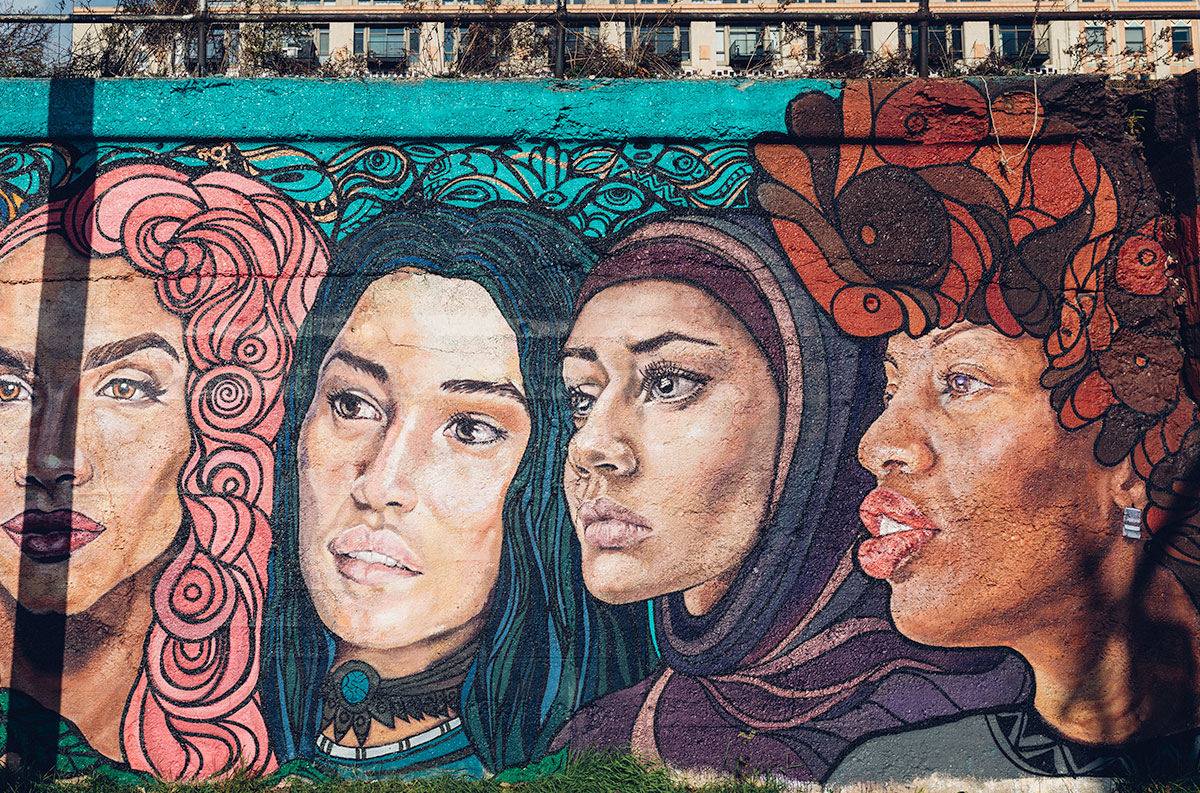 Ruben Aguirre
The Shift Change
Ruben is a painter, but that word doesn't seem to sufficiently describe what he does. He uses entire cities and streets as his canvas, taking influence from everything, from traditional architecture to contemporary Latino art. Born and raised in Chicago, he now lives in Pilsen, where he always considers how his work affects the context and neighborhood in which it will be placed.
"The unexpected beauty and intention of murals have the power to change the perception of ignored neighborhoods and spaces," Ruben's statement reads. "My current work embraces contemplation on a space's use, history, and people to reimagine and create a public visual language."
On the Menu
The Diner's
Guide
Pilsen has been mainly Latino since the 1970s, mostly due to its historic Mexican community. A wealth of deeply rooted, family-run establishments that local residents swear by blanket the neighborhood and showcase the great diversity of Mexican food, with menus that go far beyond tacos and burritos. These are just a few of Pilsen's specialty spots, but duck into any Mexican restaurant in the neighborhood and you're likely to eat well.
Xurro (The Churro Factory)
On West Cermak Road and South Wolcott Avenue, on the south border of Pilsen, the smell of fresh, homemade churros have greeted students on their way to the nearby high school for 20 years. Founded by Ramon and Irma Covarrubias in 1996, the unassuming but warm eatery space now has branches in downtown Chicago, and across Illinois' nearby suburbs. Since the churros are made and filled with chocolate or cream in-house, you might even get them straight from the oven.
2214 S Wolcott Ave, Chicago, Illinois 60608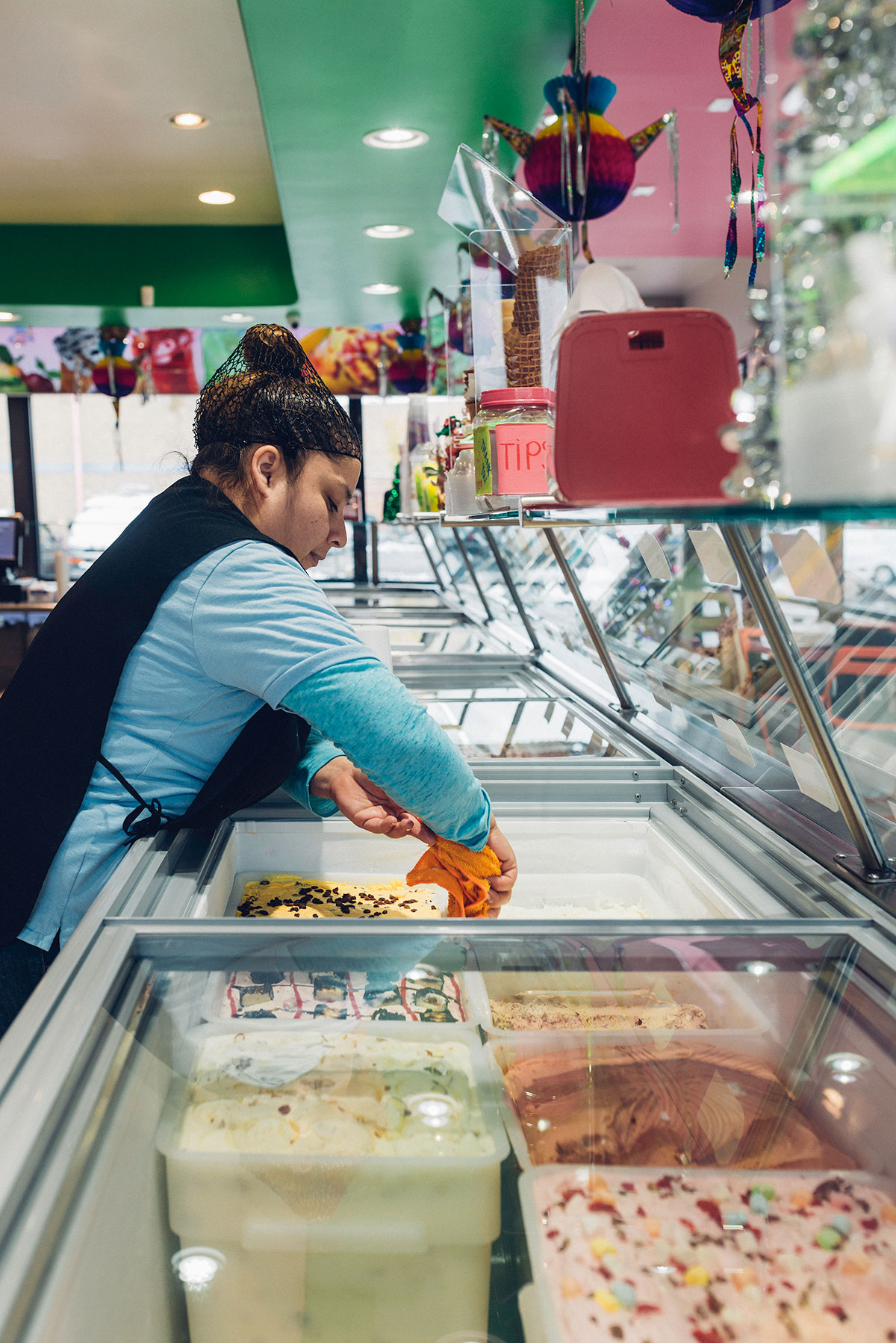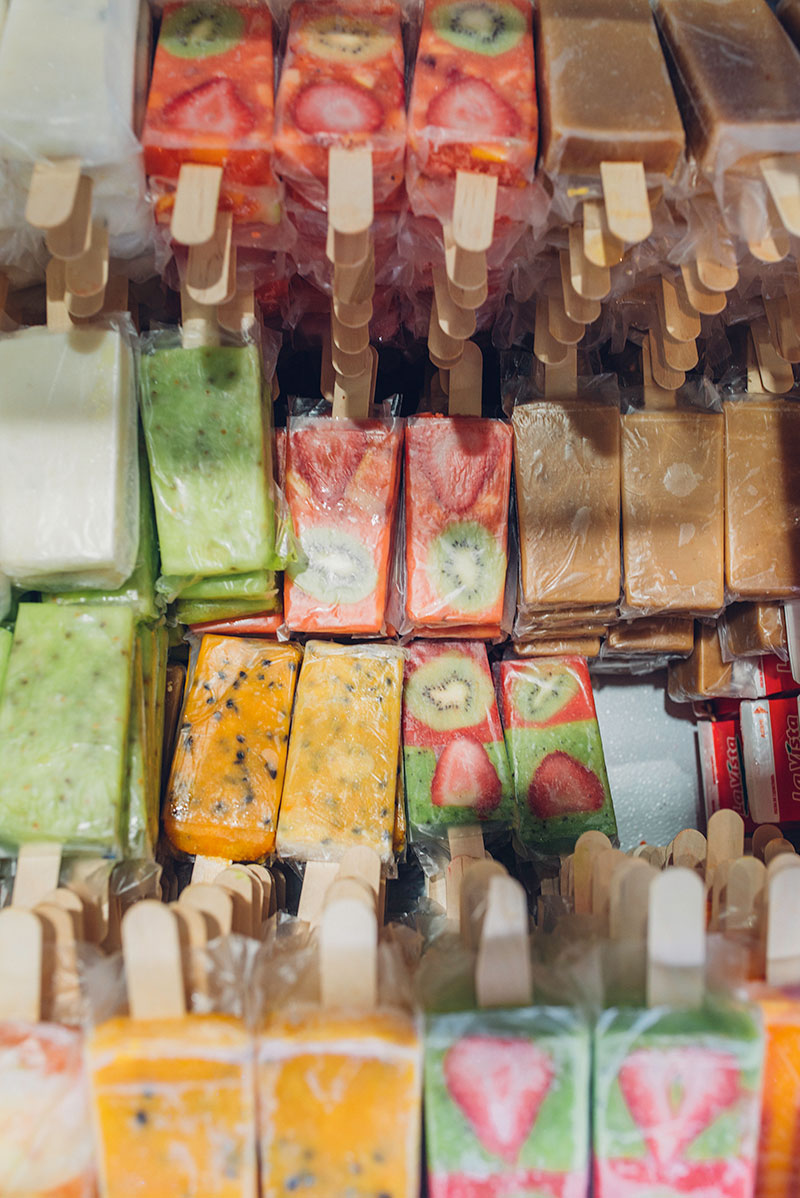 La Michoacana Premium (Del panda)
This Mexican-style ice creamery puts chain offerings to shame: Yes, there are almost 20 ice-cream flavors to choose from, but the real attractions are the paletas (ice lollies), cream- and frozen-fruit-based popsicles in every color. La Michoacana has multiple locations in Chicago, but its Pilsen location on South Blue Island Avenue is its most eye-catching, with bright neon signage and glass windows that showcase its dessert spread.
1725 West 18th Street Chicago, IL 60608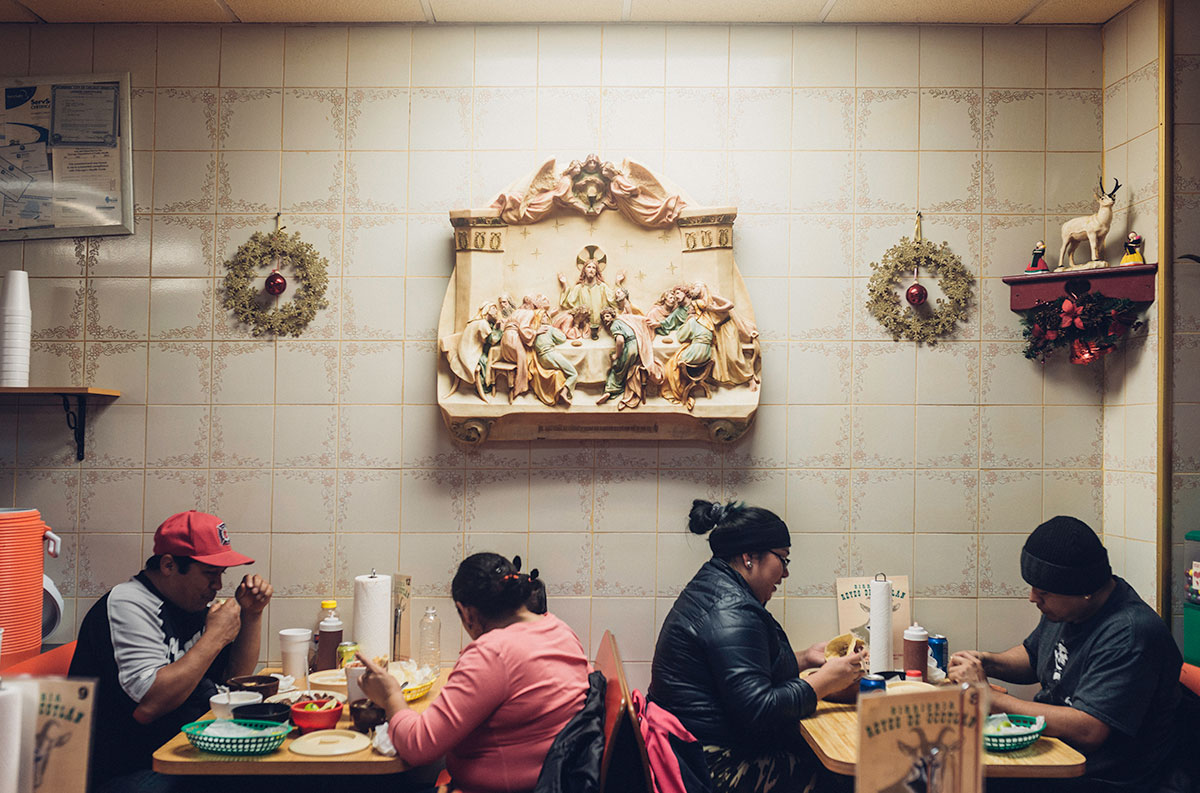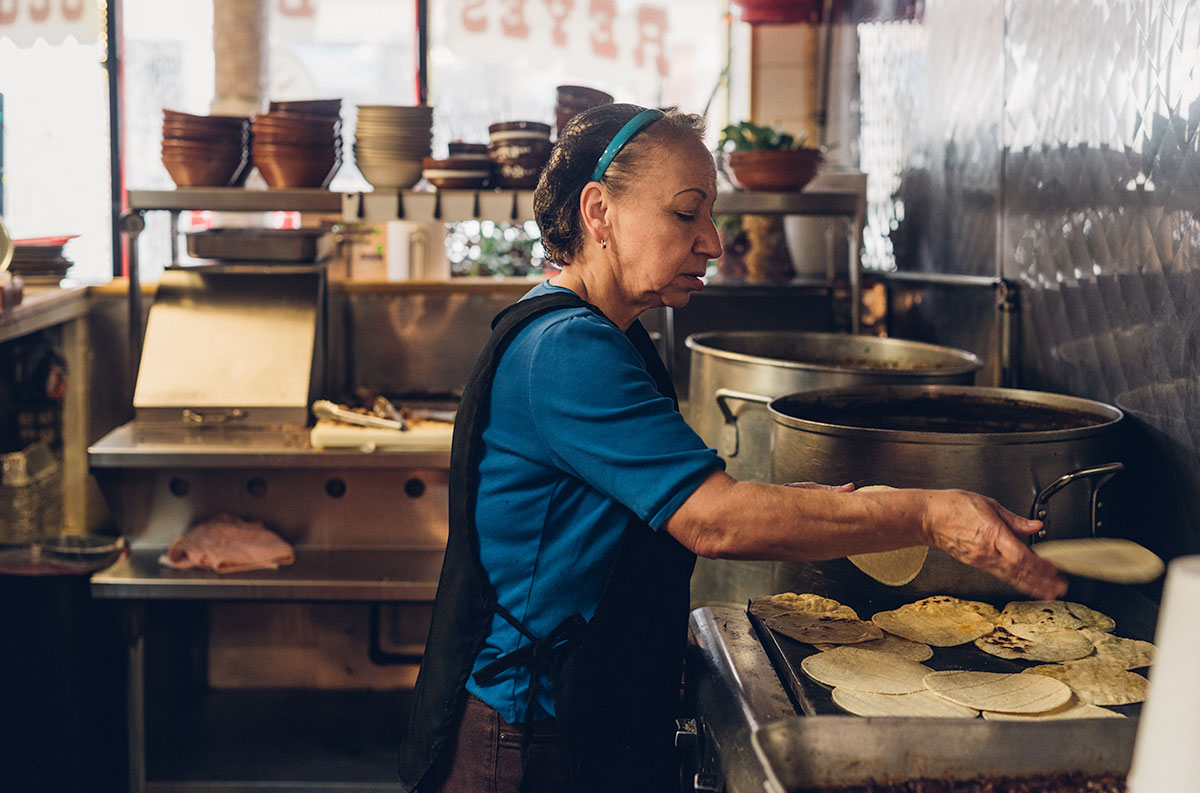 Birrieria Reyes de Ocotlan
Birria—a long-simmered, intensely spiced stew that originated in the Mexican state of Jalisco—isn't one of the Mexican dishes that everyone knows to get. But in Chicago, and Pilsen in particular, birrierias (eateries that specialize in the dish) are popular neighborhood mainstays. Birrieria Reyes de Ocotlan, on the corner of West 18th Street and South Ada Street, also emphasizes goat stews and goat tacos, and the decor includes goat figurines.
1322 W 18th St, Chicago, IL 60608
Carnitas Urupuan
Urupuan, a large city west of Mexico City in the state of Michoacán, is known for its carnitas: "Little meats" is the literal translation. They're made by simmering pork for hours until it's melt-in-your-mouth tender, then served with a spread of coriander, refried beans, tortillas, salsa, guacamole, and onions. Carnitas Urupuan has been beloved in Pilsen since 1975, when Inocencio "El Guero" Carbajal decided to bring his hometown's cuisine to Chicago. Right across the street from the 18th Street subway station, Carnitas Urupuan is bustling at all hours of the day.
1725 W 18th St, Chicago, IL 60608
Thalia Hall
New
Century,
Same
Mission
As the 19th century drew to a close, Pilsen was still largely Czech and working class. John Dusek, a local tavern owner who wanted to bring entertainment to the neighborhood, commissioned the architects Faber & Pagels to design a multiuse building that functioned as both a gathering hall and a performance space, and Thalia Hall was born in 1892.
Over the following decades, Thalia Hall remained a crucial neighborhood establishment, not only for performance and the arts but also for political organization. What we now know as the Czech Republic and Slovakia was a part of the Austro-Hungarian empire, but thanks in part to the activism of Pilsen's Czech population, statehood was granted to "Bohemia" in 1918. Thalia Hall was where those activists gathered.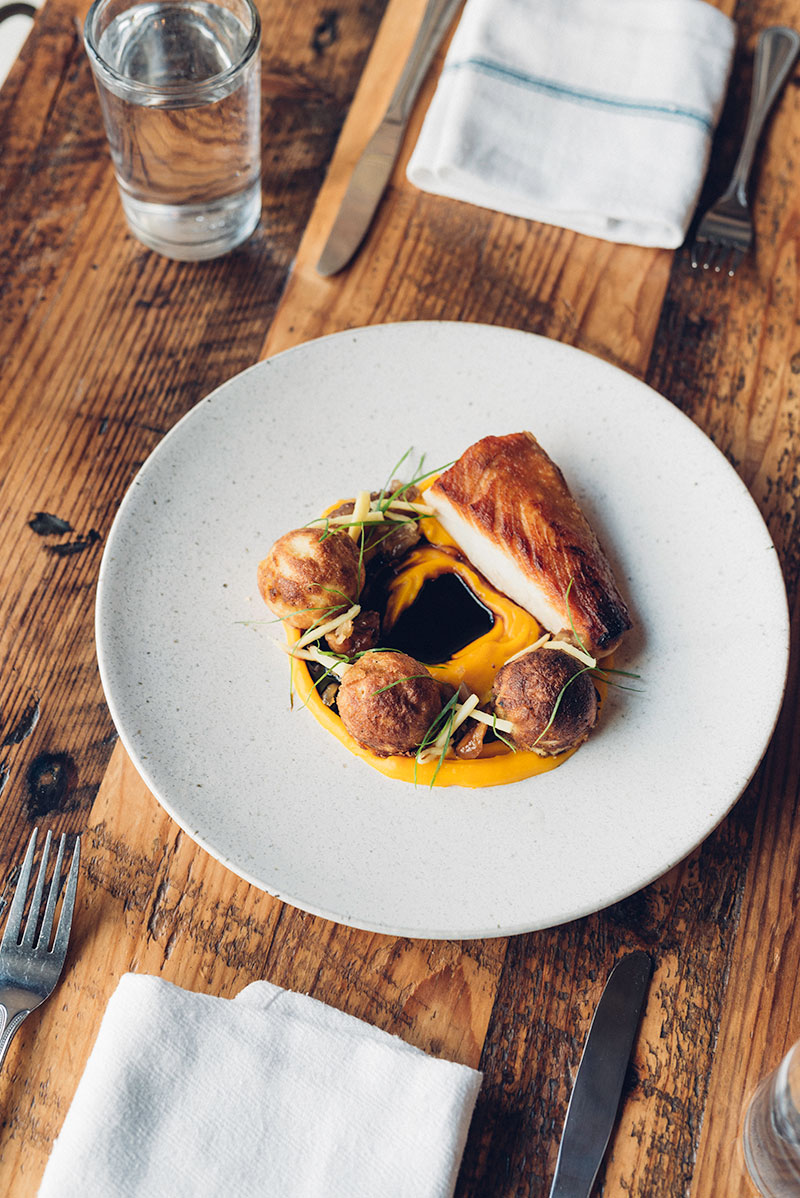 Though it fell into disuse and was closed to the public in the 1960s, the building was recently purchased and restored by Bruce Finkelman and Craig Golden, Chicago-based real estate and restaurant investors, who managed to preserve most of its original architectural detail. Its neo-Gothic architecture and imposing height make it stand out on its block, but Bruce and Craig don't see themselves as bringing a foreign influence to Pilsen. "We were trying to re-establish a place that would be there for the people who lived in the neighborhood," Bruce says. "I think it kind of cements the neighborhood….It's been there since the 1890s."
Thalia Hall isn't just a neighborhood fixture anymore, though—residents from all of Chicago's neighborhoods recognize the name, and have probably seen a show there. Bruce and Craig say that they see a "nice cross-section of the neighborhood" on any given night at the venue or in Dusek's.