How the VA is Using AI to Target Cancer
⬑ IBM's Watson is helping doctors deliver cutting-edge cancer care to veterans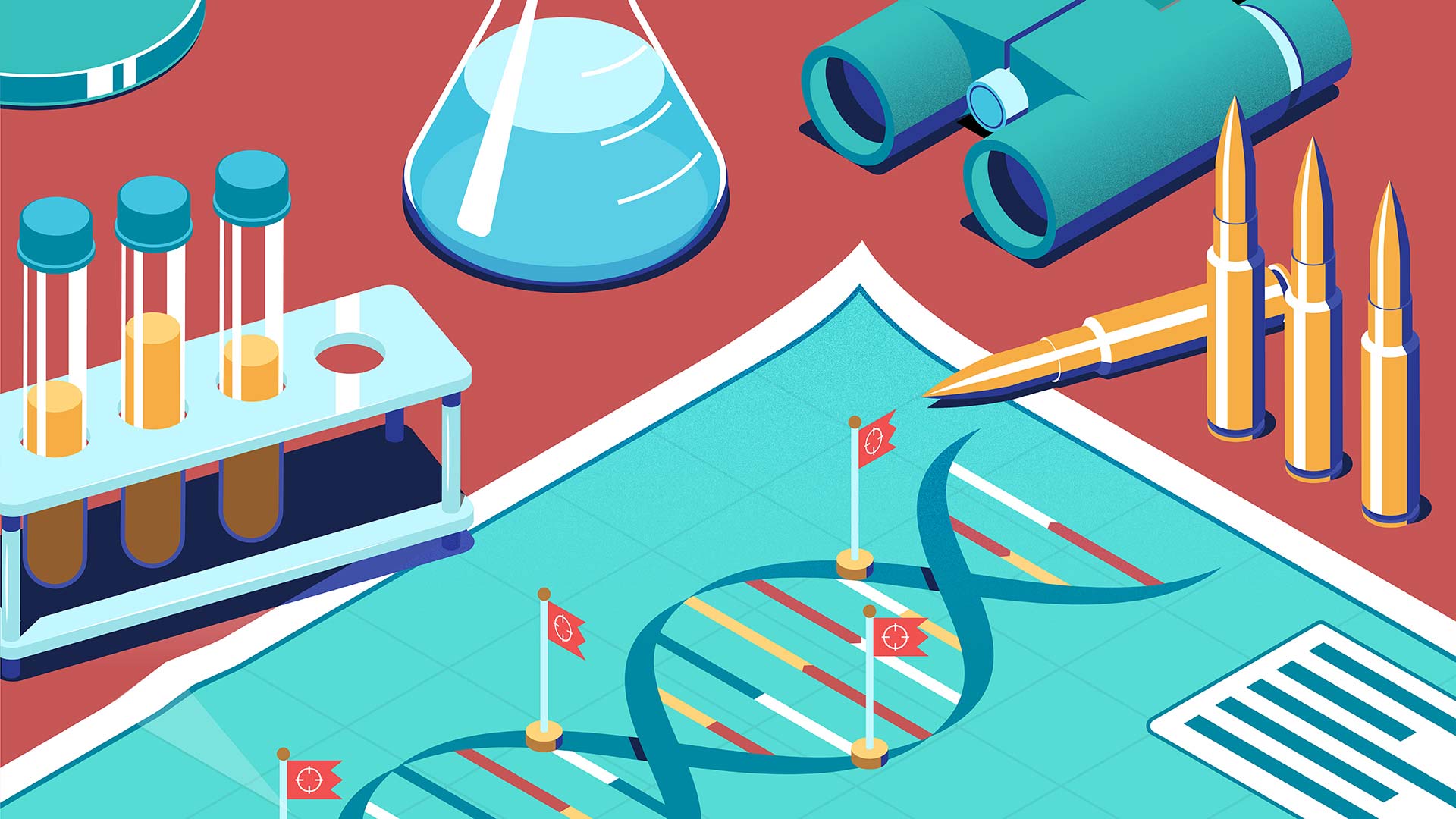 When Tam Mai Huynh found out in 2016 that the source of his nagging cough was lung cancer, it came as a shock. A recently retired Army Special Forces veteran and married father of two young children, Huynh never had smoked. Nor did he have a family history of cancer.
Nevertheless, the disease had spread to Huynh's spine, lymph nodes, and brain. He began chemotherapy, driving two hours every two to three weeks from his home to the U.S. Department of Veterans Affairs (VA) hospital in Durham, North Carolina. The treatments he received there left the former officer nauseated and exhausted, unable to work or spend much time playing with his children.
"You just feel like someone beat you up and stepped all over you for about a week," Huynh says. "And then you start to recover and then you get to normal, and then it happens all over again. And it keeps going on like that."
Doctors offered Huynh an alternative: participation in a new precision oncology program incorporating IBM's Watson for Genomics technology that would use analysis of his cancer's DNA and a comprehensive database of existing medical literature to help them identify medications that could be more targeted and produce fewer side effects than chemotherapy.
"They asked if I wanted to run some more tests, and I said, "Well, gee, that's a no-brainer," Huynh says. "Why not?"
"If you're a rifleman, or hunter, being able to hit the bull's-eye over and over is precision. [This] is the same concept applied to medicine."
Michael Kelley, MD, national program director for oncology at the VA
In the ongoing battle against cancer, precision oncology is one of the most recent fronts—an effort, says Michael Kelley, MD, national program director for oncology at the VA, to "give the right care to the right person at the right time." For patients like Huynh, that process has several steps: First, their tumors are examined at a molecular level to identify genetic abnormalities that are then matched to ones known to cause cancer; then those matches are cross-referenced against medical literature describing the efficacy of various anti-cancer drugs that have been approved by the Food and Drug Administration or are in clinical trials; finally, all of that information is used to surface insights as to which mutations may be actionable for a personalized course of treatment.
"If you're a rifleman, or hunter, being able to hit the bull's-eye over and over is precision," Dr. Kelley says. "[This] is the same concept applied to medicine."
Hitting that bull's-eye is difficult, time-consuming work. Precision oncology currently relies on teams of 10 to 15 doctors, called molecular tumor boards, to meet once a week to examine patients' cancer-cell DNA reports, look for actionable mutations, share and compare their knowledge of available and potentially useful treatments, and determine a specific course of therapy.
Therein lies a bottleneck. The boards can only review about a dozen patients a week, or roughly 1,000 cases per year. But the need is much greater—particularly for the VA, the nation's largest integrated health-care system.
War veterans suffer disproportionately high rates of cancer, and VA facilities care for 3.5 percent of the United States' cancer patients, the biggest group within a single health system in the country. And although the VA's mission is to deliver cutting-edge cancer care to its patients, 36 percent of veterans with cancer live in rural areas—a higher percentage than the national average—so that goal can be especially challenging, according to Neil Spector, MD, a medical oncologist and cancer biologist at Duke University, oncologist at the Durham Veterans Affairs Medical Center, and director of the Veterans Health Administration National Precision Oncology Program.
"Our mission is a bit different than large academic centers or a lot of health-care systems [in] that we've got to reach broadly for any veteran in the United States—whether they're in rural Alaska, or Hawaii, or wherever they may be," Dr. Spector says. "We need to offer them access to cutting-edge molecular tumor testing and access to cutting-edge clinical trials of targeted therapies and immunotherapies."
Enter Watson for Genomics. As part of former Vice President Joe Biden's program Cancer Moonshot, the VA and IBM announced a partnership in 2016 that had a goal of bringing precision oncology to 10,000 veterans with cancer over a two-year span, an almost 30-fold increase from the number that had been receiving targeted therapies within the VA system.
To treat patients such as Huynh, VA doctors collect samples of blood and/or tumor tissue and send them to specialized laboratories for molecular testing. Test results are fed into the Watson artificial-intelligence platform, which identifies targetable mutations, finds potential therapies, and creates a report for clinicians.
"With this program, I would tell the physicians and the patients: Don't just accept your treatment, find out what else is out there. There's always something new going on, so keep looking. Don't give up hope."
Tam Mai Huynh, Army Special Forces veteran and married father of two
The system can create a report in seconds—or, during particularly high-use times, minutes. "It's very, very fast," Dr. Kelley says. "Whereas a molecular tumor board does not convene continuously. I can't get a result in the middle of the night. [The] VA spans multiple time zones, and the tumor board might not even be every week, so you might have to wait a couple of weeks to get an answer…so there has to be a different approach for us."
Technologies such as Watson are making the VA's scale possible. As of April 2018, IBM and the VA had analyzed more than 2,400 tumor samples from nearly 2,200 patients.
One of those patients is Huynh, who stopped his intravenous chemotherapy sessions and instead began taking a daily pill containing a drug known to impact of the specific mutation in his tumors.
Since the change, Huynh has been able to return to work in an office job. He no longer has to drive every few weeks to Durham. He's now able to spend more time with his wife and children and not feel sapped and queasy while doing so.
"I got my hair back," he says. "That definitely helps, even though I'm married…The medicine is a lot less harsh, much less side effects."
Huynh's treating physician is equally pleased. "It makes me feel really good," Dr. Kelley says. "I certainly saw what he was going through."
Dr. Kelley is quick to caution that Watson for Genomics is neither a panacea nor a replacement for human expertise and judgement. Cancer is an almost unfathomably difficult medical problem. There are no technological silver bullets. But the system, he says, can be a useful tool—a way to help frontline doctors make better decisions by surfacing actionable insights from a broad range of published research and evidence generated by experts around the world and then applying them in a way that is relevant to the individual patient's cancer.
Huynh's personal battle is ongoing. He has stage IV lung cancer, the most advanced form of the disease. "I'm going to die of cancer," he says. "No doubt about it in anybody's mind." Thanks to a different medication, however, he has been able to make more of the time he has left. "I feel that this has been positive for me," he says. "And I've benefited because my quality of life is much better.
"With this program, I would tell the physicians and the patients: Don't just accept your treatment, find out what else is out there. There's always something new going on, so keep looking. Don't give up hope. As long as you have breath in you, there's still a chance."