Give Back, Get Back
---
Take that beloved old garment to any H&M store, trade it for 30 percent off your purchase, and let its fibers make a new one for somebody else.
If there's anything you own that knows what you go through—over a day, or over a decade—it's your clothes.
You hang on to them, even as they wear and tear and fray, because this sweater saw you through every late-night studying session in college, or an old friend gave you this concert tee, or you were wearing that coat on the day you got your first job.
But what to do when it's time to let go? After all, the trash is a depressing and unsustainable destination for a much-loved piece of clothing. But what if it could be collected and repurposed?
We asked musician Jon Batiste, artist Jody Steele, and designer Candice Pool how they would want to send off their most personal and precious possessions. We found that they're looking for an option that would allow them to honor their old clothes, and the memories they hold, by giving them new life.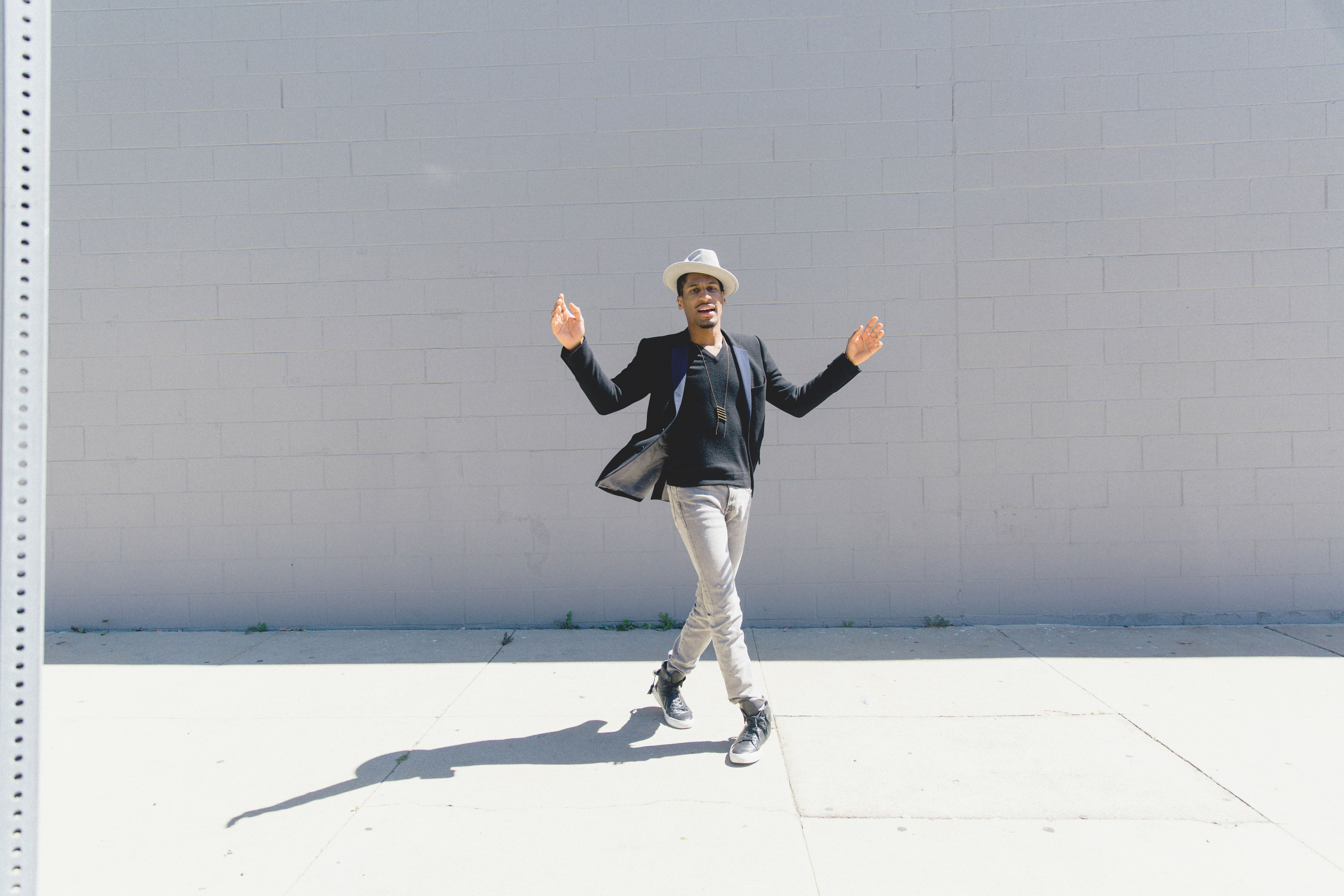 Jon
Batiste
Artist, musician, teacher, fashion icon: Jon Batiste is bringing the world together, one subway car at a time.
About five years ago, Jon Batiste and his band, Stay Human, took over the labyrinthine web that is the New York subway system. They didn't ask for money: They just played. Over and over, on different cars on different trains, infusing the whole city with an energy that sought to include as much as educate.
"Ultimately, everything I do is through the lens of: What can make the human experience better?" The musician, educator, and bandleader for The Late Show with Stephen Colbert says. "How can the arts enhance and enrich the human experience?"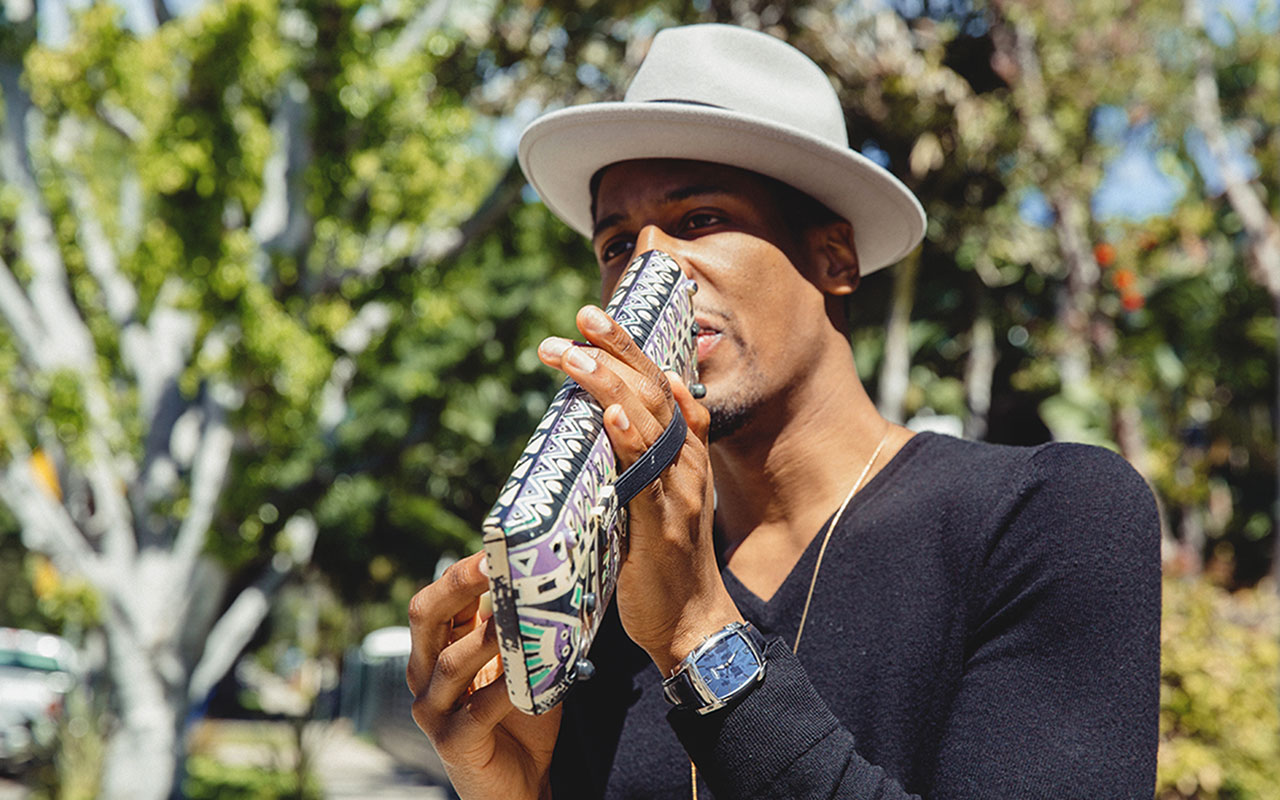 "My music and my style are connected. I think that my style is just like my musical sensibility: It's traditional but with a twist."
For Batiste, the answer is often in finding points of connection, and he finds music to be one of the most inviting, dynamic ways to do that. "If you can find that connective tissue using music as an analogy, or as a microcosm for the world at large, you can tap into some deep relationships," he says. "Music is universal in the sense that sound and emotion are transmitted through it."
At the same time, he sees music as just one route in a larger map of human connection. He also points to everything from sports to fashion as methods of collaborative expression. "Style is another manifestation of your essence, of your energy as a person," he says. "My music and my style are connected. I think that my style is just like my musical sensibility: It's traditional but with a twist."
That twist can come in the form of a bright splash of color, or an unexpected pair of sneakers matched with a suit. Batiste used to wear a bright red beanie—he compares it to the one Steve Zissou wore in The Life Aquatic—almost every day at a certain point in his twenties, no matter his outfit. He's held onto it ever since.
"It's about the nostalgia for that time and the experiences that I went through," he says. "There's a lot of memories attached to me wearing that hat. It's a youthful thing too: It stands out, and I'd wear it with everything."

Batiste is thinking about the deeper meanings that exist behind everything he does: Music, performance, style, his position as a well-known artist. He's thinking about the impact he can have, even when it comes to things like giving away his old clothes ("I try to think of who will need it the most"). Recycling clothes and turning them into an opportunity for reinvention, in his opinion, makes "the purpose of what you're doing so much stronger."
It all ties back to his mission to impact, translate, and connect. "What's your message?" He asks. "It really has to come from the heart, and it's got to be a calling: Something that really is your reason for being." And he continues to explore those reasons, in his music, in his teaching, in his style, — even on the New York subway grid.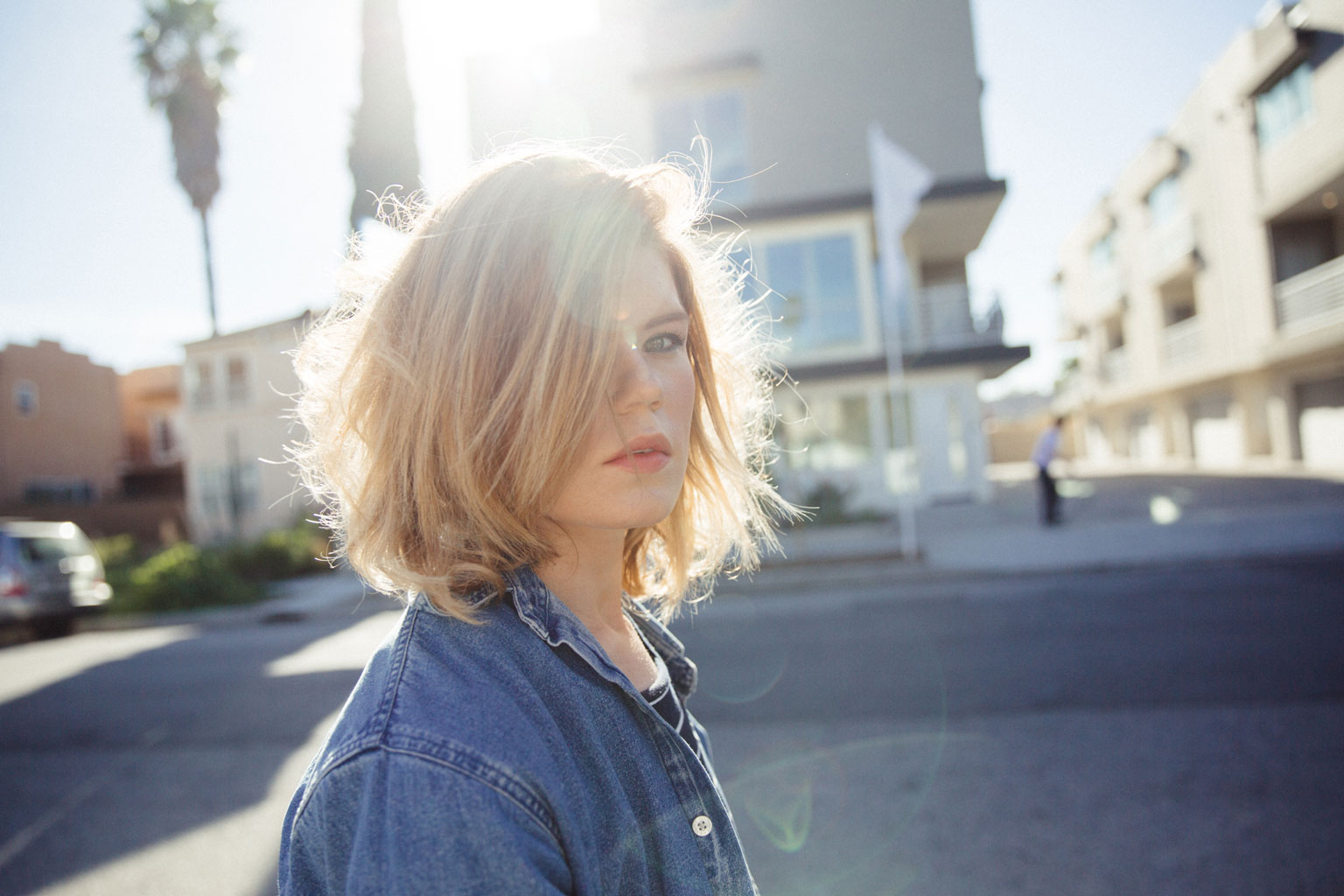 Jody Steel
An artist who made a name for herself on social media is giving back with a message of her own.
When Jody Steel creates — using paint, markers, makeup, whatever's on hand—she does so on a canvas we each own and carry everywhere.
"I've always loved tattoos and art on people," the LA-based visual artist says. "Art wraps around the body. When you're not working on a flat surface, it's a lot more interesting."
What began as a way to keep her hands busy during lectures in college—elaborate, realistic portraits and drawings on her thigh—became a series of how-to videos that quickly went viral, racking up millions of views online. One of her most recent videos, titled simply "Body Image," shows Steel painting on her own abdomen, adding layer after layer of detail until her stomach looks exactly like a twisted, stretched piece of fabric.

"Things like the 'Body Image' video are inspired very personally," she says. "Living in Los Angeles, there's a certain pressure to have a certain look and style. But I've become really comfortable with my own style and my own look."
And for Steel, who spends so much time in thrift stores that she can name every one in the Valley, those looks are built out of clothes carrying stories from any number of people, which she sees as only adding to their value.
"I've found a sentimental value in clothes I find at thrift stores, thinking that whatever I'm wearing now is something someone else loved for a time," she says. In turn, she usually donates a couple bags of clothes every time she goes shopping. "And what I'm wearing now, I'm eventually going to give away."
Those layers of meaning given to a piece of clothing by a series of owners aren't lost on Steel. The most important clothes that populate her closet are there because they've belonged to other people: Her mother, who helped introduce Steel to the world of art, sends her clothes all the time, and she can rarely bring herself to discard them.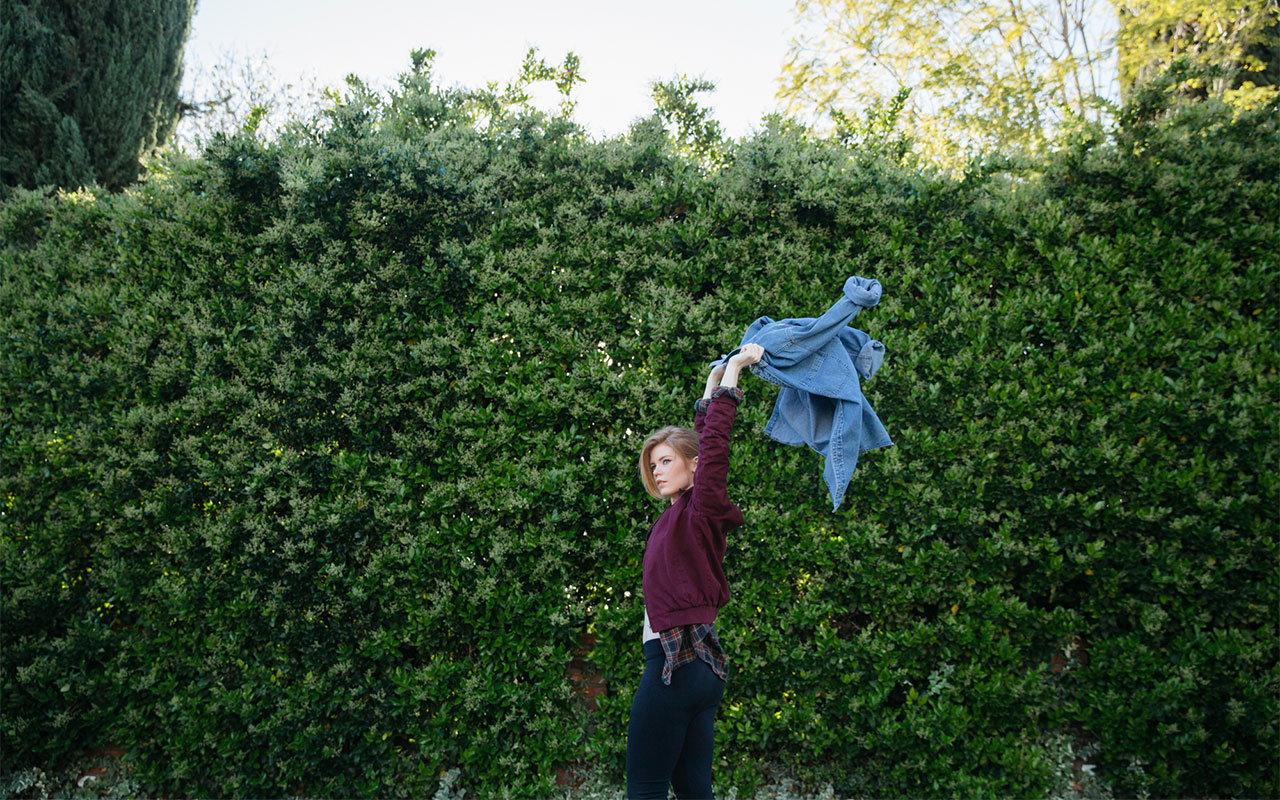 "I've found a sentimental value in clothes I see at thrift stores, thinking that whatever I'm wearing now is something someone else loved for a time."
"I have this denim shirt that has all the Looney Tunes characters embroidered on the back that belonged to my mom," she says. "I think she got it in the '80s. I've held onto it forever."
The shirt encapsulates so many of the things that have meaning to Steel: a way to "wear" entertainment and pop culture, a vintage sensibility, and the emotional attachment that comes from multiple wearers. And there's another reason she would never throw it (or any of her clothes, for that matter) away, despite how old it is: Her deep commitment and sense of responsibility to the environment. "Being environmentally friendly is really important to me," she says. "I think art is a great alternative way to show people how to be more environmentally conscious."
She's only 22, but Steel already knows how she wants to use her ever-growing platform. "You really have the potential as an artist to make a difference," she says. "We have a responsibility, a voice, and a message."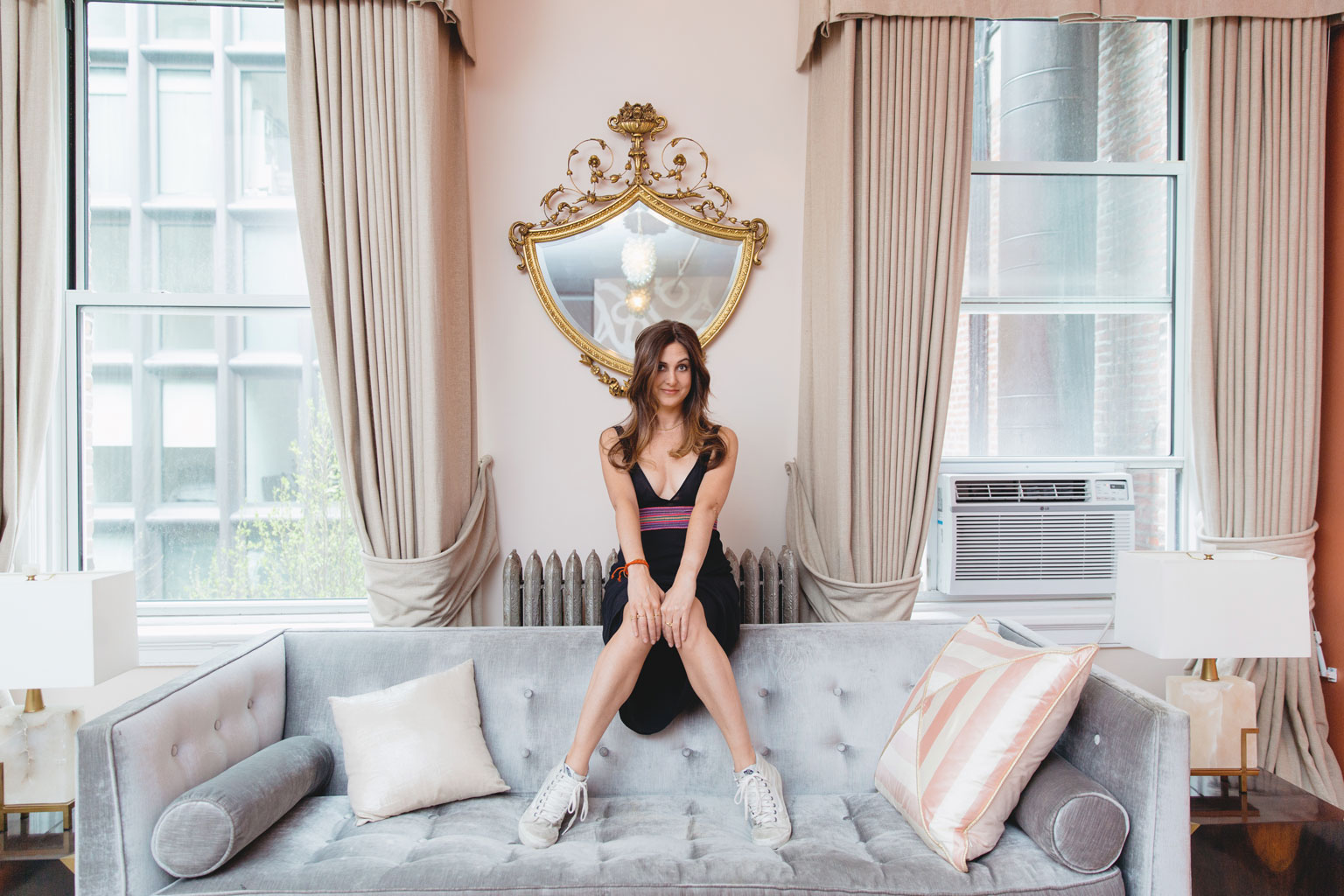 Candice Pool
The independent jewelry designer on vintage rings, the key to confidence, and an unexpected take on the Power Suit.
Candice Pool can understand in two seconds what most people might take years to notice.
"Somebody asked me for directions the other day, and I couldn't stop staring at her ring," the independent jewelry designer says. "In two seconds, I knew it was vintage, I knew it was from the early eighties. I told her I loved her ring, and she looked at me with such pride, because somebody else knew how special it was to her."
Pool does have an advantage: She founded Finn Jewelry in 2005, trusting that her genuine passion for jewelry would take the place of formal training. Ever since, she finds that her eyes go straight to the rings, necklaces, and earrings that make subtle statements about the people she meets every day. "Jewelry is so sentimental," she says. "You wear it as a part of you, and you might wear it forever. Anything that has such a high sentimental value—you treasure it."

Getting to the root of sentimental value is tricky. When Pool turns an eye to the jewelry she wears, it's all about confidence: She never considered herself to be "stylish" in the traditional sense, which used to make her self-conscious. "But when I put on my jewelry, that's my force field," she says. "You can judge me all you want, you can say that I dress like I don't care, but I do: Look at my necklace, look at my rings!"
Pool brings the same approach to her clothes, favoring items that make her both comfortable and confident. She holds on to particular pieces that have been imbued with meaning over the years.
"I have this old sweater that I stole from my husband when we first started dating 10 years ago," she says. "It's got holes, and when I say holes, I mean that half a sleeve is coming off. It's stitched together with thread."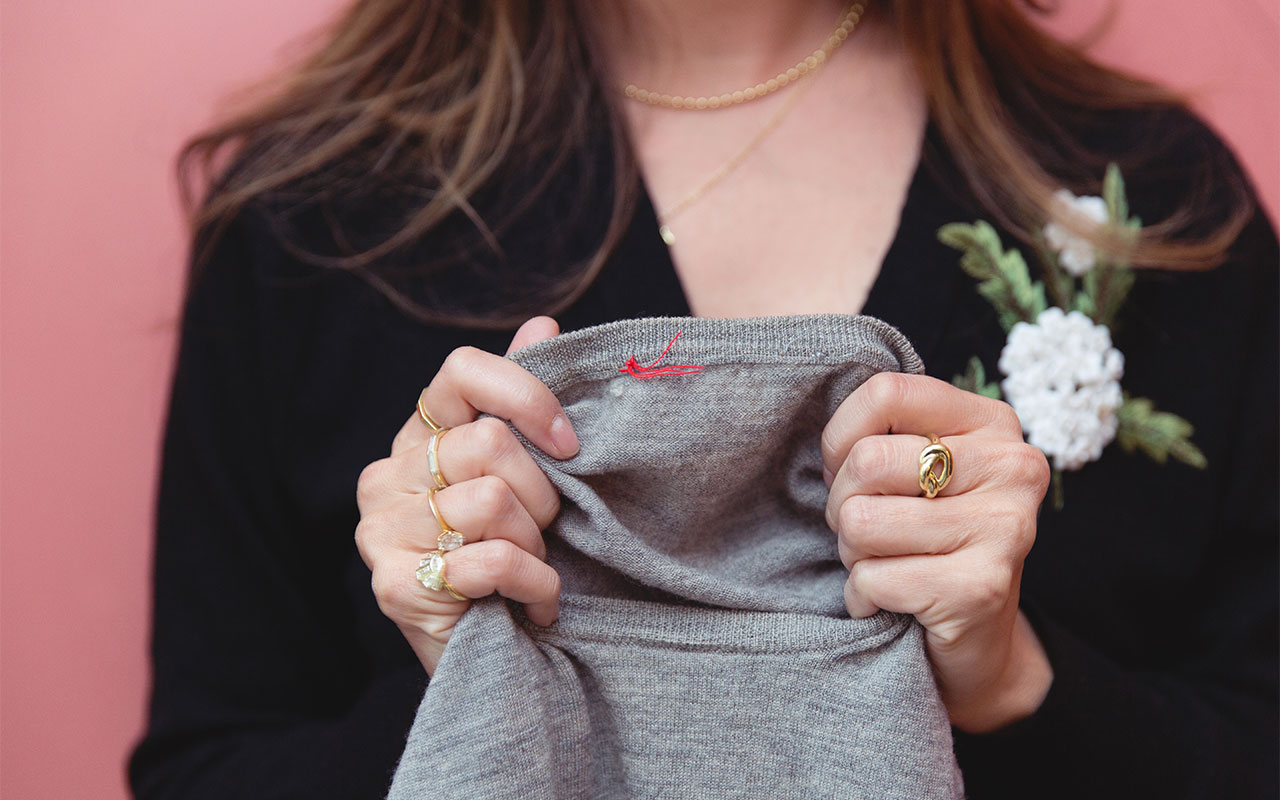 Her husband's sweater gives her a feeling of safety and confidence, says Pool: "It's like my power sweater, because this is me and I'm not trying to be anyone else."
Ten years is a long time to hold on to a sweater, though, and Pool is melancholy when she acknowledges that she won't be able to wear it much longer. She doesn't want to donate it, since there's no telling where it might end up, and it means too much to her to just throw away. Recycling seems to her the better ending.
"It's such an honorable sendoff. I've taken all the power and love and sentimental value from this sweater that I possibly can," she says. "And I'm going to give it a new life."
Join in the movement. Recycle your unwanted clothes at your local H&M store. →