Photography by Jim Darling
On a recent Saturday, two-time U.S. national boxing champion Mikaela Mayer was painting a picture of a mermaid. It was not the day she had planned. Having battled her way to the Olympic Training Center in Colorado Springs, she was headed into the usual long tunnel of workouts and drills when a sprained muscle in her back had forced her to take a break, and she was keeping herself occupied with a palette and brush. "I paint animals, mostly," she says without enthusiasm. "I don't know why. Giraffes, parrots, pandas…." Clearly, she would abandon them all in a heartbeat to get back to the art of the ring.
A 25-year-old from Los Angeles, Mayer is a motive force in the dizzying rise of women's boxing. Even in 2012, when it first became an Olympic event, there was an air of disbelief that it was happening at all ("aesthetically unacceptable," one critic called it). Now, four years later, the U.S. women's roster is going to the August Olympics in Rio with more funding than the men's team, based on their 2012 performance: The women's team came out with two medals, the men's, none. Mayer doesn't have a lock on going herself yet—world prelims are coming up this spring—but she fights like Sugar Ray Leonard ("I like his speed and explosiveness," she says), and she has been tempered in the flame.
This one-time model fights
like Sugar Ray Leonard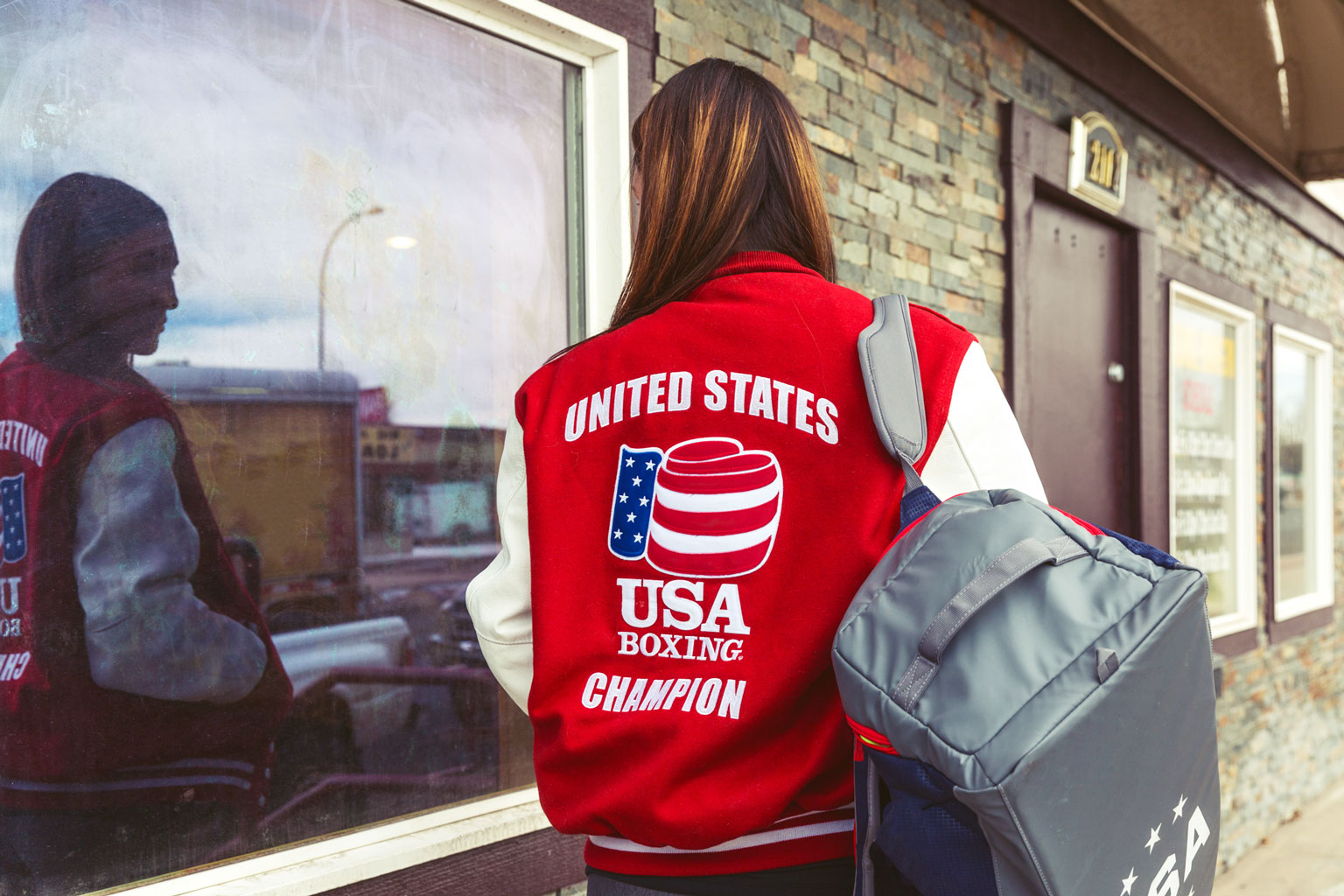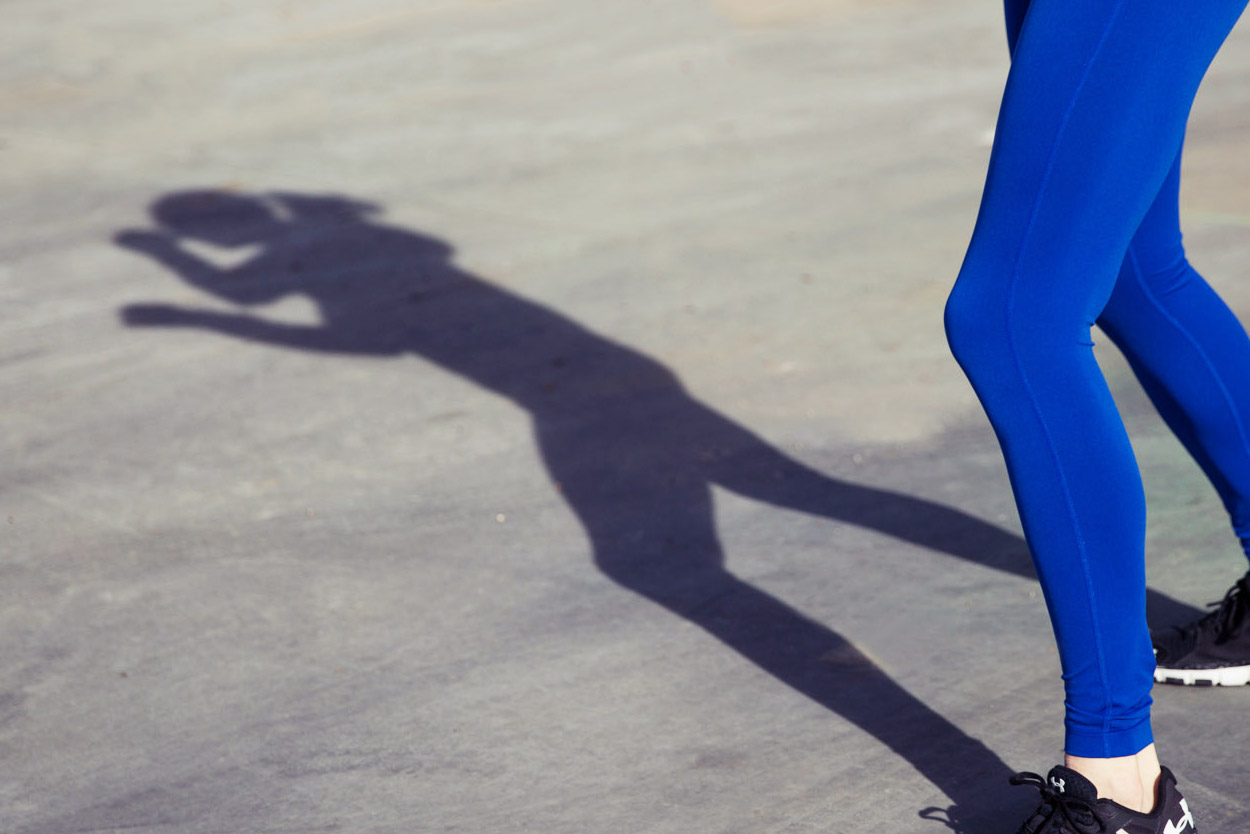 When Mayer was expelled from high school for fighting, it was not because she had suddenly discovered a career. "I was ditching school, drinking," she says. "I wouldn't come home for weeks at a time." Encouraged to model, she landed a magazine shoot, but it was sometime later, when she was passing a gym near her home for the umpteenth time and stuck her head in, when everything changed. Life in the gym was her "epiphany," she says, that her earlier life "wasn't me." After a year of Thai kickboxing she switched to the two-fisted sport, then caught the eye of Olympic coach Al Mitchell, and she was off.
"I fell in love with boxing so easily," she recalls. "Some girls would punch each other and start crying. They couldn't handle it." To Mayer's mother, that seemed like the perfectly natural reaction: "'Why do you want to get punched in the face?' she'd say.'" For Mayer, though, that was just the price she paid (as infrequently as possible) for doing what she loved.
"Boxing is the hardest sport," she says. "It requires so many skills at one time. You have to react, think on your toes. There's no planned routine like gymnastics. You have to think and act within milliseconds." She points to a recent ESPN study – eight experts analyzing 60 sports in 10 categories – that declared boxing the most difficult of all. She says this not boastfully but with a certain relish.
Seven years ago, when she entered it, women's boxing was barely a backwater. Now she's riding a wave. It's not just that her sport got seen at the 2012 London Games: It's what got seen. First, there was the appeal of amateur boxing itself, so different from the pros. "Amateurs are more exciting," Mayer says. "You've got four rounds to make things happen" – four two-minute rounds with one-minute intervals between – "and a punching window of 4-6 seconds." How many punches, where they go, how fast: That's what determines the winner. Float like a butterfly and you're dead.
Beyond that, though, there's growing recognition that women's boxing isn't a lesser sport than the men's equivalent, but, like women's tennis, a different game with virtues and challenges of its own. UK boxer Amanda Coulson calls it "a physical game of chess" – that is, chess that's fierce and fast, with bleeding.
Unlike chess, though, victory in a boxing match is not always clear-cut. Unless one boxer tips over the other as unambiguously as a cornered king, the bout is judged by three people taking notes. "They're human," Mayer says. "The winner doesn't always win. Sometimes you win a fight you lost, or vice versa." How does she manage that uncertainty? "You can't let a fight be close," she says immediately. "If I let it get close, I can't complain about not getting the decision. I've got to take it like a champ and move on."
Managing adversity has been a familiar feature of Mayer's journey. Early in her career she got a boxing scholarship from Northern Michigan University. "I had two weeks' notice," she says. "I packed my bags and dumped my boyfriend and went." One semester later, they canceled the program. Unfazed, she fought her way higher and higher to the 2012 Olympic trials, where she lost by a whisker in the finals, only two points away from going to London. Mayer's response was to win the U.S. national championship the following year.
"I feel like I've lived 100 years, seriously," she says. "It's draining sometimes. Mentally, you have to be very strong." Which is not to say she takes a grim approach to her work. "I like to think I'm positive, outgoing. I like to make it fun. I like my sports bra to match my workout pants and my shoes."
She's also learning new approaches. Fighting in the 132-lb. weight class – the middle of three classes in women's boxing – she's getting some international polish courtesy of Irish coach Billy Walsh. "Americans, we all have a different style," Mayer says. "The international style, they fight like robots." That's not something she's likely to do, but she is learning more about feinting and precision since the Olympic judges will, after all, be international.
"You've got four rounds to make things happen and a punching window of 4-6 seconds."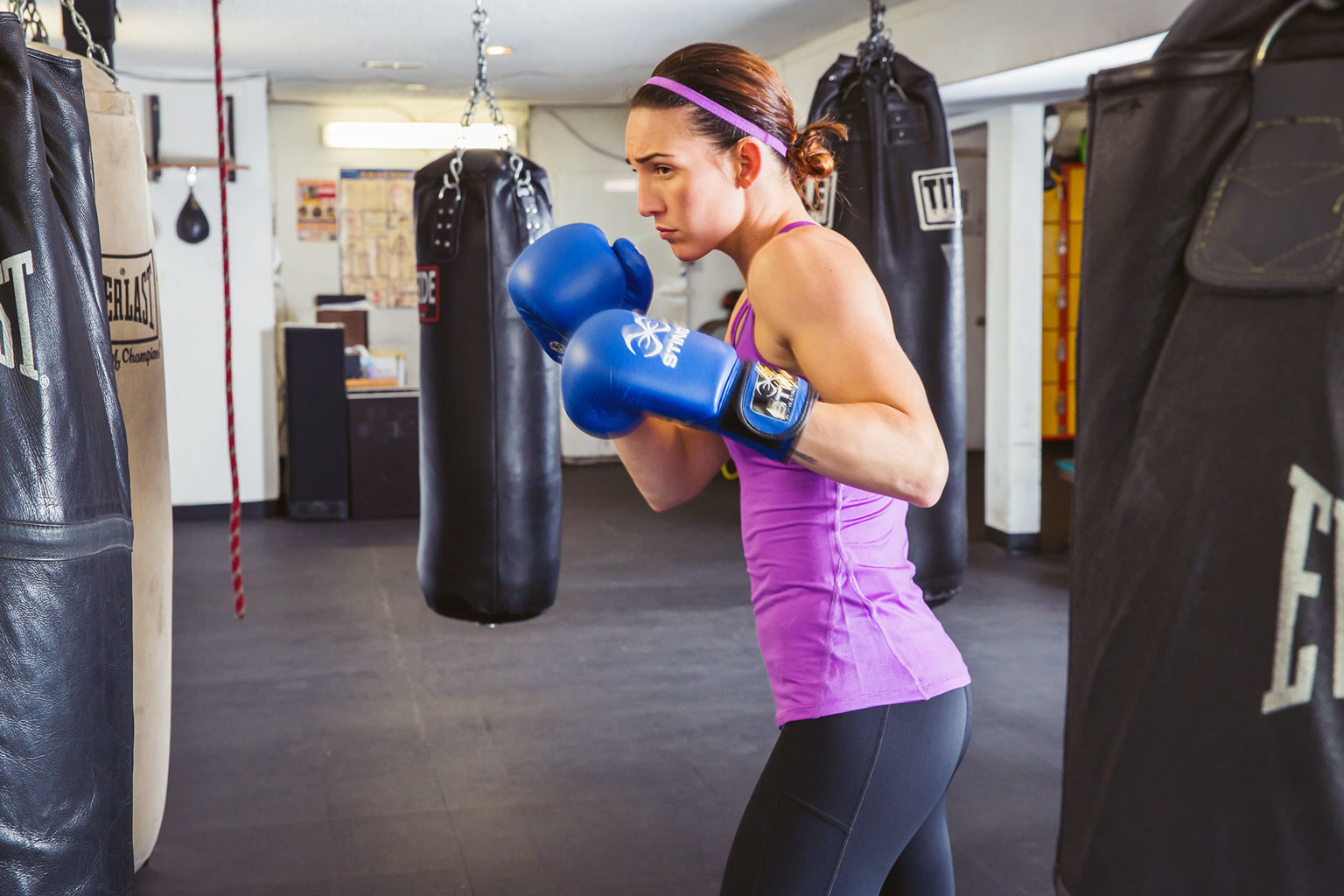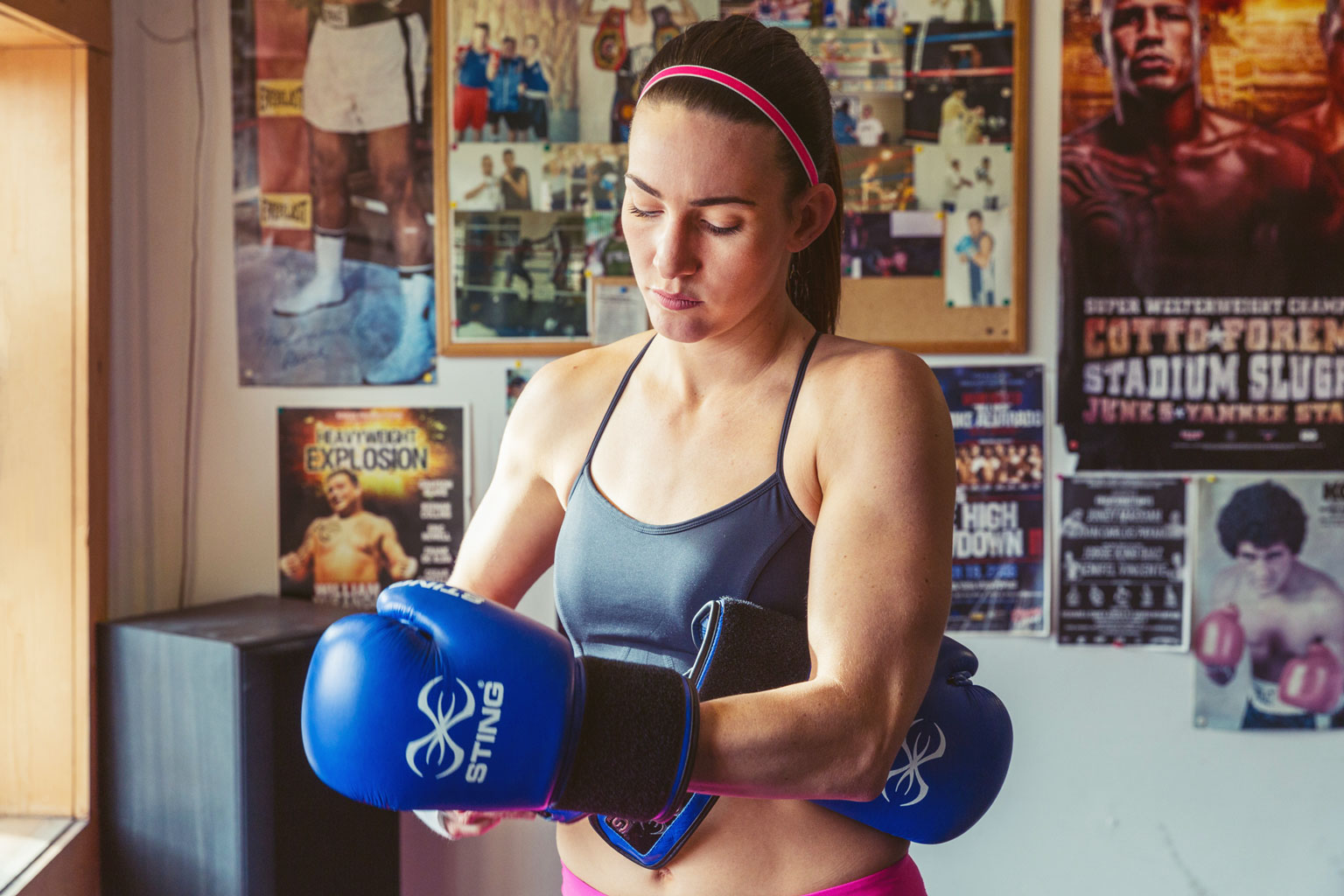 Whatever's ahead regarding Rio, Mayer's career has already caught the breeze. She's getting the endorsement deals—including a national spot with Dr. Pepper—that are crucial to success as an amateur. She's pursuing her degree in business from Northern Michigan so she will be better able to manage her own career, and she's looking ahead to the 2020 Olympics, and maybe the one after that.
The main impression she leaves isn't about ambition, though: It's more like gratitude, the satisfaction of a woman who has found her calling and herself. "Boxing teaches you so many life skills," she says. "Discipline, accountability, no excuses, find a solution, self-defense, sense of worth, and confidence." The words come out fast, but they don't sound rehearsed. It's more like boxing has saved her life, and she wants to make it proud of her.
Asked what most surprised her about women's boxing, she stops and thinks. "I was waiting at a weigh-in once," she says finally, "and an older gentleman came up and said, 'Why are you here? There's no future for you in this sport.' Now we've gone from 'no future' to women being USA boxing's prize possession. It's interesting. We've become the future." ∎