When we imagine the future of smart homes, it's hard not to get caught up in Jetsons fantasies of telepathic robot helpers and self-cooking meals—the fully automated, self-living life.
Sure enough, there are people trying to prepare that future for you. You'll be able to wake up to a realistic replica of sunrise in your bedroom, with a cup of hot coffee already at your bedside. From work you'll be able to feed the fish remotely or call up a new pair of shoes on the 3D printer at home. At the end of the workday, an app that knows you by your heartbeat will open the door for you, turn on the lights, pour you a drink, and put your favorite show on the TV. If you want, your smart home will even greet you with your chosen theme song—"We Are the Champions," say.
Much of this is still a bit in the future, but the smart-home revolution is already on our doorstep. According to a recent report by Business Insider Innovator, the growth curve of connected-home device shipments is on track to beat that of smartphones and tablets over the next five years. By connecting everyday devices to the Internet and to one another, we will be able to fine-tune our homebody comforts and automate household chores.
It turns out, though, that the first thing we want from our smart-home technology—what we really expect and need—isn't flash and dash but ingenious innovation that serves a practical purpose. Like intelligent home security.  Heating and air-conditioning systems that know when a window is open so you're not heating or cooling your backyard. An app that tells you somebody's at the door when you're in the attic.
Smart thermostats are one obvious example, because they give consumers the ability to control temperature and other aspects of the home environment remotely—and, more important, because they give you control over your monthly energy bill.  
The smart-thermostat segment is expected to expand by $600 million globally by 2018, according to ABI Research, and it's no wonder. These Wi-Fi-enabled devices allow users to create energy-saving schedules—and then change them when necessary from an app on a tablet or smartphone. Scheduling functions are proven to reduce energy consumption for heating and cooling by up to 30 percent. And making them conform not only to a schedule but also to the way people actually live their lives can save even more.
"When we talked to customers, we realized that people's schedules are not that predictable," says Craig Johnson of Emerson Climate Technologies, which developed the Sensi Wi-Fi Thermostat. "Most people can't predict their own schedule, much less have a device predict it for them. So we wanted to empower the end user with that control." The Sensi Wi-Fi Thermostat is designed so that only the user, not the device, can select and override the thermostat's presets.
According to Austin-based home-technology expert Stacey Higginbotham, who lives in a connected home with temperature and lighting control, smart security, and other home-control features, early smart-home devices were designed with the hardcore do-it-yourselfer in mind—complex to install and operate, and packed with too many features. "What people have learned after having these devices in the home for a couple of years is that most people want simplicity," she says.
At the same time, they want control over the mechanical aspects of their heating and air-conditioning systems, mostly because it's costly not to have that control. Studies estimate that roughly 70 percent of American homes' heating, ventilation, and air-conditioning (HVAC) systems are either running inefficiently or headed for a breakdown, leading to costly repairs and higher energy bills. "These systems tend to be out of sight and out of mind, and we take them for granted until something bad happens," notes Emerson's Johnson. "And then we're at the mercy of HVAC professionals to come in and rescue us."
New services are coming online to deal with that problem, such as sensors installed along air ducts, compressors, and other key components of residential HVAC systems. Johnson notes that Emerson's version of these sensors, ComfortGuard, sends data to offsite experts to be analyzed in real time. An app then alerts homeowners about their systems' energy efficiency as well as looming breakdowns and suggested maintenance.
Higginbotham is convinced that the near future of this space will be more like the world of the Jetsons than it is today. She predicts that it will include a steadily widening network of devices that communicate with one another—both the devices that control our homes and the ones we carry around in our pockets. "They will take context clues based on my presence in the home," she says. "They'll take clues from my phone's geo-location, and maybe they'll have access to my calendar."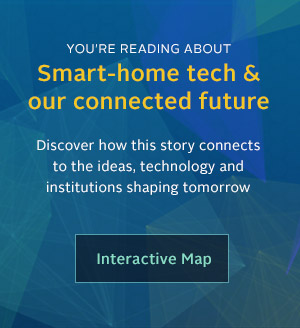 Johnson agrees. "We're going to see things become increasingly connected. Everything will be connected to sensors and able to talk to one another. That's the direction this space is moving."
In the end, though, it turns out that what consumers really want right now isn't the fully automated life of sci-fi imagination—though that may well be what comes next—but the kind of smart tools that make life a little easier, less expensive, and more efficient—technology, in other words, that puts the control squarely in human hands.