Industry 4.0 technologies continue to evolve both in technical capability and organizational reach. Simultaneously, many of these technologies, such as cloud computing and big data platforms, are becoming more affordable and therefore more accessible to organizations of all sizes.[1]
According to a Deloitte survey of 361 executives across 11 countries, most executives have a positive view of the position digital transformation occupies within their organizations. But although the respondents appear to understand its strategic importance, that doesn't necessarily mean they are fully exploring the realm of strategic possibilities conceived by digital transformation. Some leaders may be finding it difficult to keep up with the rapid pace of technological change, as well as the new rules and challenges that go along with it. We see this evidenced in a couple of ways:
Budgeting for today. Surveyed companies plan to invest a median of 30 percent of their operational/IT budget on digital transformation initiatives—but only 11 percent of their R&D budgets on the same.

Relatively lower emphasis on profitability. When we asked respondents if these technologies are critical to maintaining profitability, only 68 percent agreed. CEOs had an even more sobering view: Only 50 percent indicated the importance of digital transformation to maintaining profitability.
Thus, most leaders may associate operational improvements with strategic growth, but they may not necessarily associate them with revenue growth resulting from R&D-driven new products or business models. Also, when executives implement digital transformations that result in significant time and cost savings through operational improvements, they may not intellectually translate that into higher profits. Instead, these may be viewed as "defensive" investments intended to protect, rather than grow, the business.
The challenges to transcending a defensive mindset
We live in a time of ever-proliferating technological options, and organizations can find it increasingly challenging to prioritize and invest in the tools that can best help meet their strategic objectives.[2] Due to competitive pressures, many organizations are busy isolating their technology usage to defending and maintaining their current positions. Hence, they may remain mired in inertia, wherein their future plans for digital transformation closely mirror their current objectives.[3]
Still searching for a common focus. "Finding, training, and retaining the right talent" top the list of organizational challenges for the respondents of our survey. The second most cited challenge is "lack of internal alignment" about which strategies to pursue, closely followed by the "emergence of new business models." These three concepts are linked: It can be extremely difficult to pursue new business models without the right people in place—or a clear consensus on strategy.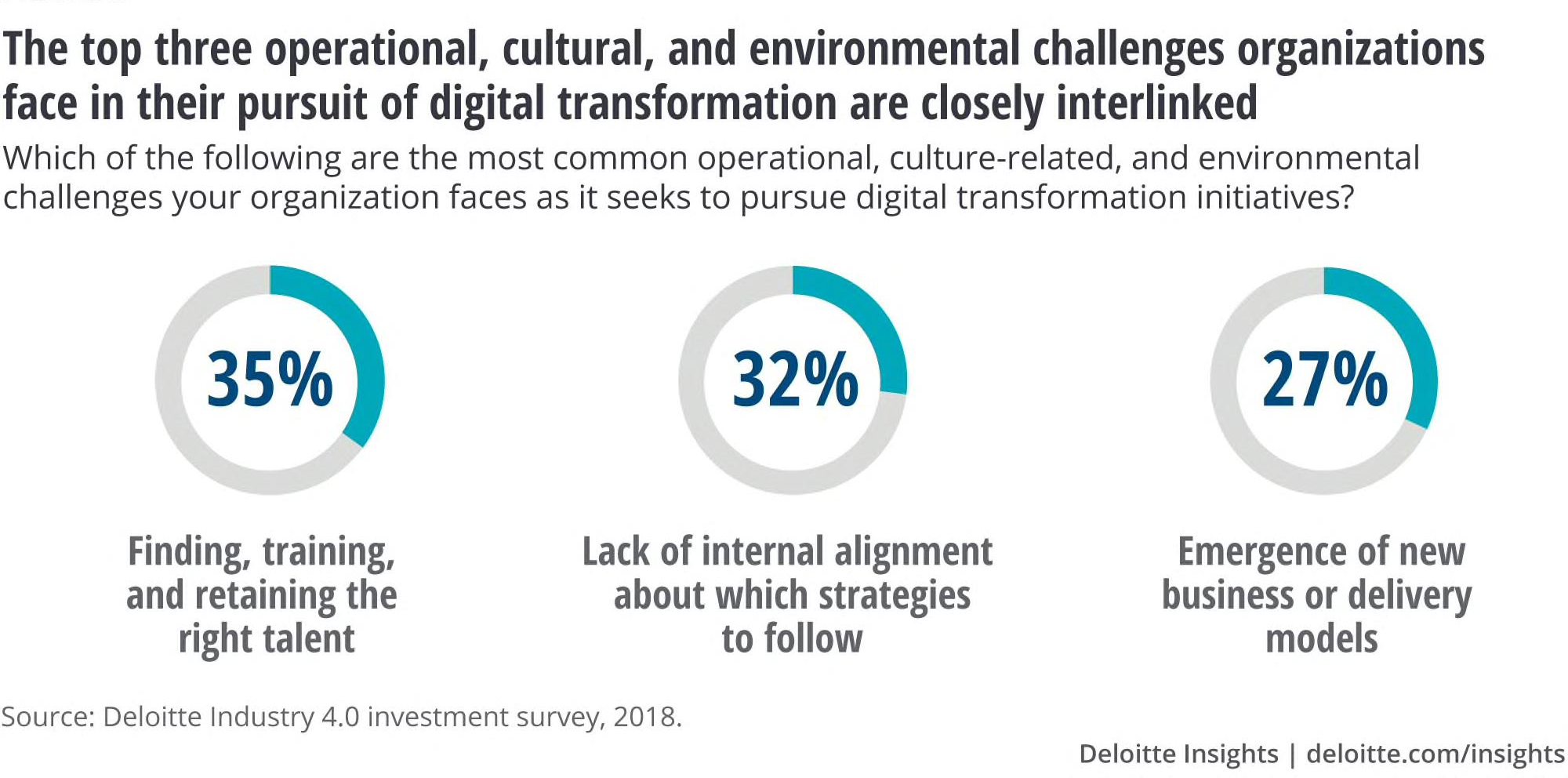 Technical complexity brings risks. When polled about technology-related challenges, respondents highlighted cybersecurity (37 percent) and intellectual property risks (27 percent) as the top two issues. In absence of a thorough understanding of these issues, many may feel it simply does not pay to pursue alternative uses of technology that can lead to new revenue streams—and new potential threats to face.
Thinking strategically about digital transformation
To move beyond a "defensive" approach to digital transformation strategy, organizations can consider the following steps:
Incrementally move beyond operational upgrades. Digital transformation can lead to revenue growth in the form of improved products or services.[4] This does not require an immediate overhaul of business models, but rather an evolution of current offerings.

Invest in the long run. Don't neglect longer-term opportunities in pursuit of shorter-term objectives. This mindset shift requires a willingness to enact change whose impact may not be felt immediately—a challenge for many organizations. However, research suggests that transformative benefits in business often take time to accrue.[5]

Consider increasing time spent on R&D initiatives—as well as budget. One area where this could be most prevalent is supply chain, where we see an increased future focus for organizations. Here, opportunities exist to pilot a number of digital technologies.
Starting small and expanding beyond "defensive" spending can unlock new organizational capabilities and move an organization along the path toward innovation. Keeping implementations simple and building upon the successes can pave the way for future business models—while also allowing your organization to grow with the technologies.
Learn more about how leading organizations are approaching digital transformation visit: Deloitte Insights.

Endnotes
[1] John Hagel, John Seely Brown, Tamara Samoylova, and Michael Lui, From exponential technologies to exponential innovation, Deloitte Insights, October 4, 2013.
[2] Bill Briggs and Craig Hodgetts, Tech trends 2018: The symphonic enterprise, Deloitte Insights, 2017.
[3] Renjen, The Fourth Industrial Revolution is here."
[4] Mark Cotteleer and Brenna Sniderman, Forces of change: Industry 4.0, Deloitte Insights, December 18, 2017.
[5] Stephen Laaper, Glenn Yauch, Paul Wellener, and Ryan Robinson, Embracing a digital future, Deloitte Insights, March 21, 2018.