The entire way people and goods travel from point A to point B is changing, spurred by a series of converging technological and social trends. The result is the emergence of a new ecosystem of mobility that could offer faster, cheaper, cleaner, safer, more efficient, and more customized travel. Though there is some uncertainty, in particular about the speed of this transition, a fundamental shift is prompting a move away from personally owned, driver-operated vehicles and toward a future mobility system centered around (but not exclusively composed of) driverless vehicles and shared mobility.
What does the future of mobility look like?
Four concurrent "future states" could emerge within a new mobility ecosystem, deriving from the intersection of who owns the vehicle and who operates the vehicle (see figure 1).
*Extent to which autonomous vehicle technologies become pervasive:
Depends upon several key factors as catalysts or deterrents—e.g., technology, regulation, social acceptance
Vehicle technologies will increasingly become "smart"; the human-machine interface shifts toward greater machine control
†Extent to which vehicles are personally owned or shared:
Depends upon personal preferences and economics
Higher degree of shared ownership increases system-wide asset efficiency
Note: Fully autonomous drive means that the vehicle's central processing unit has full responsibility for controlling its operation and is inherently different from the most advanced form of driver assist. It is demarcated in the figure above with a clear dividing line (an "equator").
Enabling seamless intermodal mobility would require a future ecosystem that is much more complex than today's extended automotive industry. Both incumbents and disruptors are beginning to stake out positions and, in the process, are shaping that ecosystem (see figure 2).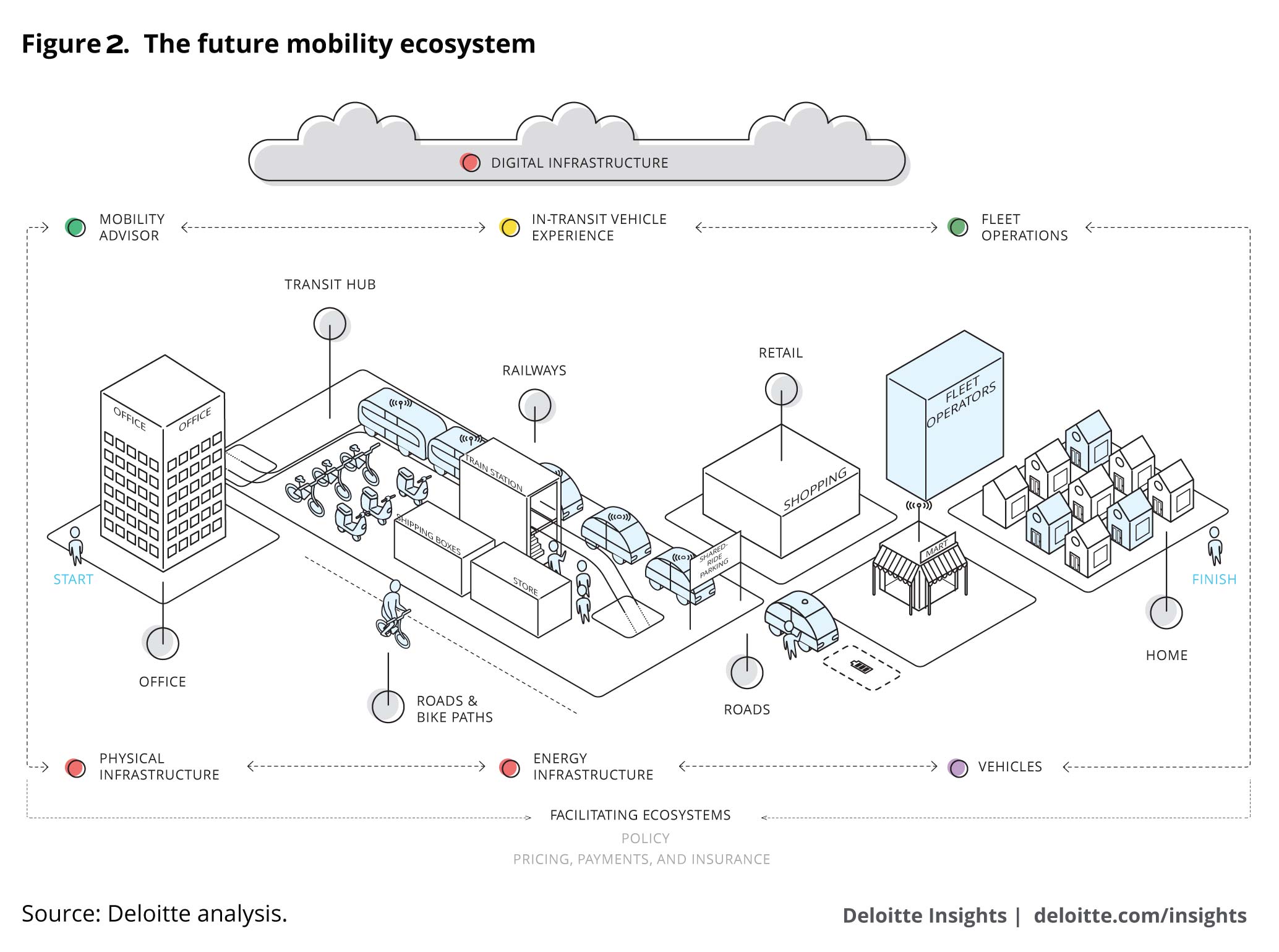 Vehicle development
New products will surely emerge, from small utilitarian autonomous "pods" to highly customized, personally owned self-driving cars. Self-driving technology will likely appear in trains, buses, commercial trucks, and other forms of transit, demanding that developers and manufacturers evolve their capabilities accordingly.
Creating the in-vehicle transit experience
"Experience enablers"—content providers, in-vehicle service providers, data and analytics companies, advertisers, entertainment-equipment providers, and social media companies—will likely clamor to make the in-transit experience relaxing, productive, or entertaining.
Infrastructure enablers
Transit stations, roads, highways, waterways, and public parking could become even more interconnected as customers increasingly expect multimodal transportation. A parallel "digital infrastructure" could emerge that will be every bit as critical as roads and bridges.
Mobility management
The mobility adviser would interface directly with the customer, who would expect a customized experience that relies on the mobility adviser's ability to execute trip planning, adjust routes to allow for traffic and disruptions, and handle payments. Fleet operation is a second opportunity to create value around mobility management.
What are the impacts of the future of mobility?
The transition toward a new mobility ecosystem could have wide-reaching results that span a host of industries and players:
Global automotive OEMs (original equipment manufacturers) will likely need to expand their traditional capabilities, collaborating with suppliers of autonomous-vehicle technology, software developers, and others to provide a much broader range of product choices.
Automotive suppliers would have to adjust as OEMs transform. Selling parts, components, and systems might be insufficient to deliver desired returns to shareholders.
Technology firms have shown they are adept at building large, complex information networks and operating systems; introducing artificial intelligence to help minimize human error and randomness; creating compelling environments that influence consumer behavior; and developing digital communities.
Cargo delivery and long-haul trucking systems could become predominantly driverless through daisy chains or remote operation.
Insurers, operating within a heavily regulated environment, will probably have to continue supporting the classic insurance model—in which accidents are often the result of driver error—while also adapting to an autonomous-drive world in which the risk is more technical, related to systemic failure of a self-guided vehicle.
The U.S. public sector will have to figure out how to offset anticipated declines in the more than $200 billion annually generated from fuel taxes, public transportation fees, tolls, vehicle-sales taxes, municipal parking, and registration and licensing fees.[1]
As we saw, the future of mobility will conceivably affect far more than automakers; industries from insurance and health care to energy and media should reconsider how they create value in this emerging environment.
For more insights on the Future of Mobility visit:
---
[1] Scott Corwin, Joe Vitale, Eamonn Kelly, and Elizabeth Cathles, The future of mobility: How transportation technology and social trends are creating a new business ecosystem, Deloitte University Press, September 24, 2015.