NEPAL, ONE YEAR LATER
✙
Rebuilding Nepal for Life
For a non-profit called Possible, giving free health care to the people of Nepal after last year's devastating earthquakes has brought rewards that made the longest days and most arduous tasks worthwhile.
photos by Séan Alonzo Harris
video by Scott Sinkler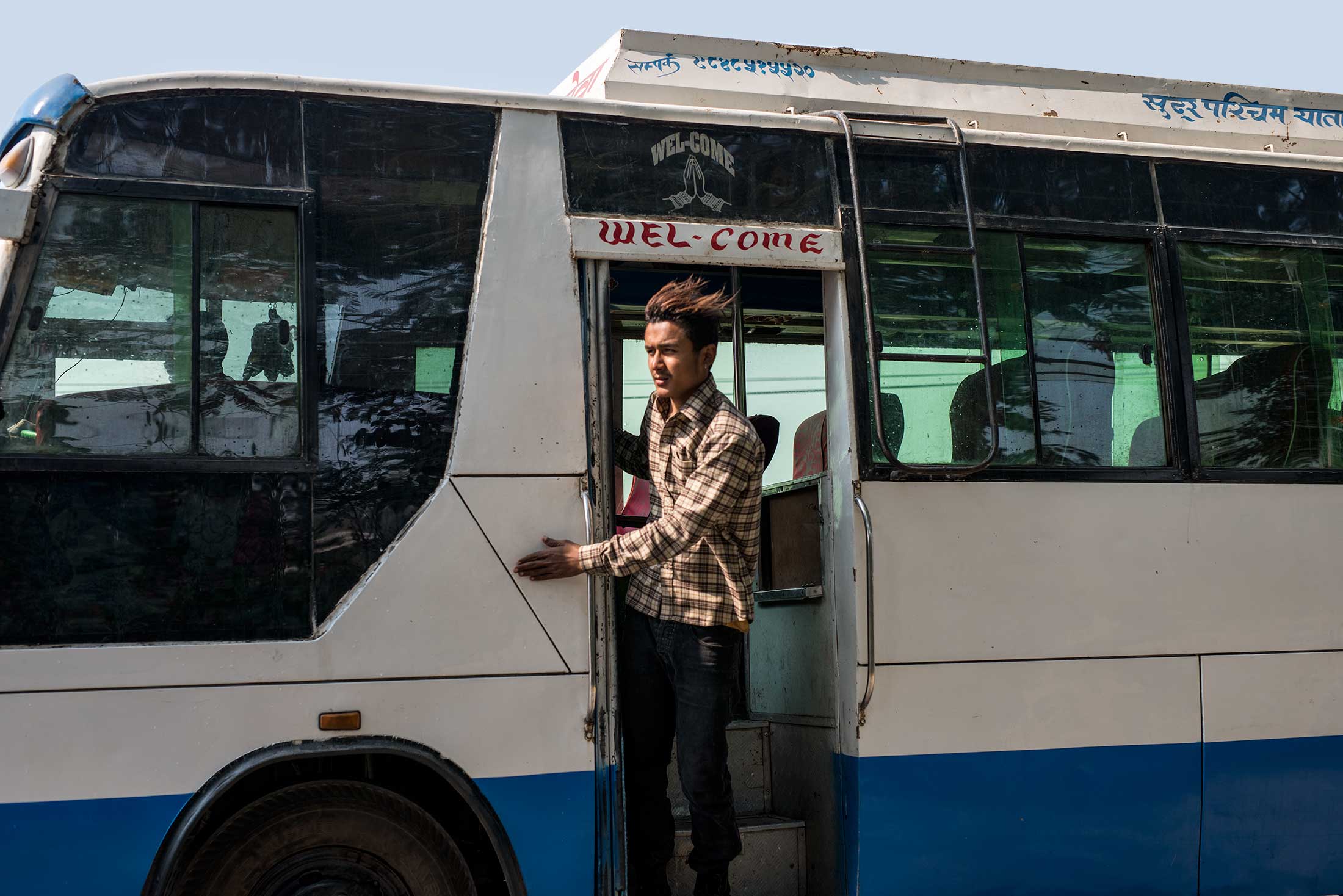 Watch
4:45
Making Health Care Possible in Impossible places
Since 2008, Possible has been providing health care to Nepal's poorest communities. After last year's earthquakes, they were asked to help rebuild the nation's health-care infrastructure. Cathay Pacific became a key partner in that work. This year, Atlantic Re:think traveled to Nepal to find out what it takes to do what Possible does every day. This is what we found.
Watch
5:47
Nepal's Women Push Back Against the Patriarchy
Since 2008, Possible has been providing health care to Nepal's poorest communities. After last year's earthquakes, they were asked to help rebuild the nation's health-care infrastructure. Cathay Pacific became a key partner in that work. This year, Atlantic Re:think traveled to Nepal to find out what it takes to do what Possible does every day. This is what we found.
Watch
5:26
Fighting Back Against Poverty as a Cause of Death
Since 2008, Possible has been providing health care to Nepal's poorest communities. After last year's earthquakes, they were asked to help rebuild the nation's health-care infrastructure. Cathay Pacific became a key partner in that work. This year, Atlantic Re:think traveled to Nepal to find out what it takes to do what Possible does every day. This is what we found.
For the third installment of a multi-part series on the meaning of travel, Atlantic Re:think, in partnership with Cathay Pacific Airways, flew to Nepal to document the work of Possible, a non-profit organization that brings health care to one of the country's most remote regions—and that is now tasked, in the wake of 2015's devastating earthquakes, with rebuilding the nation's health-care infrastructure. Several times per year, members of Possible's U.S. team make the herculean journey halfway around the world, giving new depth and purpose to the idea of a "life well travelled."
MARK ARNOLDY
Mark Arnoldy fell in love with Nepal by nearly dying in it. A then-undergraduate at the University of Colorado-Boulder, Arnoldy had only planned on a brief visit there—a quick jaunt on his way to China, where he had been teaching English. As it happens, Boulder has a strong Nepali diaspora, and a friend of a friend, herself Nepali, heard of his teaching work in China and recommended he meet with some locals to explore if he could design a similar program there.
Arnoldy didn't think much of the invitation. He assumed he'd exchange a few pleasantries and shake a few hands and be on his way. On the second day of his trip, though, Arnoldy, who has a severe nut allergy, was enjoying his meal when he suddenly realized he was in the midst of an allergic reaction. Without immediate health care, he could die. And that's when it hit him: Nearly everyone around him lacked exactly that—the basic infrastructure not only to address acute emergencies like the one he was undergoing in that very moment but also to provide long-term preventive care.
"That was a moment of empathy that turned into a moment of obligation," he says.
After his brush with death, a friend emailed him an article about a new fortified peanut-butter product that could help solve rampant malnutrition issues in the country but wasn't receiving the support or attention it needed. That email ended up being another "life-changing moment" for Arnoldy. Despite his own deathly aversion to nuts, not to mention the decided irony of his promoting a product that could cause his own earthly demise, Arnoldy began investigating how he could scale the product and ease Nepal's pervasive malnutrition problem.
But it wasn't until Arnoldy began spending time in Nepal's rural areas that he decided he wanted to commit himself to its people. His is a common story, he says, "because the people of Nepal are absolutely incredible in terms of kindness, work ethic, selflessness, humility. It's hard not to be overwhelmed and humbled by how much more graceful a lot of people in rural Nepal are, and how much more perspective they have" than those with far more privilege.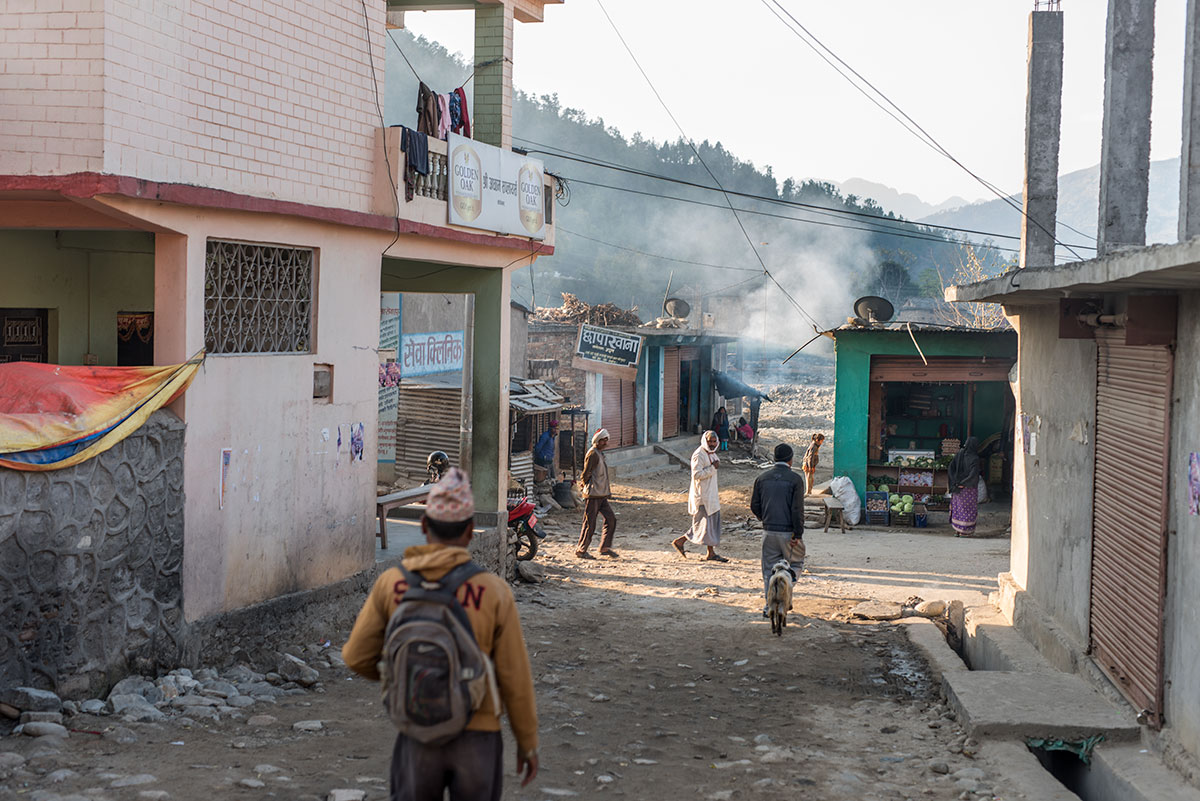 Residents of Sanfebagar, the town closest to Possible's Bayalpata Hospital, emerge from their homes to start the day.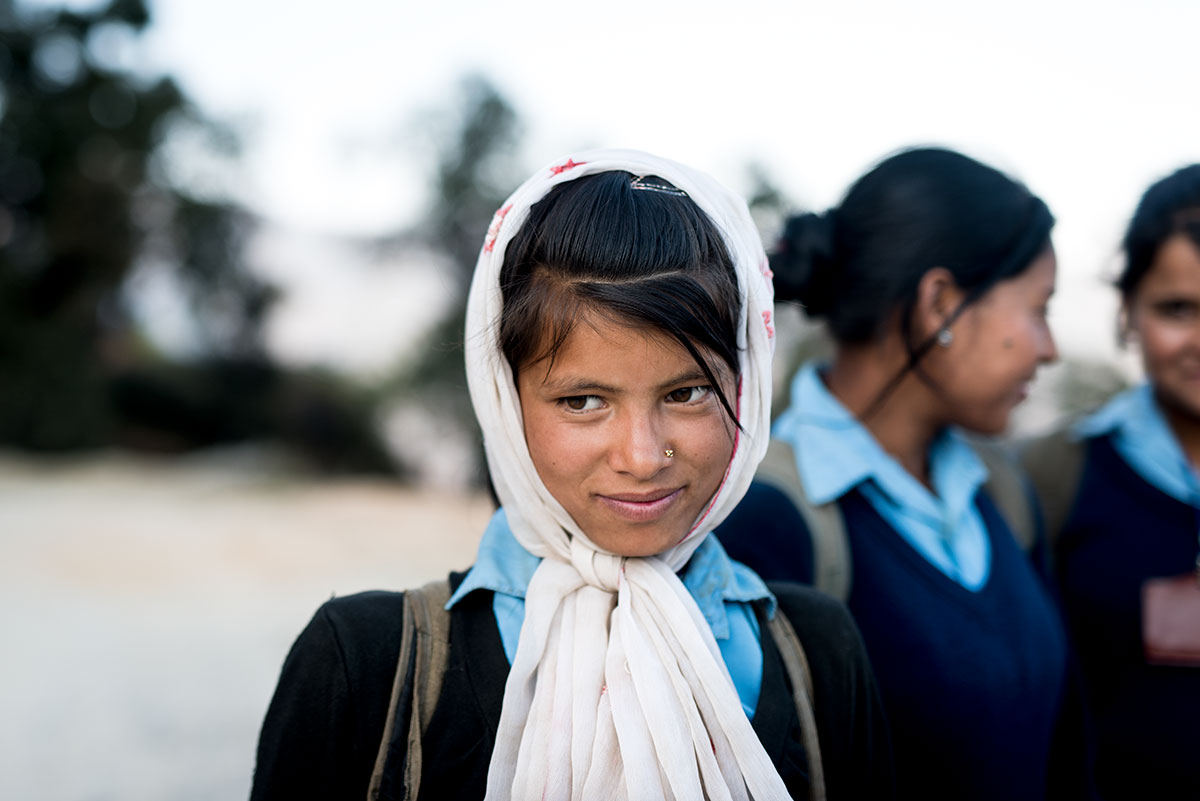 School girls gather by the side of the road in Sanfebagar, near Bayalpata Hospital.
Soon, Arnoldy began taking every college break he could—spring, summer, winter—to travel to Nepal. At some point in the process, it hit him that he didn't want "to live in a world where people are this generous and this outstanding and don't have basic access to health care." He came to recognize, after just a handful of trips, that he was "glued" to the country and that what had been essentially an extended layover had become "a commitment to build a health-care system for those who need it most."
What he could never have anticipated at the time is that he would soon become the chief executive of a health-care organization focused on Nepal—and that the country to which he and his colleagues had dedicated themselves were soon to suffer an unthinkable disaster that would only multiply the challenges its people faced.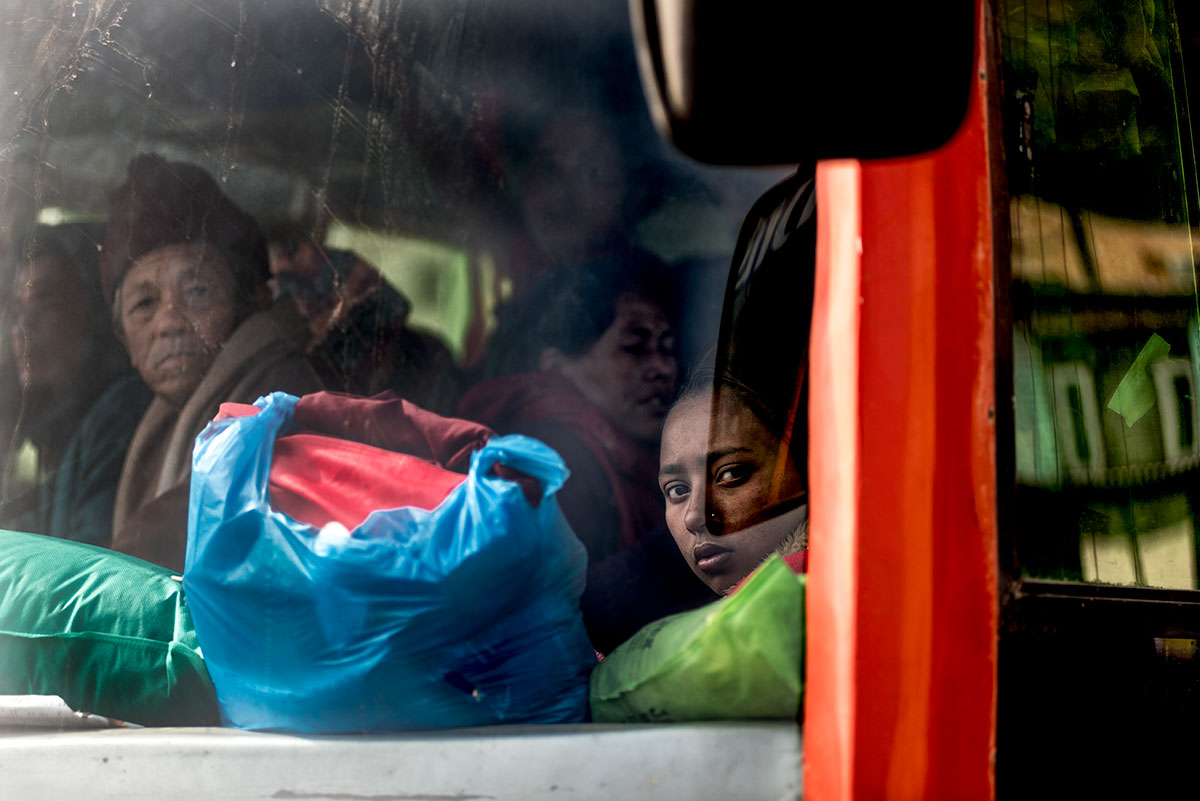 Packed buses are a frequent sight on the drive from Kathmandu to Charikot.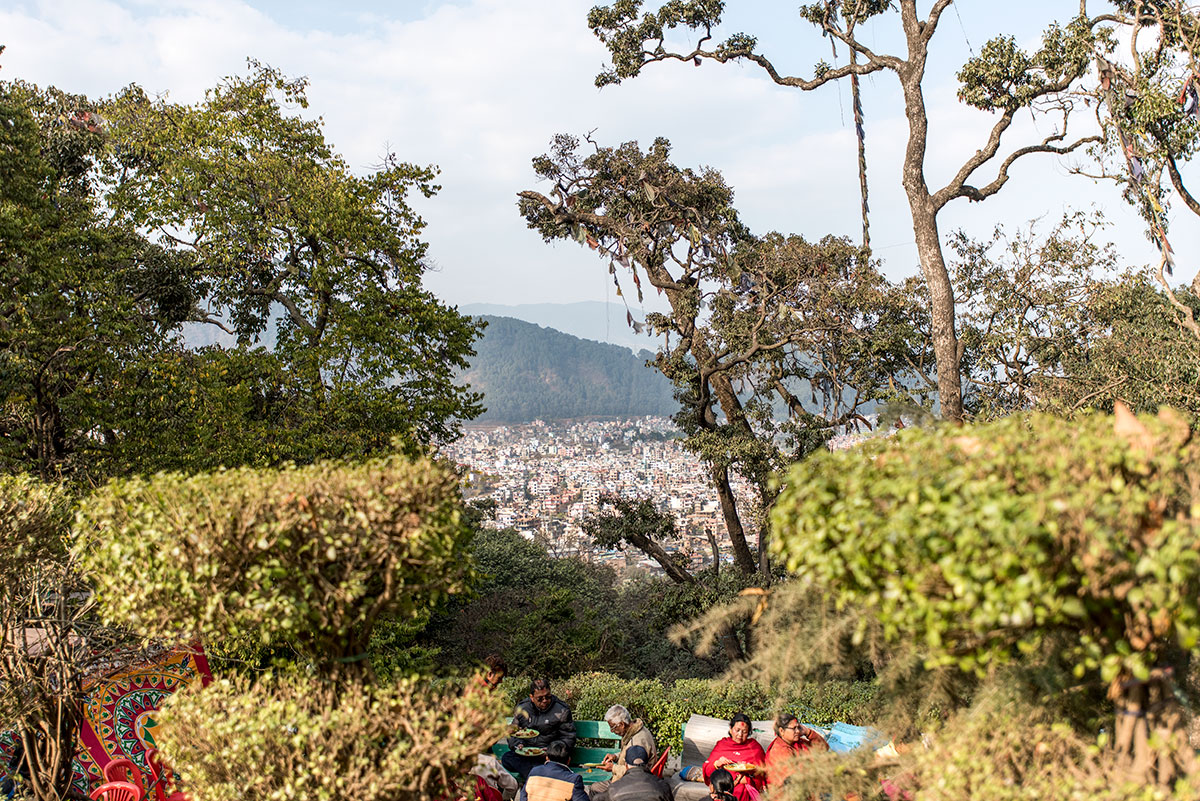 Swayambhunath temple sits perched above Kathmandu, affording breathtaking views of the sprawling city.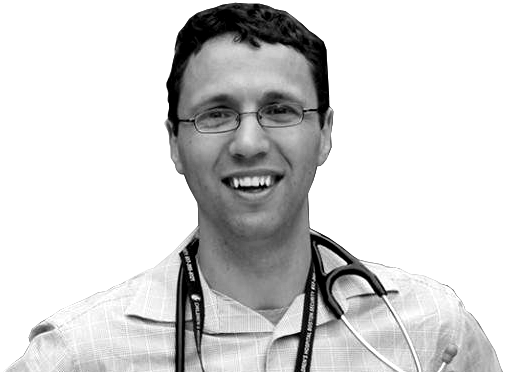 DUNCAN MARU
Arnoldy's first contact with the group was when he turned down the offer of an internship there in 2009, something he laughs about today but an event that would turn out to be more than significant for his and the group's future. Among the people he met then were the organization's co-founder and current chief strategy officer, Duncan Maru, a recent graduate of Yale medical school.
Maru himself had become involved three years earlier, when he and Yale classmate Sanjay Basu got an email from another of their med-school friends that would, like Arnoldy's allergic reaction, change their lives.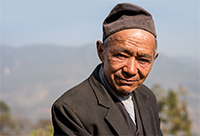 ARTICLE ONE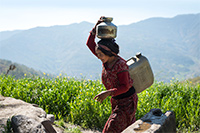 ARTICLE TWO
Their friend Jason Andrews was working in Nepal at the time, having formed an AIDS-treatment center in Kathmandu. "I literally had ten women a night knocking on my door asking for medical help for themselves or their children," Andrews wrote from Nepal. Half of them had been widowed before the age of forty, and in the overwhelming number of cases the cause of their husbands' death was AIDS. "Among those that knew their [HIV] status, all were positive," Andrews wrote. "Since that moment, I've felt wholly compelled but completely adrift."
Maru and Basu immediately began a long-distance collaboration with Andrews on his fledgling organization and soon made their way to Nepal, having by then redefined its mission to be a primary-care provider to Nepal's rural poor. They chose for their first base of operations the western district of Achham, one of the nation's most remote and medically impoverished populations.
They were already established there when Arnoldy, whose commitment to Nepal had already begun, "read about this rogue organization that was working in a region that was supposed to be impossible." He signed on during a college break as one of the short-term volunteers they relied on then to do much of their work. The fact that he was later offered an internship suggests he had made his mark with Maru and company. He kept working for Nepal in other capacities, on a Fulbright scholarship there and on his peanut-butter-inspired campaign against malnutrition, and he kept in touch with Maru and the team's other leaders. Two years later, intent on beefing up the leadership and professionalizing the organization, they asked Arnoldy to come aboard full-time, no longer as an intern but as the company's U.S.-based CEO.
Having also built up the core leadership team with two Nepali brothers, Bijay and Bibhav Acharya, they realized early on the need to get the government involved, which was a significant departure from the charity-based models of other nonprofits working in the region. Based on their commitment to provide free health care to the country's "last-mile communities"—places, as Maru puts it, "where core modern infrastructure and talent density are just absent"—they were able to engage the country's ministry of health in a unique public-private partnership.
"If you're a Nepali citizen and you have issues with your health care, ultimately where the dollars come from do matter," Maru says. "If you track the dollars to Hong Kong or to New York City it's going to be a much harder accountability for you as a patient than if the money comes from the Nepali government." (The organization does solicit donations, but those are used to advance the medical technology and digital innovation that Possible has introduced to the country's health-care system.)
"Possible works like a [business], with a sense of urgency," says Aayush Niroula, a Possible employee. That means the organization is run with a strong emphasis on efficient management and a system of quick and constant adaptation—a process Maru describes as "brutal self-reflection." At the same time, it is an organization that considers its chief mandate to be public service. "Public-private partnership has been much talked about in Nepal," says Busan Prasain, a director of operations at Possible. "But it isn't really done."
Because that partnership was already in place, the ministry turned immediately to Possible when much of the country's health-care infrastructure was destroyed in last year's earthquakes.  
continue reading after the gallery ⇩
Tourists and residents alike climb the grand stairs at Swayambhunath temple in Kathmandu.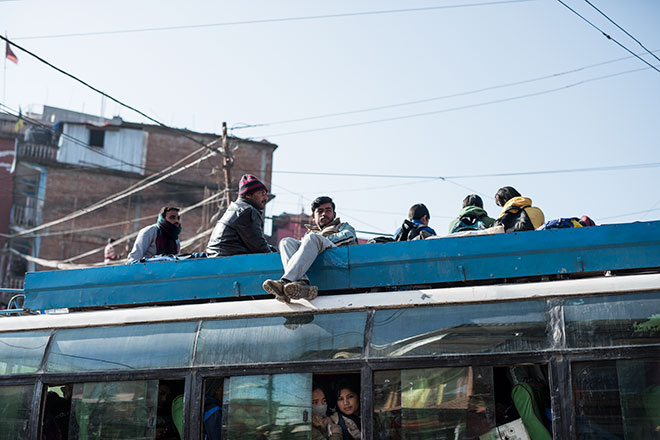 Piling into and on top of buses in Charikot, Dolakha District, gives new meaning to morning rush hour.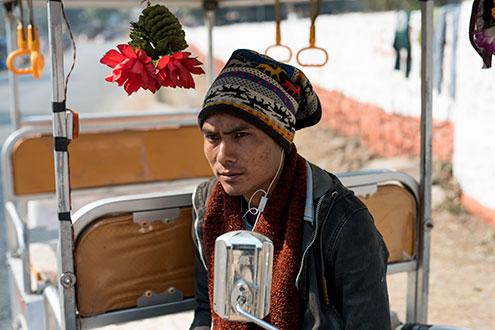 A driver sits in his rickshaw near Danghadi Airport, where Possible's jeeps set off for their ten-hour journey to Bayalpata Hospital.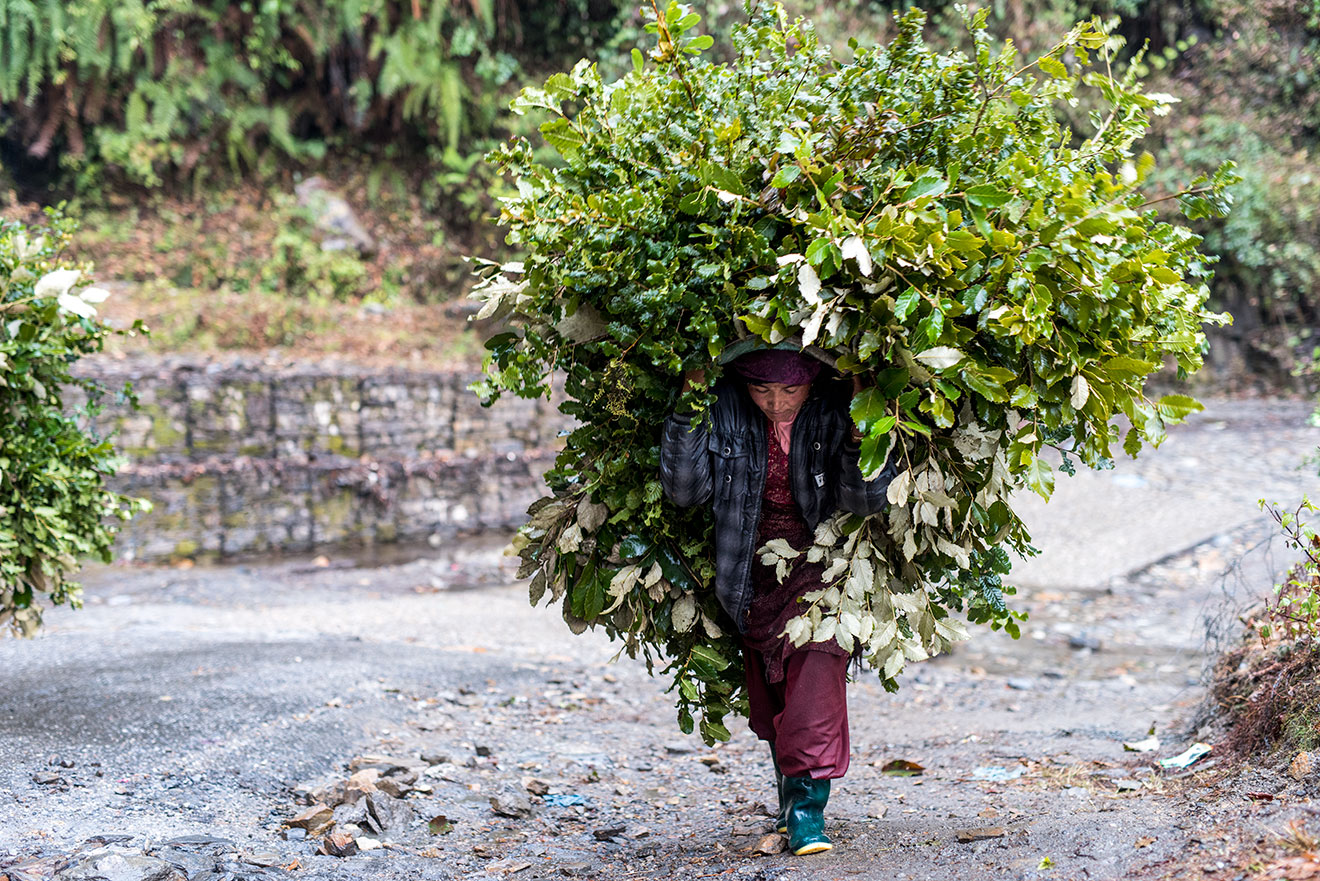 In rural areas, farmers forage for vegetation to use as feed for their cattle, carrying it on their backs up steep roads.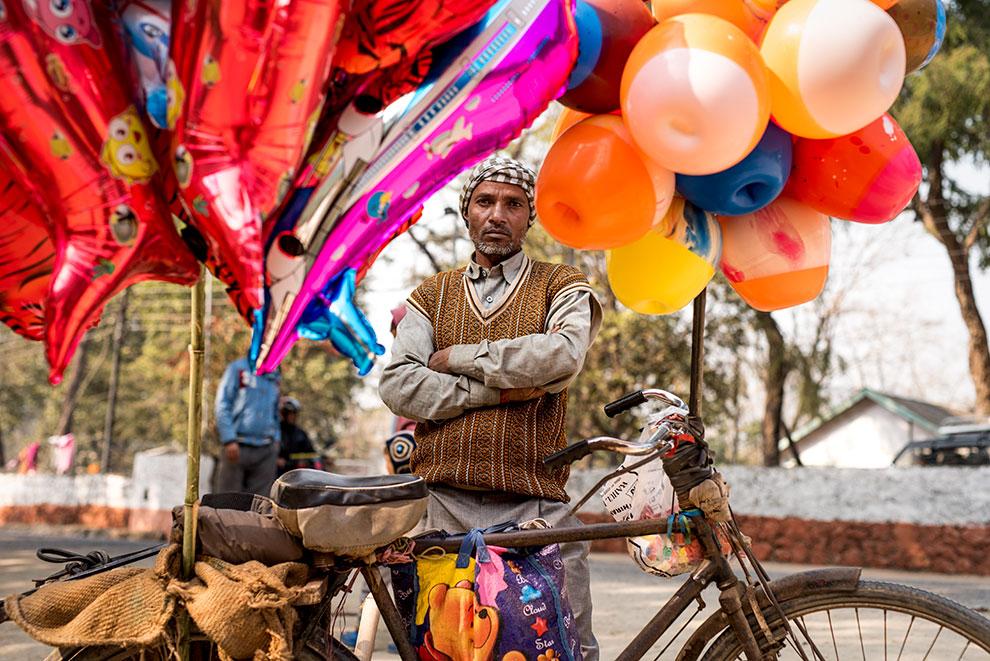 A man sells balloons near a Hindu prayer tent on the road to Bayalpata Hospital.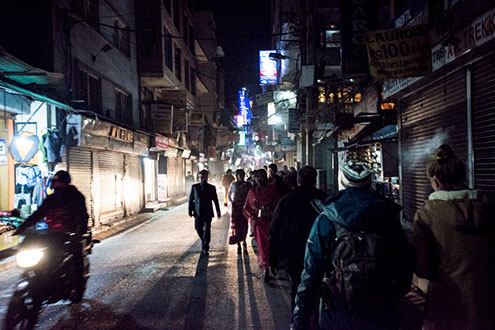 After dark the city of Kathmandu falls under a thick cloak of darkness. Only tourist neighborhoods like Thamel are alive with lights from late-night bars and restaurants.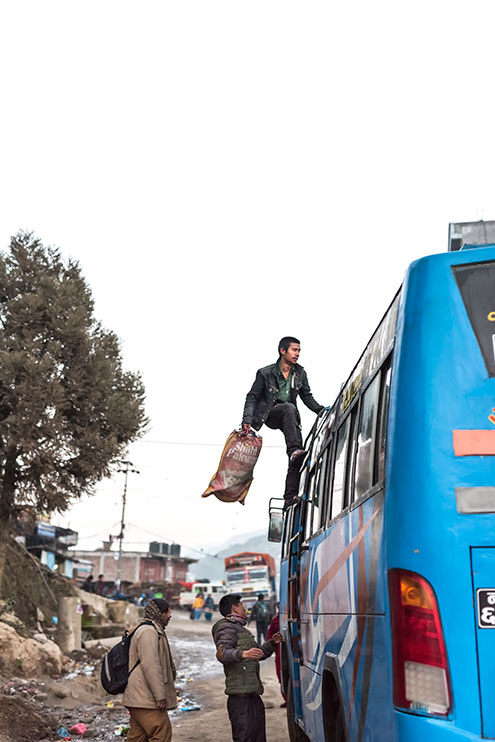 More than four billion dollars were committed to Nepal after that disaster. Nearly 40,000 non-profit organizations are registered in Kathmandu alone. But the funds have not been fully distributed, in part due to fierce internal government debate and gridlock. The expansion of Possible's mission was an exception: They were quickly tasked with rebuilding twenty-one health facilities in Dolakha, which was the epicenter of the second major earthquake and the area most in need of medical reconstruction, with ninety percent of residents' homes and the district's clinics flattened.
That decision is paying off: Possible has—despite the monsoon season, a crippling blockade on all fuel and building materials coming from India, and no paved roads to access to the health posts—made remarkable advances in the region. They have implemented electronic health records for the first time in Nepal's history, and they've modernized mental-health delivery and chronic-disease care—all while continuing to cultivate deep relationships with patients and local community-health workers.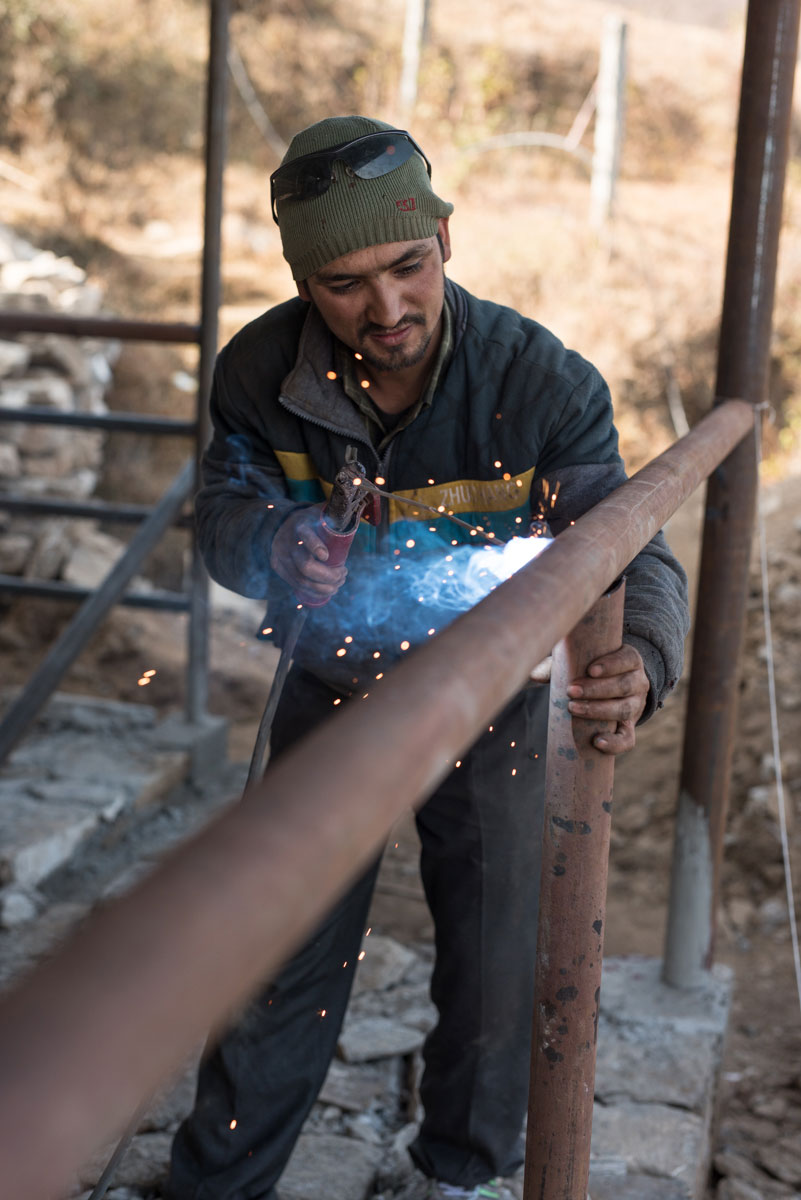 SUPPORT POSSIBLE IN NEPAL
In this special report on Nepal's recovery from last year's earthquake, Cathay Pacific and Atlantic Re:think—The Atlantic's creative-marketing group—explore the work of a health-care organization called Possible. With Cathay's support, the people of Possible are dedicated to rebuilding and reforming the nation's medical infrastructure, which lost more than a thousand facilities to the earthquake.
LEARN MORE
A key reason for Possible's staying power in Nepal over the last decade has been its local roots: The organization's medical and administrative staff have been predominantly Nepali, an important  evolution from its international, volunteer-based beginnings. When Bikash Gauchan joined Possible in 2010, he became one of the first medical doctors to practice in Achham. Now Possible's medical director, Gauchan says that a physician's connection to a place enhances his connection to his patients. "When patients come from places that I have visited, I can understand the hardship they must have endured on their way here. This makes me feel further responsible for them."
As Maru puts it, "The best advocates for social justice are always going to be from the communities that are suffering from the injustice."
But the organization also relies on local recruits because of the sheer amount of time it takes to make a difference in communities like Achham and Dolakha. What is known as "volunteer tourism," a booming field for many NGOs, is out of the question for the Possible community, many of whom see this as their life's work. "The key is fostering a lifelong commitment to work on these problems," says Maru, "because that is how long it takes."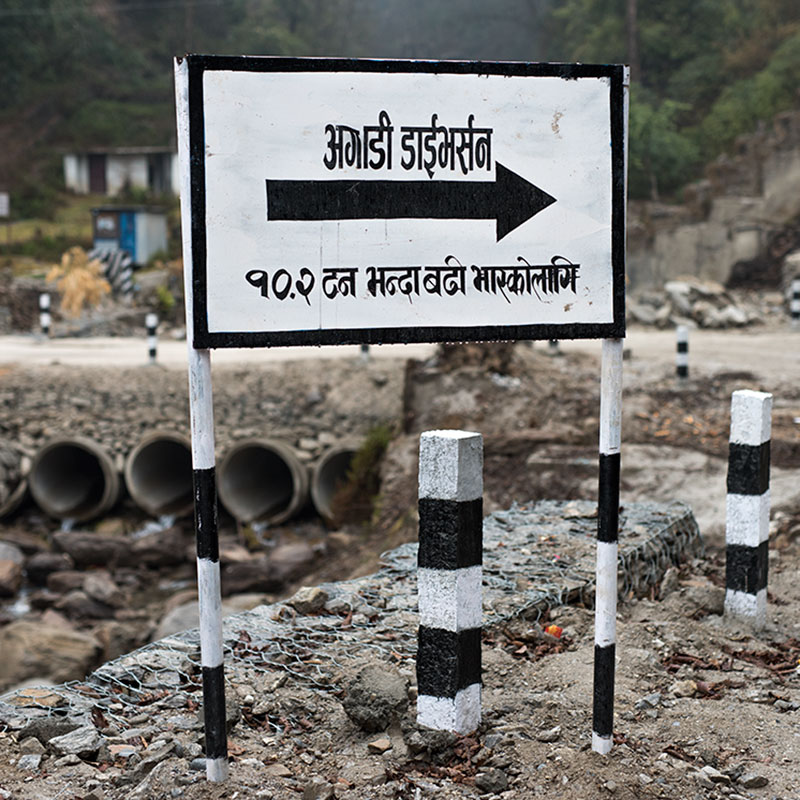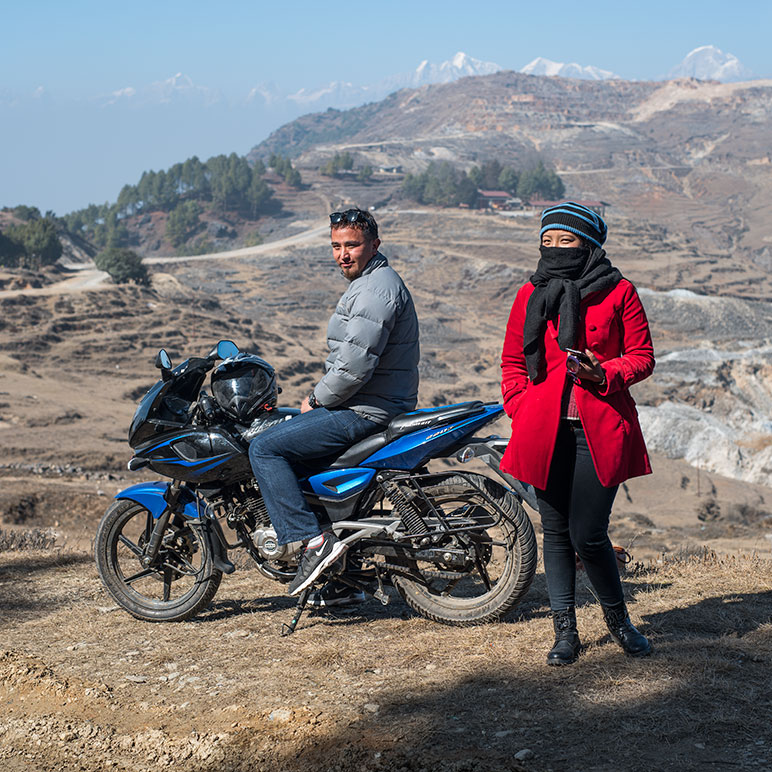 Indeed, when most tourists visit a country, they know they'll be returning home. But when Maru, Arnoldy, and others on Possible's international staff visited Nepal, they had a markedly different response. Rather than simply finding adventure, they found a mission. Travel, for them, had become a means to a never-ending end, the pursuit of an ideal that sits on an unreachable horizon.
The task is enormous, and the psychological and physical demands are great. But those who pay the steepest costs insist that the potential gain—helping a remarkable people recover from a historic disaster; delivering free care to those who need it most; allowing an expectant mother to give birth to a healthy baby—has no comparison.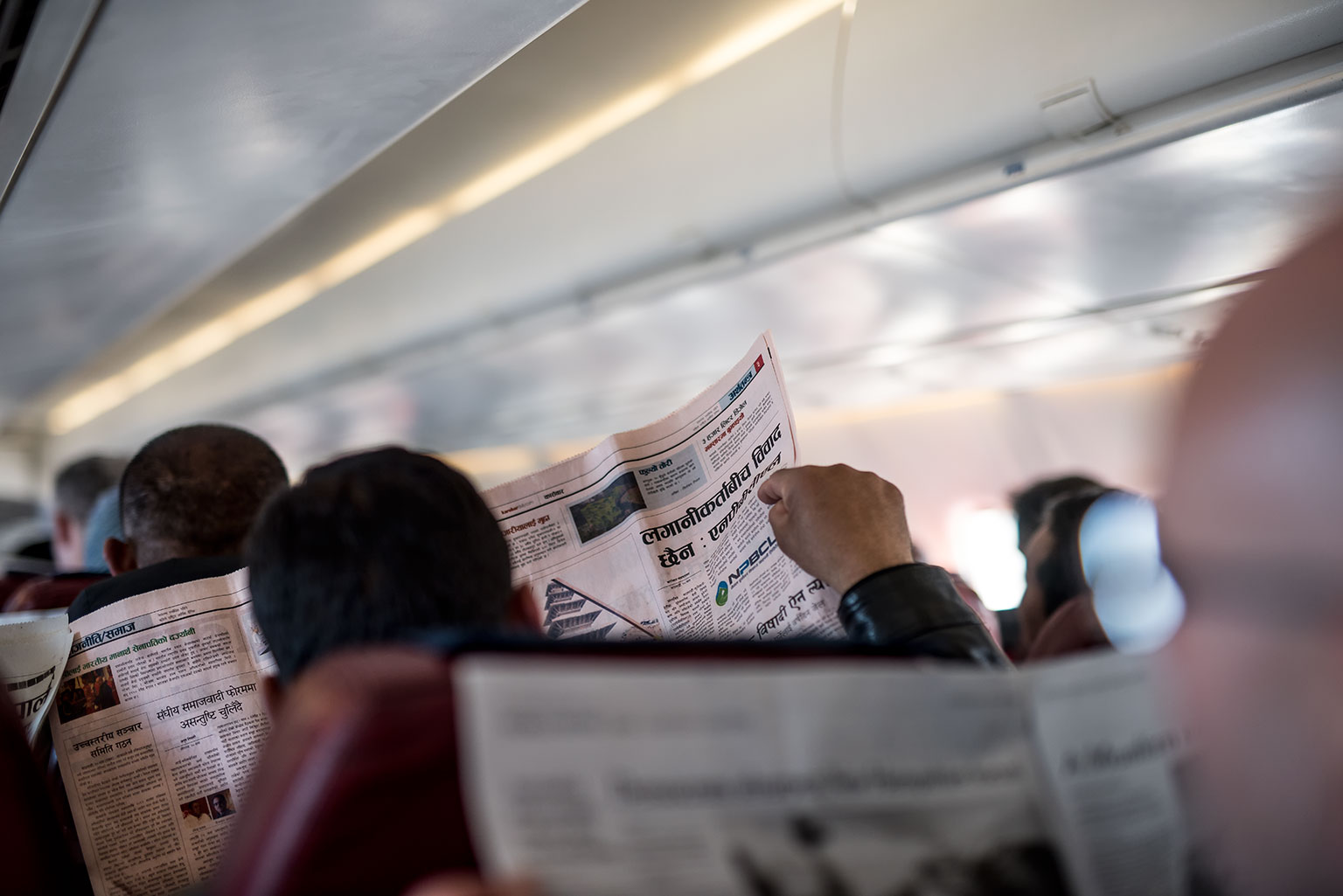 A conversation with Philippe Lacamp
Senior Vice President of the Americas, Cathay Pacific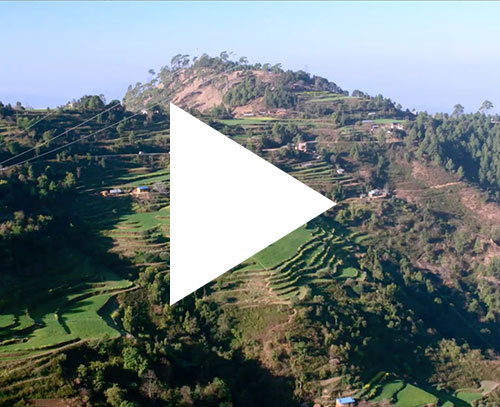 5:26