Part 1
Lowell, MA

The Beauty of Shared Risk
Amid the many conversations surrounding the Affordable Care Act, the ones that make doctors particularly nervous are, understandably, those about the health care industry's transition to value-based care—in other words, the conversations about how they get paid.
"Every time we even touch on the topic you can see the anxiety level start to go up in the room," said Dr. David Pickul, chief medical officer of Lowell General Hospital.
Pickul understands that anxiety better than most. In 2009, as the medical director of Lowell General's physician hospital organization (PHO), he helped rally the city's doctors to participate in the country's first experiment with value-based care. In partnership with the hospital, the physicians signed a risk contract with Blue Cross Blue Shield, Massachusetts' largest insurance provider, which upended the way it paid for Lowell's health care.
Instead of simply paying doctors for every procedure they performed, Blue Cross Blue Shield made a bet with Lowell's doctors. If they could keep their costs lower than they did the year before, while also achieving better health-care outcomes, they would share the savings with the insurance company. By hitting certain quality benchmarks, they would earn bonuses. But if they overspent—a real risk, given their history—they would be on the hook for the excess.
In return for agreeing to the risk contract, Blue Cross Blue Shield agreed to provide data and consultation that could help identify inefficiencies in the network and identify best practices around coordinated care.
The bet paid off. Lowell General Hospital and its physicians stayed under budget, achieving savings and earning its quality bonuses as well. For the first time in years, Blue Cross Blue Shield's annual health care bill showed lower growth than expected. Even better for the insurance company's experiment with value-based care, the other seven health systems that agreed to similar risk contracts saw the same success as Lowell General. After four years, a study by the New England Journal of Medicine found that the participating health systems realized savings five times greater than the national average, while improving health care outcomes for its patients.
The rest of the country has taken notice of what Lowell and Massachusetts have accomplished. The percentage of American doctors participating in value-based care's most common model, the accountable care organization (ACO), has climbed from 3 percent in 2011 to 30 percent in 2014, according to this year's Medscape Physician Compensation Report.
ACOs now exist in every state, providing health coverage for 23.5 million Americans. Of the 744 total ACOs, 333 participate in the Medicare Shared Savings Program, a federal program based on the Blue Cross Blue Shield model.
To accelerate adoption, the Medicare program now offers doctors less risk to participate than its predecessor. If the providers achieve savings while hitting quality benchmarks, they share in the savings with Medicare. But if they overspend, there's no downside—Medicare will absorb the cost for the first several years.
While that change has been effective in growing the program, the results so far haven't matched the early success. Of the 333 ACOs participating in the program in 2014, just 92 achieved the quality scores and financial targets required to qualify for savings.
"There's a reality that shifting from fee-for-service to accountable-care models takes time," said Dr. Patrick Conway, chief medical officer for the Centers for Medicare and Medicaid Services. "That is a long-term transition and can certainly take more than three years. We're really trying to meet providers where they are."
In Lowell, Dr. Pickul and Lowell General Hospital continue to see success as they adopt the ACO model. In addition to the Blue Cross Blue Shield contract, which it renewed in 2014 for a second five-year term, the hospital founded the Circle Health ACO in 2012, a joint effort combining Lowell General Hospital and its network of more than physicians and other health-care providers. In its first two years, the ACO achieved $13 million as part of the Medicare Shared Savings Program.
"We have strong physician leaders that would prefer to be trailblazers rather than being left behind," said Gerri Vaughan, executive director of Circle Health. "They jumped on the journey pretty quickly."
Instrumental to the success of their transition was a strong IT infrastructure. In partnership with athenahealth, the hospital implemented new software designed for population health management to coordinate care among all the providers in the contract. It hired support staff to help them make sense of the city's patient data, identifying the highest risk patients in the community and understanding which among them required more attention and cost than others. That helped them stay on top of the cost and quality measures for which they were accountable.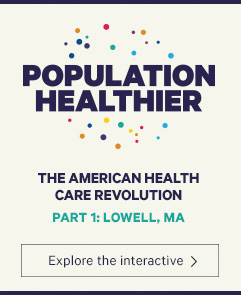 "We made sure that each physician knew how many patients needed mammograms and how many needed screening colonoscopies. We also knew how many had diabetes and cardiovascular disease," said Lowell General Hospital CFO Susan Green in an interview last year with Healthcare Finance.
They also educated physicians and patients about the benefits of keeping referrals for special procedures within Lowell, where the quality of care is as good as but less expensive than it is in nearby Boston. "We had to make sure that patients got the best care but didn't go to any of the more prestigious hospitals in Boston," Green explained.
Still, Lowell's experiment and ultimate success with risk contracts was far from stress-free. "We had to be very patient with the doctors because there was a lot of fear about this type of environment," Pickul said. "Most people or most physicians in the very beginning were asking, 'What am I going to lose as a consequence of this?'"
Ultimately, said Gerri Vaughan, trust between the health care providers was key to getting them all to venture into value-based care.
"I probably underestimated the importance of truly shared governance at the stakeholder level," Vaughan said. "The best way to get them to the table is to let them know that this organization is one that supports transparency."
Back when Pickul was the medical director of the Lowell General Hospital PHO, he remembered, doctors were initially reluctant to share their performance data among one another out of a fear that it would expose their practices' weaknesses. So Pickul, a practicing internist in Lowell, presented his own data.
"I showed the metrics that I was performing poorly on and opportunities for improvement," he said. "You just have to realize that it's not a critique. It's a constructive opportunity for improvement."