Part 1
Lowell, MA

Building a Virtuous Circle of Care
On any given day in her office at Lowell General Hospital, Jennifer Gilliatt might receive a call from the radiology department about a patient with a breast abnormality. It's probably nothing, the radiologist explains, but it will take a biopsy to know for certain. After contacting the patient's primary physician, Gilliatt invites her in to explain the need for the procedure and to schedule it for her at a nearby surgery center.
"Even though the majority of cases are benign, every woman who's told she has a breast abnormality is going to walk out the door fearing she has breast cancer," Gilliatt says. "What we're able to do for them is, first of all, decrease that anxiety. And second of all, get that biopsy done as quickly as possible to get them the answers and move on to the next step."
Gilliatt is a breast-health navigator at Lowell General Hospital, responsible for guiding patients through all the appointments and procedures involved in dealing with what may or may not turn out to be breast cancer. In the midst of a national crisis of runaway health care costs, a role that exists solely to assist patients in coordinating care may seem like a luxury. In fact, though, the treatment of breast cancer is among the most critical and costliest responsibilities of the nation's health-care system, and Gilliat's role has proved to be critical to saving both money and lives.
Not incidentally, it also embodies a fundamental transformation in American health care from competition to cooperation, from a system segregated by specialty and facility and focused on addressing acute or chronic conditions to a comprehensive approach that focuses everyone in a medical-care system on keeping their populations healthy one human being at a time, across the spectrum from wellness to catastrophic illness.
Doing that while achieving population health's three-fold aims of cost-efficiency, optimal outcomes, and patient satisfaction is what the move to "value-based care" is all about.
That transition has worked as well in Lowell, Massachusetts, as it has anywhere in the country. Over the last decade, the city has evolved from a hotly competitive two-hospital town in a sea of independent doctors and specialized group practices to a unified system meticulously brought together through mergers, affiliations, and rigorous, daily efforts for positive change.
The health-care systems of other mid-sized cities in the U.S. have a great deal to learn from what the leaders of Lowell General describe as their "bumps along the way."
From Competition to Collaboration
"Competition in a true business setting should be welcomed because it usually leads to lower prices, better products and improved services," then-Massachusetts State Senator Steve Panagiotakos wrote in a Lowell Sun op-ed in November 2008. "However, in health care that is not always the case."
At the time, Lowell's health care system was beset by an intense rivalry between its two community hospitals: Lowell General Hospital and Saints Medical Center. Like the rest of the American health-care system, the two hospitals were paid based on how many procedures they performed, the so-called fee-for-service model. As more patients meant more services and more money, the two hospitals were forced to compete for the loyalty of Lowell's residents.
"They've fought for cancer patients. They've fought for angioplasty patients. They've fought for patients fighting obesity," lamented Sun reporter Christopher Scott, following one very public fight over a certain ob-gyn practice. "But the latest news comes at a time when health-care costs are rocketing skyward against diminishing medical-insurance reimbursement rates from both government and private insurers."
As Panagiotakos explained in an interview, the hospitals' competition allowed insurance companies "to play them off [against] each other" and negotiate lower reimbursement rates for the treatment they provided. To keep the doors open to as many patients as they could, the two hospitals were left with no choice but to accept the lower rates, swallowing losses that, in Saints' case, threatened its survival.
By 2010, a community health needs assessment conducted by UMass Lowell on behalf of the city's hospitals and the Greater Lowell Health Alliance, a public-health-focused nonprofit, found competition between the two hospitals to be "the greatest weakness within the area's health care system."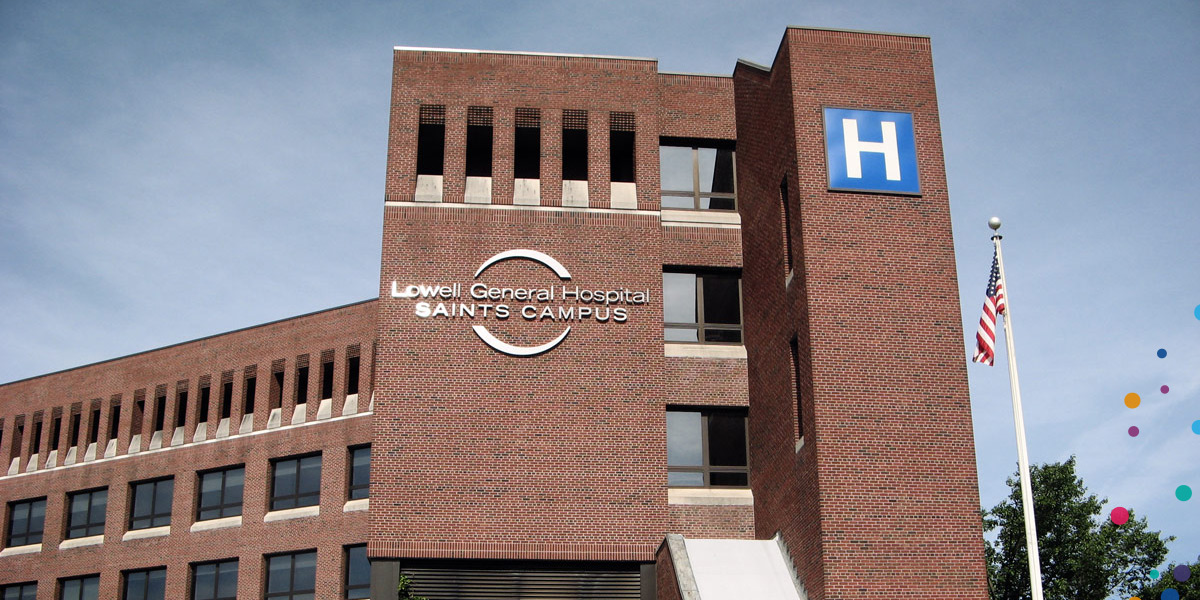 The Cure for Redundancy
Nearly two decades of ruthless competition came to an end in 2012, when Saints Medical Center merged with Lowell General in a new entity called Circle Health, an umbrella organization that now embraces most of the city's health-care services. Alongside the new, two-campus Lowell General Hospital, Circle Health brought together more than 600 independent physicians throughout the city as well as the Lowell Community Health Center, an independent organization that serves Lowell's highly diverse population in 28 languages, and the Circle Home Health Agency. In keeping with Circle Health's vision of Complete connected careSM, communication was tightly integrated among all levels of care and across the system, and duplicative services were consolidated. At that point, if you were being treated in Lowell, chances are you were being treated by Circle Health.
"We were able, in a thoughtful way, to consolidate services, create centers of excellence, and not have duplication across these high-intensity services," says Amy Hoey, COO of both Lowell General and Circle Health. "Some of that was a natural byproduct of the merger. But beyond that, the merger allowed us to think carefully about how we wanted to manage the population in this community over the long term."
For Norm Deschene, who is CEO of both Circle Health and Lowell General Hospital, the merger was the key to aligning all the community's caregivers, a goal he had envisioned for years.
Ever since the mid-1990s, Lowell General had been building a strong physician hospital organization (PHO), a coalition of the hospital's physician partners that Lowell General's leadership saw as a first step toward value-based care.
As a tactical matter, the PHO created a legal entity entitled to bill insurance companies, and the larger the entity, the more leverage they had in negotiations. But in terms of health-care strategy, the PHO served as a governing body for the growing association of independent physicians, one that could establish best practices and work to answer the fundamental questions facing the hospital and community caregivers as they made the difficult transition to a unified system.
To do that, says Dr. David Pickul, chief medical officer of Circle Health and former medical director of the PHO, they needed to answer one basic question: "What is the best way to help a patient navigate the health system? Although it sounds like a very simple question—there should only be one answer—there were probably 15 or 20 different answers."
Finally, it was the struggle to reconcile and implement those answers that brought into sharp focus the need to create a virtuous circle of communication and coordination embracing every provider in every patient's health-care journey.
Having accomplished that, "we know what their history is," says Eileen Malloy, a hospital nurse liaison for Circle Home, the outpatient-care arm of Circle Health. "We know why they were in the hospital, and we have access to the results. Without that, it was just a paper trail, and most of the time, things got missed."
Once this kind of collaboration proved its benefit in cost savings and patient outcomes, it began to achieve outsized impact across the city's entire health-care system.
Take, for example, breast-health navigator Jennifer Gilliatt and her team, who form the connective tissue among primary care physicians, radiologists, surgeons, nurses, and every other health-care provider in the community. It takes that depth of coordination to achieves the triple aims of population health: Patients love the sense that they are surrounded by a knowing, caring, closely connected team, the cost of health care is reduced, and outcomes show dramatic improvement. Studies show, for example, that navigators like Gilliatt can help to improve the five-year survival rate of breast-cancer patients by nearly 40 percent.
There's No One-Size-Fits-All Approach to Value-Based Care
Every city has its own health-care complexities, of course, and Circle Health is only one approach to the overarching goal of happier patients, lower costs, and better outcomes. A recent report from Deloitte Consulting predicts that the number of health systems in the U.S. will be cut in half over the next decade, resulting in fewer, much larger providers.
But consolidation is not the point: The way to value-based care is through coordination around the needs of patients, by any means necessary.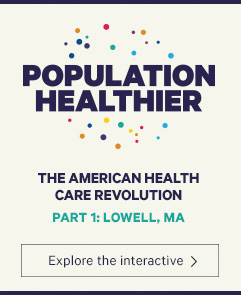 "Although many systems are able to create a parent brand and an organizational structure," says Michelle Davis, vice president of external affairs at Lowell General, "our organizational structure was built on our commitment to the community, with Complete connected care at its center."
That focus on the population served and on a health-care system that puts patients at its center can be achieved in a variety of ways. It has been realized in Lowell through the comprehensively integrated Circle Health, which has helped Lowell General Hospital and its affiliates keep more than $13 million in cost savings over the last two years. But it can also be enacted through coordination across a community's separate health-care entities, from hospitals to urgent-care facilities to home care.
Lowell General's COO Amy Hoey says it's as simple as providing "the right care at the right setting at the right time," but that statement implies an enormous number of complex, sometimes difficult adjustments. Perhaps the greatest challenge is simply the extraordinary amount of communication required from every level and kind of a patient's providers, including famously independent, process-averse doctors.
It takes time and patience to get there, but in the end the successful enactment of population health eventually wins over every health-care provider, including physicians, by giving them more of what brought them to the profession in the first place: the chance to make people better, to save lives.