Part 1
Lowell, MA

A Marriage of Medicine and Public Health
In July 2012, asthma attacks among a group of nearly 200 children in Lowell, Mass. plummeted 76 percent compared to the previous year. Emergency room visits for asthma dropped even more. As the affected children reported being healthier and happier, the city of Lowell also discovered monthly health-care savings of more than $70,000. In the asthma-ridden community where more than one in ten suffer from the chronic illness, such interventions could save a million dollars a month if achieved across the entire community.
The solution was simple—getting doctors and hospitals working together with public-health workers, and vice versa.
That collaboration began with a federally funded program at UMass/Lowell, which empowered community health workers to find and eliminate environmental triggers in the children's homes, such as pest infestations, second-hand smoke, and toxic cleaning products.
"This is an amazing success story," David Turcotte, a research professor at UMass/Lowell's Center for Family, Work and Community, said at the time. "It illustrates the power of prevention on health and well-being. By educating families on the triggers of asthma, providing an intervention plan, and purchasing products families can't afford or have difficulty accessing, children are breathing easier."
***
Programs like this one demonstrate why health care can no longer be confined to the hospital or the doctor's office. Combating chronic diseases, which account for more than half of all deaths in the U.S. and two-thirds of all health-care spending each year, requires a treatment plan that begins as close as possible to the source and onset of the disease, not with a hospital emergency. Because conditions like asthma can often be affected by socioeconomic and environmental conditions, the best medical response for an individual often requires input from public-health workers who understand conditions in the patient's community.
As Peggy Honoré of the U.S. Department of Health and Human Services explained to the American Hospital Association: "If you have a medical condition and you target it with a public-health intervention and a medical intervention, you get better outcomes."
To facilitate the exchange of information between medical and public-health practitioners as well as other perspectives on the city's health-care issues, an independent nonprofit called the Greater Lowell Health Alliance, was founded in 2006. The GLHA reached out to everyone from hospital executives, public-health officials, and community physicians to the city manager, the school superintendent, and others.
"It was really the idea of how we convene people around the public-health needs of the community," said Michelle Davis, Lowell General's vice president of external affairs and chairperson of the Alliance. "And it wasn't just about having the organizations sitting around the table. We were also committed to making sure that whoever was sitting around the table was a decision maker."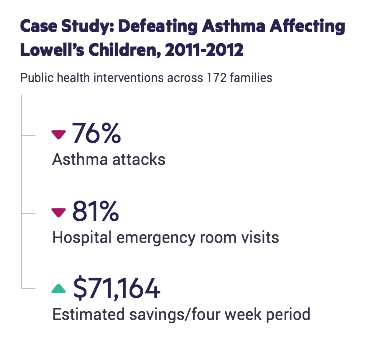 Since then, the GLHA has taken the lead on Lowell's triennial Community Health Needs Assessment (CHNA), which addresses the health-care system's strengths and weaknesses. These reports, mandated by the Affordable Care Act, cover both medical and public-health perspectives, in effect enforcing that collaboration.
Lowell General is "using the report as a guide to help them to decide where they should be spending money and what they should be prioritizing," said David Turcotte, who led the asthma study and also authored Lowell's 2013 assessment. "They seem committed to doing that just as a matter of principle."
In a state that has among the nation's highest incidence of asthma, Lowell's approach has inspired similar initiatives elsewhere. In Boston, for example, as hospital admissions for asthma were rising across the city, the Public Health Commission founded the Boston Asthma Home Visitation Collaborative to better connect the city's hospitals with community health workers.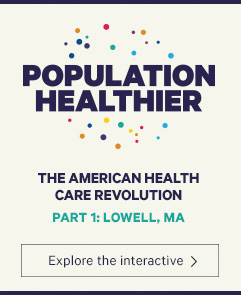 The organization created a centralized referral center that connects residents with health workers in their communities and began conducting monthly visits to asthma patients' homes. It also made sure that clinical data would get shared with relevant community health workers and that environmental health data started getting to the right doctors.
"What we do is sort of like a wraparound service," said Nathalie Bazil, a health educator for the Boston Public Health Commission. "Not only are we in the home being the lens for the provider of what's happening there, but we're also providing true resources to these families that are in need."
The program cut asthma-related emergency department visits by more than half, and at Boston Children's Hospital it achieved $1.46 in savings for every dollar invested. Last year, the Massachusetts Department of Health funded implementation of the home visitation program statewide, including in Lowell.
"It's a more holistic approach to health care," said David Turcotte. "There has been a separation, where the doctors are medically treating the conditions, and we've been going in and doing environmental interventions and providing education, but it was disconnected. Now it's going to be integrated."