Can thoughtful, community-driven design reduce poverty and environmental degradation? In 2006, six students at the Harvard Graduate School of Design came together around the belief that it could and decided to forgo the traditional design-firm path to prove it. They piloted their innovative approach in Kenya's Kibera settlement, widely recognized as the largest slum in Africa, partnering with the local population to clean up a large dumping ground and install a flood-control system to convert it into viable recreational and economic space. Out of that project, Kounkuey Design Initiative (KDI) was born. KDI derives its name from the Thai word kounkuey, which means "to know intimately" and embodies the nonprofit's community-centric approach.
Today the L.A.-based KDI has ongoing projects in the United States, Ghana, Haiti, Morocco, and Kenya. It works closely with residents to identify their most pressing needs and address them through design. The results of its efforts range from the construction of public parks to the improvement of infrastructure and the introduction of financial strategies into local commerce. This year, KDI was one of the recipients of the Allstate Renewal Award, which recognizes organizations driving positive change in their communities and confronting the nation's biggest challenges.
KDI does just that by harnessing the potential of existing environments. The physical transformations that KDI brings to life are illustrations of the deeper, intangible impacts of its work, from self-sustaining initiatives at its pilot site in Kenya to budding projects near the U.S. metropolis it now calls home.
Kibera 5
Nairobi, Kenya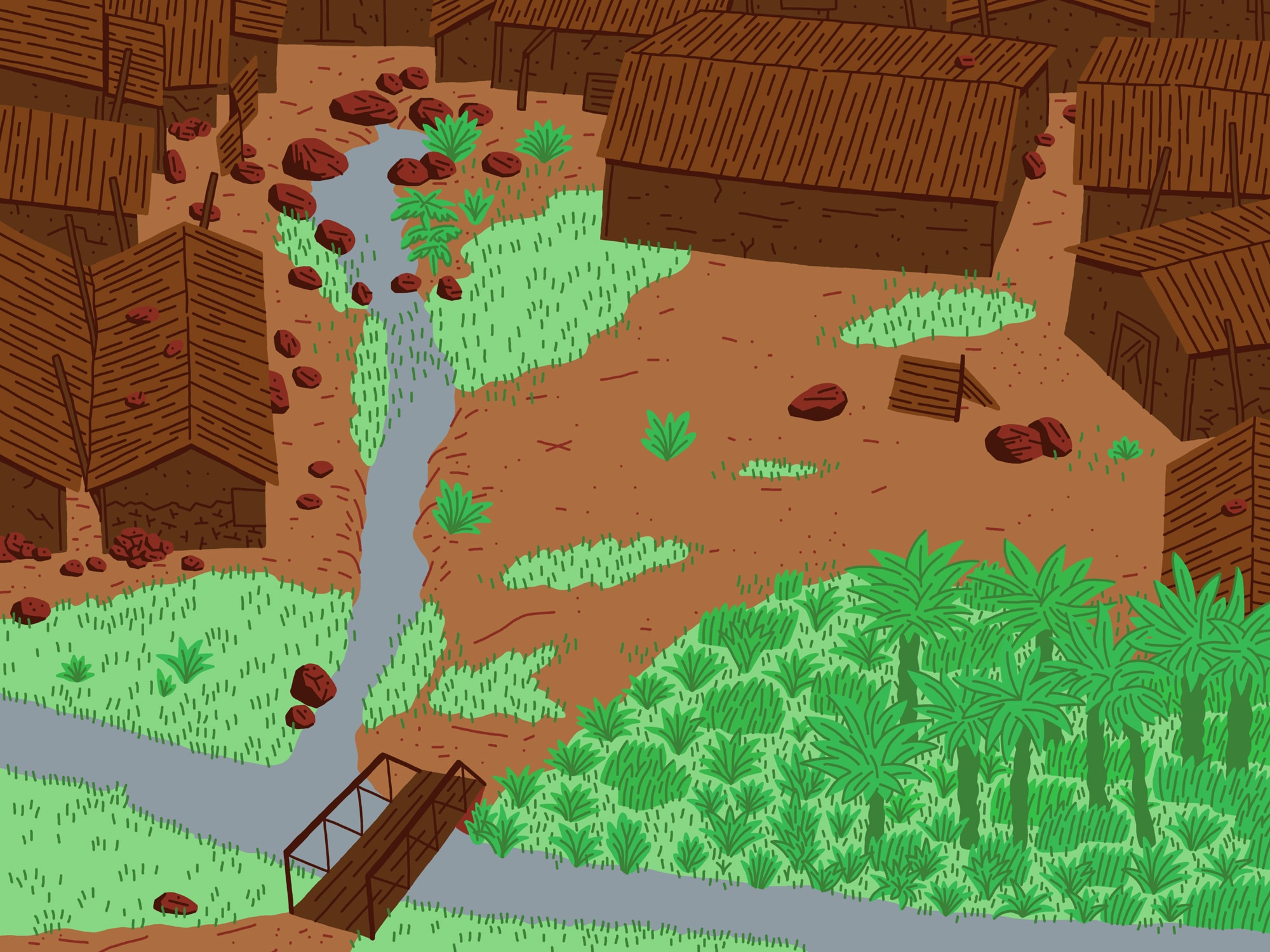 Kibera 5 Project 1 of 4
The Space
Several hundred sprawling acres of trash-lined dirt paths and corrugated tin-roofed huts make up the Kibera settlement. In its 13 villages, unemployment is high; most residents earn less than one U.S. dollar per day. There are few sources of potable water, and access to basic utilities and services like electricity and medical care is slim. The settlement also lacks the resources and infrastructure needed to grow food or improve sanitation, hampering any chance of alleviating Kibera's widespread poverty.
KDI began development of Kibera Public Space Project 5 (KPSP05) in 2012, exploring options for urban agriculture in an area that historically lacked the requisite space, arable land, and sanitation. Joe Mulligan, associate director of KDI, saw this complex, early initiative as a turning point for KDI's local partnering strategy. "It was important as we really refined our community engagement process and spent a lot more time getting to know the potential partner before committing," he recalls.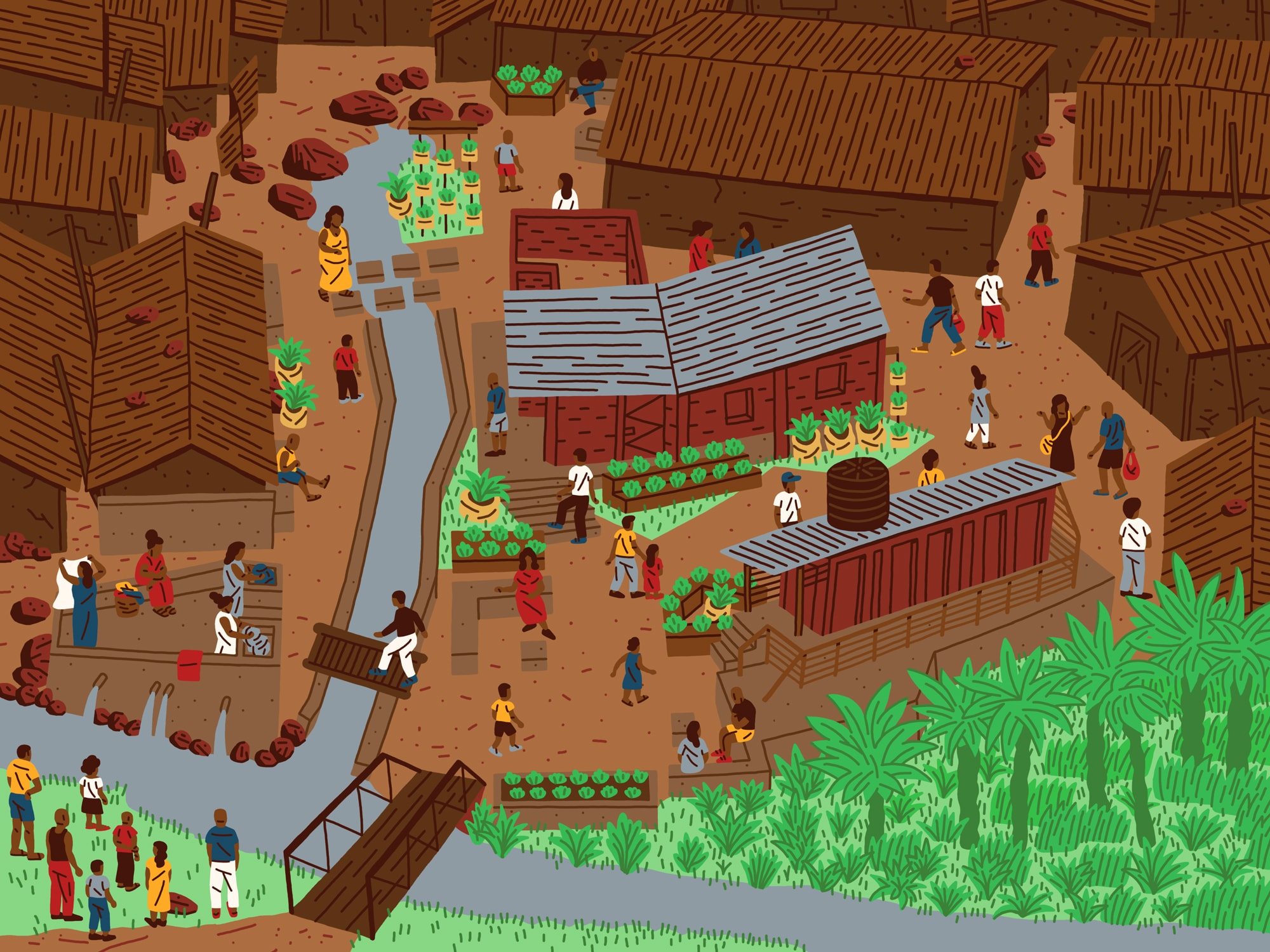 Kibera 5 Project 1 of 4
The Solution
KDI worked closely with the community to determine what farming methods were best suited to the space and to the people who would be working the land. It piloted a greenhouse and shade-net structure, eventually adding sack gardens, hydroponic growing troughs, hanging gardens, and raised beds. By utilizing vertical space, KDI maximized the plant-growing potential of the land-scarce environment while keeping crops away from polluted soil and water. The resulting agricultural gains have allowed residents to develop organizational and financial structures for sustainable profitability.
KDI also installed a sanitary toilet structure featuring art by local artists, a steam-laundry facility, and a community gathering space. The different components may seem disjointed, but Mulligan argues that Kibera's unique characteristics and needs have led to "incredible uses of private and public space to layer multiple functions and enable multiple social and economic movements."
"The rewards are multifold," he says. "Seeing a transformation in spirit and opportunity, even though at a small scale, is something. Coming across a hidden corner that looks and feels so radically different is inspiring."
Kibera 7
Nairobi, Kenya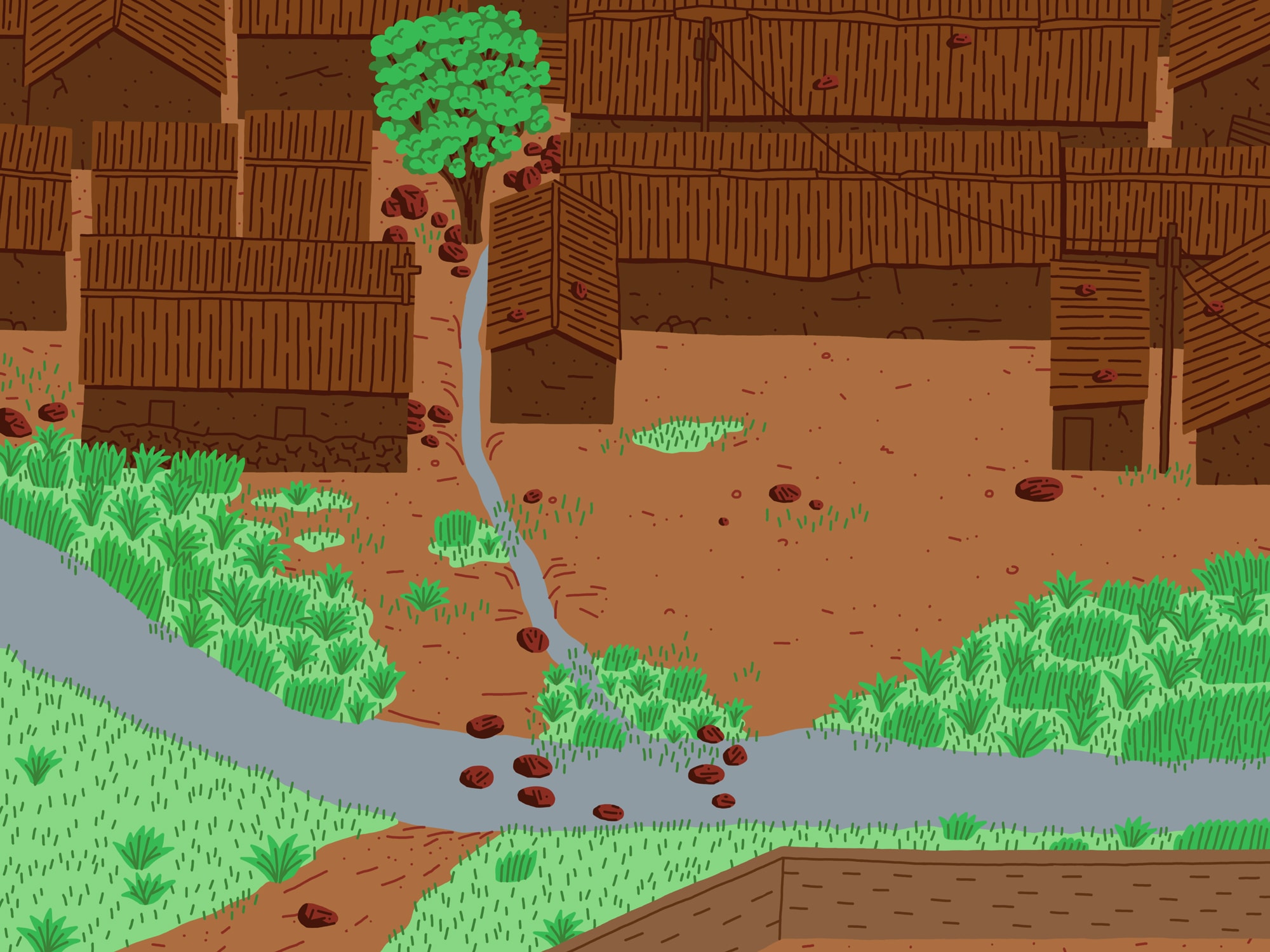 Kibera 7 Project 2 of 4
The Space
About 500 meters downriver from KPSP05, Kibera's village Lindi was in dire need of some measure of control over the river that runs through the village, bringing pollution and frequent flooding to its banks. Residents approached KDI, and together they identified the highest-priority needs: improved sanitation, a pedestrian bridge over the river to enable movement between villages, a public gathering space, and structures for local, small-scale business and commerce.
Tatu Gatere, KDI's country director in Kenya, notes that Kibera's challenging physical and political status as a nonformal settlement with strained resources made project implementation an especially knotty and extensive process. KPSP07 would require negotiation with the government, complex construction, and a lot of flexibility.
For this reason, "it is important that the users of a project or space also know how to build it, maintain it, and manage it," says Gatere. "At each of our sites we engage in construction training during project implementation, followed by management and operations training, to help our project partners operate and manage sites."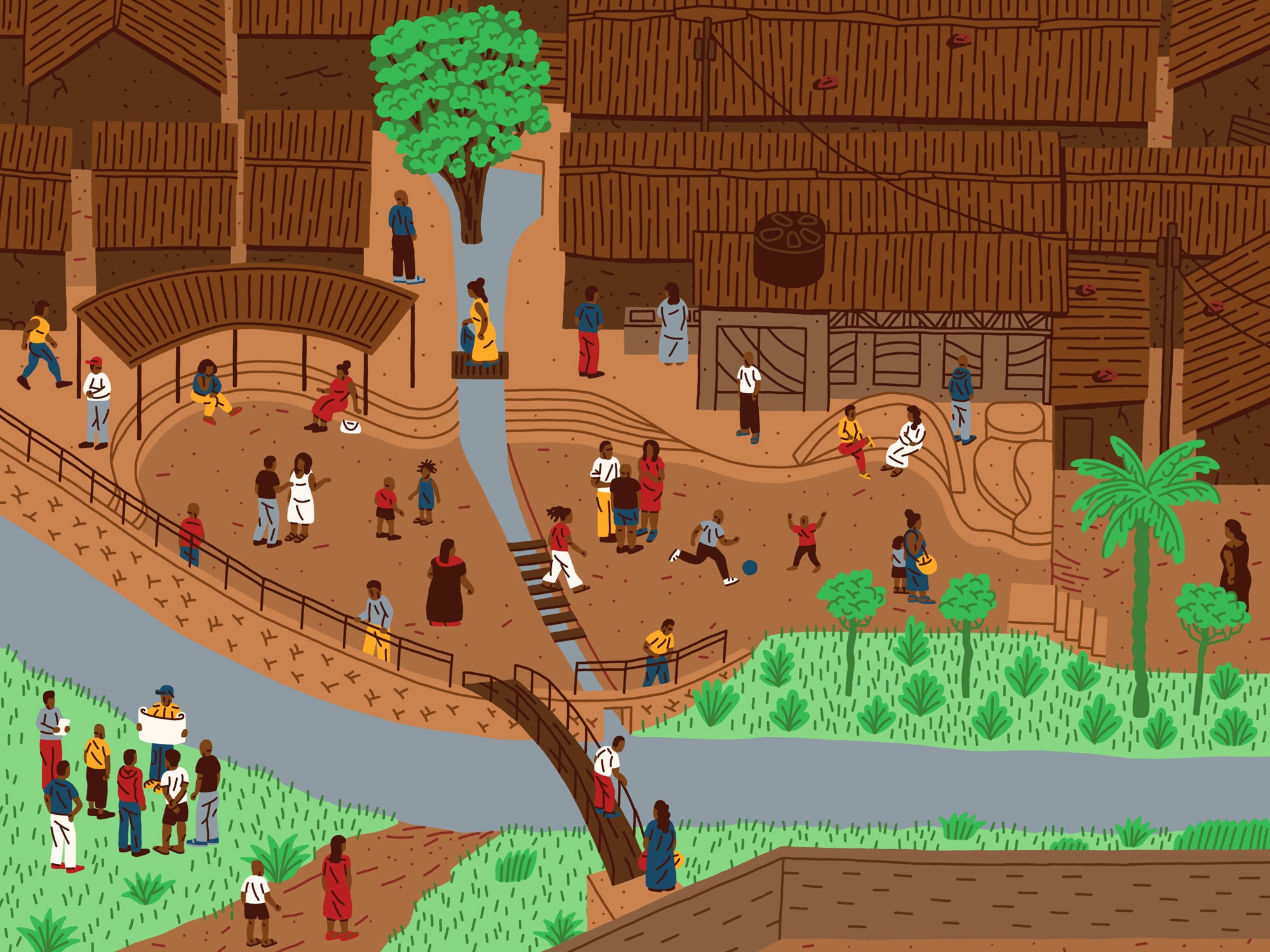 Kibera 7 Project 2 of 4
The Solution
KDI broke ground in 2014, starting with the reclamation of land that had been lost to the river. The bridge's construction not only enables people to safely pass across the river but also helps protect the site from the flooding that previously made it untenable. The shade pavilion provides space for events, commerce, and play areas for children.
"Both tangible and intangible resources are necessary to address the needs of a community while encouraging strong community ownership and identity," says Gatere. For KPSP07, that meant architectural structures in conjunction with management and financial training, which would allow residents to use the public space for commerce and gathering.
For Gatere, one of the greatest rewards has been bringing residents, local government officials, and the private sector into a productive dialogue. KDI's ability to leverage Kibera's many sites, organizations, and needs fulfills the organization's higher goal: working on projects that may seem contained to one physical site but in fact bring agency and ownership to historically disenfranchised communities.
To date, KDI has introduced seven public space projects in Kibera that turn human ingenuity and resourcefulness into tangible structures. "Kibera can be an inspiration in and of itself," says Mulligan. "[It] has an inherent ability to adapt to survive and, in some cases, to thrive."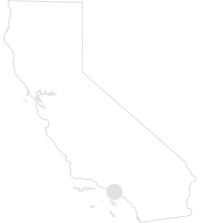 Free Lots Angeles
Los Angeles, California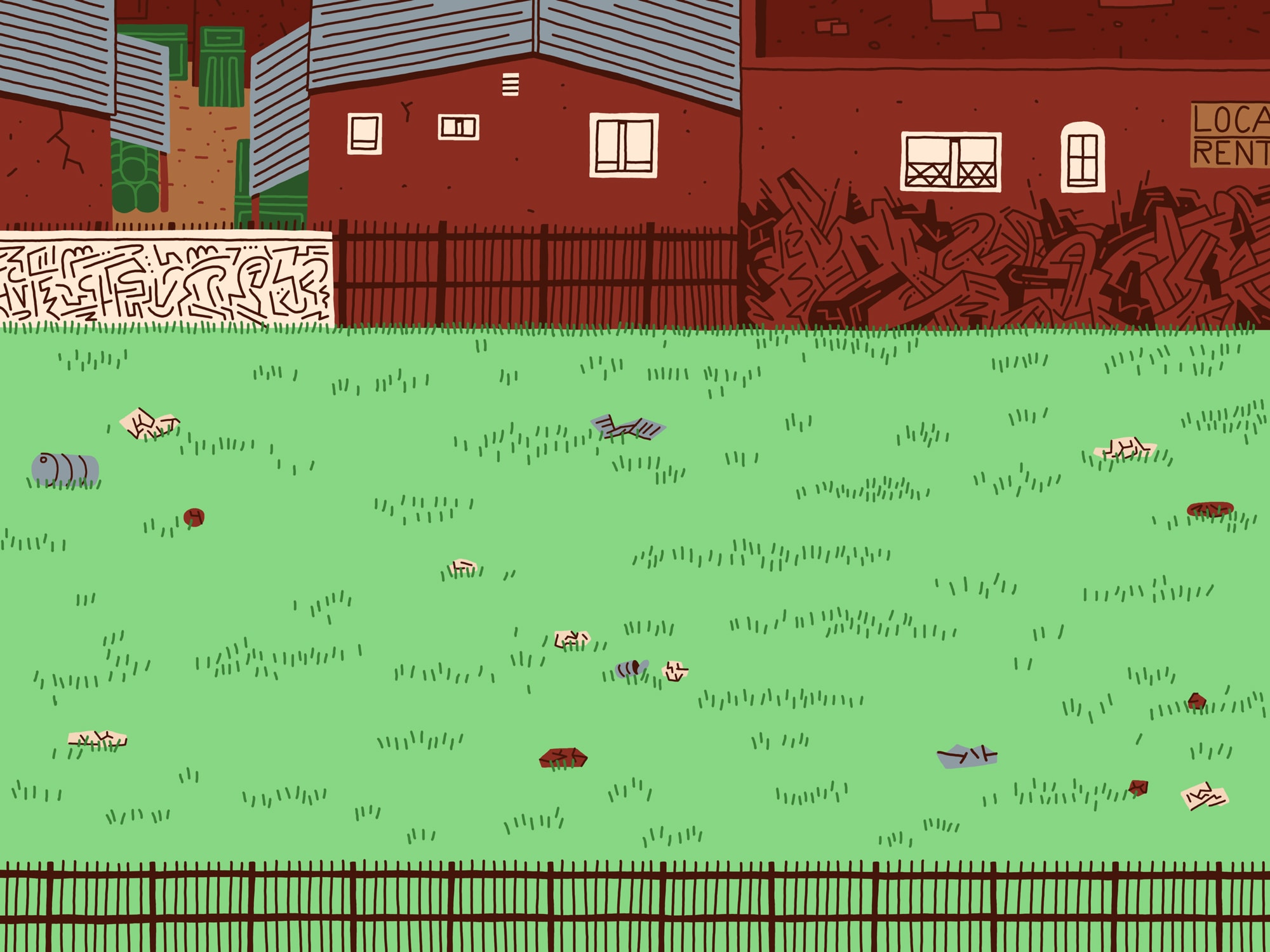 Free Lots Angeles Project 3 of 4
The Space
More than 22,000 vacant lots dot the city of Los Angeles, where a combination of urban sprawl and high demand for real estate has led to both land scarcity and real estate owners guarding their empty lots, waiting for profitable moments to develop.
These abandoned sites are more than just eyesores—they take a social and emotional toll on nearby residents. When KDI conducted neighborhood research, it found that residents often associated vacant lots with trash deposits, fear, and crime. Naria Kiani, a planning associate at KDI who has studied vacant lots since graduate school, is very familiar with the effects of such spaces on surrounding communities: "Having to walk by something like that every day is not only scary but reduces the aesthetic and quality of life in those neighborhoods," she says.
Now Kiani helps lead KDI's initiative Free Lots Angeles, with not just a goal of improving the aesthetics of certain sites but also of turning them into practical pathways for low-income communities to acquire political agency. "When they have a clear stake in the decision-making process and the projects that come from that, there's more ownership," says Kiani. "By organizing around the development of a piece of land, you can build capacity to advocate for the quality of life and improving opportunities."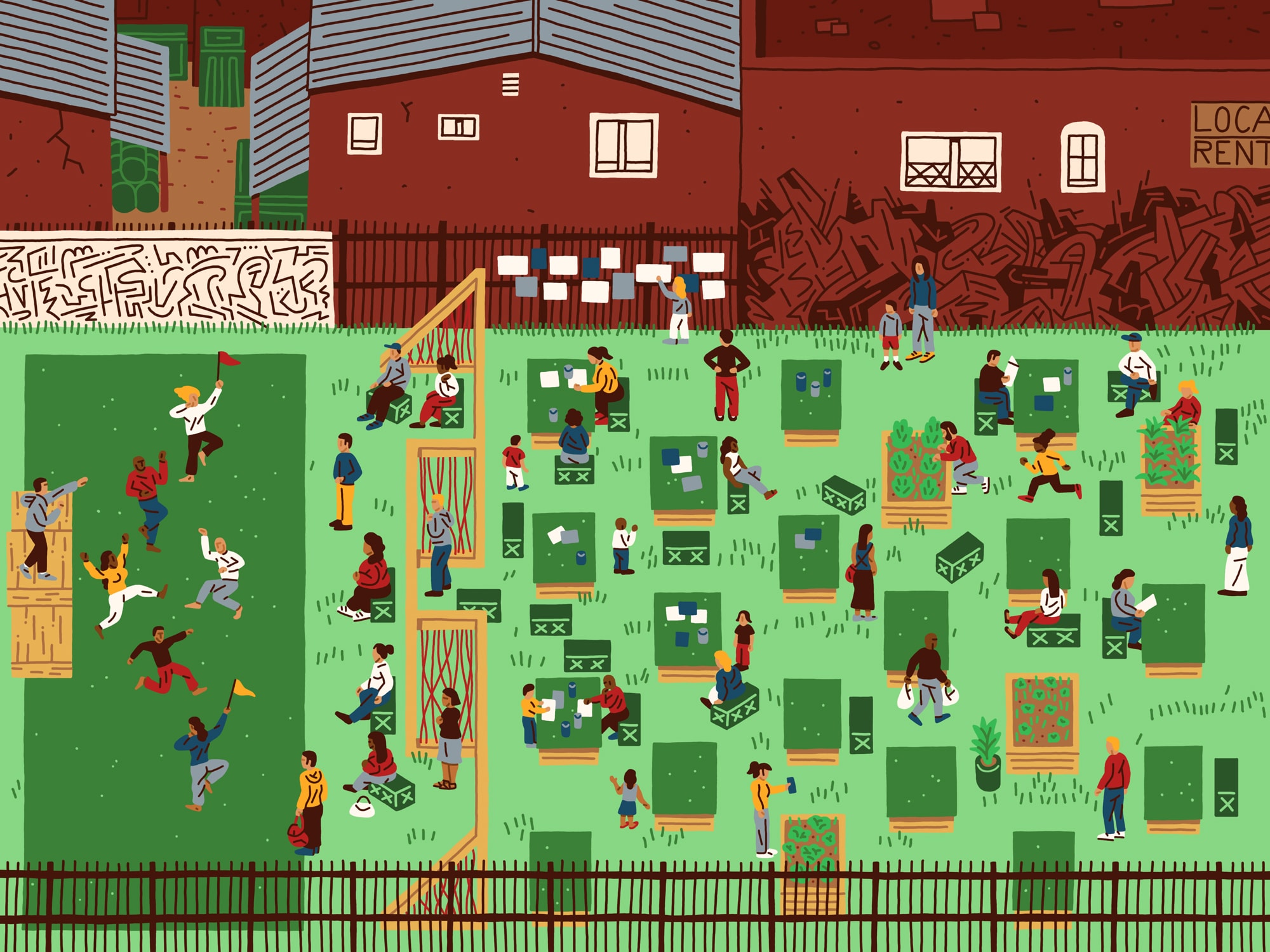 Free Lots Angeles Project 3 of 4
The Solution
Kiani and KDI spent two years hosting workshops, engaging residents, and staging pop-up events in vacant lots across the city to demonstrate the social and economic potential of unused space. In 2015, for Día de los Muertos, a Mexican holiday that honors loved ones who have died, KDI organized multiple rounds of dialogue with the community about potential activities and uses for the site's passive space. Local residents helped with outreach, painted murals, and constructed mounds and an altar to commemorate the holiday.
Ultimately, Kiani and KDI want to leave power in the hands of the community. Over the past year, they have been working with the city on a program that would permit residents to sublease vacant lots to host events, plant gardens, and whatever else the neighborhood ma need. Kiani hopes that people will begin to say something like, "We've done this in the short term, and we still think this land would be great for a community garden, so let's go to the city and advocate for that."
Free Lots Angeles beautifies the city and visibly demonstrates that every vacant lot is a doorway to community advocacy and improvement. Kiani believes that showing investment and ownership in physical space is important because, unlike socioeconomic structures and policies, it is tangible. KDI sees every vacant lot as an opportunity—and in the city of Los Angeles, there are more than 22,000 of them.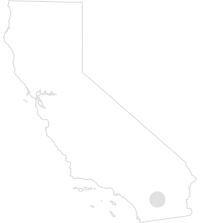 North Shore
North Shore, California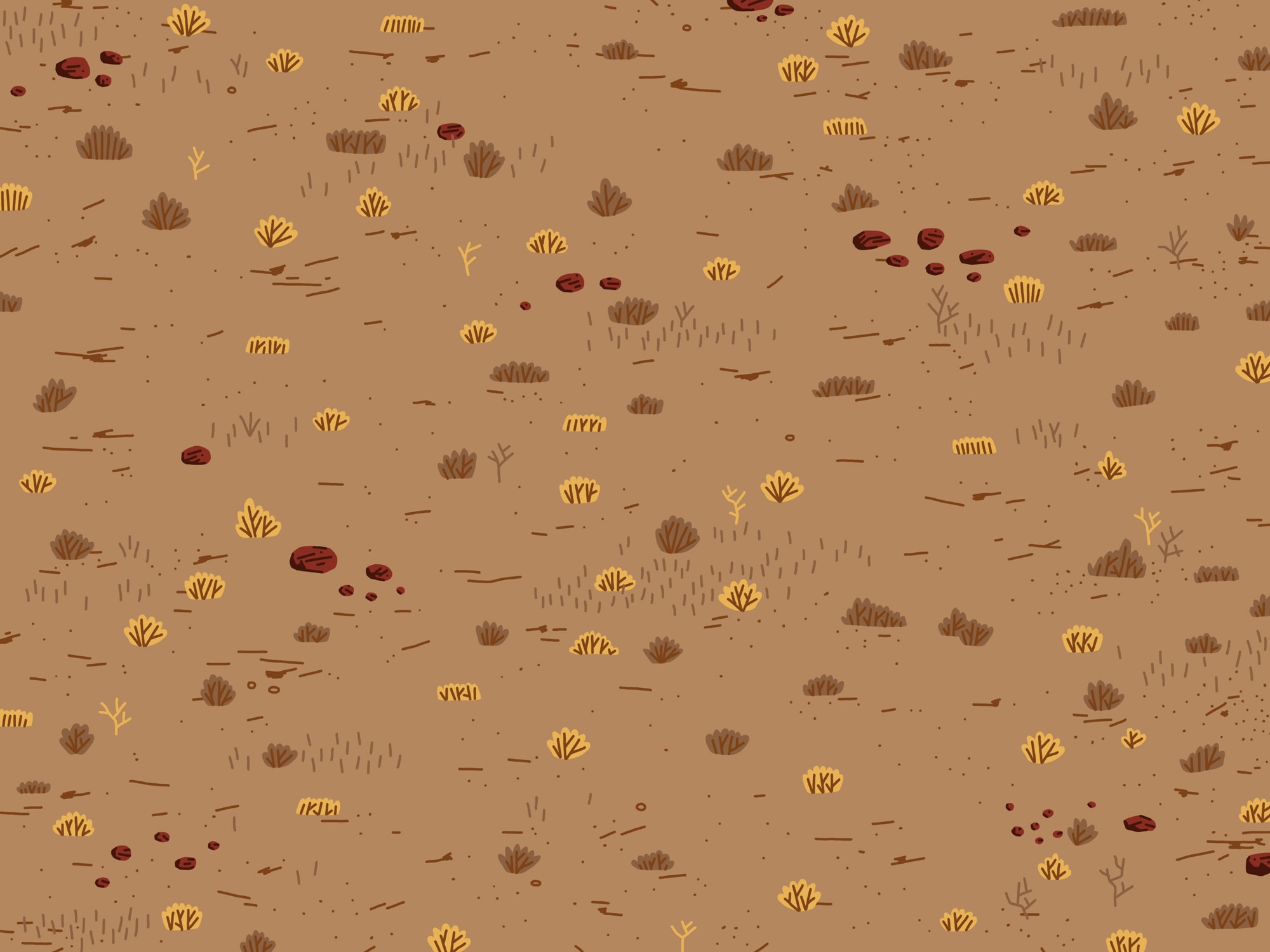 North Shore Project 4 of 4
The Space
On the edge of Southern California's Salton Sea lie the derelict remains of North Shore, a once bustling vacation spot. Now known for its abandoned structures, the town fell into disrepair beginning in the 1960s, as the sea's increasing salinity created a sulfurous stench and killed birds and fish by the millions. Today the town's 3,500 or so residents (largely low-income Latino families working in agriculture) remain isolated, suffering from severe air pollution and a lack of economic growth.
Local organizations identified a public park as the highest-priority need but were not satisfied with KDI's initial selection of a one-eighth-acre site. Jennifer Toy, cofounder and director of KDI, recalls residents saying, "If you're going to do a park, one eighth of an acre is not enough. What we really need are walking trails and places for us to exercise and relax and unwind. [We need] community gathering spaces and a soccer field." So KDI regrouped with community members, ultimately partnering with the Desert Recreation District to purchase a central five-acre piece of land in 2013.
The land was little more than a stretch of open desert with tumbleweeds and creosote bushes in a floodplain, but KDI saw promise. "The Mecca Hills are the backdrop, and the Salton Sea is on the other end," says Toy. "Sunsets in North Shore are spectacular, as is the night sky."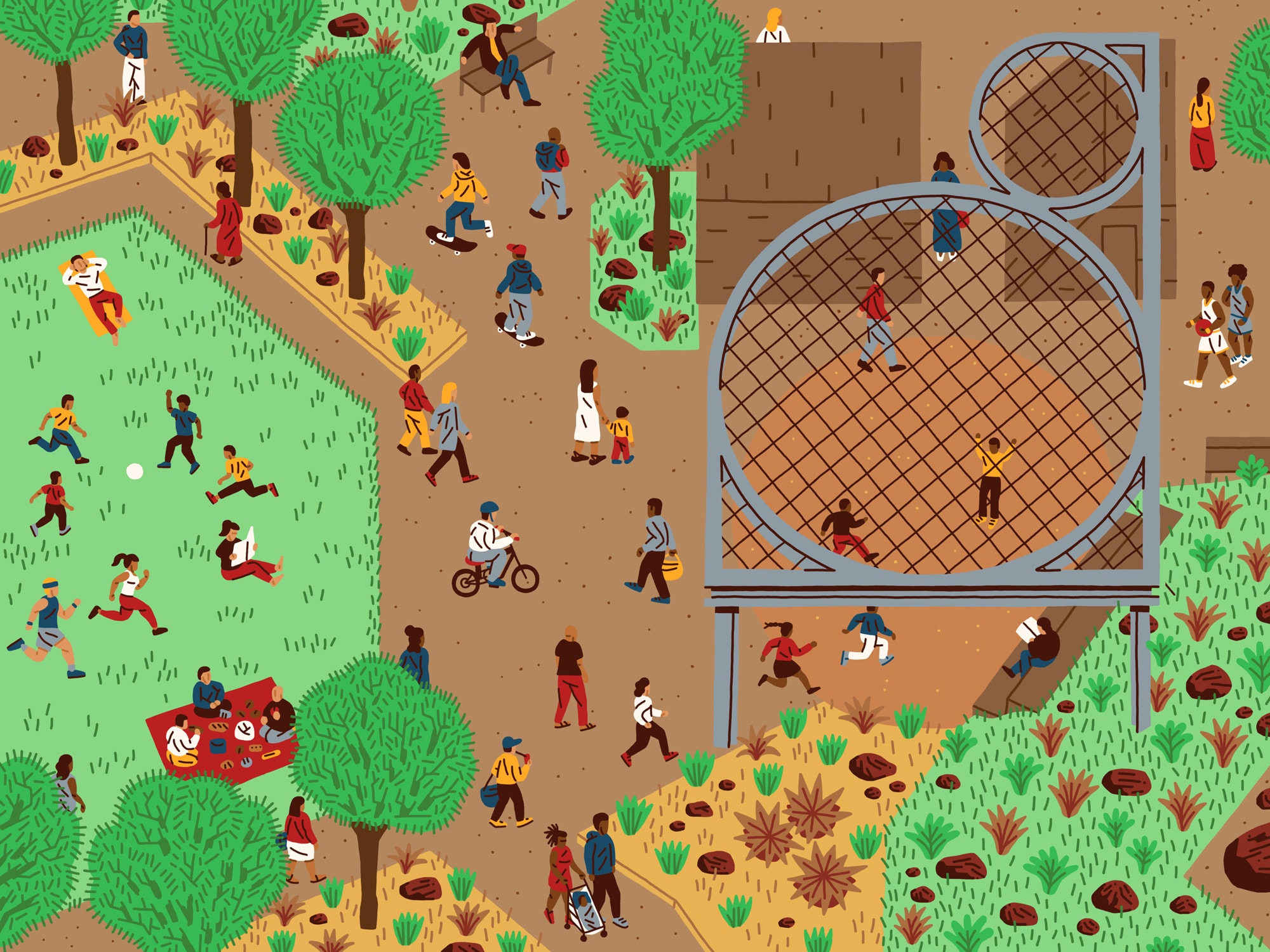 North Shore Project 4 of 4
The Solution
KDI has spent the past several years working on design and program development. It has also been running social programs focusing on mobility and bike-sharing, plus entrepreneurship courses that help residents take advantage of the public space to sell produce and goods. Construction on the park began this past fall.
Per the community's wishes, the park will have walking trails, desert plants, and a shade pavilion, which Toy describes as the heart of the park. "There will be a promenade lined with paloverdes, which are these great desert trees with this green bark and these brilliant yellow flowers. The women's food cooperative that we helped start will be able to have a farmers' market underneath those trees."
The park's design will blend seamlessly with the stunning natural landscape in which it is situated. Under the shade pavilion, Toy says, there will be a stage designed to reflect the local environment; the center will be decorated with the stars of North Shore's majestic night sky, a middle ring with the land's date palms, and an outer ring with the tilapia fish characteristic of the Salton Sea.
For Toy, this sense of place is significant. In these isolated low-income communities, there simply aren't resources to bring in high-end designers willing to spend time and money on constructing one-of-a-kind public spaces. As a result, projects in these areas often end up as generic constructions to which the community feels little connection. Toy believes that having a park designed in response to the environment and to the people—a park that is unique and specific to North Shore—holds value beyond its physical footprint. "What's so special about it," she says, "is our potential to bring to these places a sense of community and place and history."