Illustrations by Sarah Maxwell
More than a reading club, Free Minds refuses to close the book on juvenile boys caught in the adult prison system. Instead, it helps them turn the page.
A Criminal Past, an
Unwritten Future
More than a reading club, Free Minds refuses to close the book on juvenile boys caught in the adult prison system. Instead, it helps them turn the page.
Illustrations by Sarah Maxwell
About the Renewal Project
This story is made possible by Allstate and part of The Renewal Project, a series featuring the work of organizations committed to supporting local communities. For more stories of renewal taking place across the country, visit TheRenewalProject.com, and to subscribe to the Renewal newsletter, visit TheRenewalProject.com/subscribe.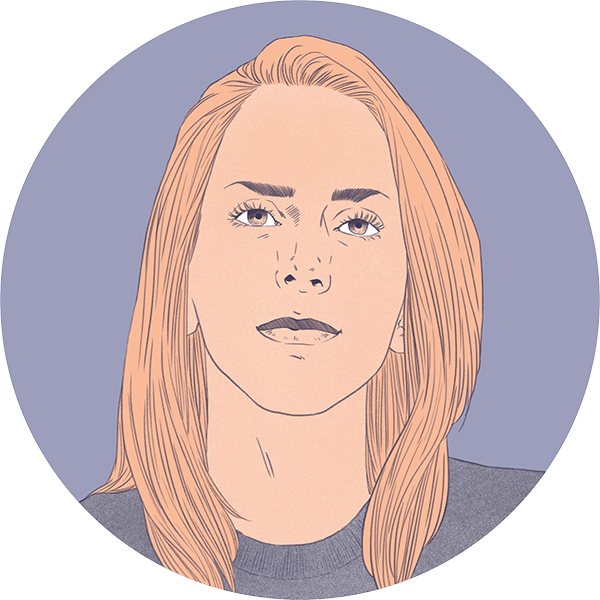 Kelli Taylor had her hands full as she climbed the steps to the second-floor offices of the Free Minds Book Club & Writing Workshop, the nonprofit she co-founded in 2002. Balanced on her left hip was a tattered card box. Beneath her right elbow, an overstuffed manila folder. "There's a lot," she said of the materials. "And these are just the ones I haven't responded to yet."
The manila folder held more than 100 letters and poems from men at federal prisons across the country. Most of the men were initially arrested as teenagers in Washington, D.C., where Free Minds is based. Through their correspondence, Taylor talks to these men about their hopes, their disappointments, their plans. More than anything, though, they discuss books.
The idea of separating juvenile offenders from the adult court system was introduced in New York City in 1825, eventually leading to the establishment of the first juvenile court in Chicago in 1899.
After grabbing a seat in the back of the office, Taylor sorted through the folder. She paused at one letter in particular. "This kid, they have him in Texas," she said as she scanned the words, handwritten in childlike block letters. "He's having his 17th birthday by himself." In the letter he wrote: "I miss you and the Free Minds family. Can you tell them I said, 'Hello,' and thank you for the books. Hurry up and write back. You're the only one who does."
The only one who does.
Twenty years ago Taylor never would've imagined herself filling this role for one inmate, let alone creating an organization that would do so for more than a thousand. But then one day an unexpected letter arrived on her desk, and everything changed. From the tattered card box Taylor pulled out a copy of that original letter.
From the first letter Kelli Taylor received from inmate Glen McGinnis
Greetings… I write this missive in the hope that I will be able to shed some light…
Glen McGinnis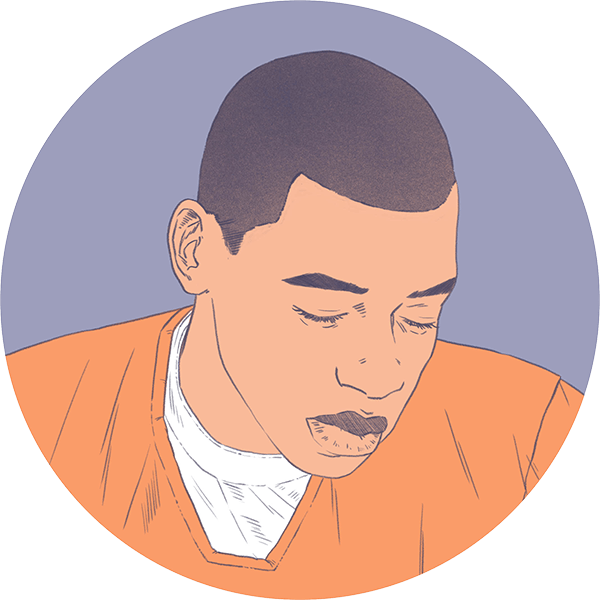 It was January 1996.Taylor was a freelance television producer based in D.C., working with the Australian Broadcasting Corporation, when she received a piece of mail from a man in Texas. His name was Glen McGinnis, and he'd been sentenced to death for a crime he committed when he was 17 years old.
Why had he written? The then-23-year-old thought a foreign network might be interested in his story in a way that domestic outlets would not be. While a man sitting on death row was hardly news in the United States, more than three dozen countries around the world had outlawed capital punishment. He suspected at least one would be interested in learning how many young men in the U.S.—at the time the only developed nation that allowed children under the age of 18 to be sentenced to death—were not only on death row but had been put there as minors.
McGinnis was right. Taylor's network aired his story a few months later—and it eventually garnered national attention in the U.S., though not in time to save his life. Despite appeals on his behalf from the European Union, the American Bar Association, and Pope John Paul II, McGinnis was executed by lethal injection on January 25, 2000.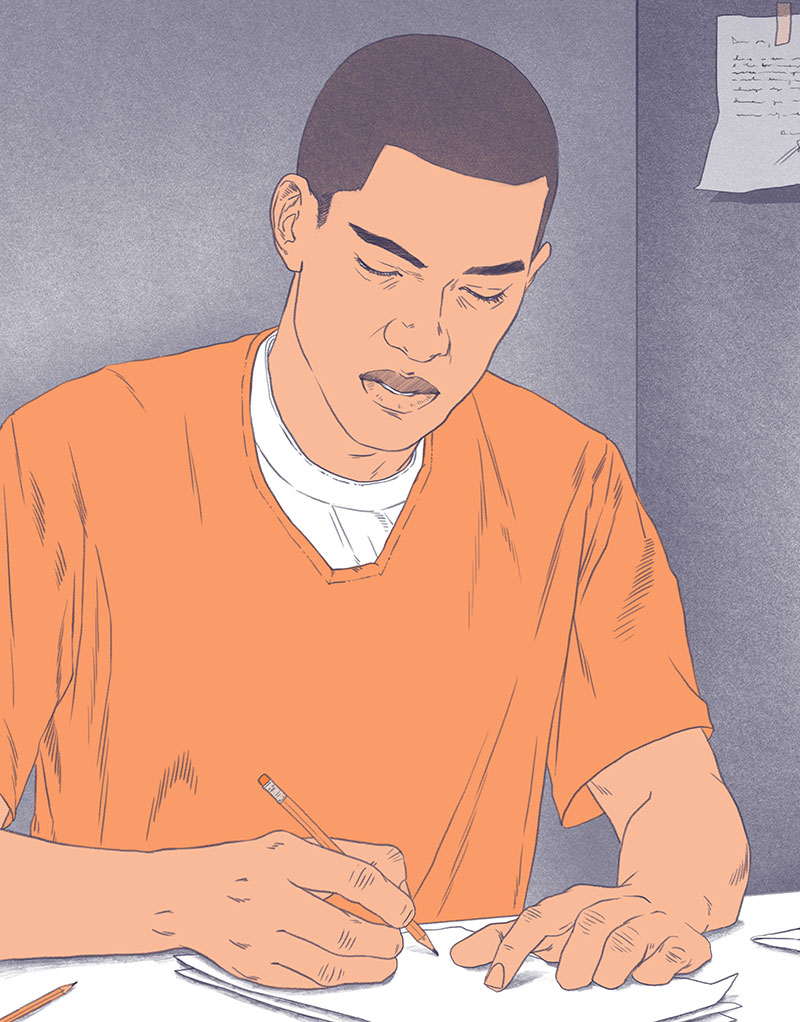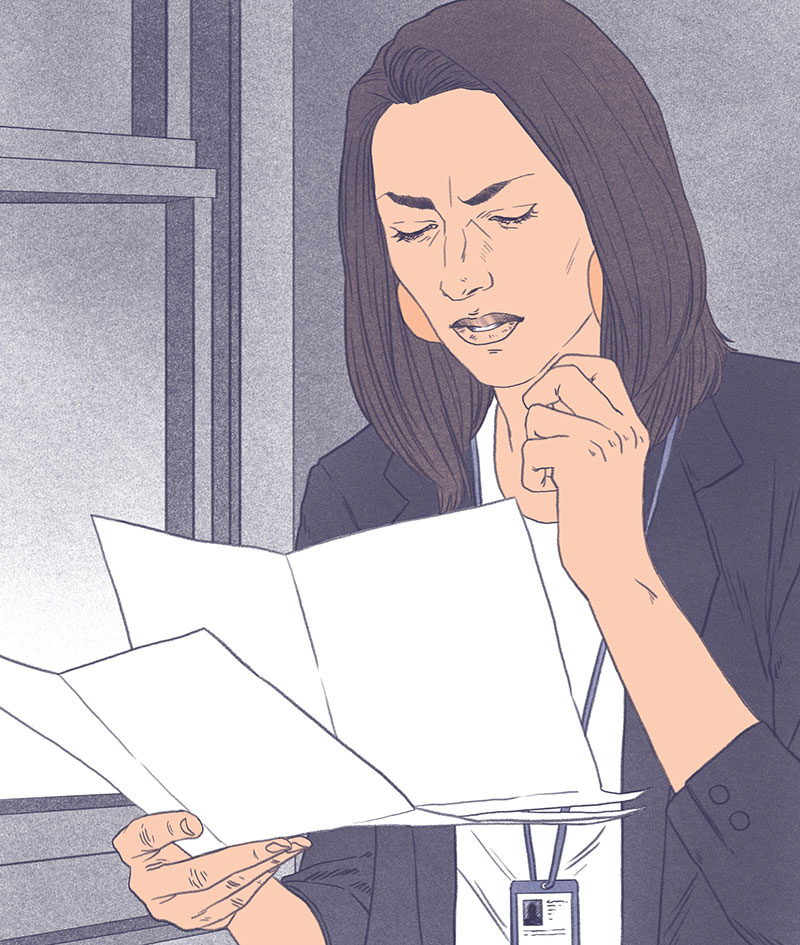 To many, youth offenders are a lost cause, societal washouts. But as Taylor learned through her correspondence with McGinnis—an unlikely friendship that continued until the day he died—there's always more to the story. McGinnis had been sexually assaulted and regularly abused as a child; he'd dropped out of school when he was 11; he'd barely known how to read at the time he committed his crime. In prison he slowly caught up on his missed education. He and Taylor started reading together, sharing thoughts on characters and story lines. She saw him transform into a mature, well-educated man who expressed deep remorse for his crime.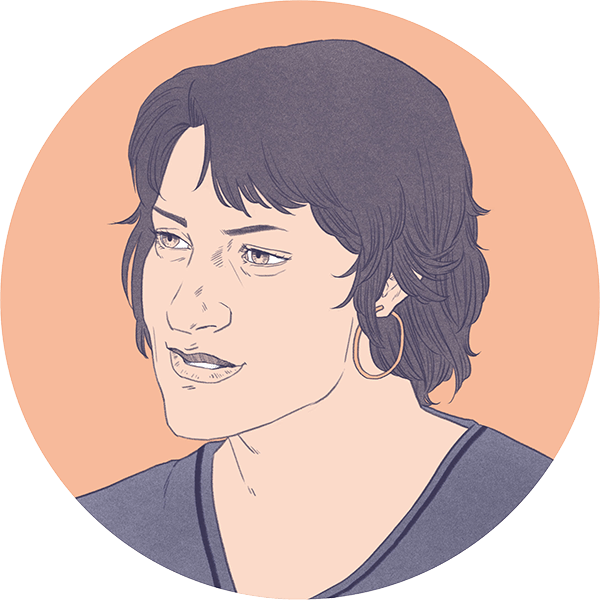 Inspired by the growth she saw in McGinnis and by his love of literature, Taylor began volunteering as a tutor at a jail in Virginia in 1998. Two years after McGinnis's death, she and fellow TV producer Tara Libert turned those volunteer efforts into a full-time mission of working with D.C.'s juvenile offenders in the same way Taylor had with McGinnis: through reading and writing.
Their message to these young men was simple: "You may be locked up, but your mind can still be free." Over time, what started as a book club transformed into a robust operation that supports D.C. men from the day they are arrested to the day they come home and beyond. Per Taylor, we need to be "able to see the humanity in each other." That's the piece that's missing from our justice system, she said—and that Free Minds attempts to fill.
From a letter to Free Minds
After reading Eckhart Tolle's book "A New Earth," I try not to judge situations as "good or bad." I've learned in life that oftentimes we judge things as bad that turn out to be good for us, and vice versa.
Free Minds member
Here's how it works: Every Tuesday and Thursday, a Free Minds staff member works at the D.C. Jail, splitting her time between conducting the book club and meeting one-on-one with inmates. Anytime a new boy is booked into the juvenile unit, the Free Minds staffers are among the first to know, and they invite him to join the group. Though some teens balk at the idea, most come around eventually. One previously reluctant member told Libert that he joined because it was the only place he saw people smiling. "I wanted to know why," he said. "No one smiles here, but all these people were smiling."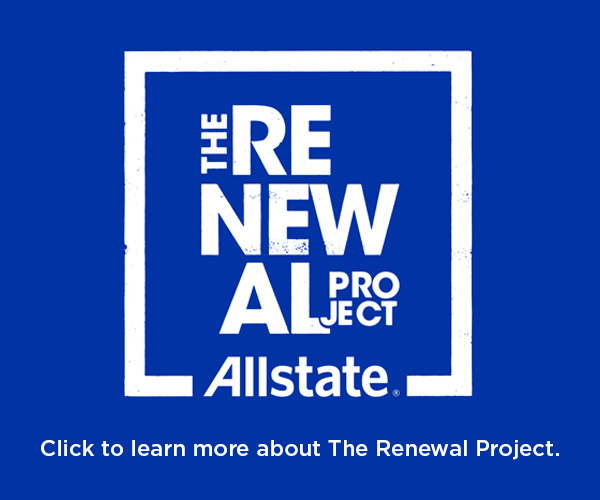 When the boys first join the club, they often start by reading a book set in Washington, D.C., featuring a protagonist who has been on the streets, who knows that lifestyle. This helps the members understand they can relate to characters in a book. Next they read a novel through which they learn to empathize with characters whose experiences don't mirror their own, such as The Book Thief's young German girl in the 1940s. They're also encouraged to write. This teaches them how to express themselves creatively—something that few have ever really attempted.
Though prosecutors maintained the ability to try juveniles as adults in certain cases, they rarely did so until the late 1970s. In that decade, rates of violent crime started to spike, and politicians called for "tough on crime" policies, leading to sweeping reforms in the ways that juveniles were prosecuted.
What might sound like basic literacy is remarkable for most of these boys. After all, many members were imprisoned when they were 16 or 17 years old, and most had either struggled through or dropped out of school by that point. Though rare, some are completely illiterate. One member recently hid this fact for weeks, asking a cellmate to read his book aloud. But as he anxiously waited to hear the story's conclusion, his cellmate told him the jig was up: He wouldn't read it. "He's like, 'I'm not telling you. You gotta learn how to read,'" said Libert. "And he did!"
From a letter to Free Minds
Your letter was more precious to me than a pound of gold. It made me feel human. Thank you.
Free Minds member
No matter how long their sentence, no inmate stays at the D.C. Jail for long. In 1997 Washington, D.C. was folded into the federal prison system. As a result, all who are sentenced are sent to any of the 122 federal prisons across the U.S. A year after the first Free Minds meeting, one of the group's original members was moved elsewhere—but Taylor and Libert refused to let distance disrupt their efforts. They mailed him books and discussed their reading through letters. They supplied him poetry prompts and encouraged him to write.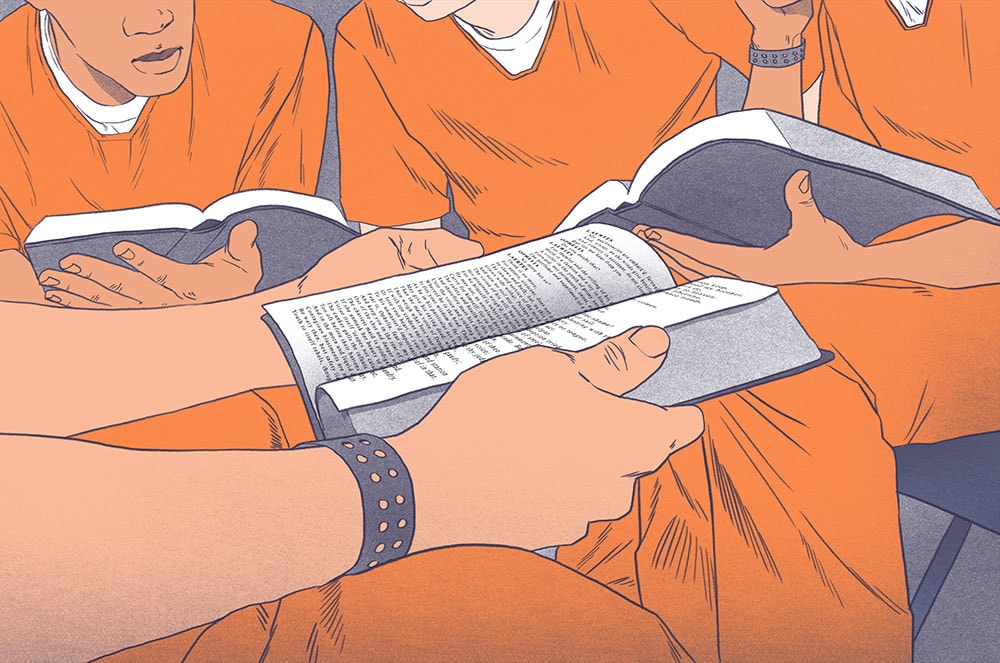 "We knew we needed to keep the supportive camaraderie that we had built at the jail alive," said Libert. Today Free Minds corresponds with inmates across the country, sending three books at a time to each member—one book is sent to all members, while two are selected specifically for each individual—along with writing prompts and critical-thinking questions. They also send a bimonthly newsletter and one personal letter each month.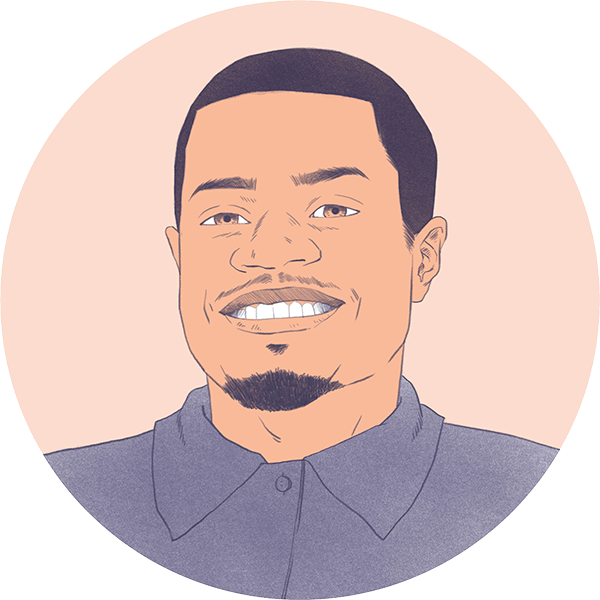 It's not a one-way relationship. The members often send back poems to Free Minds headquarters, which the staff then share with the local community at a weekly event called Write Night. The events often attract crowds of 150 or more, and attendees offer feedback and encouragement in response to the poems, which is then mailed to the incarcerated members. This exchange serves a dual purpose, per Libert. For one, it shows the inmates that people in their city support them. And beyond that, it helps folks in the community understand what these men experienced as children and what they attempt to overcome when they are released.
"They helped me change my whole mindset of going back out to the streets and doing something wrong," said Brandon Hargraves, a member who corresponded with Free Minds throughout his five-year sentence. "All the letters and all the writing prompts helped me really understand the right from wrong that I was doing."
For fellow member Hosea Stevens, it was all about the books. Now 26, Stevens served a six-year sentence for a crime he committed when he was 17. He'd always been a strong student, and in prison he picked up his old reading habits: Think and Grow Rich and Rich Dad, Poor Dad were two of his favorite books. "I was just trying to develop my courage," he said, explaining his choice of self-help literature.
But all the courage in the world couldn't have prepared him for how hard it would be when he got out.
From a letter to Free Minds
I will always be in touch with the Free Minds family. I know you guys are a positive safety net which I need when I come home.
Brandon Hargraves
When released from federal prison, D.C. natives are given a bus ticket back to their home city. After that, they're on their own. However long their bus journey—some are days away, others just hours—all returning citizens have to scramble to figure out the basics of what comes next, like where they'll live and how they'll support themselves.
"You're coming home and you're a grown man," said Stevens, who entered the prison system as a baby-faced teen and came home, six years later, with a full-on beard. Before he was locked up, his mom was still putting food on the table, buying his clothes, and paying rent. He'd never so much as bought his own boxers. But that changed by the time he got out. "Nobody's gonna take care of a grown man."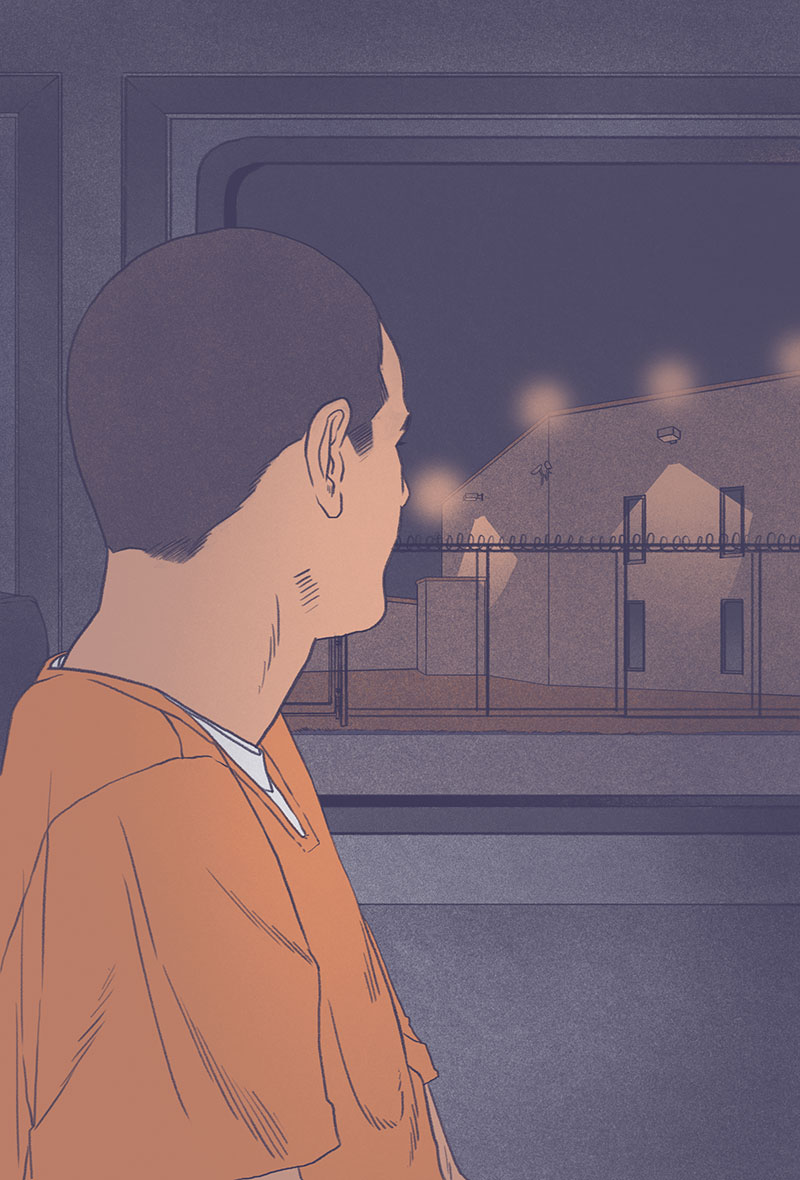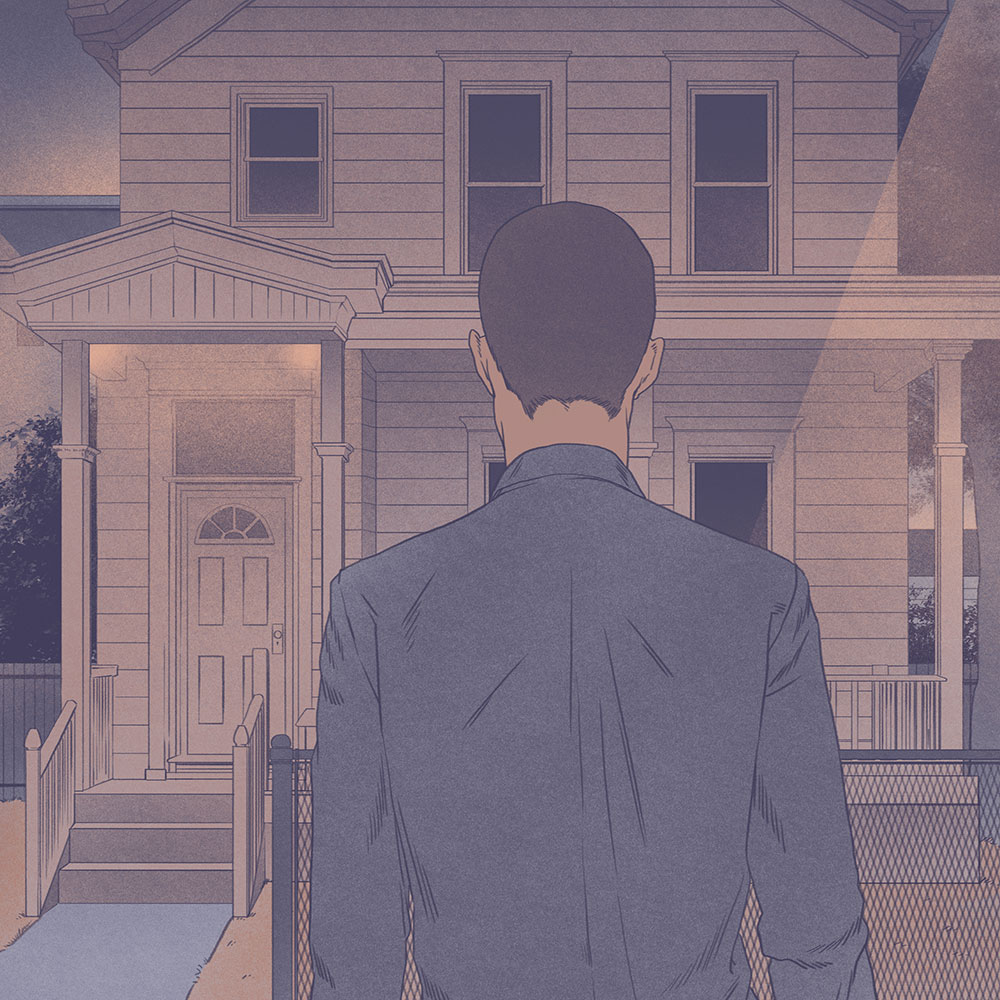 This adjustment is an underappreciated challenge for youth offenders who've spent years behind bars. "We haven't experienced adulthood," said Stevens. "I didn't have a job before I went to jail, so I don't know how to go about stuff—how to contact employers and stuff like that." According to the Campaign for Youth Justice, the vast majority of youth offenders sentenced as adults are released from prison by their 25th birthday, which is expected to leave them time to find a job and build a life. But with an adult conviction on their record, it's harder to get an education, skills training, or a job.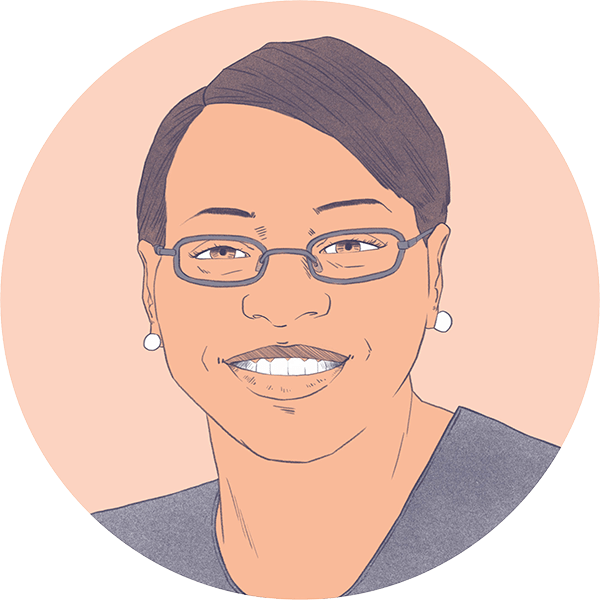 Here, too, Free Minds steps in. Within hours of being released from prison, all members hear from Keela Hailes, the head of Free Minds's reentry program. Her son joined Free Minds while he was locked up—he was initially arrested as a teen, released, and then convicted of another crime—so Hailes knows all too well the obstacles these men face, from finding housing and employment to supporting children and avoiding the lure of their past life.
The need for money is particularly challenging and often becomes an Achilles' heel. As the men quickly learn, most employers won't consider hiring a felon. Still, Free Minds connects members with a job-readiness program, which is how Stevens landed an internship two months after being released. Though that company didn't keep him on after his placement term because of his criminal record, he later secured a part-time job in construction and has since made it a full-time role. Now he's talking about setting up a retirement account.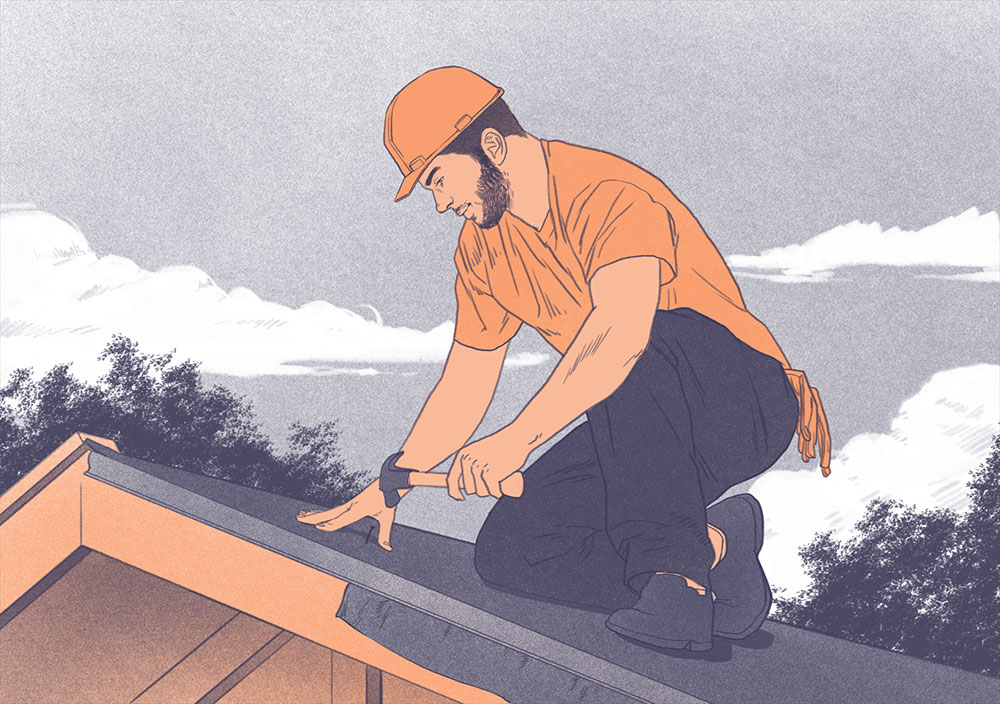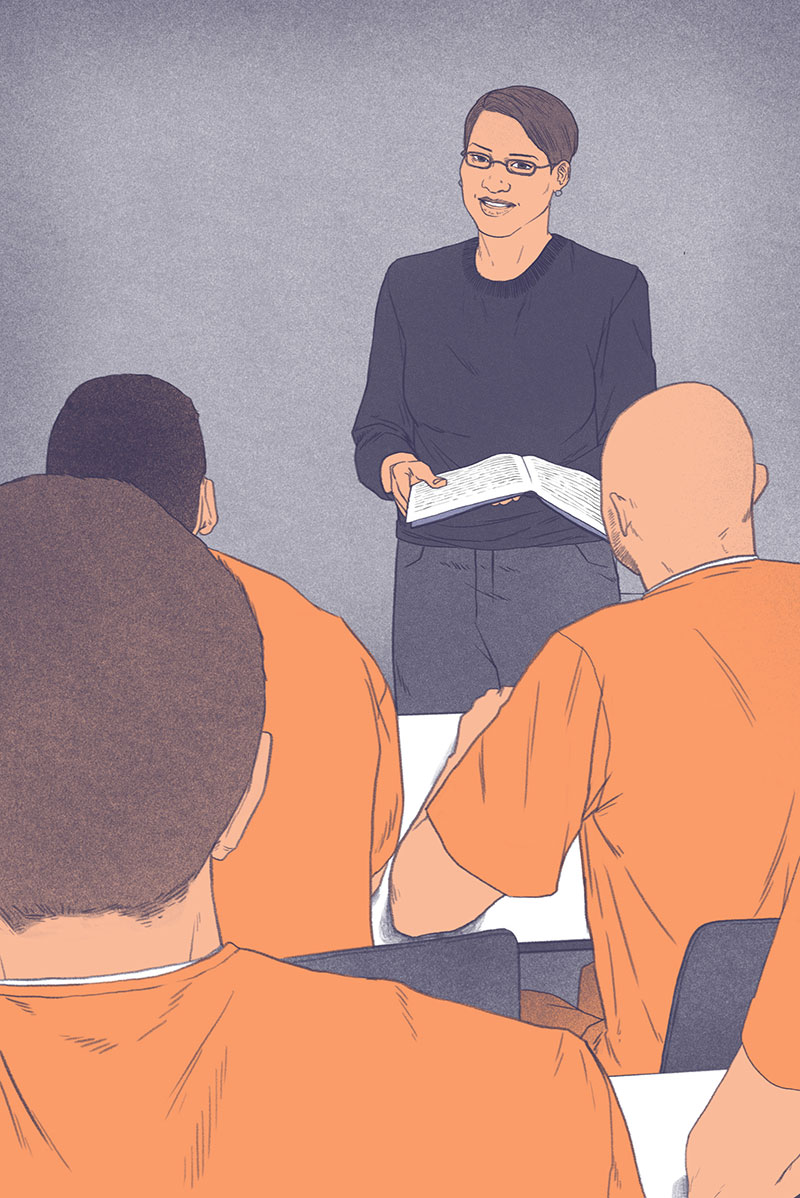 However, not everyone can wait two months to find gainful employment. (Stevens was lucky that he could live with his family again.) "A lot of our dudes come home, they want to hit the ground running," said Hargraves, who now interns in the Free Minds office. When jobs don't materialize, some members are tempted to earn money by other means, like selling drugs. They may justify their actions as a stopgap measure, Hargraves added, "but then, once they start hustling them drugs and waiting for that [job] to come around, they're like, man, forget that."
In 1978 New York State passed a law stating that a 13-year-old accused of murder must automatically be tried as an adult. In other words, a child might stand trial in an adult courtroom before ever sitting through a high-school homeroom. Other states followed suit.
Every morning, Hailes calls members on the outside to make sure they are still on track and to check for acute needs. On Fridays she meets them at a coworking space in D.C.'s Chinatown, where they go through job-readiness exercises and are given a chance to share their struggles with one another. Chinatown is a safe, neutral neighborhood for members, many of whom once pledged allegiance to rival groups. Some of the men become Free Minds ambassadors, visiting local schools through On the Same Page, a program Libert spearheaded in 2012 to send Free Minds members to talk to students about avoiding the prison pipeline. (They are paid a stipend for this work.) Hailes and Libert also work tirelessly to connect members with other reentry services throughout the city.
To date, about 350 Free Minds members have gone through this reentry process with Hailes—and, thanks to a new D.C. law, dozens more may soon join them.
From the opinion of the court, Supreme Court, Graham v. Florida, 2010
The sentencing practice at issue has been rejected the world over: The United States is the only Nation that imposes this type of sentence.
Justice Anthony M. Kennedy
On December 7, 2016, D.C. Mayor Muriel Bowser signed the Comprehensive Youth Justice Amendment Act of 2016, formally changing the way the city treats juvenile offenders. In addition to instituting other reforms, the new law eliminates mandatory minimums for juveniles charged as adults, bans the use of juvenile life sentences without parole, and promises a resentencing for any D.C. man or woman who was arrested as a juvenile and has served at least 20 years. It also increases the availability of rehabilitative services to minors and their families.
The decision was the latest in a series of youth-sentencing reforms accomplished over the past decade-plus. McGinnis's case and others like it helped inspire a 2005 ruling that outlawed the death penalty for youth offenders. In 2010 the Supreme Court decided that youth who commit non-homicide crimes cannot be sentenced to life without parole. As of 2017, most states no longer automatically try juveniles as adults when they're accused of a misdemeanor; North Carolina, the only state that still automatically tries 16-year-olds as adults in all cases, is expected to raise the age by special committee this year.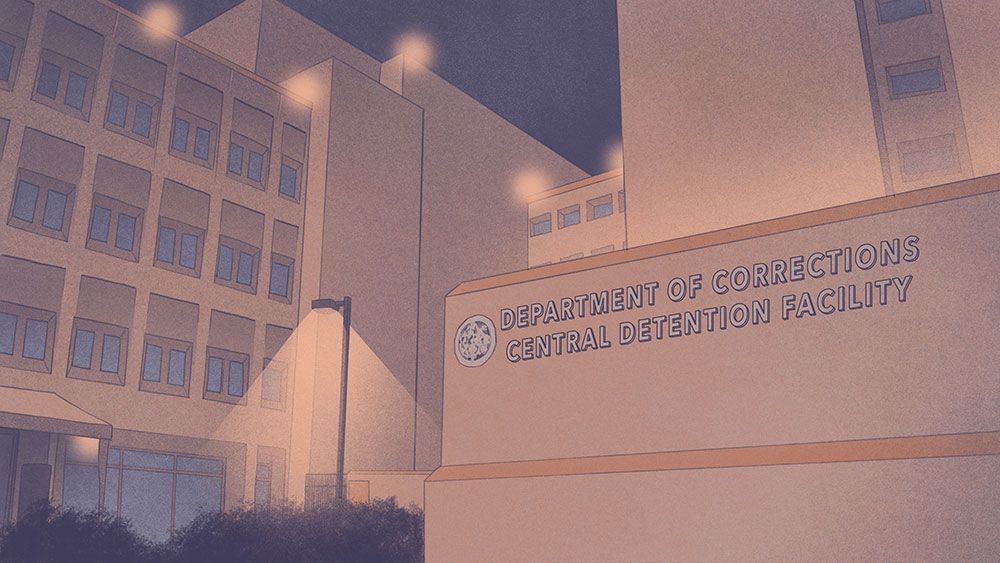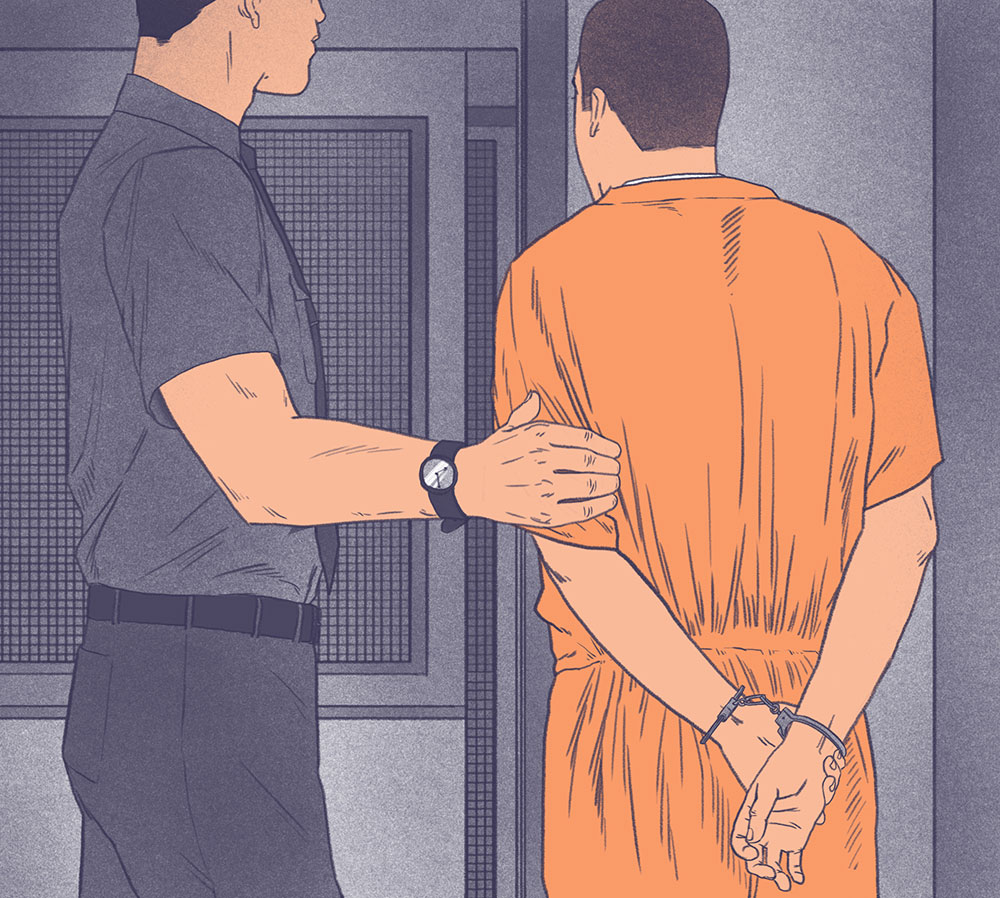 Advances in our understanding of brain development have driven much of this reform. Neuroscientists have found, for example, that the brain is not fully developed until a person reaches his or her mid-20s. In adolescents, the areas of the prefrontal cortex that are responsible for cognitive processing and the ability to weigh consequences are still forming. This makes minors more vulnerable to stress and more impulsive. Exposure to violence further delays this development. In surveying youth who have been convicted as adults, researchers have noted higher-than-average rates of exposure to violence, which implies that those youth were even less likely than the average teen to have a strong sense of consequences or to have the brain capacity of an adult.
In 1985, about 7,000 young people were tried as adults; by 1994 that number had jumped to 13,200. Today as many as 250,000 U.S. minors are sent to adult courts each year.
What's more, research indicates that sentencing minors as adults does little to reform their behavior. If anything, it makes it worse: Youth sentenced as adults are twice as likely to re-offend than are their peers who remain in the juvenile system for the same crime, and 34 percent are more likely to commit new crimes. Failing this group is tremendously costly, both in tax dollars spent on mass incarceration and in the estimated $4.7 trillion dollars of potential GDP contributions the country loses from the 6.7 million so-called "disconnected youth."
It doesn't have to be this way. Officials in King County, Washington, for instance, recently announced that youth crime will now be treated as a public-health issue and that incarcerated youth will be treated with a trauma-informed approach. King County—home to Seattle—will be the first jurisdiction in the U.S. to attempt to handle juvenile justice as a health issue, according to The Seattle Times. In announcing the decision, officials cited studies showing that with proper education and programming as well as adequate support upon release, minors are capable of dramatically changing their behavior and becoming successful adults.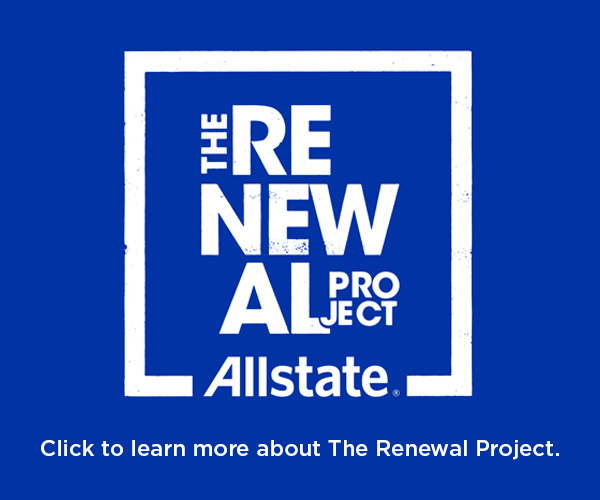 Free Minds bears this out: The average recidivism rate among its members is one in three, and that number varies by year. Of those who returned home in 2016, for example, just 5 percent have returned to prison. By comparison, 67.8 percent of U.S. prisoners released each year are re-arrested within three years, and more than 55 percent of those re-arrests occur within the former inmates' first year out. The key to Free Minds's success, in many cases, is to recognize the lasting impact of a tumultuous childhood, to prepare them for the adult world—a world that, before going to prison, they'd only experienced as children––and to give them the tools, like reading comprehension and writing, to become their own advocates.
From a poem by a Free Minds member
It was a hard lesson learned That money has a million ways to be earned If you sit and wait your turn Life lessons will be learned.
Hosea Stevens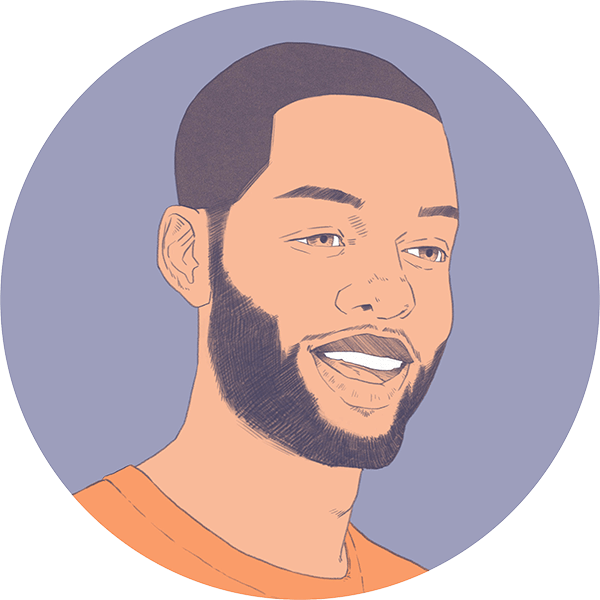 On a recent afternoon, book club members trickled into the Free Minds office. Libert sat at her desk and responded to emails. When Stevens came in around 3 p.m., the executive director asked him to pull up a chair. He removed his construction-site safety vest and placed his hard hat on the edge of a nearby bookshelf. There they sat, for hours, just chatting. As day turned to night, Libert asked him a question. It was a simple question, but it captured one of the greatest challenges so many of these men face. "Do you think it's tough," she said, "tough to stay away from your old friends?"
Stevens looked down at his hands, then back at Libert. There was a smile on his lips, but not quite in his eyes, as he considered the question.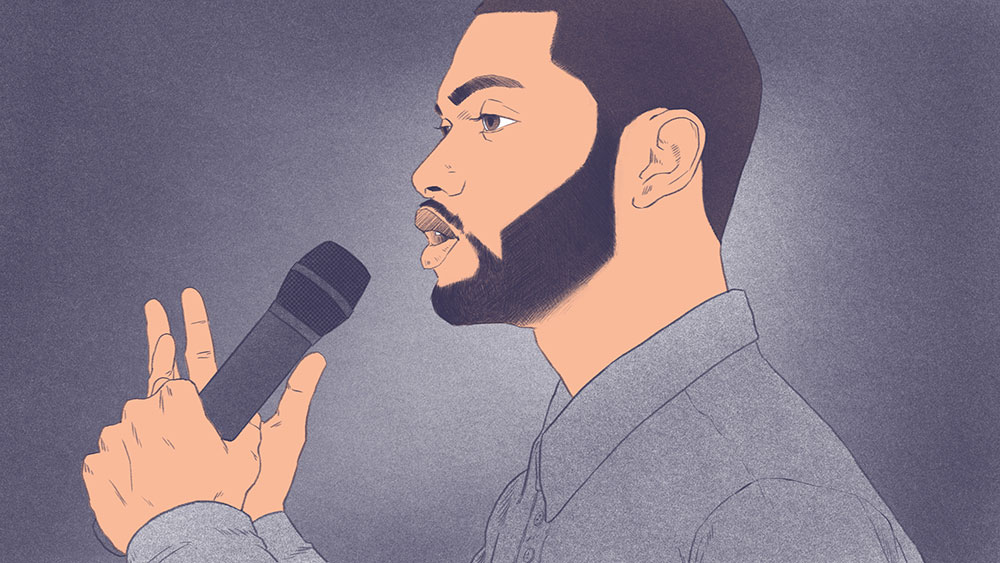 "I'm sitting right here," he said, finally. "It's Friday, I done got paid, all that, and look where I'm sitting at? I don't even work here!" He rocked back in his chair, spread his arms wide. "I could easily go outside—[there are] a hundred people I know around my neighborhood. We gonna laugh, kick it, and all that."
The number of juveniles tried and incarcerated as adults reflects a profound disconnect with other crime trends in the country, as violent crime rates have fallen year over year for the past two decades.
Looking around, he seemed to contemplate this alternate reality, what might have been, and how effortlessly he could step back into his old life, the one that would likely land him back inside the system he worked so hard to escape. "I'm just trying to be different," he told Libert. "You're my people now."
My people.
Because they responded to his letters. They sent him books. They showed up when he came home. They recognized that there's always more to the story.