This is the first of a three-part series exploring a revolutionary idea: that our communities can and should be designed not for singles or families or any one age group but for people at every stage of life, from infancy through retirement. What follows is an excerpt from Where We Live: Communities for All Ages, a book from AARP that celebrates a few of the far-sighted community leaders across the country who are reimagining our cities and neighborhoods and the American way of life.
It's simple common sense. A community that provides easy transportation access to its citizens is a community that works… better. It's about connecting people to the jobs, schools, stores, doctors, and social activities they use every day. Without public transit, bike lanes, and walking paths that encourage outdoor exercise, many residents risk being cut off from opportunities to work, socialize, and maintain a daily routine.
This is particularly true for older Americans. Driving becomes challenging as we age and walking gets more difficult and dangerous. Pedestrian fatality rates start increasing significantly at age 45, and by age 75, a person is more than twice as likely as a 16-to-20-year-old to die by being hit by a car, according to the National Highway Traffic Safety Administration. To this end, improving transportation infrastructure to make it safer is still the No. 1 priority for cities looking to expand their transportation options. Filling potholes and keeping sidewalks repaired may seem like minor concerns, but they have a major impact on residents and should be critical priorities for local governments.
Pedestrians and cyclists need to be able to safely share the road with vehicles. More people walking and biking means local governments must rethink their approach to road safety. From dedicated bike lanes and improved crosswalks to re-engineered traffic signals and pedestrian-safety programs such as Vision Zero (a global effort to eliminate fatalities and serious injuries from vehicular causes), more mayors across the country are transforming their cities' transportation systems with a focus on making walking and biking safer and easier. Today, these basic services are an important foundation for building multimodal transportation systems that serve everyone in a community.
Mayor Greg Stanton of Phoenix, Arizona is leading his city to a more accessible future, with expanded transportation options as the centerpiece. A light-rail system introduced in 2008 reached its projected 2020 ridership target six years early, and a bike-share program launched in 2014 attracted more than 2,000 members in its first four months. The latest success is voter approval of a dedicated sales tax increase that will pay for a 42-mile expansion of the light-rail system as well as additional bus routes and road improvements.  Mayors around the country, take notice! That means they not only use it, but they recognize its value and are willing to fund it—out of their own pockets.
This multimodal approach is designed to help Phoenix residents get to jobs, schools, health services, and cultural and social activities without getting behind the wheel, a bonus for young and old alike. The benefits of improved transportation options are clearly cross-generational, in more cities than Phoenix. Young people have more options to get to school and recreational activities; families can take public transit to museums or walk to a park; older residents stay independent, safe, and engaged with their communities; and workers of all ages can easily commute to their jobs. What's more, making streets safe for cyclists can boost the bike-to-work movement and exercise opportunities. Investments in transportation help keep people moving.
Q&A with Jennifer Gallagher, Director of Public Service, City of Columbus
The City of Columbus, Ohio, is a pioneer in public transportation. Its master plan to improve the city's public transit system, called #SmartColumbus, has attracted national attention and praise. The city even won the U.S. Department of Transportation's Smart City Challenge in 2016, which came with a grant of approximately $50 million to help Columbus implement improvements and "reshape [the city's] transportation system."
We asked Columbus's Director of Public Service, Jennifer Gallagher, how Columbus envisions its future and how cities and towns can become more livable for their residents.
Q. What was the main focus of the Smart Columbus program? Who is it designed to help?
A. Mayor Andrew Ginther has said, over and over, that his goal is to move residents out of poverty, people that have not been as fortunate in the success of the city as other citizens. So, for the Smart City Challenge, we looked at how we can use transportation to help people access educational opportunities, jobs, health care, and other opportunities that would help make their lives better.
Q. What are some of the technological advances that Smart Columbus has in store?
A. In the commercial district, we're looking at autonomous shuttles—first on specific, predefined routes. Then, long-term, we hope to be able to expand the shuttles to more and more areas.
In the residential district, we're implementing a rapid-transit line of buses, and we're looking at smart streetlights with WiFi. That would give people in that area access to WiFi, and a payment system we plan to establish in our WiFi network.
Q. How has Smart Columbus improved residents' quality of life?
A. Residents in the Linden, Ohio, area don't have access to a good grocery store with fresh foods. Most of them end up having to buy their food at a convenience mart. Usually it's not fresh or healthy, and it's more expensive. But that's their only option.
We'd like to be able to find a grocer that would move there. But in the meantime, we can offer them more transportation options, so they feel that it's easy to get to a grocery store in a neighborhood next door. We want to give them access to those foods that they otherwise couldn't get.
Q. What should communities focus on when they plan improvements? How can communities make themselves more livable?
A. The big thing that we've learned through all of this is it's not something a city can do on its own. We are fortunate to have great relationships with our neighborhoods, so we've done a lot of outreach with the neighborhoods. We didn't want to go in and assume we knew what their issues were, what our residents' main concerns were. We wanted to hear that from them, and hear how they thought Columbus's issues could be solved. We can use transportation to improve quality of life in ways we may not have thought of if we hadn't gone out to talk to them.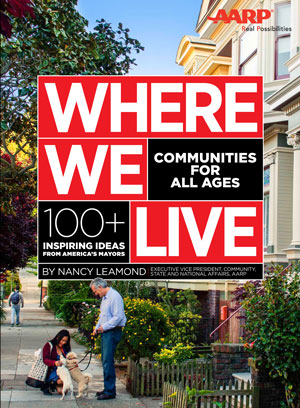 This article is an excerpt from Where We Live: Communities for All Ages | 100+ Inspiring Ideas From America's Mayors, by Nancy LeaMond, AARP Executive Vice President, Community, States and National Affairs. You can download or order the free book, read more examples online—and share inspiring examples from where you live—at AARP.org/WhereWeLive.