'There Is No Pressure for a Girl to Be a Girl'
My quest to understand why some of my female friends are drawn to the frattiest social club on campus.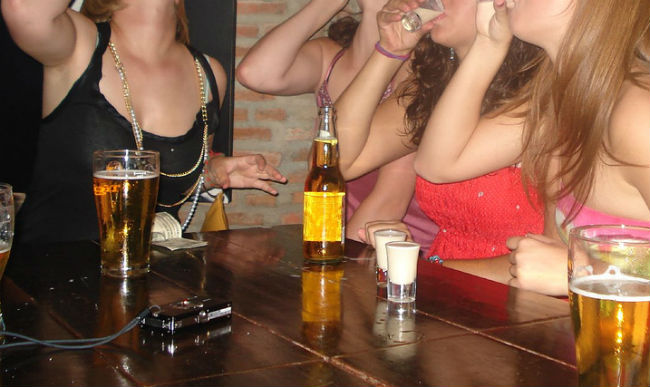 Walk down Prospect Avenue in Princeton, New Jersey on the first Sunday in February, and you'll find a horde of shivering college sophomores huddled together on a front lawn, smeared in ketchup, maple syrup, and egg yolk. They're organized into stations: one group choking down live goldfish, the other pounding out push-ups as senior members shovel dog food into their mouths.
These are the students trying to win membership at Tiger Inn (or TI), widely known as the frattiest and hardest-drinking of Princeton University's 11 eating clubs -- exclusive institutions similar to co-ed fraternities. This group is loud, unafraid, and endowed with a collectively remarkable gag reflex. But the most striking thing about the students standing on this lawn? Most of them are girls.
In 1991, the New Jersey Supreme Court forced Tiger Inn, the last of Princeton's formerly all-male clubs holding out for brotherhood, to open its doors to women.  When the club admitted 27 female students a few weeks later, the Philadelphia Inquirer declared that the change yielded a "kinder, gentler" Tiger Inn--one with less nudity, more chivalry, and the freedom to drink root beer. When the club first went co-ed, the story went, the men of TI were on their best behavior. And in 1991, maybe that's what the new female members of the club wanted. But in 2012, when, for the first time, more women than men applied for a spot in Tiger Inn, they weren't looking for politeness and well-groomed gentlemen in suits and ties. Now, women join for the debauchery, not in spite of it.
I'm a student at Princeton, and before I even arrived on campus my freshman year, I heard the Tiger Inn stories: competitive projectile vomiting, harmonious chanting of "tits for beer," and naked guys standing on tables while strumming their "penis guitars." I looked on--kind of horrified, but also transfixed. Then sophomore year came around, and a bunch of my girlfriends made a decision that blew my mind. Tiger Inn. They were going to try to be a part of it.
My friends aren't the only women to embrace a college culture that I think is best defined by the term "fratty": extreme rowdiness induced by the consumption of a whole lot of alcohol. An upcoming study from Alcoholism: Clinical & Experimental Research, which will be released in October, finds that college women today are more likely than men to exceed the weekly drink limits suggested by the National Institute on Alcohol Abuse and Alcoholism. In 2009, the Washington University School of Medicine reported a similar trend: Women in college drank excessive amounts of alcohol 40 percent more often than they did in 1979, while the numbers for men didn't change. Then there were the Miami University hotel shenanigans that went viral in 2010: college women having sex in the caterer's closet, playing toss with crystal vases, and attempting to urinate in the bathroom sinks.
The big question is why. Professor Richard Grucza co-authored the 2009 Washington University study, which analyzed 27 years of results from the National Survey on Drug Use and Health. While he found that generally, levels of binge drinking have declined since 1979, college students, and particularly college women, were the exception. Of all the different demographics that Professor Grucza studied (groups divided by age, sex, ethnicity, and student status), women in college showed the steepest increase in binge drinking.
"To me, the reason for this trend is obvious. Since the 1950's, men and women have been dwelling more and more in the same spaces," Grucza said. "It is natural for their social habits to converge."
In a separate study that covered a wider age range of women, Columbia Assistant Professor Katherine Keyes saw rates of binge drinking increase among women born in the 1990's. (Most women currently enrolled in college were born between 1991 and 1995.)
"There is empirical evidence to suggest that, in countries that allow women more access to higher education and where women delay childbearing, there is more female binge drinking," Keyes said. "As countries become less traditional, women have more alcohol disorders. With this loosening of gender roles also comes a loosening of the constraints surrounding drinking for women."
Most of the women that I talked to in Tiger Inn chose their eating club because they felt like gender roles were less rigid in a place like TI.  It wasn't necessary for women to act "all put-together." They could relax, which was exactly what they wanted. As one rising TI senior told me, "The guys always want us girls to chug a beer or take a shot, or be a man. There is no pressure for a girl to be a girl."
The pressure she's talking about is different today than it was in the era of the MRS degree. College women are no longer required to take classes on how to throw dinner parties. Contraception is openly discussed and, at most colleges, free and readily available. Girls don't get out of class when they get engaged. As Kate Taylor argues in her recent New York Times article, many college women aren't even thinking about marriage.
However, while universities and colleges themselves might not sanction gender roles in the way that they did in, say, 1957, these roles are still present in college social circles.
"I hang out in some social circles at Princeton, and it's like I'm at a networking event. I feel like I always have to be on my best behavior," a recent female Princeton graduate said.
While these expectations can crop up anywhere on college campuses, they are often most present in social associations like sororities. Sororities continue to hold women responsible for acting "ladylike:" to wear makeup and pretty dresses, to carefully select "appropriate" hookup partners, and to never drink enough to "get sloppy." Professor Lisbeth Berbary of the University of Memphis examined this phenomenon at length, by spending a year living with a sorority, and participating in the day-to-day routine of its members. Specifically, Berbary's 2012 study discusses how this sorority (one of the largest in the United States, which she calls Zeta Chi), and others like it, enforce discipline.
In every chapter of Zeta Chi, women who exhibit "unladylike behavior" (dancing on bars, being too sexual, and being too drunk are the most common offenses) are called into Standards, a court-like panel of students elected by the sorority's upperclassmen. Zeta Chi doled out punishments on a regular basis, banning women from social events or even retracting their sorority membership.
"There was a very specific expectation for femininity in the sorority," Berbary said. "There were expectations for how a woman should act--how she should be appropriate and respectable. If you pushed those limits too far, you got roped back in."
Almost every woman in Tiger Inn that I interviewed for this article said that her decision to join TI was, at least in part, a reaction to the judgment that she felt elsewhere on campus--in her sorority, or at other eating clubs. The frattiness of Tiger Inn, many said, allowed them to relax, be themselves, get drunk, and not worry about who might be watching. As one male TI graduate put it, Tiger Inn advocates "equal-opportunity slobbery."
Of course, this kind of frat culture isn't all fun, games, and female empowerment. There are real risks, particularly for women, in a place that prides itself on drunken debauchery.
In 2006, Tiger Inn stopped serving alcohol for two months, after a sexual assault allegedly took place at the club and was widely publicized. Although TI responded by implementing various safety measures (like assigning a few members to be sober and "on duty" every night), Tiger Inn remains the club "with the highest per-capita alcohol...consumption and the most booting on the Street," according to the campus paper. And this reputation doesn't just go for the guys.
"TI girls pride themselves on being able to drink a lot, and hold their own," one rising senior said.
Since women generally have a much lower tolerance for alcohol than men,  girls and guys drinking together in a place like Tiger Inn can be dangerous. However, the women I talked to didn't see this as a big problem. Women weren't forced to drink a lot (or even at all), they said--but if they wanted to, they could. The important thing was that TI women would not be judged for that decision.
"Sunday brunch pretty much sums it all up," one rising TI senior said. On Sunday morning, everyone comes to the club in sweatpants, because it would be "weird" to show up looking nice. All members sit down together, wolfing down eggs and bacon while proudly discussing their drunken pursuits from the night before.
"Girls can say, 'Last night I blacked out somewhere,' or 'I woke up somewhere,'" a recent female TI graduate said. "No one cares."
One of my friends in Tiger Inn is soft-spoken, a stellar student, and very open about the fact that she is not a party girl. We spend our evenings together drinking tea and watching Jane Austen movies. So when she first decided to join Tiger Inn, I didn't get it. To me, the club was Princeton's own version of Animal House, which, in my mind translated to, "not a comfortable place for women." But as it turned out, she has loved her experience in TI. She joined because it was the place she felt most comfortable--where she didn't have to live up to anyone's expectations. One recent TI alum told me, "Girls in TI are proud that they can act in the way that they want."
The TI women I talked to were eager to see the line between genders disappear. On Saturday night, they didn't want to be held to a separate standard because they were girls. On Sunday morning, they didn't want to walk into the dining hall and feel like everyone was staring at them. I'm not in Tiger Inn and, even after hearing so many women tell me how much they love the club, I still don't think it's the place for me. That said, I understand why some of today's college women want to be a part of that kind of community. Maybe it was worth eating that goldfish, after all.