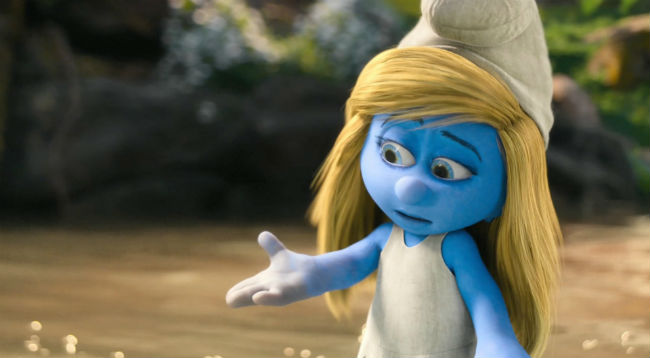 In The Smurfs 2, there are a lot of Smurfs. And they all have names based on their unique qualities. According to the cast list, the male ones are Papa, Grouchy, Clumsy, Vanity, Narrator, Brainy, Handy, Gutsy, Hefty, Panicky, Farmer, Greedy, Party Planner, Jokey, Smooth, Baker, Passive-Aggressive, Clueless, Social, and Crazy. And the female one is Smurfette--because being female is enough for her. There is no boy Smurf whose identifying quality is his gender, of course, because that would seem hopelessly limited and boring as a character.
These characters, originating as they did in mid-century Europe, exhibit the quaint sexism in which boys or men are generic people--with their unique qualities and abilities--while girls and women are primarily identified by their femininity. The Smurfs 2, which premiered last weekend and came in third at the box office, doesn't upend the premise of Smurfette.
Here are the Smurf characters McDonald's is using for their Happy Meals:
When you buy a Happy Meal at McDonald's, the cashier asks if it's for a boy or a girl. In my experience, which is admittedly limited to my daughters, girls get Smurfette. I guess boys get any of the others.