Kick-Ass 2 Isn't Afraid to Tackle Any Subject, Except Rape
The new movie tries to laugh away a jarring topic with a shrug and gag akin to a fart joke.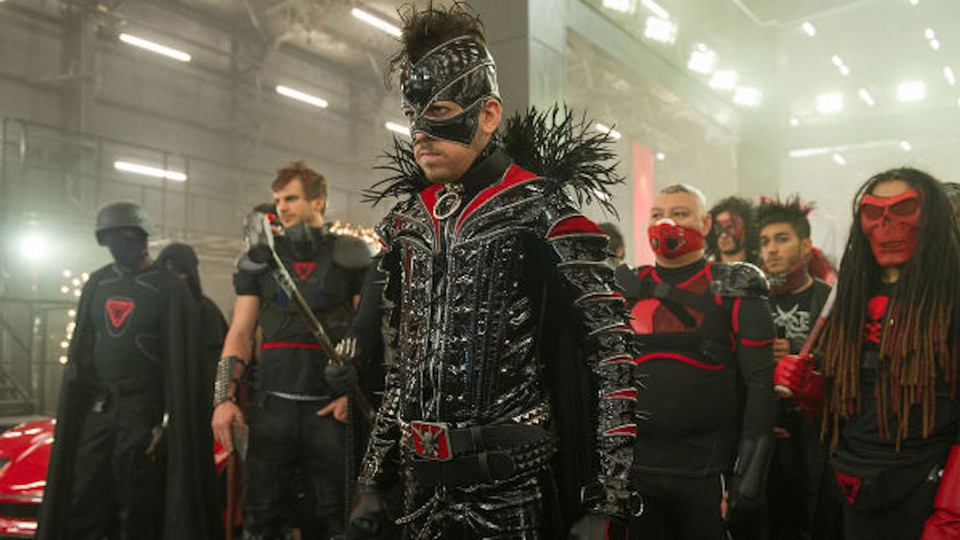 Spoilers ahead.
It's no secret that Kick-Ass 2, the sequel to 2010's dark superhero action comedy, is unabashedly crude, offensive, sometimes funny, and gleefully violent. What's interesting is that the writers deemed some events too disturbing to adapt from the original comic book, including a rape scene between "The Mother Fucker," the film's awkward villain, and "Night-Bitch," a civilian hero and Kick-Ass's girlfriend. After storming the heroes' headquarters, the Mother Fucker learns Night-Bitch's civilian identity and home address. He breaks in, has a henchman hold her down, and starts to undress. However, just as the Mother Fucker is about to go through with it, he loses his erection and isn't able to pump himself back up. Unfunnily, he tries.
I get the significance, character-wise, of the Mother Fucker's rape attempt. Everything about him, from his oedipal name to his BDSM-inspired get-up, shows that he's more of a wannabe villain than a hardened criminal. A rape scene would, arguably, have indicated that he truly is capable of committing a violent act, rather than paying others to do it. Still, the moment doesn't earn its laughs or justify its inclusion in the film. Watching that scene, I guess I was supposed to laugh at an awkward dude's impotence and think, "Phew, that's a relief! He's not going to rape her--because he can't!" Instead, I was hyper-aware that the scene played out like any cheap sexual assault in a thriller or horror movie (the stair chase, the clothes-grabbing), and that it tried to laugh away a jarring topic with a shrug and gag akin to a fart joke.
As several writers and comics have discussed, rape can be clever and funny depending on the crux of the joke. Lindy West noted that the specificity of rape and the way it is discussed in society places it in different territory from other kinds of violence. By and large, non-sexual violence is about getting the job done with, perhaps, varying degrees of intensity and viciousness. But sexual violence is so closely tied to humiliation, degradation, and skewed power dynamics that depicting it without any of that context feels sophomoric. The conceit of the Kick-Ass 2 rape scene is that it's funny because nothing actually happens; the humor is totally dependent on the absence of a physical violation. If you disagree, consider whether anyone would laugh if the Mother Fucker masturbated for a bit, regained his erection, and then went through with it as the audience sat watching.
By contrast, truly funny rape jokes can make an audience laugh even when there is an understanding that something bad will happen. These jokes convey an understanding that rape isn't just a physical act, but a psychological one--and the mindset behind the physical act is turned on its head. Take Ever Mainard's "Here's your rape!" bit or Wanda Sykes's seriously hilarious "Detachable Pussy" act. In neither of those examples is the humor dependent on its teller getting raped; in fact, that is beside the point. What is funny is the context of each: For Mainard, that context centers on women going through their lives wondering when they will meet the rape that so many people tell them they ought to watch out for. Sykes places a similar concept on an even higher register of absurdity: If is simply having a vagina makes one more susceptible to stranger-danger rape on the street, rape should, theoretically, be avoidable by leaving one's vagina at home for the night. Although Kick-Ass 2 has an in-your-face ethos, these two stand-up routines address a difficult topic more bluntly and directly by acknowledging that rape alone isn't a problem; the rationale behind rape and other kinds of sexual assaults is.
A film that builds upon that idea is Teeth (2007), a dark, horror-comedy that includes scene after scene of terrible, graphic acts of sexual assault on the same person. Dawn, the protagonist, is teenage girl who was born with vagina dentata--small, sharp teeth that line her vagina and clamp down whenever she is threatened. We learn that the teeth first appeared when Dawn was little, after her stepbrother fondled her in a kiddie pool. The small nip she gives him then draws blood, but is nothing compared to the jaw-dropping bites Dawn's teeth take out of a boy who date rapes her, or a gynecologist who violates her during an examination. I watched Teeth one quiet Halloween with a college roommate. About 30 minutes in, we frantically paused the video stream, screaming and covering our eyes, unsure if we could continue or not. After a breather, we decided to press on, and by the third assault or so we actually started laughing, sometimes uproariously (probably me more than my friend), often nervously, and usually in disbelief. My shock at the horrific, repeated incidents became less dependent on whether or not Dawn could learn to tell who would hurt her and avoid them, or learn to control the teeth, than on why in god's name this kept happening at all. Her problem isn't that she just can't seem to avoid getting raped, but that her trust in people is relentlessly broken, by person after person. And after Dawn learns to control the teeth at will, the joke is on the people who would harm her. Watching these repeated transgressions happen eventually struck me as absurd, but kind of relatable, and hilarious. I'm sure some people would argue that the movie unfairly focuses on a female victim, and is cynical in its treatment of men, and far too graphic--but it is no more obscene than Kick-Ass 2, which relishes in dazzling violence. The key difference is that it doesn't purport to be interested in protecting its viewers when depicting sexual assault, as Kick-Ass 2 does, by setting rape down on a cinematic whoopee cushion.
A more serious take on rape might have suited Kick-Ass 2 if the film addressed the effects of sexual violence as indicative of a societal failing, even if it didn't focus on an individual. Doing so requires some nuance; as it is, too many portrayals of rape rely on its badness to make oblique points about the scariness of the world. Depicting rape in an non-exploitative way, without making it the overblown, hollow epicenter of the film wouldn't be that hard for Kick-Ass 2--the film already does this when it comes to other acts of violence, from cop-killing to the murder of Kick-Ass's dad. Dave is understandably devastated and wants to take a break to mourn his father, but Mindy helps put his death in context, at least for a moment.
For reference, a film that some viewers say decentralizes rape without trivializing it is The Last House on the Left (1972), the first remake of Ingmar Bergman's 1960 film, The Virgin Spring. The Last House on the Left is a revenge tale directed by gore expert Wes Craven, which examines the impact of horrific violence on two parents who, in a crazy twist, end up providing shelter to the men who have tortured their daughter and her friend to death. The films don't just showily depict wild sadism, but reveal the ways in which exposure to terrible violence and the desire for revenge drive others to commit heinous crimes as well. In 2009, Roger Ebert revisited his earlier critique of The Last House on the Left and placed it into context with two subsequent remakes of the original film. The critic dismissed the more recent permutations, but lambasted the 2005 version in particular, writing:
Would I still admire the 1972 version today? Can I praise 2009's after savaging 2005's? Isn't it all more or less the same material? Not quite. [...] Horror films have connoisseurs, who are alert to gradations in violence. The well-informed critic "Fright" at the Web site Horror Movie a Day writes: "In the original, EVERYTHING was just so depraved, the rape barely stuck out as anything worse than the other things they endured. Not the case here, and so while some may cry foul that the movie is too toned down, I think it's a good decision."

Not many unseasoned audience members will find the 2009 rape scene "toned down," and indeed I found it painful to watch. In the 2005 film, it was so reprehensibly and lingeringly sadistic, I found it unforgivable. So now my job as a film critic involved grading rape scenes.

I don't think I can.
Here, Ebert disavows meaningless, gratuitous violence, not simply violence itself, in which rape is placed at the forefront for no reason other than to horrify viewers. He and the critic he cites draw a distinction between violence that is simply a matter of one-upsmanship to some unknown ceiling (maybe Hostel?), and violence that is horrifying but still has meaning . If Kick-Ass 2 weren't afraid to take itself too seriously with such a sensitive subject, it could have avoided being jokingly offensive.
I'm not suggesting that Kick-Ass 2 simply needed to be more violent, or that enabling Night-Bitch to fight back would have been an adequate fix. More than enough blood is spilled in the film as is, and jokes about castrating sexual offenders (which Kick-Ass 2 also includes) are just as flat. Because everyone knows Rape Is Bad (even if they lack sympathy for survivors), inserting rape scenes while pussyfooting around the serious, ideological causes of it have become a pat way of highlighting absolute moral depravity. Movies like The Last House on the Left and Teeth carve out a middle ground between dark comedy and yawning bleakness by not purporting that rape is the absolute worst thing that can befall a person (something that defines it survivors forevermore), and taking a close look at communities in which such things occur. That might be the best joke of all. Kick-Ass 2 sells itself as a movie that doesn't shrink away from hardcore realities. Yet, when faced with examining rape head-on, it giggles nervously at the last moment and looks away.