'Use Your Voice'
What it was like to be at the Texas Capitol during Wendy Davis's filibuster last week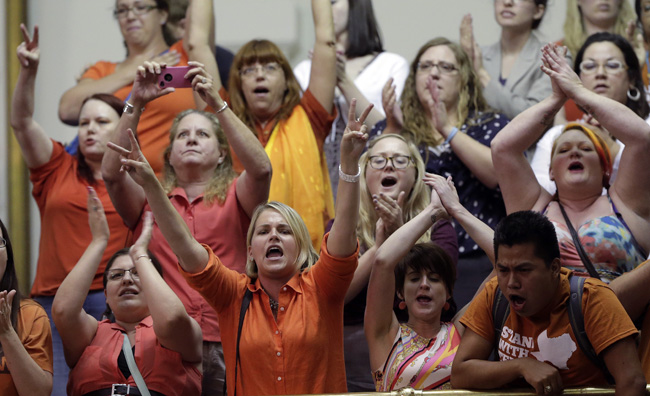 About 12 minutes before midnight last Tuesday, senator Leticia Van de Putte stood on the floor of the Texas Senate, a microphone in her hand. Her colleague Wendy Davis had been filibustering an omnibus anti-abortion bill for most of the day. The bill would have shut down 37 of the 42 abortion clinics in the state, severely restricted the administration of RU-486 (the abortion pill) in rural areas, and banned abortions after 20 weeks, among other things. All of these measures failed to pass in the regular legislative session. The Texas Republicans had introduced the bill during a special 30-day legislative session that has laxer rules than the regular one. Tuesday was day 30 of the special session, and if the bill did not pass the Senate before midnight it would die and never be law. The Texas GOP was probably assuming it would sail through with little fanfare.
What supporters of the bill did not count on was the work of a team of activists, the strategy of the Democrats in the Texas House, the physical and mental fortitude of the filibustering Senator Wendy Davis, and the power of thousands of voices raised together.
Davis' filibuster had fallen apart around 10:30 pm as the Republicans in the Senate challenged it with parliamentary procedure and questions about whether Davis had stayed on topic.
Van de Putte had only returned to Austin hours before, coming directly from her father's funeral in San Antonio. With almost no time to grieve, Van de Putte arrived at the capitol, she told me, "so drained, so exhausted...'I have nothing left. I have nothing emotionally.'" It was another woman--the wife of Senator Royce West, Carol West--who encouraged Van de Putte to join the parliamentary fight that was taking place on the floor of the Senate following the end of Davis' filibuster. Van de Putte said that Carol told her, "You're here but you're not here. You need to speak up. You've got to engage. Use your voice." The she said the words the got Van de Putte going, "I know your Dad. He was so proud of you. Honor his memory by fighting."
The minutes were ticking away and as midnight approached, the president of the Senate tried to move to a vote on the bill. Van de Putte realized this and "I kept trying, thinking, 'I'm going to move to adjourn,'" she told me. "I'm going to use every parliamentary trick I knew." But you can't argue parliamentary procedure if you aren't recognized by the president of the Senate and allowed to speak. "I would not get recognized," she said. "I was jumping up and down. Dan Patrick [a Republican Senator] in front of me got recognized. I was screaming, 'Did you not hear me? Did you not hear me and refuse to recognize me?'"
When Van de Putte finally got her chance right around 11:48 pm, these words just came out of her mouth, unplanned: "At what point must a female senator raise her hand or her voice to be recognized over her male colleagues?"
The crowd in the gallery immediately started yelling and didn't stop. The senators could not hear each other and so they couldn't take a vote. When the people outside the gallery figured out what was happening, they started yelling, too, and it spread out into the Texas capitol rotunda.
So, two minutes after Van de Putte's statement, I found myself standing near the center of that rotunda. My pink uterus necklace was around my neck and I was wearing an orange shirt. (We had chosen that color months before because we thought it would stick out in a crowd.) Thousands of other Texans in orange clothing surrounded me and filled up the three floors above where I was standing. They crowded into overflow rooms in the capitol basement and packed into the wide hallway that led to the gallery of the Texas Senate chamber. And inside the Senate gallery, hundreds of abortion rights supporters were up out of their seats. And I, like everyone else in all of these parts of the capitol, was screaming my face off.
For just over ten minutes, we stood as a collective one. American society tells women that they're supposed to be calm. When women raise their voices or shout about the ways they are hurt by the system, they are painted as dramatic, hysterical, or irrational. Yet, here we were, thousands of us, literally yelling together in an effort to destroy a bill we saw as deeply sexist.
For many of us who were there, the yelling was a cathartic release against the stringent, often unfair rules that we had faced over the previous six days. Before the House voted on the bill, they held a committee hearing where citizens could show up to testify, each person allotted three minutes. But after 8 hours and with over 200 people left to testify, the Republican committee chair cut off testimony. Then on Sunday, while people were sitting in the gallery of the House watching the debate and the eventual vote on the bill, they were told by officials that they could not make noise and could not even shake their hands (the American Sign Language sign for applause). Finally, on Tuesday, as Republicans used questionable parliamentary procedures to end Davis' filibuster, the crowd in the gallery responded loudly and angrily. The president of the Senate, at the behest of a Republican senator, reminded those in the attendance that he had the power to arrest them and hold them for up to 48 hours if they did not follow the rules of decorum.
Amanda Woog, who had spent seven hours that day in the gallery and was in an auditorium watching the proceedings on a large screen with other protesters, said that people in the gallery "were so scared" because they felt like they could be removed or the gallery cleared for even the smallest infraction. "We were tip-toeing, trying to be silent." Jennifer Longoria described it this way:
We were in orange. There were so many of us. It was a huge presence. We were not acknowledged except to hush us. That was the only time our presence was acknowledged - to calm us down or to remind us to behave. There was never any acknowledgement that it was a good thing to take part in the process....They literally did everything they could to pretend we didn't exist.
Van de Putte believes that the loud response from the gallery "was about women's healthcare, but it was about much more. ... How many times in class did you raise your hand but they called on a boy? How many times at work did you stay later but the guy who worked less got the promotion?"
Ash Hall, who had spent hours in the gallery, said that Van de Putte's words were "a beautiful point that illustrated not only what was happening in that room but the entirety of the issue. What is it going to take for women to be recognized over men, to have their voices heard?"
Outside the gallery doors, the wide hallway was packed with people. Dara Silverman said that they couldn't actually hear much of what was going on in the gallery. "We were depending on social media," she said. But they also had Brittany Yelverton, a community organizer for Planned Parenthood of Greater Texas. According to Silverman, Yelverton was standing right at the doors of the gallery, watching the proceedings. Silverman said, "Brittany came out, raised her arms up, and said, 'Yell! Yell!' Everyone started screaming. It spread throughout the capitol. We were all yelling at the top of our lungs. It felt like it went on forever."
Katherine Patton, who was on the main floor of the capitol rotunda, three floors down from the gallery and the hallway just outside of it, said that she heard a man above her say something along the lines of, "we need to make a lot of noise now. Then everyone started yelling. I've never heard noise like that."
Cheasty Anderson was also in the rotunda. She did not hear anyone telling people to yell. Instead, "all of a sudden, this thunder of noise was coming from above us. The acoustics of the capitol made it sound like thunder. We looked up instinctively. One by one the levels of gallery started screaming. It was louder than anything I've ever heard in my whole life." Senator Van de Putte said that in the gallery, at one point, she "felt a boom" then the sound got "so loud that the building started vibrating. That's a granite building."
All of the overflow rooms where protesters could watch the proceedings on a screen via a live-stream are below the main floor of the rotunda, two or three stories below ground. Cassandra Johnson, who was in one of those rooms, said that "we could hear [the yelling] the basement, down the hall. All we could hear was screaming everywhere." Courtney Barge said it was "a roar" and Rob Ryland said you could both hear it "and feel it." We literally shook the Texas capitol.
Ash Hall called the sound "beautifully deafening."
Representative Jessica Farrar was on the Senate floor that night. She was on the House committee the previous Thursday that heard all those hours of testimony. As leader of the House Democratic Caucus, she fought hard that Sunday on the House floor along with a bevy of her colleagues. She, like many people I interviewed, said, "it is hard to describe" how she felt listening to those women and men yell. "I was in awe at the level of participation, the level of concern for women," she said. "I was just," she pauses to think, "in huge admiration of everybody that was there and participated because they spoke up. They didn't take it."
Ash Hall described her experience:
I remember getting to a point where I was continuing to yell and to clap, but I started crying, just very, very hard, because I was so proud of everyone in that room, and out in the hallways and the rotunda, I knew exactly what we doing and the message we were sending to all the people watching as well as the people on the floor. This was an entire community of people that came together and were standing up for their rights. And just to be a part of that and also a witness to it was a powerful thing.
Ellen Sweets, who had been in the gallery since 10:15 am, said that it was "electric. It was as though the women of Texas finally - finally - were internalizing what a small group of people have been attempting to inflict on all the women on Texas." Arlene Cornejo said that she's "never felt more empowered, more rejuvenated actually. It was amazing." Amanda Woog said it "felt liberating" because it was a sign that "we will no longer be silenced." For Cheasty Anderson it was a combination of feelings: "I felt completely untethered, everything that held me quiet, everything that had held me back from fully engaging in the process. The most freeing feeling in the world. At the same time, I felt terrified, watching the clock. Every minute seemed to take an hour."
Katherine Patton had trouble finding the words she wanted to use. She said, "I'm struggling to find the right adjectives because 'rage' and 'outrage' feel very negative and violent. And it wasn't that at all. It was like a pure positive force. I honestly felt like we were a part of something so powerful and we had for the first time, as this whole thing unfolded, it felt like the people were being heard."
Senator Van de Putte said the response was both "intensely gratifying and so humbling." Both she and Representative Farrar give the credit for that final ten-to-twelve-minute stretch to the thousands of Texans in the capitol. Van de Putte said, "once they started and realized they could run out the clock, they did the filibuster. It was a manifestation of the people finding their voice. This is how civic engagement is supposed to be. " Farrar simply said, "I observed a citizen's filibuster."
Many people there that night not only were thinking of that particular moment or the days and hours leading up to it. What seems perhaps most striking and most exciting about those beautifully loud minutes is what they made people there feel about the future. Arlene Cornejo said, "those who were in attendance and those who were watching realized, 'This is a pivotal moment.'" Ellen Sweets called it a "galvanizing moment. It took forever for us to get here but we are in it now. I don't think that spirit's going away." Rob Ryland was there that night with his 15-year-old daughter. He said she is now "harassing me about the next thing. This completely engaged her." When I asked Courtney Barge's six-year-old daughter who was there with her that night if she wanted to attend another political event, she said, "Yes, very much."
Though our voices, powerful and positive, filibustered the bill, Governor Rick Perry has called a second special session and it is already underway. It is not clear right now what our chances are in this particular fight. But last Tuesday night, as we gathered as a collective progressive group for those glorious minutes, Cheasty Anderson said it was like looking at "what the future may be like" in Texas. Then she added, "and it looks a lot better than what it looks like right now."