No More Stigma Against Plastic Surgery, Please
Three decades ago, Betty Ford told the world she'd had a facelift. More prominent figures, male and female, should consider doing the same.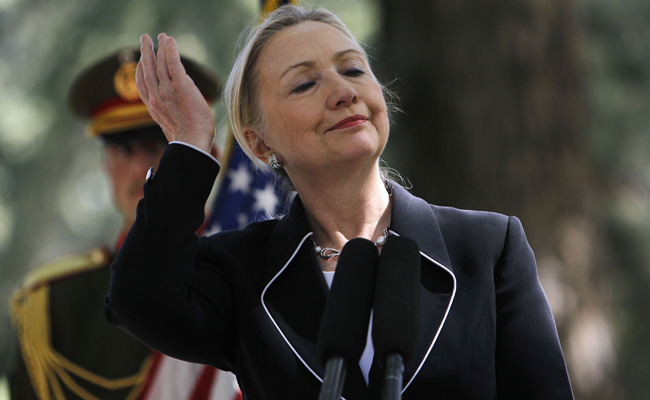 And so it begins. The GOP apparently is looking toward 2016 and seeking ways to remind voters how long Hillary Clinton has been around. "Her age and appearance provide an irresistible topic for the conservative media," reports the New York Times.
I confess that even I, a Hillary supporter and a feminist, have been thinking about the issue. When the Secretary of State stepped down after four grueling years, I wished she would get thee to a spa and move in for four months. I wonder how many people went a step further, and thought what I overheard a woman utter: "Every time I see Hillary Clinton, I think she should get some work done. Then I think what a great job she's done."
It may sound flip but it's a legitimate time to reflect on the issue of how accepting Americans have become of public figures having cosmetic surgery. It has been more than three decades since a woman who lived in the White House--the irrepressibly forthright Betty Ford--revealed the First Facelift. "I wanted a fresh new face to go with my beautiful new life," Mrs. Ford said after having puffiness removed under her eyes and some neck tightening. She had recently undergone a mastectomy and overcome several addictions.
Since then, billions of dollars and millions of women (and increasingly men) have had alterations, augmentations, erasures, fillings. There has been a seismic cultural shift and now sports stars, business and media figures, and even Reality TV personalities have made some women feel they should also get to look like that.
The good news is that cosmetic surgery is not all about recreating the way we were. "Interestingly, many women are saying their goal is not necessarily to look younger, but more to look refreshed and reflect how they feel on the inside," notes dermatologist Doris Day. "With the tools we have available today, we can accomplish this with a very natural and beautiful outcome. People are more upfront about wanting to look their best."
The viewing -and judging--public, meanwhile, still seems to have wildly mixed emotions on the question of "have they or haven't they?" For example, there are those who believe Jane Fonda has irrevocably traded in her feminism for narcissism. But when she told an admiring Oprah that "good work" was why she looked so amazing, the audience spontaneously erupted in applause. People snicker or gasp at the tabloid face-fodder devoted to Meg Ryan, Melanie Griffith, Goldie Hawn, and Nicole Kidman. Paul McCartney's eyes and Michael Douglas' chin have been closely assessed. Even the august New Yorker--in its lengthy profile of Bruce Springsteen--casually suggested that the Boss has had touchups.
When public figures do speak out, though, they usually find receptive ears. Fonda was likely applauded for her candor rather than the lift. Kidman finally confessed to having tried--and ultimately rejected--Botox. Jamie Lee Curtis--sort of the Betty Ford of Hollywood---admitted to having had procedures and told the Britain Express, among others, "It was the worst thing I ever did. It made me more insecure." (As one who had neck/chin work done two years ago, I second that emotion) The actress and almost-Senate candidate Ashley Judd earned praise when she took to the airwaves to say a/her puffy face was the result of steroids and b/ women should stop judging and start supporting each other.
Extra credit and compassion go to anyone who has to age in front of a watching world. And yet, what if Meryl Streep or Helen Mirren suddenly appeared noticeably younger and fresher? I have a feeling many would feel real disappointment, even though it's fair to assume they dye their hair and may even see the dermatologist occasionally. "People whose self-image--and self-esteem--is based on their intelligence, authenticity and so much more than looks, would likely not want to betray that image," says New York therapist Vivian Diller.
Among less celebrated folks, ten million Americans spent $11 billion on some kind of cosmetic procedure last year, according to the American Society of Plastic Surgeons. That's an increase of 106 percent over the previous year. A million of those were men.
More and more people may be doing it, but are they telling their spouses, their friends, their kids? The stigma around plastic surgery hasn't gone away, and even individuals who share child or marriage woes may be hesitant on the beauty score. "There are still plenty of people who don't share their plastic surgery, even if they talk about almost everything else," says Dr. Diller.
If they don't talk about it, others will, which brings us back to Cosmolitics. The New York Post recently ran a two-page spread entitled ""It's a City Hall 'Face-Off' in which a plastic surgeon evaluated the six candidates and suggested nips and tucks. Anthony Weiner--who famously had problems with another body part--is criticized for a bulging jawline, Christine Quinn for a downturned mouth. Drudge and others have offered what they considered Before and After shots of John Kerry over the years. Rumors have circulated about Nancy Pelosi, who usually does not refrain from Speaking out.
And then there is Hillary. If she won in 2016, she will be 69 when she would re-enter the White House, and her health has been a minor issue of late. Would a youthful glow dim that issue? "In public life, sexism is often compounded by ageism," says Letty Cottin Pogebrin, a founding editor of Ms. magazine and author of the just published How To Be A Friend To A Friend Who's Sick. "Elizabeth Warren, whose looks are unadorned, was routinely called 'Granny' though she was only 63. When is the last time we heard a 63-year-old male candidate referred to as 'Grampa'?"
Whatever Hillary does or does not feel compelled to do or not do, she may find plenty of permission out there, even from those who call themselves feminists. "While their forebears fought for the really large issues, the newer generations don't feel cosmetic procedures are necessarily a betrayal," says Diller. "They feel they have earned the right to be successful and look their best."