Do Women Make Better Lobbyists Than Men?
Men outnumber women on K Street, but female lobbyists tend to bring in bigger contracts than their male counterparts.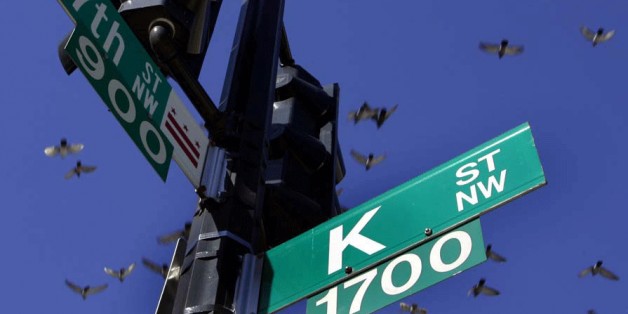 Charles Dharapak/AP Images
While it's no secret that men outnumber women in Washington's lobbying corps, individual lobbying contracts held by women are worth more on average than those held by men, according to an analysis of lobbying disclosures by LegiStorm.
The average contract between a client and a single female lobbyist was worth more than a contract between a client and a single male lobbyist in 2002, 2007, and 2012, the years analyzed by LegiStorm, a nonpartisan group that provides information on Congress. Moreover, a two-woman team held contracts with a greater average worth than those held by a two-man team, and contracts with a mixed-gender team tended to be worth more than contacts held by two men.
For example, the average contract amount between a single woman and a client in 2012 was $33,289, while that for a single male lobbyist was $26,299. Contracts between two women and a client averaged $23,542; for two men, contracts averaged $17,855. For a mixed-gender team, the average was $22,992.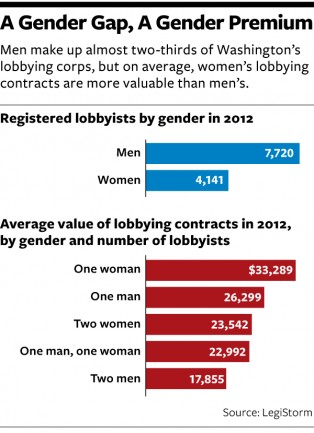 The study--one of the first of its kind--offers a window on Washington's roughly $3 billion lobbying industry and how it is evolving.
"It's important to understand gender effects on pay and earnings," says Jock Friedly, president and founder of LegiStorm. "Certainly this is incredibly important information for the lobbying firms as they're staffing up and thinking how to maximize the dollars coming in."
To determine the gender of lobbyists, LegiStorm analyzed lobbying registrations and used a computer algorithm that assigns gender based on names that have been determined to be gender-specific. On the surface, the analysis indicated that women lobbyists outperform men in bringing in higher-valued contracts or better-paying clients.
There are several potential explanations for the difference. One is that women hold fewer contracts than men, which means a smaller pool of contracts from which to calculate an average. Another is sometimes called the "rainmaker effect," which holds that some male lobbyists may have greater leverage and spread their work across more contracts than female lobbyists do, says Mirko Draca, a labor economist specializing in the political labor market at the London School of Economics and the University of Warwick. If that's the case, individual contracts held by men may not be worth as much as those held by women, but an individual male lobbyist may be pulling in more money in total.
Overall, men far outnumber women on K Street, although the gap is slowly narrowing. In 2002, nearly 32 percent of lobbyists were women, according to LegiStorm. In 2012, the proportion grew to 35 percent. One reason for the disparity, Draca said, may be "the overall gender-gap problem in the labor market."
Many lobbyists don't start out lobbying. Rather, they begin their careers as staffers on Capitol Hill, in the executive branch, or elsewhere in Washington. So gender disparities in those worlds may cross into the lobbying world.
A regular survey conducted by National Journal of more than 300 top congressional aides showed that in 2011 about one-third were women. A recent NJ survey of high-ranking members of President Obama's second-term administration found that women hold about 40 percent of the 250 top positions.
Because many lobbyists don't come to the profession until later in their careers--the same time many women consider taking a break to raise a family--the timing may also be preventing some women from entering or staying in the field.
"I can't think of any other profession like that, where your career doesn't start in that profession," Draca said.
Of course, there are plenty of high-powered female lobbyists who get into the game and remain there, bringing in high-valued contracts. Women tend to be more common in certain sectors--such as health care and education--many female lobbyists say. At the same time, many female lobbyists across sectors describe their field as a "meritocracy."
"That's why women do very well here," says Kerry Feehery, a lobbyist with Holland & Knight. "They work hard, and Washington has rewarded the hard work, regardless of whether you're male or female."
Michaela Sims, who last year cofounded Chamber Hill Strategies with Jennifer Bell, has noticed a rise in both women-owned firms and women in leadership roles in recent years. But, particularly in the tax sector, men still noticeably outnumber women.
"It's not unique for me to show up to a room full of 15 people, and I'm the only one wearing a dress," she said. "It is what it is--it doesn't intimidate me, and we're all professionals there to do a job. It doesn't bother me in the least."
Many female lobbyists say the gender dynamic in their industry reflects Washington generally, a dynamic that is slowly changing.
Heather Podesta, who founded her firm in 2007, recalled "awkward moments" in the past where "you sit down at the dinner party, and the question you get from a random person is not, 'What do you do in Washington?' but, 'Do you have children? Where do they go to school?' " But the number of women in the political sphere has been slowly growing--the 113th Congress has a record number of women in office--and so have expectations for women. Podesta senses that things are likewise changing in the lobbying world. "It feels like there are more women in the room," she said, "but it's subtle."
The nature of the industry has also changed in recent decades, perhaps opening up more possibilities for women. While Washington will always be a relationship town, Podesta said, "10 to 15 years ago, the field was dominated by men in their 50s and 60s. A lot of work got done on the golf course, and it's just not the way Washington works anymore."
Lobbyist Lisa Kountoupes, founder of Kountoupes Denham, said that technology has also changed the game.
"It's a vastly different age than it was 20 to 30 years ago," she said. "Virtually, people anywhere can get a subscription to a political magazine or publication, and they can watch hearings and markups online, and so I think figuring out how you're going to be value-added to your clients is really important."
Many female lobbyists say the job is tough on the work-life balance, a common challenge in Washington. "Like in any industry, if you're going to play to win, you're going to make sacrifices, and this is no different," Kountoupes said.
"I, for one, see nothing but opportunity for women in this field," Podesta said. "It doesn't mean they don't face obstacles, but men face those same obstacles. It's not for everyone, but I don't know if it breaks down on gender lines."