'A So-Called Independence': Emma Goldman on Having It All in 1911
All the tensions surrounding what makes women happy in a world where they work and seek equality with men were already clear a century ago.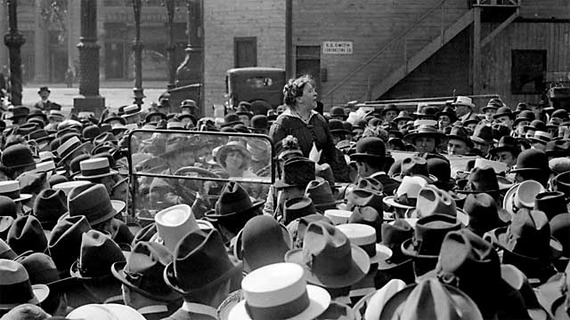 Emma Goldman speaking about birth control in Union Square, New York City, 1912.
Yesterday I was Googling for something else and accidentally happened upon anarchist Emma Goldman's 1911 essay, "The Tragedy of Woman's Emancipation." Never having read it before, I gave it a scan, and was shocked to discover that with minor alterations for changes in the law, Goldman's concerns about women and emancipation bear a striking resemblance to the contemporary debate about women's happiness and "having it all." From the assumption that gender equality has been achieved to concerns about equality of access not leading to equality of outcomes (such as equal pay and respect), to the broader question of whether or not women may find more happiness in work or in their families, which work takes them away from, Goldman more than 100 years ago identified the tensions in the transformation of women's roles that still tug at us today:
Emancipation has brought woman economic equality with man; that is, she can choose her own profession and trade; but as her past and present physical training has not equipped her with the necessary strength to compete with man, she is often compelled to exhaust all her energy, use up her vitality, and strain every nerve in order to reach the market value. Very few ever succeed, for it is a fact that women teachers, doctors, lawyers, architects, and engineers are neither met with the same confidence as their male colleagues, nor receive equal remuneration. And those that do reach that enticing equality, generally do so at the expense of their physical and psychical well-being. As to the great mass of working girls and women, how much independence is gained if the narrowness and lack of freedom of the home is exchanged for the narrowness and lack of freedom of the factory, sweat-shop, department store, or office? In addition is the burden which is laid on many women of looking after a "home, sweet home" -- cold, dreary, disorderly, uninviting -- after a day's hard work. Glorious independence! No wonder that hundreds of girls are so willing to accept the first offer of marriage, sick and tired of their "independence" behind the counter, at the sewing or typewriting machine. They are just as ready to marry as girls of the middle class, who long to throw off the yoke of parental supremacy. A so-called independence which leads only to earning the merest subsistence is not so enticing, not so ideal, that one could expect woman to sacrifice everything for it. Our highly praised independence is, after all, but a slow process of dulling and stifling woman's nature, her love instinct, and her mother instinct.

Nevertheless, the position of the working girl is far more natural and human than that of her seemingly more fortunate sister in the more cultured professional walks of life teachers, physicians, lawyers, engineers, etc., who have to make a dignified, proper appearance, while the inner life is growing empty and dead.

The narrowness of the existing conception of woman's independence and emancipation; the dread of love for a man who is not her social equal; the fear that love will rob her of her freedom and independence; the horror that love or the joy of motherhood will only hinder her in the full exercise of her profession -- all these together make of the emancipated modern woman a compulsory vestal, before whom life, with its great clarifying sorrows and its deep, entrancing joys, rolls on without touching or gripping her soul.