A Man's Place Is in the Kitchen
If he's running for public office, anyway: More and more campaign ads feature male candidates addressing voters from their kitchens.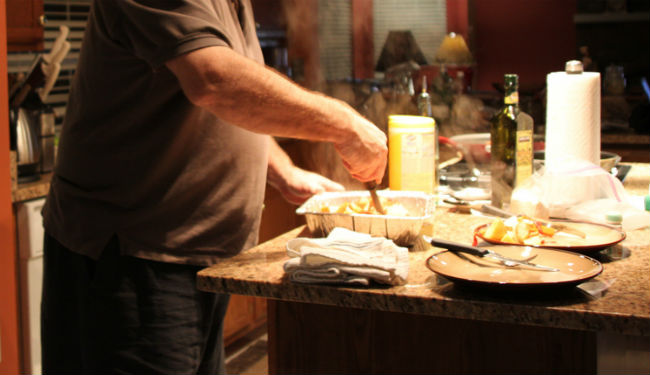 From Massachusetts to New Mexico, male politicians are cooking up campaign videos set in the kitchen.
Democratic Peter Koutoujian served up the most recent example. He recently released a video announcing his candidacy to succeed Democratic U.S. Sen. Edward Markey in Congress. Koutoujian, seated at a table in a cheerful, bright kitchen, looked squarely into a camera as he introduced himself to voters.
"Male candidates and their campaigns are more aware than ever of women as a voting block," said Adrienne Kimmell, executive director of the nonpartisan Barbara Lee Foundation in Cambridge, Ma. "They'll do anything they can to appeal to women voters."
Videos and ads set in kitchens can be subliminally powerful, Kimmell explained, because they tap into the historical norm that the kitchen is a female domain and where women handle the family budget. Koutoujian and other male candidates signal they're regular guys "who get it," and not just politicians, when they set themselves in a kitchen, she said.
The national trend has male politicians concocting some successful ads and others whose results were mixed:
In Connecticut, 2012 progressive Democrat Christopher Murphy rolled out this ad in his 2012 U.S. Senate race. He starts off the day in a busy kitchen with his family before sprinting to spread the word he's running.
In New Mexico, Democrat Sen. Martin Henrich checks off a to-do list in a cluttered kitchen in this 2012 ad.
Republican former Sen. Scott Brown ran multiple ads from his kitchen, first in his 2010 win over Democratic state Attorney General Martha Coakley, and then in his 2012 loss against current Democratic Sen. Elizabeth Warren to offset a national GOP image perceived by some as anti-woman.
Kimmell said Koutoujian's video appears to couple setting with substance to appeal to women.
In his new ad, Sheriff Koutoujian speaks into the camera saying he'll be a "strong, progressive leader" who'll focus on health care, domestic violence, and continue his work on preventing stalking.
He also says he'll focus on "growing the economy and jobs."
Why Are They Doing It?
The 2012 presidential race showed candidates can't win without the support of female voters.
"The political math is simple," said Larry Sabato, a political scientist at the University of Virginia. "Women comprise a majority of the electorate in every state, and so a candidate simply has to do reasonably well with women to win. You can lose women, but not by a lot."
Mitt Romney is a case in point. He failed to connect with women, even after he brought his popular wife, Ann, with him on the trail. He won 52 percent of men, but lost 55 percent of women, Sabato said.
Women may not agree on all hot-button issues like reproductive rights. But women care about so-called "household," like paying the electric bill and for college, said Shannon O'Brien, a former Democratic Massachusetts Treasurer and veteran campaigner who lost the Massachusetts governor's race to Mitt Romney in 2002.
"One way to telegraph, 'I'm a candidate that sits around that table and thinks about those issues,' is to put the man in the kitchen," O'Brien said.
Koutoujian is running in a crowded Democratic primary field that includes state Sens. Katherine Clark and Karen Spilka.
Christa Kelleher, interim director of the Center for Women in Politics and Policy at the University of Massachusetts Boston, said consultants may feel the kitchen setting softens Koutoujian, a sheriff, and allow him to connect against two female rivals.
"I can imagine political consultants may have done testing and advising male candidates to appear affiliated or embracing of the "female' domain," Kelleher said.
Double Standards Apply
The rising popularity of these spots raises the question: Will men be taken more seriously in the kitchen than women when they entered politics?
"If a woman had an opening ad at the kitchen table, it would show she's in touch but not qualified," Kimmell said.
Rather than appearing in kitchen ads, on the other hand, more and more female candidates are showing themselves in encroaching on traditional male turf.
In New Mexico, Republican Governor Susana Martinez demonstrated her skills by showing herself in a courtroom, while North Dakota U.S. Sen. Kathryn "Heidi" Heitkampt took swings in a batting cage.
"There's a double-standard," said Marni Allen of the nonpartisan group Political Parity. "Women have to be both likeable and qualified. They have to get over a higher hurdle to show they are qualified beyond education and other issues."
"Hillary Clinton struggled with that," Allen added. "What is the right balance for female candidates to maintain femininity while demonstrating they're qualified across a broad spectrum of issues?"
Don't Tank
Putting a man in a kitchen doesn't guarantee success, though.
"It makes me think about John McCain putting Sarah Palin on the ticket," Kimmell said. "Women don't just say, 'I see a man in the kitchen, they get me.' Are you talking about the issues that connect with the every day lives or showing yourself in a kitchen?"
In 2012, Brown's ad "Dad" featured him in the kitchen and doing chores around the house, yet Warren outdistanced him among women by 16 points, according to Suffolk University pollster David Paleologos. In the end, his issues didn't resonate with enough voters.
As men pursue this strategy, authenticity is key. In 1988, presidential candidate Michael Dukakis tried to show he was tough on defense by riding in a tank and instead was ridiculed. Men who aren't comfortable in the kitchen could get burned, said Democratic consultant Joe Trippi.
"The tank didn't work for Mike Dukakis," said Democratic consultant Joe Trippi. "People get when it's not real and they've never seen a skillet before in their life. If it doesn't feel right it could be a disaster."