Why Do So Many Women Think Anthony Weiner 'Deserves a Second Chance'?
Two dads discuss the former congressman's New York mayoral candidacy.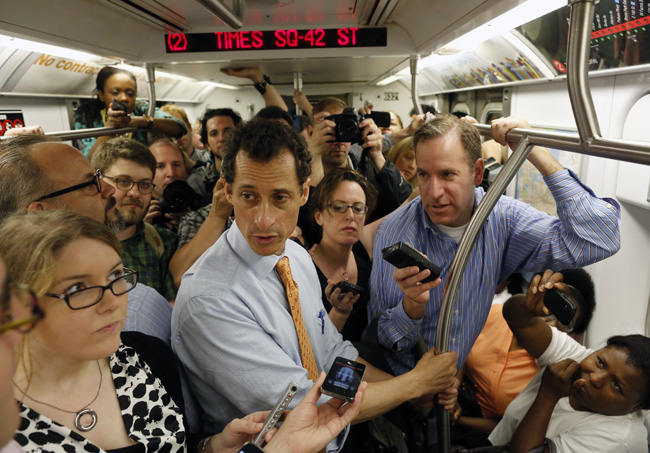 Twice a month, a panel of dads discusses a topic of the moment. For today's conversation, they talk about disgraced former congressman Anthony Weiner's run for New York mayor.
---
Let me get this out of my system: Breaking news! Weiner candidacy on the rise! Disgraced politico growing in the polls!
Enough of that. It is, however, true. Only a week after formally announcing his bid to become mayor of New York City, Anthony Weiner placed second in a Marist poll of registered Democratic voters, with 19 percent, just behind City Council Speaker Christine Quinn's 24 percent. Weiner may not win—in a head-to-head runoff, which would be held if no candidate took 40 percent of the primary vote in September, Quinn's lead increases to 48 percent to 33 percent—but he is, at the very least, a legitimate candidate.
Which, I guess, just goes to show people really don't care about Weiner's wiener (I can't help it). Go figure. Because, and let me put this in the least elegant way possible: His wiener matters to me. To me, then-Congressman Weiner's Twitter exhibitionism demonstrates pretty clearly that he is unfit to be mayor. Someone with such little sexual discipline—and the inability to shield his kinks from the public eye—shouldn't be given that kind of authority. Call me a prude, but I think his political career should be over. (Frankly, I wouldn't have voted for him anyway; the political calculation, and outright cowardice, in his decision not to oppose Michael Bloomberg's rule-by-decree third term ended any chance of that.)
An interesting aspect of the poll was how the opinions of Weiner skewed by gender, or rather how they didn't. I figured women would be more likely to hold negative views of Weiner than men, due to the undertones of sexual coercion inherent in his tweeting photos of his erection. And they do—but not by much. Forty-four percent of New York's women, according to the poll, hold an unfavorable opinion of Weiner, which is a lot, but then again, 43 percent of men do, too. Fifty-six percent of men think he "deserves a second chance" (whatever that means) but so too do 51 percent of women.
I was curious what my wife thought about all this. Was she, like so many Democratic women in New York, really willing to vote for a man caught in an act of e-exposure? Nope. "It's too weird," she said, shuddering a little at the thought. "Cheating is one thing, but that..."
"Wait," I asked. "You'd be okay with him if he'd had an actual affair, but sending someone a photo of his hard-on is too much for you?"
She shrugged as if that was too obvious to merit a reply. And now we need another poll, to help explain that logic to me. Ladies out there reading this—any thoughts?
–Theodore
---
"It's big," said my wife, Jean, "but it's not big enough." She was, of course, talking about Weiner, but alas, not about Weiner's wiener. No, she meant his transgression. (Twansgression?) Tweeting cock shots was bad, but he hadn't cheated, he'd apologized, his wife had forgiven him, and that was it. Who cares? Not Jean. Nor I.
There was, of course, an obvious followup question that I did not ask: What if I'd done something similar? Not that I have, or will, or want to. All the same, much of my work—i.e., writing—involves discussing my life, and mistakes I've made, both large and small. I've done a ton of dumb things—as you can find out by reading my new book, The Turk Who Loved Apples: And Other Tales of Losing My Way Around the World, which I seem to be almost unconsciously pimping at every turn—and an embarrassing number of them have been made public. Jean, I believe, knows about them all, but even so she's wary about my repeating certain private details. In fact, she's already rapped my knuckles about one disclosure—a disclosure I won't repeat as those knuckles are still sore.
But what, then, should my errors and humiliations disqualify me from? Running for mayor—or president? Holding other, more mundane jobs? Certainly, I've shown poor judgment before, but I've learned from those mistakes (I think) and am fairly sure I won't make them again. And my wife and everyone else have forgiven me. Those misdeeds are in the past, and we all would rather not think about them again. We want to get on with our lives, and one of the best ways to do that in a marriage is to forgive and forget and not care so damn much.
So it would seem to go with Weiner. His tweets were awful, but apparently forgivable to the one person most in a position to forgive (uh, his wife). And now he gets his second chance, the second chance I would want—the second chance we all want.
Will I vote for the guy? Maybe. I don't particularly like any of the candidates—they all seem like lifelong city-government hacks. They're boring, and that's one sin I won't easily forgive.
–Matt