What a Mother Needs Most Is Time
Not breakfast in bed. Not flowers. Not a card.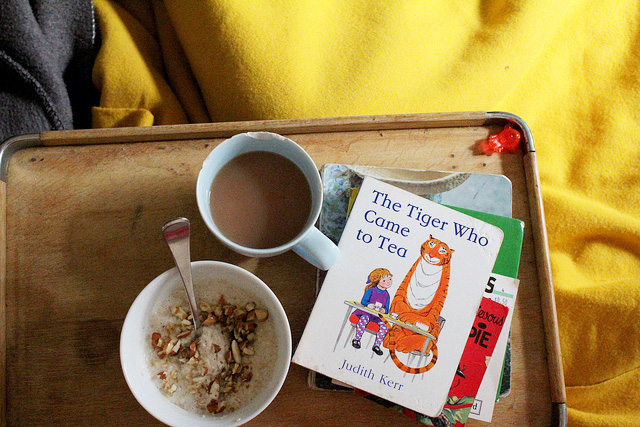 On Mother's Day many families offer mom a much needed day off. She sleeps late, eats breakfast in bed, and escapes the routine and demands of a typical day. She welcomes the gift, for what a mother needs most is time. The day's slow-down, though, highlights this primary mom problem, while recent surveys document its severity and effects.
Mom is Rushed
A 2013 report on modern parenthood by Pew Research finds that working women and mothers of children under age 18 feel more rushed than men feel. It's easy to understand why. While men have upped their time spent on housework and parenting over the last four decades, women still do much more. Mothers who work in the paid labor force spend almost twice as much time with children as fathers do (13.5 versus 7.3 hours per week). They also spend an average of 18 hours on housework versus dads' 10 hours. That's a weekly 14.2 hour home-front gender gap, which shows why mom finds herself in a time bind that makes her hurry, multitask, and act impatient and stressed.
Mom is Tired
The Centers for Disease Control (CDC) report that women feel more wiped out than men, especially 18 to 44-year-olds. For that group, women were nearly twice as likely as men (15.7 percent versus 8.7 percent) to say they feel very tired or exhausted all the time. The obvious culprit is the load of work plus family responsibilities during that stage in the life course. Over half of mothers surveyed by Pew also expressed feelings of stress about the difficulty of juggling it all. For people aged 45 to 64, the exhaustion gender gap still exists but tapers to 3.7 percent. By the time couples reach age 65 it disappears.
Mom Cedes Precious Free Time to Sleep
According to a 2013 American Sociological Review study, women have less time than men for sleep, particularly employed mothers of young children who prioritize family needs over personal free time. Yet these mothers sleep more than fathers. In the study's analysis of working-age adults' time use between 2003 and 2007, mothers of young children reported about 28 more minutes of sleep than fathers. The mothers' need for more sleep is attributed to family care responsibilities in general, and middle-of-the-night sleep interruptions to take care of children in particular. Their ability to grab extra rest is thought to result from prioritizing napping or going to bed early during childbearing years. The study's authors note a key implication of the survey: Mothers who take time to sleep more cut into their scarce discretionary time.
Notice the cycle: Mom is rushed and tired. She alleviates exhaustion by ceding part of her precious discretionary time to sleep, which leaves her with even less free time for leisure, work, or family activities. So once again she's pressed for time and rushed.
It's not a cycle conducive to pursuing and "leaning in" to big jobs with long hours. Quite the contrary, as Katrina Alcorn, author of Maxed Out: American Moms on the Brink, discovered. She surveyed 560 dual-paycheck families. One core result: Most parents had simply too much to do, prompting reports of at least one stress-related health problem for a "whopping 88 percent" of her respondents. Other scary findings: 80 percent worked at night or on weekends to catch up; 81 percent worried about burning out; 59 percent experienced anxiety; and 43 percent struggled with depression. Too much to do and not enough time: Is this a ticking time bomb in mothers' bodies, families, and society?
No remedy springs miraculously from these surveys. As Alexandra Badner says, not too many people live in the "village" it takes to raise a child. Nor do they have the money (or desire) to outsource all the tasks and joys of childrearing. Nor do husbands, evidently, see what housework needs to be done and believe the tasks are valuable enough to be done—by them! The time problem persists all year long, despite a Mother's Day reprieve. And that is why:
we need simply notice, first, that these women are overwhelmed, second, that they're our best friends, and, third, that there are lots of little things we can do about their suffering.
Badner suggests lending a helping hand to friends and colleagues who are mothers: "Just swoop in and help her out, not because you're obligated to rectify an injustice, but because you can." I, too, believe personal actions everyday to help individual mothers can alleviate the crush of demands on them, whether they seek to "have it all" in high-octane professions or tread water in multiple low wage jobs to keep their families afloat. What's more, stay-at-home moms might offer relief to mothers in the paid labor force who desperately need it. Keeping women's participation growing in institutions of business, government, academe, and the arts is not only part of the feminist project; it is part of human progress. A mothers' movement that embraces this idea is needed too, along with the common call to implement parent-friendly workplace schedules.
So start on Mothers' Day with a mom in your life. Give her the gift of time and help. But don't stop there. Help others too, on any day.