The Real Problem With the 'Babies Are a Focus-Killer' Theory: Bad for Business
Yes, hedge-fund billionaire Paul Tudor Jones's recent remarks were crude and sexist—but they're based on an outdated definition of success.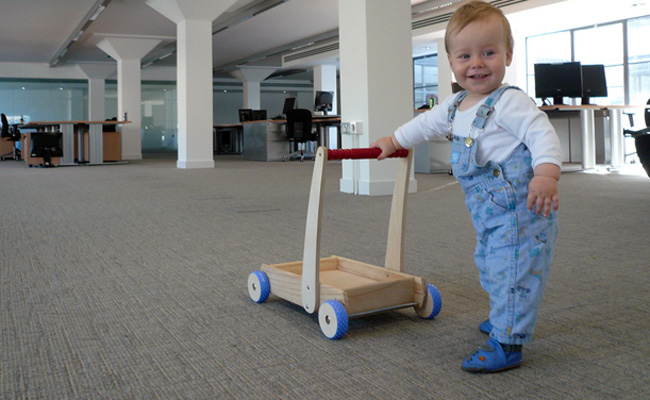 I'm beginning to feel quite grateful to hedge-fund billionaire Paul Tudor Jones, who explained at a symposium at the University of Virginia's McIntyre School of Commerce back in April that women will never rival men as traders because babies are a "focus killer." Speaking about one of his own previous associates, he added, to illustrate his point, "As soon as that baby's lips touched that girl's bosom, forget it."
My immediate reaction, which I am confident in saying many women shared, was disgust. The crudeness of his language tells so many women and likeminded men that we have not come nearly as far as we like to think we have. Yet as my sons and husband would quickly point out, I've been in plenty of conversations with women where someone makes the comment that men are led by a part of their anatomy other than their brains. Indeed, Cersei in Game of Thrones says exactly that to her brother Tyrion before she brings in a woman she is holding captive whom she believes is his prostitute.
So it cannot just be crude language and sexist assumptions that make Tudor Jones's comments so problematic. It is crude language and sexist assumptions by a man who is at the pinnacle of what remains a deeply male power structure: the financial industry. Women are barely represented at the top of hedge funds, private equity, investment banks, though those institutions are enormously powerful in U.S. and global society. Yet when asked by an audience member, "Please reflect on the makeup of the panel—rich, white middle age men who were mentored by the same—and what it takes for someone different to have a seat at the table and finally share their voices from a powerful place," Tudor Jones responded, essentially, that only women who do not choose to have babies will make it.
After the initial rush of outrage from (mostly) women across the Internet, a wave of responses emerged that I find deeply encouraging. First, it is apparently well established that female traders actually do better than men over the longer term. After the Tudor Jones comments surfaced, I discovered a terrific piece from a year ago by John Coates, senior researcher in neuroscience and finance at the University of Cambridge, former investment banker, and author of The Hour between Dog and Wolf : Risk Taking, Gut Feelings, and the Biology of Boom and Bust. His article cited a number of studies that show women out-performing men as both traders and asset managers, even though women are supposedly more risk-averse.
Drilling down on this data, Coates finds that men and women are equally willing to take risks. Men like to take them quickly, thrilling to the rapid-fire pace of the trading floor (think modern-day battlefield), whereas women prefer to take more time to analyze a security and then make the trade. Coates identifies three traits of a successful risk taker: "a good call on the market, a healthy appetite for risk and quick reactions." He explains that with the rise of "execution only" trading, in which the client does the analysis and looks to the trader only to execute the trade, computers are replacing traders. Thus we can now value risk-takers in terms of "their call on the market and their understanding of risk once they put on a trade; and there is no reason to believe men are better at this than women. Importantly, the financial world desperately needs more long-term, strategic thinking, and the data indicate that women excel at this."
Coates' conclusions are particularly interesting if we recall that Tudor Jones is not just emphasizing focus per se; he's talking about a kind of focus that allows a trader to be "hyper-rational," immune from emotional turbulence of any kind. That's why he equates "women with babies" with "men going through a divorce," whom he says will automatically reduce their trading results by 10 to 20 percent. Similarly, with respect to women, "The idea that you could think straight for 60 seconds and be able to make a rational decision is impossible, particularly when their kids are involved." Tudor Jones wants to rule out any kind of emotion that might separate a human being from a machine, that would deviate from the perfectly rational creature we know as homo economicus. But now that we actually have machines that can be more "rational" than any human being, the only value that humans bring, other than their ability to program the machines, is the things that machines can't do.
So what are those things? Empathy, for one, a quality that more and more studies are emphasizing as essential for effective leadership and management. As one of my Twitter interlocutors commented, "If traders had such demonstrable empathy, they would not have been able to bring us the Great Recession." Another distinctively human trait is to think "out of the box," beyond a programmed response, to challenge group-think. Another Twitter correspondent noted that Jones is describing "less focus than close-minded buy-in to [the] system," the kind of close-mindedness that "led to the financial crisis."
Watching women push back is another reason that I am grateful to Tudor Jones. Ruchika Tulshyan, a former Forbes writer, tweeted, "Anyone who's spent time on Wall Street will agree this attitude persists." Only once it is out in the open can it be directly challenged. Susan Solovay, a former commodities trader who founded Pomegranate Capital, a hedge fund of female managers, and Jacki Zehner, a former Goldman Sachs partner who is now CEO of Women Moving Millions, wrote a must-read response called "Can Mothers Be Traders?". "As fund investors," they write, "we are able to easily find hedge funds managed by women (some with 4 children) who are able to produce returns that even Mr. Tudor Jones would be pleased to post. Chesapeake Partners, BlueCrest, Sisu, Metropolitan Capital, Feingold Asset Management and a host of other hedge funds run by women traders (each who are also juggling the duties of motherhood) are doing quite well."
Solovay and Zehner also review the principal reasons for the paucity of female hedge-fund managers. They believe that the biggest reason is "capital punishment," or the difficulty that women have in raising capital. Just as men (and women) are more likely to hire a business-school graduate with an identical resume when they think it is a man rather than a woman, men (and women) are much more likely to invest with a man than with a woman, particularly if that woman is married and/or has children.
Tudor Jones's comments put the dean of McIntyre Business School, Carl Zeithaml in the awkward and unpleasant position of not upsetting one of UVA's biggest donors while at the same time dissociating himself and his school from Tudor Jones's remark. He sent out an email to all McIntyre students a few days after the symposium at which Tudor Jones spoke. The email acknowledged the controversy and tried to put the best possible face on Tudor Jones' observations. Speaking for himself, Zeithaml said, "You should never be dissuaded by a few statistics from pursuing your passion." He also republished a powerful letter from a McIntyre alumna, a successful hedge-fund executive. She lamented that "hundreds of young and eager-to-learn students" had heard Tudor Jones' remarks. "Putting myself in that seat fifteen years ago," she wrote, "I know I would have been disappointed and potentially convinced that the biggest career killer for women is having children, and that finance wasn't a good career choice for me."
She ended her letter with a call for McIntyre students to ignore naysayers. She acknowledged that many people "agree with [Tudor Jones'] comments," but counseled: "when you come across those people, go the other way. Life is hard enough. You don't need negative perspectives or people who tell you what is not possible in your life. Go around them and then prove them wrong."
Based on the public reactions to the Tudor Jones flap, both on my Twitter feed and elsewhere on the Internet, many young women in this generation are in a very different place than this alumna assumes. They do not feel discouraged, only enraged. Instead of wanting to prove that they can be exactly like men, they see the dangers of a world in which male behavior is the benchmark for talent and success. The problem is not that Tudor Jones' definition of a successful trader makes him discriminate against mothers. It is that a definition of a successful trader that excludes mothers and caregiving fathers is narrow, short-sighted, and wrong. As Rana Faroohar, Time's assistant managing editor for money and business, put it: "All I can say is that if I had my money invested with Paul Tudor Jones, I might want to know more about his risk-mitigation strategies." The ball is back in Tudor Jones' court, not to apologize but to show us the money.