The Poignant, Unexpected Marriage Lessons in Seeking Asian Female
A documentary about Caucasian men who seek out Eastern brides manages to subvert many of the stereotypes it seeks to explore.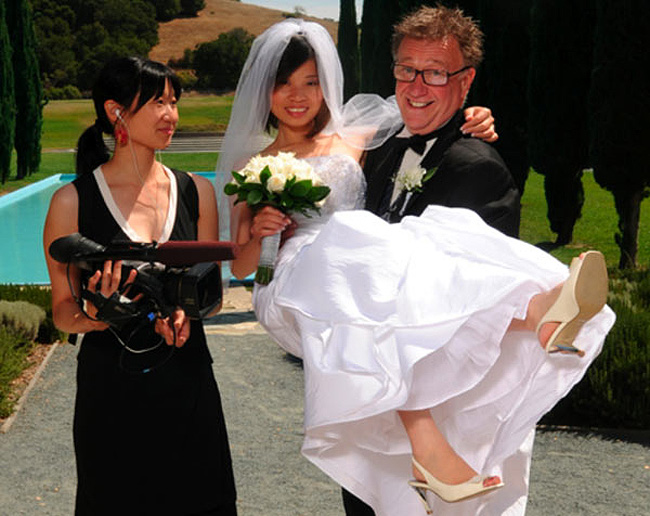 Early in Seeking Asian Female, a documentary that premiered this month and is available to stream on PBS, a string of interview subjects, all Caucasian men, young and old, are asked to state their name and dating preference. Each declares that the woman for him, no matter who she turned out to be, would undoubtedly be Asian: "I know for a fact that I'll end up marrying an Asian girl. I just know that"—a certainty built on a particular kind of fantasy: "I think they give more consideration to how the man feels than sometimes themselves."
Filmmaker Debbie Lum chooses from among them Steven, a 60-year old Californian, for her subject, in part because of his guilelessness—He admits to the camera, "There's this Vietnamese movie called The Scent of Green Papaya that's got this idyllic servant girl who cooks these beautiful meals. And you think 'gee, would it be like that?"—and in part for his pro-activity. He goes through scores of Chinese Internet pen-pals before finding 30-year-old Sandy, a woman from Anhui, to bring back to the States and marry. "She looks so Chinese!" He expresses the giddy excitement of a child at Christmas, anticipating that he will get his wish. "I like the Chinese look."
In a voiceover, Lum wonders, "What kind of woman would move country to marry a man she met on the Internet?" In Sandy, we find the answer to be "a brave one." As it follows Steven and Sandy through their early days together, this becomes Seeking Asian Female's most resonant message.
Depictions of so-called "mail order brides" and the men they marry are rarely flattering sketches of either party, as so much of the time they ought not to be. The image comes to mind of seedy casino-lit clubs in desolate, degenerate parts of the world shown on TV new-zines, where "romance tour" parties feature harems of young women surrounding icky old men, awkwardly keeping up an over-exaggerated enthusiasm at the prospect of marrying one. Typically, one or more party appears to have unsavory motives to subjugate or manipulate the other: To to snag an unsuspecting husband for a green- card and money, or to take advantage of an innocent young woman. Or just as frequently, stories elicit only pity for seemingly desperate women looking for a ticket out of an impoverished country. It feels as if the struggle for self-possession has already been lost as they recite for the camera white-knight fantasies of escape. We shudder to imagine what might be in store.
But the focus of Seeking Asian Female is not, and indeed could not possibly be, merely about the vexations of realized fantasy or the psychology of "yellow fever," as Lum set out to explore. Sandy is no object of anyone's wish-fulfillment. Her marriage to Steven is far secondary to her self-sufficiency, bravery, and intelligence in defining who she is. Immediately after moving to San Francisco, she sets about learning English, making plans to go to college, in the hopes of finding work as a nurse. We learn through Lum's voiceover that in China, Sandy had moved from her village at age 18 to Shenzhen, the country's fourth largest city, and worked her way up for the factory floor to an office job, so that she could afford to buy her parents a house in their home town.
There is a particularly poignant moment in the film when, soon after Sandy arrives, Steven goes to work, and she decides to clean and reorganize his kitchen. Sandy takes the condiment bottles off the shelves and piles them next her as she searches for their translations on the computer, and then painstakingly relabels each with Chinese characters. She moves around Steven's boxes, not out of duty to him, but to create her own order in her new and confusing world. We see her going to English class and learning new words—"messy," she smiles, "that's what Steven's apartment is."
As viewers, we begin to trust her decision to be with Steven because we know of and respect her autonomy, even as the frustrations in this web-brokered relationship play out in the film. But it is Steven who needs Sandy to live well, not Sandy who needs rescuing. "If I had known marriage was so hard, I would have never gotten married," Sandy vents at one point, claiming that if she divorces Steven she'd never marry again. Steven, meanwhile, tells us that he's "dead without her." Would Steven have been able to do what Sandy did: move halfway around the world, learn a new language, and adjust to a new culture? Somehow, it feels improbable.
Steven and Sandy's relationship contains all the conflicts and misunderstandings you'd expect, but also a tenderness and innocence as the two navigate their unusual union. To see how Lum gets caught between them, having to play the triple part of translator/marriage counselor/director is an intriguing part of the film. But we also see that Steven is Sandy's choice as much as she is his, and that she truly cares for him. "Everyone said it doesn't make sense," she tells us, "Why would you choose him?... But I can tell... he's the type to 'make me happy.'"
After a fight, Sandy moves out briefly, but on their first night apart she tells us, "I guess I kind of miss him. It's strange..... I keep wondering, has he eaten? What time did he go to bed?" In the end, when she chooses to return, it is to an apartment where Steven's done the housework to please her.
Steven and Sandy's marriage shatters the idyllic fantasies stereotypes about "powerful" Caucasian men and "submissive" Asian women tend to excite. The truth is that, as Lum puts it and as all couples learn, "No matter who your wife [or husband] is, marriage is hard." Sandy subverts the images projected onto her by the men Lum interviews, Lum, and even us.
"At first I went into this searching thinking the traditional stereotype of getting someone who would you know, stay home, do the housework, take care of me, that kind of thing, but that's not very growth growth-oriented," Steven admits over clips of him washing the dishes and wiping the windows. "You want to grow," he says, his voice trailing off, "you want to grow together."