Terry McAuliffe's Woman Problem
Will Virginia be willing to elect a governor who once said of his wife, "Listen, her credit cards are paid and all that"?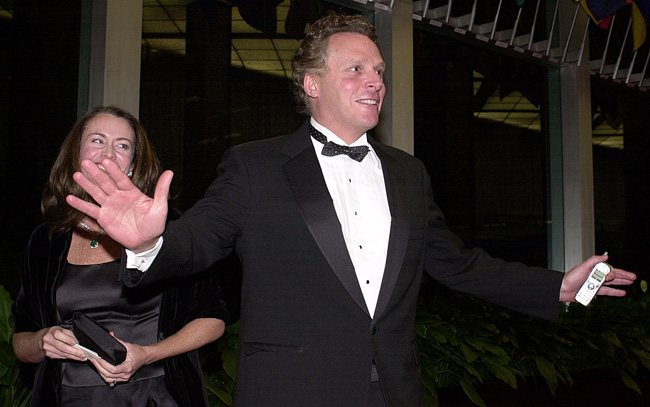 It's hard to believe, but the Democrat running against Republican Ken Cuccinelli for governor of Virginia might have a woman problem.
Cuccinelli—the attorney general and a former state senator—is the candidate who opposes all abortions except to save a woman's life. He has twice tried to defund Planned Parenthood and once proposed criminal penalties for doctors who didn't anesthetize fetuses. He pushed for new hospital-level building codes for clinics that perform abortions, which some say will force them out of business. He is also a leading foe of the Affordable Care Act requirement that insurance policies cover contraception.
Not exactly a feminist's dream candidate, or one with obvious appeal to the moderates who helped President Obama win Virginia and reelection last year.
And yet Democrat Terry McAuliffe has drawn a portrait of his marriage that is going to be hard to dispel. He is in the spotlight right now for ditching his wife Dorothy while she was in labor, to dash to a party for a Washington Post reporter. In his telling, in his 2007 book What a Party, she ordered him to leave the hospital because he was driving her crazy. That I can definitely believe. I mean, this is a guy who says he watches action movies to wind down at bedtime. Probably not a calming presence in the delivery room, but still. He left—and then, dear reader, he wrote about it.
The more problematic anecdote to me is one that involves the birth of another baby, in this case a newborn son whom McAuliffe left in the car with Dorothy on the way home from the hospital while he spent 15 minutes at a fundraiser. She was in tears, he writes. How the heck does he think women would react to that?
Then there's what McAuliffe told the late writer Marjorie Williams for a profile in Vanity Fair. He said his wife "has no idea" how much money he has, and implied she doesn't need to know: "She's got a great life. Listen, her credit cards are paid and all that. She knows I do very well."
Obama won women voters in Virginia by 9 percentage points last year. But at the moment, a Washington Post poll shows Virginia women splitting evenly between McAuliffe and Cuccinelli. (Some better news for McAuliffe arrived Wednesday in a new NBC/Marist poll showing him with a double-digit lead among women ... for now).
Anticipating a struggle for women voters, Cuccinelli already is trying to soften up his image. His first (quite effective) ad features his wife, Teiro, talking about his work on behalf of homeless people, sexual assault victims, and the mentally ill.
Dorothy McAuliffe has not been in hiding. In 2009, during McAuliffe's first run for governor, she starred in an ad about his business experience and their family of five children—including, believe it or not, a delivery room scene. His first ad this time around is about his upbringing and his family—complete with another delivery room scene. This is a very resonant image at this point, and not in a good way.
McAuliffe isn't the first candidate to write a book that did more harm than good during the author's next political race. Rick Perry did it. In fact, so did Ken Cuccinelli. In this instance, Virginia voters are already having trouble figuring out what to think of McAuliffe as a businessman, and now his own words are raising questions about him as a spouse. It's time for Dorothy to step into the time-honored political-wife role of character witness, speaking for herself in an ad that goes heavy on Terry's qualities as a life partner.
It can't hurt. In the end, however, what may save McAuliffe is the same thing that saved Mark Sanford this week in the South Carolina special House election. Women—and men for that matter—didn't like what Sanford did to his wife, his kids, or his state. But their conservative political principles prevailed, just as Virginia's increasingly moderate-to-liberal tilt could help McAuliffe. Even if he can't overcome his image as a manic husband out of the Mad Men era.