Is Sex Still Sexy?
There's something missing in today's understanding of romance.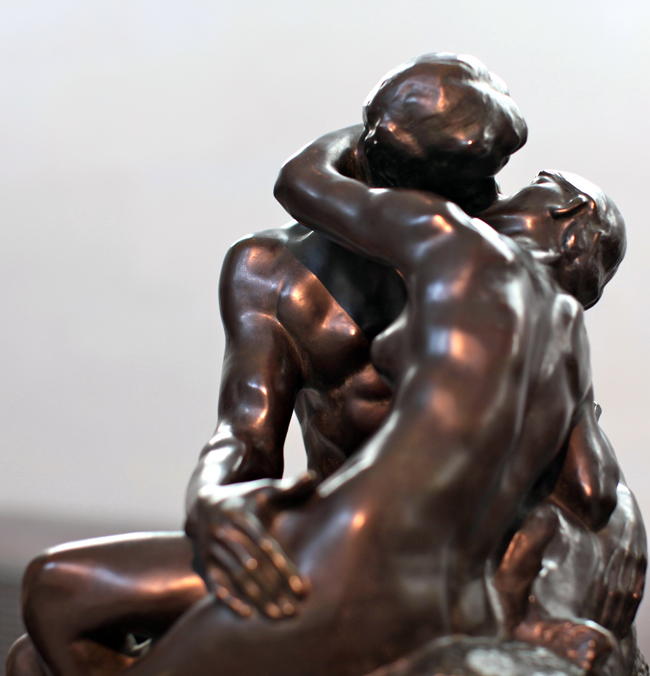 If you want to get a sense of how college students approach sex, the play Speak About It is a pretty good place to start. It's a series of skits written by students at Bowdoin, a small liberal arts college in Maine. The skits show students in a variety of sexual encounters, based on real experiences. Bowdoin students must watch the play during freshman orientation. It's meant to foster "healthy relationships" on campus by addressing the issue of consent and sexual assault. Speak About It has also been staged at colleges and universities nationwide, including Harvard, Brown, Williams, and Bates.
Related Story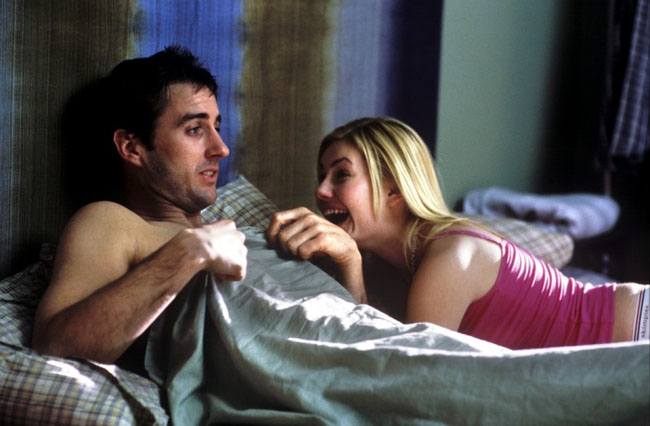 Think of the play as a half-baked mashup of The Vagina Monologues and Girls: blunt, confessional, lacking in delicacy. In one skit, a bisexual woman reveals intimate details of her sex life. She lets the audience know that she has "kissed big lips, skinny lips, vagina lips, and penis tips." In another, a male student confides, "Having sex with somebody you don't love just isn't worth it. That's why they invented whacking off."
In yet another scene from the play, we see two co-eds hooking up:
Female: We've been making out for a while now. I wish he would just ask me to take off my shirt.

Male: Really? That won't kill the mood?

Female: What mood? We're in a twin extra long bunk bed. You should just ask.

Male: So you think that...

Female: Just ask...

Male: Will you take your shirt off please?

Female: Sure if you take yours off!
The scene represents a normal sexual encounter between two students. There's moaning. There's orgasming. And yet, it falls flat. While the play wants to promote the idea that this kind of sex is hot and fun, in this scene, it is boring and banal. Erotic sex ideally involves mystery and an electric connection—longing—between two people. But the exhibitionism of Speak About It kills this mystery and longing—it leaves little to the imagination. As the writer and critic Cristina Nehring, author of A Vindication of Love, tells me in an interview, "Where there is no distance and no sense of transgression at all, where anything goes and everything shows, there is no erotic chemistry.
Speak About It is not the only sign that young people have a limited understanding of the erotic potential of sex. HBO's Girls, created by and starring Lena Dunham, and very popular among twentysomethings, is essentially one unerotic sex scene after another. When the second episode of season one opens, for instance, Hannah (Dunham) passively lies on a bed as her hookup buddy, Adam, has sex with her. His muscles convulse. He pants. He has a thin layer of sweat covering his body. He even talks dirty: "I knew when I found you, you wanted it this way...you were a junkie and you were only 11." Then, after he climaxes, he asks Hannah if she wants a Gatorade, putting an end to perhaps the most unerotic sex scene ever written for the screen.
Of course, this problem isn't exactly new. Twenty-five years ago the late educator Allan Bloom wrote in his bestselling book, The Closing of the American Mind: "The eroticism of our students is lame." Bloom was no conservative prude. He was an atheist who, rumor has it, had student lovers. He wrote extensively about eros, the Greek word for passionate, sexual love. But, reflecting on the vast majority of the young people who came through his lecture hall at the University of Chicago following the Sexual Revolution, he wrote:
Young people, and only young people, have studied and practiced a crippled eros that can no longer take wing, and does not contain within it the longing for eternity and the divination of one's relatedness to being... Young men and women distrust eroticism too much to think it a sufficient pointer toward a way of life... Their lack of passion of hope, of despair, of a sense of the twinship of love and death is incomprehensible to me.
Eros is, in other words, the beating heart of life. Without eroticism, not only does sex lose its depth and meaning, but life itself does. In an essay from 2000 called "All Sex, All the Time," the British psychiatrist and writer Theodore Dalrymple captures this point:
In my hospital, for example, adolescent and young adult visitors to their hospitalized boyfriends or girlfriends not infrequently climb into bed and indulge in sexual foreplay with them, in full view of the staff and of old people occupying the beds opposite. This gross disinhibition would once have been taken as a sign of madness but is now accepted as perfectly normal: indeed, objection to such behavior would now appear objectionable and ridiculous. No one seems to have noticed, however, that a loss of a sense of shame means a loss of privacy; a loss of privacy means a loss of intimacy; and a loss of intimacy means a loss of depth.
Rather than promoting healthy sexuality, sexual exhibitionism is killing the eroticism that has traditionally been the essence of sex.
***
From an anthropological standpoint, Speak About It and the culture it depicts bring to mind a set of studies from the 1950s, which Yale psychologist Paul Bloom (no relation to Allan) discusses in his 2010 book How Pleasure Works. Back then, researchers were interested in the sexual patterns of turkeys. Specifically, they were trying to determine the conditions that inspire sexual arousal in the male of the species. The scientists first found that the male turkeys were aroused by models of female turkeys. "The males would gobble, strut, puff up, and eventually mount the model," Bloom writes.
The researchers then took the experiment a step further, removing key parts from the female models, like their wings and tails. Eventually, all that was left was a stick with a head on it. It turns out that that was enough to stimulate the male turkeys. They, Bloom notes, "were fully aroused by this head, and would prefer it even to a headless turkey."
That's how pleasure works for turkeys. How about for humans? Judging from a play like Speak About It, a show like Girls, and a number of books on casual sex—including, most recently, Donna Freitas' The End of Sex—pleasure in the hookup culture is not too different from pleasure in turkey culture. In Freitas' book, for example, one millennial describes his rationale for engaging in the hook-up culture as follows: "People have these urges and they are trying to satisfy them."
So do turkeys. What turkeys don't have is eroticism. As Allan Bloom put it in his 1993 book Love and Friendship, "Animals have sex and human beings have eros." Eroticism is what escalates human pleasure in sex. In the words of the cultural historian Denis de Rougement, author of the book Love in the Western World, eros is the "boundless" and "complete desire." Its conditions are psychological. As the scholar Camille Paglia, who wrote the book on eroticism, tells me in an interview, "Sex comes from the body, but eroticism comes from the mind." Eros is passion, longing, and yearning. It is magnified by mystery and intrigue. Cultural constraints and taboos intensify erotic sex: The less you can have something, the more you want it.
De Rougement called eros "divine delirium." The erotic lover is willing to give up everything, even his very self, in order to seek union with the beloved, which can be another person or, in some cases, even God. As one writer put it, "Eros seeks to escape from the flesh and flee into a world beyond." America's best-selling poet, the thirteenth-century Sufi mystic Rumi, may be the most erotic and celebrated writer in this vein. Many of his poems are about erotic and ecstatic love, and they take the crippled eroticism of contemporary culture to school.
There is no less sex going on in his poetry than in today's popular culture; but the sex he describes is fiery and sensual. Consider his poem "Drunk With Love," where he writes: "Oh love . . . the king of kings has gotten drunk, / Get up, grab his curls and pull him near. / Every thought that comes into my heart speaks of the Lover, / I'll put my life before him, I want to kiss him and fill his mouth with gold, / face like a rose, voice of a nightingale, / I want to fulfill all his desires..."
In another poem, he describes a cupbearer's experience finding eros in a garden: "He went out, and there, near the latrine, / was a beautiful woman, one of the king's harem. / His mouth hung open. He wanted her! / Right then, he wanted her! / And she was not unwilling. / They fell to, on the ground. / You've seen a baker rolling dough. / He kneads it gently at first, / then more roughly.... This is how your desire / tangles with a desired one."
Then there is his poem "Like This," which is more understated but no less passionate: "If anyone asks you / how the perfect satisfaction / of all our sexual wanting / will look, lift your face / and say, / Like this.... / If anyone wonders how Jesus raised the dead, / don't try to explain the miracle. / Kiss me on the lips. / Like this. Like this. / When someone asks what it means / to 'die for love,' point / here... / When lovers moan, / they're telling our story. / Like this."
Delicate language, as Bloom has pointed out, lies at the heart of the erotic, a memo that the writers of Speak About It must have missed.
Eros, in fact, is everything that Speak About It and the hookup culture are not. Casual sex, readily available sex, publicized sex, sloppy drunk sex, sex for the sake of self-gratification and self-discovery—this is not eros. "Sex-on-tap," Nehring writes in A Vindication of Love, "attenuates rather than inflames passion. It is for this reason that the relentless emphasis on sexual climax that distinguishes our day from most others in historical memory has a largely depleting effect on the life of the emotions... The natural distances between people have been diminished so radically as to make romance—which depends on the retention of other-ness, tensions, and reserve—impossible."
If we want sex to be sexy again, perhaps we should speak less about it.