Family-Friendly University Policies Don't Work as Well as They Should
New research shows they're applied unevenly, and that faculty members who use them are viewed as unserious about their jobs.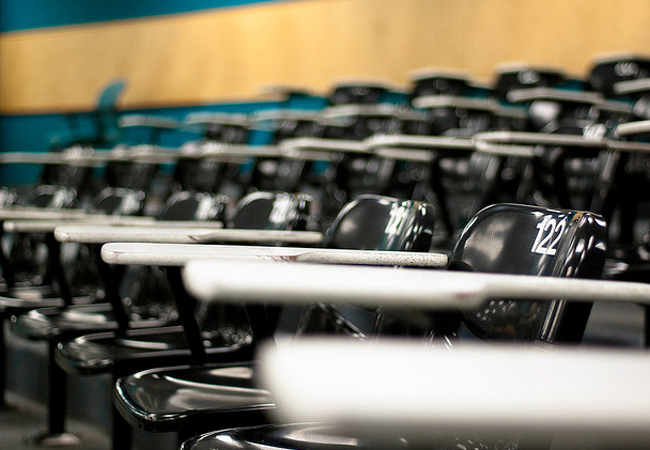 Sonia Goltz was an assistant professor in the late 1980s, when the university she worked for didn't have very family-friendly policies. Despite a strong cultural current against the few female faculty having children, she went ahead and had her second child anyway.
Goltz returned to teaching a mere five days after giving birth, afraid that the university would "hold it against her" if she took a few weeks of leave. "I had to have an episiotomy so I had to go to class with a pillow for my first class," she explains.
Later, when Goltz was up for tenure, the university added a "stop the tenure clock" policy, which allows faculty to add time to their tenure track in order to compensate for lost productivity due to personal or family reasons. But Goltz was told she didn't qualify because only those up to three or four years into tenure track could apply. When Goltz was denied tenure, she filed a lawsuit against the university in 1996, alleging among other things that the lack of time off following childbirth meant she was held to a different standard than other colleagues. The jury ruled against her, and a federal appeals court denied to hear her case in 1998.
Still, Goltz says, "I'm glad I had my child when I did." She says she's heard from other women who waited until after tenure to have children, and then were unable to conceive. "They were just really, really upset. Seeing those difficulties, I'm glad I did it the way I did," she says. "And it really brought home how awful the current structure is for women."
Since Goltz's experience, more and more universities have adopted these family-friendly policies. Since such policies were first introduced at colleges and universities around the country over 40 years ago, more than 90 percent of research institutions now offer such a policy. It has become the gold standard in work-family balance in academia.
Catherine Hill, director of research at the American Association of University Women, says the policy is necessary to make colleges and universities an equitable hiring environment. "If the tenure clock happened at 50, you wouldn't see a gender disparity," Hill explains, saying that because the crunch for tenure occurs simultaneously with most professionals' child-rearing ages, and because women still disproportionately bear the responsibility for childcare, mother tend to pay a higher price for having children than their male or childless female colleagues do.
In fact, new research shows that those who use stop-the-tenure-clock (STC) policies for family reasons do pay a very literal price—a new study published in the Industrial and Labor Relations Review found that "faculty members who use STC policies for family reasons receive a wage penalty following use that cannot be explained by a change in publications." Those who used the penalty saw a 3 percent wage penalty the year following using the policy, though it didn't seem to affect promotions.
"[W]e find evidence that use of STC policies for family reasons is viewed as a signal that the faculty member lacks the commitment necessary to succeed in academia, and thus they are evaluated as less productive and less deserving of salary increases," the authors conclude.
The conclusions of the study didn't surprise AAUW's Hill at all. "Mothers tend to earn less across the board. There are a lot of presumptions around mothers in a way that they don't have around fathers," she says.
Goltz, now a full professor at Michigan Technological University who helps evaluate others' tenure applications, admits she has mixed feelings about "stop the tenure clock" policies. "I feel conflicted about this policy," she says, explaining that sometimes she sees male faculty members use it even though he might have a wife who doesn't work and years after his children were born. "On one hand I'm happy that universities are using it, but sometimes people are using inappropriately."
But Colleen Flaherty Manchester, the lead author on the paper, said this negatively affected both men and women who used STC policies, it's just that men tend to use these policies much less than women do.
Manchester said that the best way to view these findings is that this signals a greater need for transparency and accountability when it comes to salary decisions—and that academics should use such polices more, not less.
"I think the more people [who] use the policy the more normative it is," Manchester says. "What we're picking up here similar phenomenon goes on in other professions."
She says that this reinforces the idea that while this is a phenomenon that impacts academics, it actually demonstrates that family-friendly policies are extremely important in all professions.
The same authors published similar research last July in the Academy of Management Journal that found flexible work policies such as telecommuting were applied unevenly. Parents who telecommuted were viewed as less committed than their colleagues who came into the office. On the other hand, non-parents who telecommuted were viewed as more committed than their colleges.
The research on how family-friendly policies affect parents points to the fact that, even when such policies are in place, those who bear the brunt of childcare responsibilities—thus far mostly women—pay a real price. Even when parents manage to achieve greater flexibility in the workforce, their colleagues and managers somehow view the use of such policies as a sign of a lack of commitment.
But pushing for that change is challenging. As AAUW's Hill points out, "It is a tough problem because you're dealing with deep-rooted social stereotypes. This view of mothers of geniuses is not something we put together in our minds. That's not the case. You can be a productive scholar and be a parent."