Chick Lit Is Dead, Long Live Farm Lit
Thanks to the economy, picket fences and scruffy farm hands have replaced stilettos and cute i-bankers in literature aimed at women.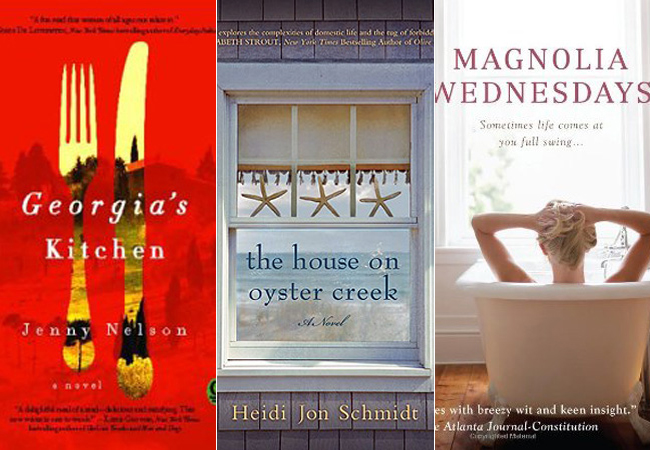 Gallery Books; NAL Trade; Jove
Chick lit—hot pink covers featuring martini glasses and Manolos, stylish city girl heroines navigating the urban jungle in search of love and career—seems to have gone the way of Friends and the dotcom bubble. "A visit to any chain bookstore will testify that its heyday has definitely passed," says Salon, quoting an editor who says, "We've pretty much stopped publishing chick lit."
"[T]he bloom is off the "chick lit" rose," agrees The Economist.
Well I have news. Yes, chick lit is dead (or dying, at least). But in its place, we now have a new genre. Call it "farm lit."
In farm lit books, our heroines ditch the big cities beloved in chick lit—New York, Chicago, LA—in favor of slower, more rural existences, scrappily learning to raise goats on idyllic Vermont farms or healing their broken hearts by opening cupcake bakeries in their sweet Southern hometowns. Instead of sipping $16 appletinis with the girls, they're mucking out barns and learning to knit. Instead of pining after Mr. Big, they're falling for the hunky farmer next door.
In Georgia's Kitchen, Georgia Gray 's job "at one of Manhattan's best restaurants" and her relationship with her handsome lawyer fiancé go sideways, causing her to run off to the earthy pleasures of rural Tuscany. In The House on Oyster Creek, Charlotte Tradescome trades Manhattan and her workaholic husband for tending bivalves with a local oysterman on Cape Cod, where she falls "in love with the locals' down-to-earth way of life." In Magnolia Wednesdays, Vivien Gray's career in New York investigative journalism gets her shot (literally), and she repairs to Georgia, where she discovers that "maybe life inside a picket fence isn't so bad after all." In The Lost Husband, young widow Libby Moran takes off for a rural Texas goat farm and a dalliance with a "gruff" farm manager.
In Australia this new genre is apparently known as "chook lit" (chook is Australian slang for chicken). Down Under, chook lit is "publishing's latest phenomenon, with rural romances outselling other fiction."
But even bigger than the novels, it seems, is the farm lit memoir. Call it the "career girl's gone Green Acres" narrative, it inevitably involves a journalist or other hard-charging type who repairs to the countryside, either to follow a dream or a man, or to escape a calamity (debt, divorce).
In The Pioneer Woman: Black Heels to Tractor Wheels, Ree Drummond (aka The Pioneer Woman), quits her "spoiled city girl" life in Los Angeles to marry an Oklahoma rancher and become a "domestic country wife." In Rurally Screwed: My Life Off the Grid with the Cowboy I Love, Jessie Knadler, a young Type-A New York magazine editor, meets a Montana cowboy and moves to rural Virginia to farm chickens and raise a baby. In The Dirty Life: On Farming, Food and Love. Kristin Kimball, young, female Manhattan journalist ditches the city to start a farm in upstate New York.
So many of chick lit's tropes—stilettos! Fighting for your big break in journalism! Cute i-bankers! The hottest new nightclub in the Meatpacking District!—were part of a boomtime economy. These days, we're mostly wearing flats, journalism is breathing its last gasps, we'd rather throw i-bankers in jail than date them, and cupcake baking seems a lot more fun (and cheaper!) than clubbing.
So it makes sense that light, female-centric literature would be angling for new aspirational fantasies. And in this era of Brooklyn backyard chickens, farmer's markets-as-social events, Anthropologie aprons and hipsters baking homemade bread, what's more aspirational than running away to a farm?